Winning Graphic Design: International Design Awards
We know it when we see it, but what exactly makes an essential visual capture our attention? Like any art form, good graphic design can connect with the viewer -drawing the reader's eye to critical information within the message. 
Skilled designers can create a visual design that communicates quickly and convincingly and hopefully leaves a lasting impression.  
The critical goal of design graphics is to connect with and engage the targeted audience to read and react to the image. Studies have found that certain colour choices, shapes, text styles and images within a message can all contribute to the success or failure of visual materials. 
As a valuable marketing tool, graphic design materials rely heavily on human psychology – that is, the way people think – particularly when it comes to the consumer's 'purchase or not' decision-making process. 
A great design is only great if it connects with people. In that regard, awards can often help push a creation to greatness, taking a design, its inherent features, and the business behind it and propelling all of them forward. 
This exposure, along with the award's benefits, can help accelerate a design's growth, getting more people to see it, fall in love with it, and have their lives positively impacted by it. This also happens to be the motto of the International Design Awards. 
Conceived by a group of designers, thinkers, and entrepreneurs in 2007 as a response to the lack of recognition and celebration for innovative and sustainable multidisciplinary design, the International Design Awards recognises, celebrates and promotes great design and uncovers talent. 
The awards, founded by the Farmani group (who also created the Annual Lucie Awards for Photography), are peer-reviewed and anonymously judged by an influential jury panel of experienced academics and established design industry professionals. 
Winners of the IDA receive a spectacular trophy, designed by Ron Taft, along with exposure to IDA's vast design network, helping to give a brand and its unique designs a helpful career boost. 
In its 16th year, the IDA Awards are accepting entries across five significant disciplines – graphic, interior, fashion, product design and architecture.  
The evaluation process for entries to the IDA is based on various judging criteria, which are constantly adapted to new creative, technical, social, economic and ecological requirements. The criteria are not comprehensive, and not all criteria are applied to each design. 
They provide an orientation framework and basis for judging, complementing each juror's expertise and professional background. 
The IDA Jury are a selected panel of industry experts from each of the five IDA disciplines – Architecture, Fashion, Interior, Product and Graphic Design. Their talents and contributions to their respective fields are genuinely aspirational. 
All jurors have at least fifteen years of experience and are in leading or Founder positions within their organisations. Each Jury member is passionately committed to providing a fair and unbiased evaluation of all entries.
Scroll down to take a look at some of the inspirational winners of last year's IDA Awards, and take a visit to the IDA website to participate. 
Graphic Design of the Year – 2021
The 'Graphic Design of the Year' prize for the IDA 2021 was awarded to the Pepsi Culture Can – Mexico.  
The designer explained that the diversity of Latin America was the inspiration for the Pepsi Culture Can Series. This limited-edition packaging initiative realised unique, hyperlocal designs all across the globe. 
PepsiCo chose to celebrate the vibrant culture of six iconic Mexican cities for Mexico. The design solution was to take ethnographic and art history insights to develop contemporary illustrations infused with youthful vigour. 
The six collectable limited-edition cans tell authentic stories from the regions they represent – stories that can connect with people in a meaningful, emotional way. 
For the' You' title sequence, Savannah College of Art and Design student Nora Bukhari took away the IDA 2021 Emerging Graphic Designer of the Year award.  
IDA 2021 Emerging Graphic Designer of the Year 
The TV show 'You' is a story of a brilliant male bookstore manager who has an awkward crush on an aspiring female writer – a crush that develops into something more sinister. 
The designer explained that the visual concept suggests a glimmering surrealist world illustrating what could be in the mind of a psychopathic person. 
The style uses a collage of images and sketches of 2D illustrations accompanied by an elegant edged Serif typography that displays sharpness with a sensation of a forceful personality. The colour tones represent a warm dark landscape. 
Nora commented that she wanted to do something different, unique and something that she had less experience in.
IDA 2021 Silver prize in Print / CD, DVD & Record Sleeves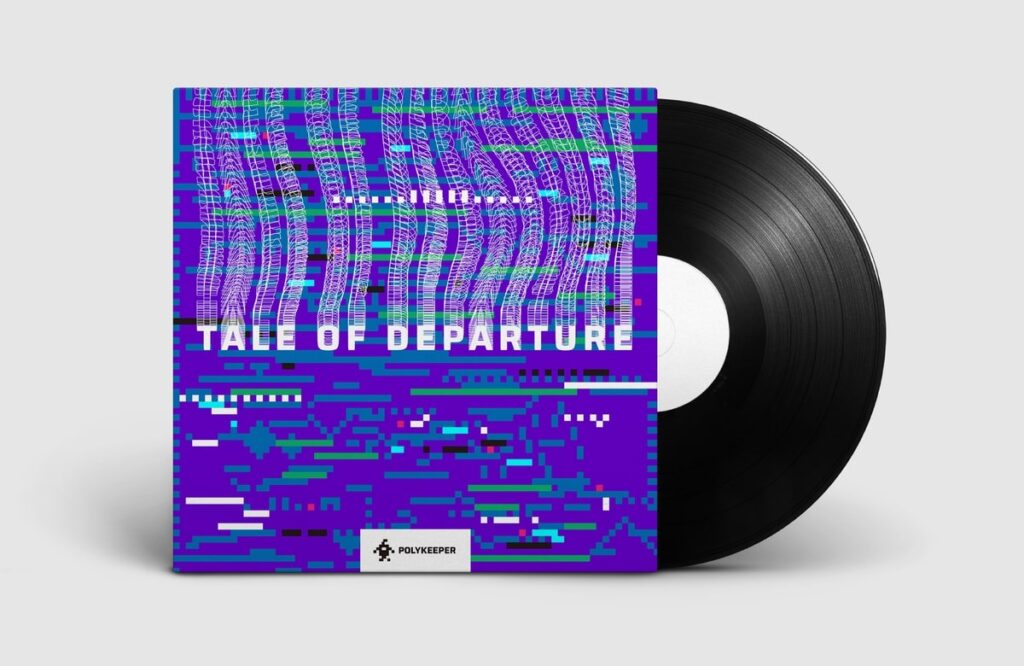 Polykeeper from Chatter Design Limited in Hong Kong was awarded the IDA 2021 Silver prize in Print / CD, DVD & Record Sleeves. 
An independent electronic music producer in Hong Kong, Polykeeper focuses on Jpop / Edm-style music production. 
With a music genre full of vitality, blazing, strong rhythms, and rich musical details, the EP "Tale of Departure" was officially released in February 2019. 
A dot-matrix pattern was conceptualised for the logos and the album cover to express the music's mystery, imagination, and energetic nature. 
The experimental tonal collision likens the mechanics to progress, implying a playful wonderland. The designer wanted the energy to project the sound of the future. 
OKU-The Moon, IDA 2021 Silver prize in Print/Packaging 
What does sake have in common with the moon, you may ask? Tsushima Design recognised that the most distinctive feature of this 'Oku' sake is its changes into a deeper flavour as it matures. 
They wanted to illustrate that the actual value of "Oku" lies in the ageing; therefore, the trilogy of sake wines was compared with the moon's phases. 
They took away the IDA 2021 Silver prize in Print/Packaging with 'OKU-The Moon' using 'a mysterious design' with white printing on a silver sticker representing a galaxy in space. 
The first new sake of the year is "Full Moon". The slightly aged sake is "Half-Moon". The well-aged sake is "Crescent Moon". 
IDA 2021 Gold prize in Multimedia / Mobile / Web Application Design
Sanchita Singh from Savannah College of Art & Design received the IDA 2021 Gold Prize in Multimedia / Mobile / Web Application Design, Gold in Multimedia / Interface Design for the NASA App UI Redesign.  
She explained that her goal for the redesign was to deliver a more organised, easily navigable and intuitive user interface experience and propose a more engaging and appealing interface. 
She wanted to take full ownership of the different roles involved in designing an app interface, such as User Researcher, User Experience Designer, and UI Designer while enhancing her own learning experience by challenging some design decisions and solving them. 
IDA 2021 with the Gold Prize in Print / Key Art
Biodiversity is essential for the processes that support all life on Earth, including humans. 
Without a wide range of animals, plants and micro-organisms, we cannot have the healthy ecosystems that we rely on to provide us with the air we breathe and the food we eat, so we are happy to see that we recognised 'protect Biodiversity' from Rui Ma in the IDA 2021 with the Gold Prize in Print / Key Art. 
This is a series of poster designs to raise the awareness of conserving biodiversity. The posters are designed as eight ways to protect biodiversity in English and Chinese languages. 
It includes: "Help the Bees", "Protect Nature", "Plant a Plant", "Support Farms", "Conserve Water", "Recycle and Reuse", "Take a Walk", "Visit Botanical Gardens". 
For the first time, the IDA is offering a unique 'Peoples' Choice' prize of $1000 per discipline for winners of the non-professional section of the awards. 
This means the public can choose which non-professional entries in architecture, interior, product, graphic and fashion design they would like to see awarded. 
Submit Your Designs Now for the 16th IDA Awards before the early-bird deadline ends on 30th May 2022.