Where to Find the Best Graphic Design Jobs
Graphic design is an exciting and rapidly growing field in high demand and continuing to expand. Branding and design are more important to companies than ever before, and graphic designers are just what they need to create visuals that will stand out from their competitors.
There are many different ways to tell a brand's story as new design tactics emerge, and it takes a specific skill set always to think one step ahead.
It attracts professionals from a vast pool and promises to deliver substance packed with style.
Creativity opportunities are endless in graphic design if you know how to communicate projects and ideas that inspire or engage people of all kinds.
You can use graphic design in instances of all kinds, such as something as small as designing invoice templates to something as big as creating an entire company website.
Aside from just specific skills, graphic designers can take on tons of different roles, including production artists, user experience designers, and creative directors.
With the rising number of graphic designers worldwide and the growing number of people looking to work in the comfort of their homes, the number of online portals that cater to them has also risen significantly.
However, not every single one will be worth your time.
So, we compiled a list of the ten best online places where you can look for exciting and rewarding graphic design jobs that will suit your skillset and allow you to step foot into your dream career path.
Top 10 Places to Find the Best Graphic Design Jobs
1 – Krop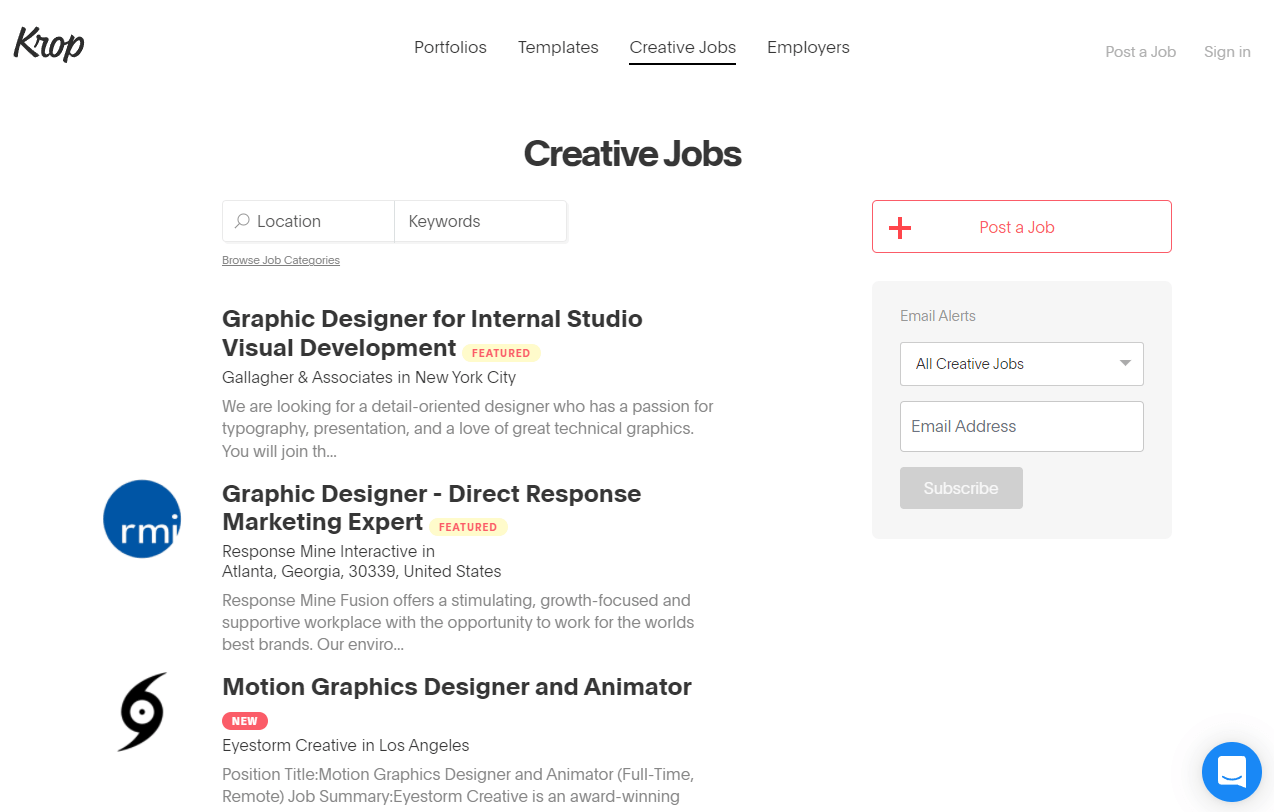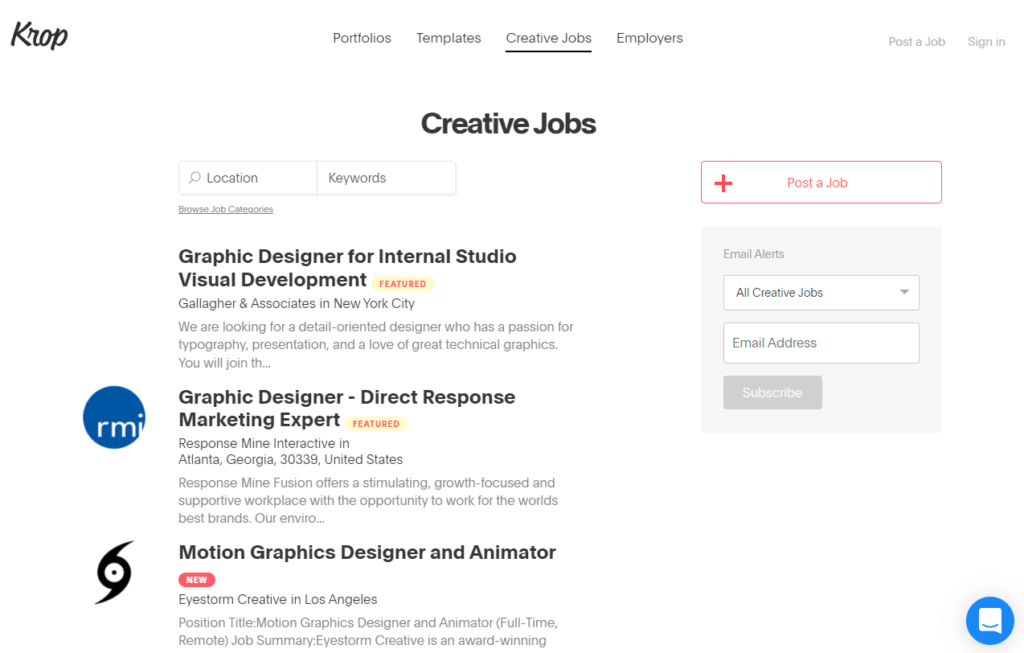 Krop is a helpful website to be a part of because it has been created with designers specifically in mind.
It offers multiple options for creating a graphic design portfolio and showcasing your work.
This means that you are no longer a bland resume online.
Instead, you and your chosen body of work will be visible to all users, allowing them to see all of the creative projects you've worked on.
This includes human resource managers, art specialists, and many other professionals you should form a professional relationship.
Krop provides tons of features, including unlimited image uploads, the ability to select multiple design themes, and a custom domain name to help you remain unique.
The most notable highlights of Krop are its amazingly easy-to-understand and straightforward interface, portfolio and resume templates to help you better frame your profile.
It is readily apparent from the templates that they want quality and not quantity. Krop can be an excellent medium for elegantly showcasing your talent.
The website also has a job alert feature which can be highly beneficial for those looking for opportunities to work.
2 – Behance
Behance is another platform that lets you express yourself creatively while searching for viable job opportunities.
Owned and operated by Adobe, the story behind Behance's founding is somewhat inspiring.
According to the website's motto, it aims to let designers develop their work creatively without having to worry about its presentation.
As a result, Behance has been a prominent name in the designing industry for quite some time now. It has already helped many people get placements by showcasing their work.
Designers with different creative backgrounds can create an account, add demographic information, and begin building their best work's online portfolio.
Once they've established themselves on the site, users group their work into projects, where other users can then share their work around the internet.
The more their projects are viewed, the more views and appreciation clicks the creator receives. The application process involves signing up for an Adobe ID.
You can also become an Adobe CC user and upload your work to Behance by routing through the Creative Cloud.
Another essential thing about Behance is that it offers multiple fields of query which can be filtered by country, school, tool used and even the dominant colour. Behance also has job listings that can be browsed and applied for free.
3 – Coroflot
Coroflot was launched in 1997 and thus, is one of the oldest running websites for designers around the world.
It helps creative professionals gain exposure and connect jobs and opportunities with companies based around design worldwide.
It has over 2 million pictures and more than 150,000 projects from amateur and professional designers worldwide.
Thus, it can be among the most massive and all-encompassing online domains and repositories for design professionals and enthusiasts.
This also means that you can find almost every kind of design art on the website along with the contact information of the designer as well.
Aside from this, Coroflot has active job postings which you can apply for once you are a member.
So, Coroflot has helped countless designers get placed in influential positions and provides a helpful salary guide.
If you are looking for an online pace that can cater to your talent, irrespective of whether it revolves around graphic design or not, then Coroflot is one to try.
4 – Authentic Jobs
Authentic Jobs caters to creative designers and freelancers of all calibres.
This site is the go-to place if you find yourself not turning up any leads through conventional channels.
Authentic is designed to help designers and freelancers find lucrative jobs that suit their skill set. It is a leading site for designers looking for roles, including full/part-time, internships, and freelance work.
Not just that, Authentic Jobs is also a paid site for people posting for job openings, so it is not likely to have any frivolous postings.
For job seekers, signing up is free to browse for jobs and apply for them.
Authentic jobs have another practical aspect: their postings are usually made by companies like Apple, Microsoft, ESPN, and other big names.
5 – Design Observer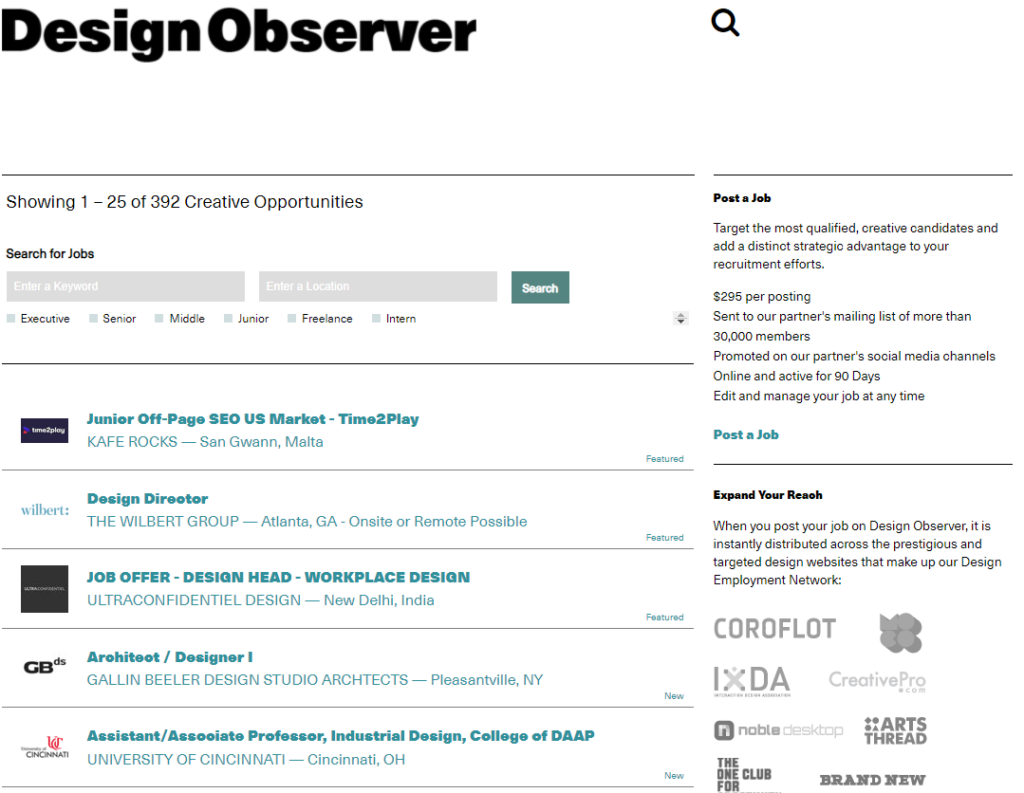 Design Observer is like the phone book of prominent design websites like those mentioned above.
When a job posting is made on Design Observer, it is automatically distributed over various websites for creative designers, such as Coroflot and Creative Pro.
Thus, the website enables job posters to have exposure to multiple international communities of designers and creative freelancers.
Similarly, for anyone looking for an excellent job that can apply to a wide demographic, Design Observer should be the first place to start.
Another critical aspect of Design Observer is that it acts as an online journal for discussion on art. So you can post reviews, essays and virtually every other type of art discussion.
6 – Creative Hotlist
Creative Hotlist is an excellent job board dedicated to mainly designing jobs where users can upload resumes and apply for various positions.
If you are a creative professional, you must have an account on Creative Hotlist. This site is ideal for recruiters since it allows them to post jobs wanted and find employees to their liking.
One of the best bits about Creative Hotlist is the ability to do advanced searches. You can also save your personalised search parameters, and the keyword-driven such has a high relevance rate.
Search results can be further filtered by keyword, location, or experience and sorted alphabetically by the date posted or the geographical location.
You can search by person or by organisation and even save search results for future retrieval, giving you access to the results at any time.
7 – AIGA Design Jobs
This one is among the longest-running design professional organisation and has a vast membership base. In total, there are about 70 chapters and over 25,000 members.
Members get exclusive access to the AIGA Design Jobs segment. AIGA members have full access to legal guides, contract templates, and resources to help run their design business.
It is also a perfect place for employers and employees to seek better associations and opportunities.
Any occupational listings made would be shown on designjobs.aiga.org for a month and a half. It may also be shown on associated channels.
8 – Dribbble
Dribbble has been designed for creative professionals who can post screenshots of their work.
Since it is such an interactive and engaging platform, it has become famous for finding and listing good jobs.
A great thing about this platform is that potential employers can see the work they contact professionals with greater certitude.
However, Dribbble is not just a platform for finding jobs.
It is also a community of passionate professionals who can view each other's work and interact daily.
Dribbble was started in 2009 and has become one of the premier online destinations for creative professionals.
It has inspired thousands of people and helped them develop their creative potential.
Going over and beyond the functions of a simple job search platform, Dribbble has accomplished a lot more.
If you are looking for a platform to help you showcase your work, interact and secure jobs, then Dribbble is it.
9 – Simply Hired
Simply Hired is a top-rated job search platform that has been designed for ease and simplicity.
Simply Hired has many features that make it ideal for creative designers and other professionals. It has a vast network of professionals and recruiters who regularly post jobs.
What is excellent about Simply Hired is that it is free of cost. You do not need to have a membership to search for jobs, and there are ample filtration parameters to narrow things down.
As the platform's name suggests, Simply Hired is for helping professionals, and employers get hired/hire without any hassles.
Simply Hired is an excellent option if you are looking for a platform with a host of job opportunities and minimum fuss.
10 – Smashing Jobs
Smashing Jobs is a subpart of Smashing Magazine.
It has over 4 million users every month.
This makes it one of the best and most popular magazines for professionals with creative talents.
Some of the most prominent corporate names are involved with Smashing Jobs and frequently post new openings there.
Among the essential things about Smashing Jobs is their scope.
The magazine covers a vast near-global industry scale.
If you have enough experience, then Smashing Jobs might indeed be the place for you to look for new opportunities.
Keeping pace with Smashing Magazine and its jobs segment is an excellent idea, even if you are just a beginner.
So, where are the best places to find Graphic Design jobs online?
The internet is one of the most significant places where you can find yourself a job. It allows you to research on your own, while also communicating and reading reviews and advice from other online users.
The ones we have listed here are among the best and most popular.
However, we would like to make a few honourable mentions, notably Indeed and Glassdoor. These sites are passionate about creative skills, brand design, and logos.
These are also among the best places for creative people to look for satisfying and rewarding jobs.
If you find our list missing some key players, let us know.
We are always open to helping people search for the perfect job and getting them started in the right direction.
There are many components to the graphic design industry, but fortunately, many sites and features are willing to set you up for success.
We hope we helped you in your job search and connected you with passionate people working in the industry who can help guide you and give helpful advice.
Be sure to read up more and explore the best employment opportunities. With trends constantly evolving, it's essential to be in the know and jump on new opportunities as they come your way!