The Most Promising Email Design Trends in Store for 2023
Email design has evolved from simple formatting to much more advanced technologies. At the outset, it was only possible to change the font colours and font face with limited options. You could format the text with bold, italic, and underlined options. However, that time is passed, and emails have become one of the most coveted marketing channels. It is now possible to render a microsite-like experience through emails. Thanks to the ever-evolving email clients and the innovative email marketing professionals who constantly keep trying something new. 
Minimalism, GIFs, illustrations, and micro-animations have been trending for a long time. And this year, we are looking forward to new trends that will bring freshness to the subscriber's inbox. 
Here are the top email design trends that are all set to woo customers in 2023 and beyond:
1 – A Medley of Real Images, Illustrations, and Shapes
Static images have been extensively used in the hero section for years. However, times have changed, and marketers are exploring new avenues in email design. They combine authentic images, illustrations, and shapes to create more impactful emails. Adding illustrations and shapes to the images changes the entire look and feel of the emails, making them more visually aesthetic. 
Look at this email by Brooks Brothers that uses a combination of actual images, illustrations, and shapes to make the email more visually appealing. 
2 – Gradients
Gradients gained immense popularity in 2022 and will continue to reign supreme even in 2023 and beyond. 
We come across multiple gradients in our routine life. 
Rainbows, sunsets, and the seashore are all beautiful examples of natural gradients. 
If you want your readers to scroll through your email till the end, gradients can serve as directional cues. They reinforce the visual hierarchy as our minds are programmed to read from a lighter to a darker gradient area. You can either use single-colour gradients or multi-colour gradients. In single-colour gradients, a single colour goes from light to dark, while in multiple colours, the gradient goes from one colour to another to another. 
You can use gradients in five different ways in email designs:
Bold or subtle gradients
As the focal point of your email design or as the background
As animated gradients in the background
In the CTA button
In the typography
Look at this email by Function of Beauty that uses a beautiful pastel-coloured gradient in the background to guide the subscribers to read the entire email. 
3 – Neons 
Neon colours are a great way to bring attention to a specific message in emails. They also impart an upbeat, happy feel to the emails. If you want to paint your image as a fun, youthful brand, do away with pastels or essential colour palettes and switch to neons. Using neon colours in your Holiday emails for the next year is brilliant. They will inject vitality and energy into the designs.    
While using neons, you must keep in mind these three points:
Use neons judiciously and only to highlight an important message
Keep a dark background to make the neon colours stand out
Avoid using neon backgrounds, as they are hard on the eyes
Spotify has nailed the usage of neon colours in its email marketing strategy. 
4 – White Space
White space or negative space is the key to creating minimalistic emails. It scans and breaks down the content, making the emails more readable. Incorporating enough white space will declutter the emails and make the significant elements stand out. For example: By adding white space around the CTA, you can bring more attention to the button and encourage the users to take action. 
You can add white space in two ways:
Active white space around the critical email elements
Passive white space around the template borders and spaces between different folds
Look at this image to understand the difference between active and passive white space. 
Here, the area highlighted in pink represents active white space, while the section in yellow depicts passive white space. The sections with pink are used to bring about the logo and CTA buttons. On the other hand, the yellow sections help to separate two folds and enhance readability.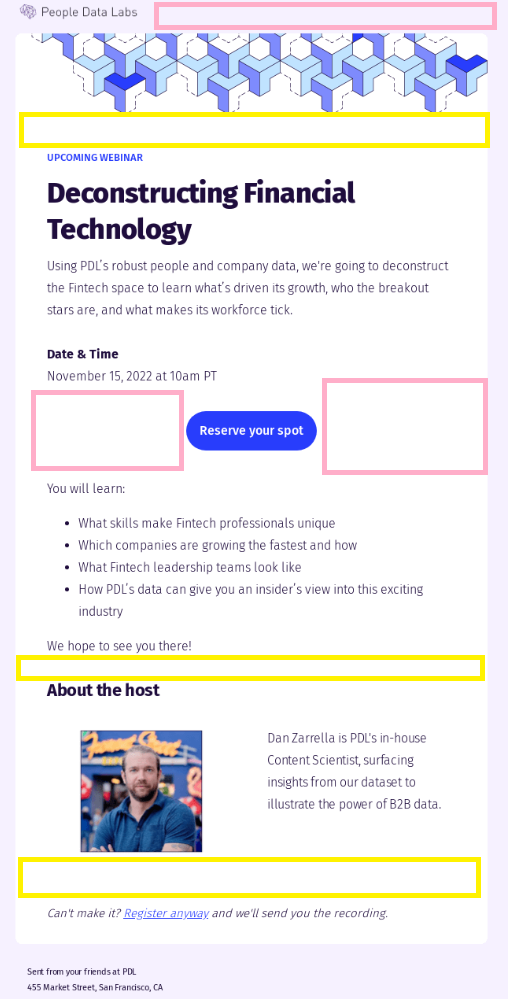 5 – Geometric and Abstract Shapes
You can use shapes to communicate an idea and add more meaning to the email. You can include shapes in the email designs that work as simple illustrations in the header or background. Some marketers even use shapes as the focal element of emails.
You can add two types of shapes in emails: Hard geometric and organic hand-drawn shapes.
Different geometric shapes convey different meanings, as discussed below:
Squares and rectangles represent reliability and strength. With straight lines and right angles, they convey courage, discipline, durability, and security. 
Triangles convey direction and stability with the tip pointed upwards and the downfall when inverted. It portrays movement, speed, excitement, direction, balance, risk, and danger. 
Circles in emails denote harmony, order, eternity, mystery, and universe.
Polygons like pentagons, hexagons, and octagons convey rigour, quality, and hard work. You can use their sides to explain a lengthy procedure thoroughly. 
Look at this email example by Vivino that incorporates various shapes to create a well-balanced design. 
Adding abstract shapes can make emails more fun and unique. 
Here's an email example by Tattly that has incorporated abstract shapes in the hero section. It makes the email much more engaging for the reader and adds a visual oomph. 
6 – Wave Patterns
Using waves helps break up the grid format and enhance email readability. Wave patterns serve as directional cues so the reader can easily follow the email. You can also add waves to grab the subscriber's eyeballs to the CTA button or an essential message in the email. 
Brands like Winc and Prismatic Plants have embraced this trend pretty quickly. Take a look at one of the examples below. 
The wave patterns function as a separator for the different email sections, making the email easily consumable. The email looks more organized when such elements are added to it. 
7 – APNG
According to Mailmodo, 67% of marketers use GIFs in their emails. APNG or Animated Portable Network Graphics is like a mature and more sophisticated GIF. While GIFs have an unsightly border, APNGs have a high resolution without such borders. APNG is an open standard for animated bitmap graphics and an alternative to MNG (Multiple-image Network Graphics).
APNG supports 8-bit alpha transparency and 24-bit colours. 
Take a look at this image to understand the difference between the two. 
APNG is much superior in quality than GIF.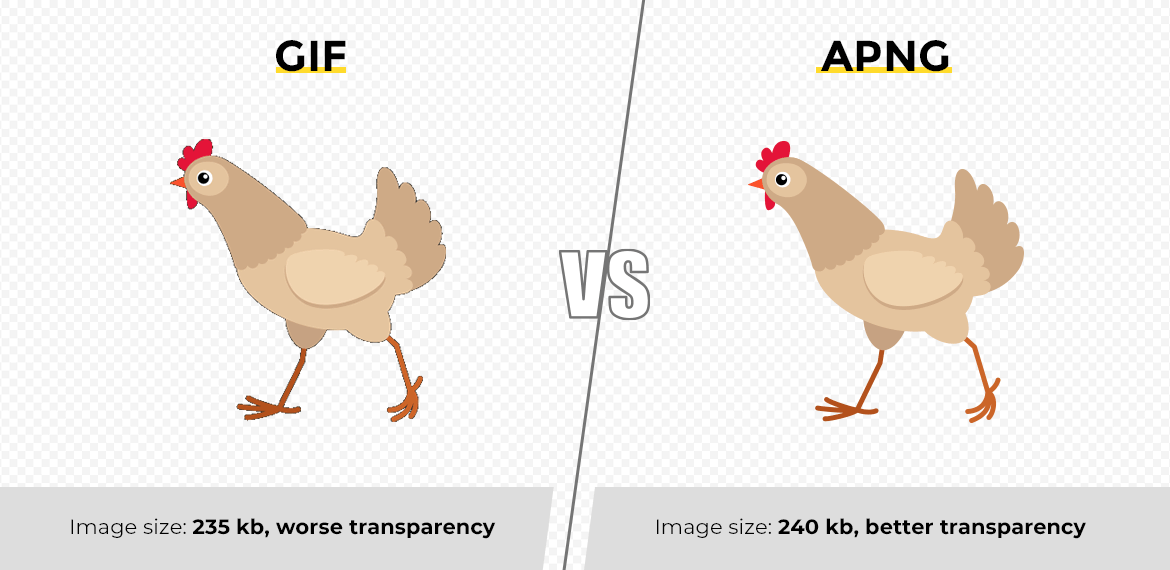 8 – Animated CTAs
The placement, copy, and design of CTA buttons are vital to driving higher conversions through emails. In 2023 and the years to come, marketers will experiment with animated CTAs to catch the subscriber's attention. You can either use GIF to create an animated CTA or CSS animation. Some marketers animate the CTA button with various effects, while others add animation around the CTA to drive more click-throughs. 
This trick comes in handy, especially during the Holiday season when subscribers are inundated with hundreds of emails. It helps to stand out and impress the readers. 
Magic Spoon has created an animated CTA in their emails, as shown in the image below. 

9 – Memes
Memes are the latest fad. They have entered every marketing communication, social media, PPC advertising, or website content. Emails are the next target. More and more marketers will adopt this trend in the coming days. They are more effective in expressing a thought or emotion. They add a human touch to your emails and make them look like a friendly conversation. However, make sure you use them to convey the message better rather than because everyone is using them. It is a trend, but you shouldn't use it just because it is trending. It should support the objective of the email without distracting the reader. 
Keep in mind three things while using memes in emails:
Always add the copyright disclaimer below the image so that you stay away from any legal dispute.
Get your team's opinion to ensure it does not appear offensive or inappropriate. 
You should connect the meme to a current event or trend if you want it to be more impactful. 
Here's how Really Good Emails uses memes in their weekly newsletter. They have followed all the best practices that come with using memes in marketing communications. 

10 – Interactivity and Gamification
Interactivity in emails is expected to stay around for quite some time. Brands are exploring this trend to encourage two-way communication with subscribers. Most traditionally coded emails are monologues where the sender talks about their products. Incorporating interactivity in emails inspires the users to participate and brings better engagement. Such emails will encourage more people to take the desired action. You can add gamification in emails to render a mini-website-like experience. 
Email Uplers sends out gamification emails for the Holiday season, as shown in the image below.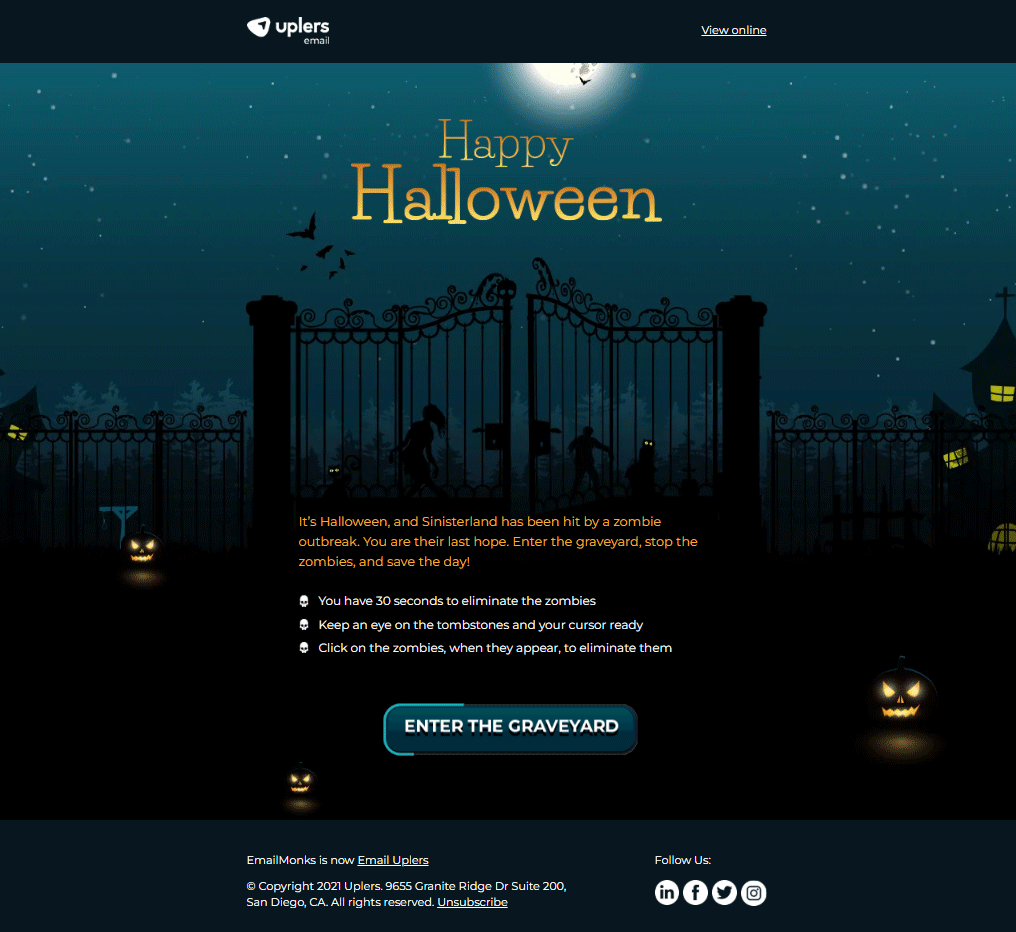 11 – AMP Email
AMP in emails is one of the most significant technological advancements in email design. As email clients become more receptive to these emails, marketers will get a more extensive playground to explore such trends. With the help of AMP emails, users can take action from the email itself. For example, you can send event invitations and allow the users to RSVP from the email. It is also possible to book tickets or a hotel room through the email inbox. It eliminates the need to be redirected to the landing page. As a result, it enables better conversion rates. 
Look at this AMP email by Pinterest that enables the subscribers to save the pin from the email itself. 
AMP emails are great for the eCommerce industry. Marketers can take the help of AMP technology in the cart abandonment emails and allow the users to checkout and purchase from the email itself.
Marketers in the goods and freight industry can use AMP emails to let the subscribers easily track the courier from the email. 
The same applies to survey emails too. The user will be able to share their feedback in the inbox without the need to visit the landing page. It will increase the response rate and also the user experience. 
12 – Dark Mode Compatibility
People are accessing their devices in the Dark Mode as it is light on the eyes and reduces the blue light emission. Most of your subscribers are checking their emails in Dark Mode. So, you must design and code emails that look good in the light theme and Dark Mode settings. 
Take a look at this email by Duolingo that renders flawlessly in both the themes – light and dark.  
In 2023 and the years to come, it will be a best practice to create Dark Mode compatible emails.
13 – Micro-animations in Emails
Subtle animation brings the email design to life and takes the subscriber experience to the next level. It is a kind of interactivity that holds the user's attention without overwhelming them. We used such animations in website design to facilitate navigation for the users. They have now entered the world of emails to increase engagement and deliver the information users need. 
Wrapping Up the Email Design Trends
While these email design trends work great when used individually, combining one or more trends in your emails can also go a long way in impressing the readers. Take a look at this email by Winc; it uses pastels, wave patterns, and gradients in CTA to make it visually appealing and get higher conversions. 
Which of these trends sounds most promising to you for the future of email designs? Do let us know in the comments below.
Author Bio: Kevin George is Head of Marketing at Email Uplers, one of the fastest growing custom email design and coding companies, and specialises in crafting professional email templates, PSD to HTML email conversion and free responsive HTML email templates in addition to providing email automation, campaign management, and data integration & migration services. He loves gadgets, bikes, and jazz and eats and breathes email marketing. He enjoys sharing his insights and thoughts on email marketing best practices on his blog