10 Ways Custom Illustrations can Help Boost Your Brand's Marketing
It is no secret that graphic design is a much more functional form of art that marketers use to promote their brand.
Much thought goes into a design with the end goal of selling a product or service.
Custom Illustrations, however, fall under a more artistic field, often created by designers who want to express themselves creatively.
They don't incorporate colours with hidden meanings or use fonts that draw attention to the sale.
They are simple aesthetic design work, which is somehow baffling to think that they work wonders in brand promotions —which they do.
Here are ten benefits of custom illustrations in marketing, how to use them, and how effective they have been in many big brand names.
10 Benefits of Custom Illustrations in Brand Marketing
1 – Personalised to speak for your brand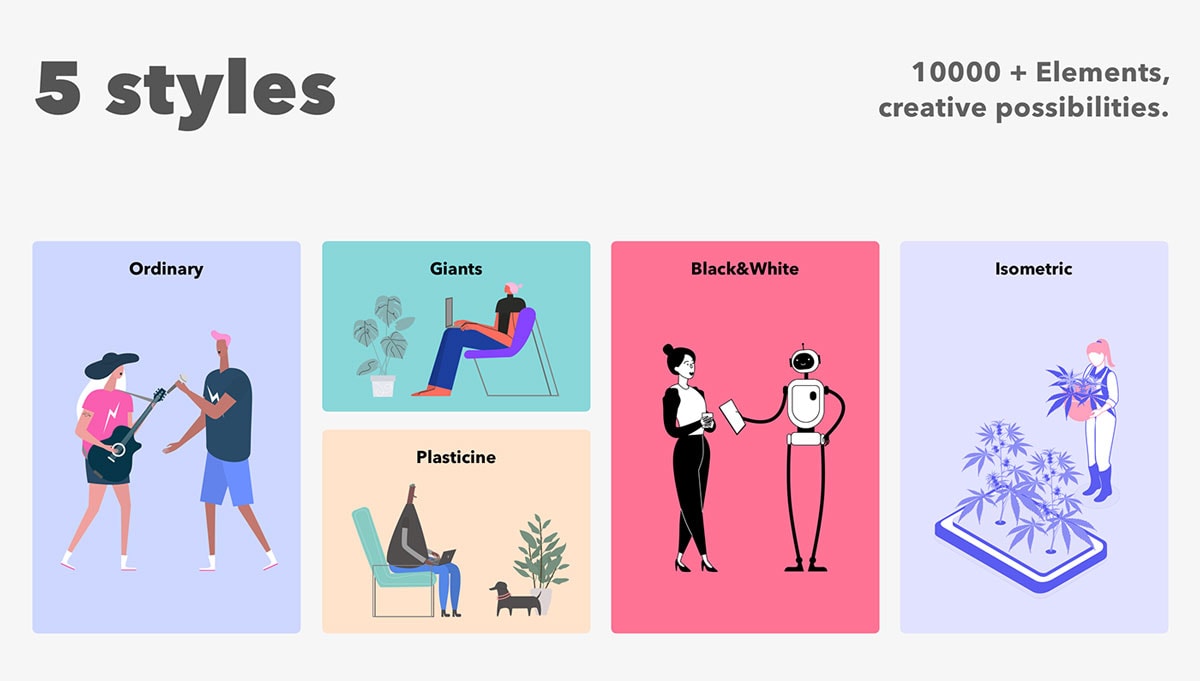 When custom illustrations are done flawlessly, these can be powerful storytelling tools that can forever shape the lives of its viewers.
Original designs made explicitly for your brand will help your viewers understand and familiarise themselves with your company.
Hiring an illustrator to design personalised visual graphics for your company gives you the competitive edge to establish your presence online.
2 – Creates a charismatic aura
High-spirited visuals can instantly create a connection with your audience rather than lengthy captions.
Posts that lack colour and character tend to veer potential clients away from your business.
Since we are visual creatures, the client's attention will automatically progress to the page that catches their attention the most.
Innovative and ageless custom illustrations supported by a strategic marketing approach are bound to take your business to greater heights.
3 – Extremely memorable
Every custom illustration is created to have its own persona and play an essential role as the human mind can quickly process them.
It triggers emotional reactions that can lead them to retain any information in an instant.
For your prospective clients to digest essential information, tugging on their long-term memory is the best action to take.
Brilliant content, paired with playful custom illustrations, significantly influences how the public remembers your brand.
4 – Standout in an instant
Establishing your brand in a highly competitive market is hard if your marketing collaterals are limited to stock photos and extended poetic captions only.
Don't get us wrong, these are great! Although these don't visually reflect your brand's identity and not enough to bring your business to life.
Custom illustrations allow your customers to identify your business right away visually.
Even if millions of companies offer the same service as you, personalised illustrations will surely set you apart from them right away.
5 – Simplifies complex ideas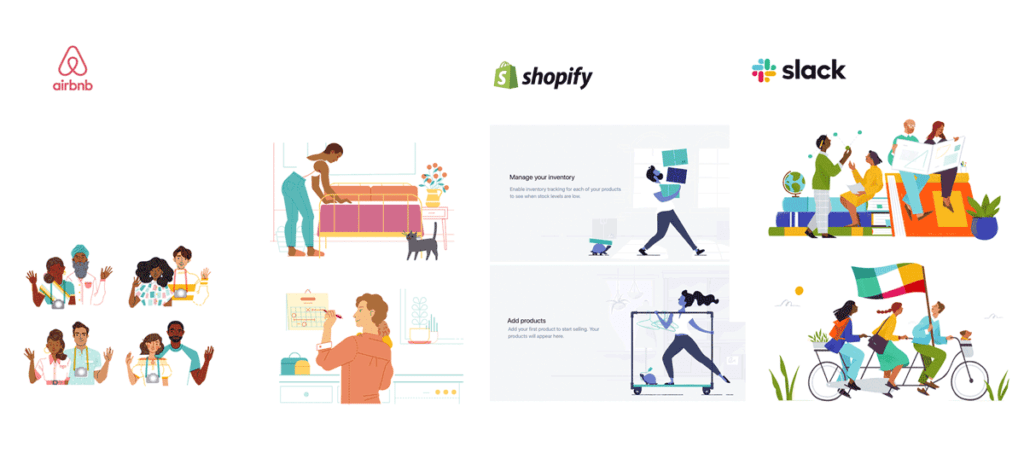 Expressing an abstract idea through lengthy words can be exhausting and frustrating for both the writer and the reader.
Luckily, custom illustrations are creative work that can simplify a concept so that the persona and the idea are both present.
Simplifying your brand's voice by providing illustrative materials can maximise every potential customer's experience instantly.
6 – Resonates your message for a lifetime
The world, as we know it, is continuously evolving. How businesses tackle this will determine if their brand will last for a decade or just a few years.
Little did people know that custom illustrations that are data-driven are bound to last for years.
Artists like Gail Armstrong, Morten Morland, Richard Beacham, and Matt Chinworth are famous illustrators known for their creative, futuristic, political, and eye-catching designs that helped them set up their business online.
If an image evoked unforgettable and personal emotions, there is an excellent chance that we will remember that image for a long time.
The same concept can also be applied to custom illustrations.
Humans can easily forget words, but images can last in your mind for years.
7 – Remarkably versatile
Custom illustrations allow you to create fantastic marketing collaterals that you can use for different mediums like online media, posters, movies, games, and even book covers.
Remember that powerful messages are unleashed through the exaggeration of a person's imagination.
Custom illustrations are incredible marketing tools that are changing the world as we know it.
Great examples of well-known custom illustrations are Harry Potter, Alice in Wonderland, The Spiderwick Chronicles, Soul, and My Neighbour Totoro.
8 – Great source of online traffic
Custom illustrations don't need to be complicated. Most of the time, it just needs to be engaging and shareable.
Humorous, whimsical, and compelling images can engage with the public a lot more than lifeless pictures.
To steadily grow your business, the content that you release should always be shareable.
Posts that invoke amusement and awe appeal to different audiences — if they can feel a tug in a specific emotion, there is a big chance that they will share it on their platforms.
Whether they felt happy, excited, sad, or amused — they would be compelled enough to share that feeling with others.
When many people share it on their social media accounts, it is the equivalent to an online "talk of the town" which will lead to an increase in your publicity.
9 – Lessens the robotic persona
Adding custom illustration to your brand gives the audience the feeling that they interact with a human being. Websites developed in the early 2000s are lifeless and dull.
This leaves us with the impression that the site's creators are unprofessional and can't be trusted.
Modern-day branding now has a lot of life and depth to it.
Every business, whether it's a multinational corporation or an online shop, the majority of them are filled with custom illustrations to make their visual content stronger and effective.
10 – No language barrier
You should not limit your brand's message to those who can only understand one or two languages at max.
Investing in custom illustrations can convey any message to viewers around the world.
Custom illustrations allow people worldwide to engage and experience your brand without having to worry about what it means and what it says.
This solves communication problems, and it makes the narrative easier to understand.
Types of Custom Illustrations
Now that we know that excellent visuals can help build awareness for your brand, the next step is to figure out what style you want to use.
There are different custom illustrations, and all of them can evoke other emotions from your viewer.
The most common are there two types of illustrations — Traditional Illustration and Modern Illustration.
Traditional illustrations are hand-drawn art. Modern examples are art created by using digital software.
Traditional Illustrations
1 – Pencil Drawn Illustrations
Pencil drawn illustrations are the most well-known traditional illustration there is.
In the early days of art, illustrators used the classic pen and paper to create dynamic illustrations through shading and crisp lines that brought forth different emotions from its viewers.
2 – Watercolour Illustrations
Traditional painting illustrations are commonly used in children's books due to its light and whimsical aura.
The combination of different vivid colours looks appealing to the eyes not just for children but also for adults.
3 – Acrylic Illustrations
Some would say that acrylic illustrations are the best technique to use if you want to create art that can be as soft as a watercolour illustration and striking as an oil painting.
Acrylic illustrations have a personal touch and a desirable character; that's why it immediately became popular amongst artists in the 1960's.
Modern Illustrations
1 – Geometric Illustrations
Geometric illustrations don't seem like it will be out of style any time soon.
You can use simple shapes like circles and squares to create artwork that defies the norm through abstract compositions.
2 – Cartoon Illustrations
Lifeless visuals are a ticket to getting ignored by a highly visual audience.
Cartoon illustrations add humour and amusement to your brand — DotYeti has several cartoon illustrations with these qualities.
You can use this example to target different audiences without sacrificing your company's quality and storey.
3 – 3D Illustrations
Diversity in illustrations is a must since the digital market is highly competitive these days.
3D custom illustrations give life to any storey while creating characters and plots that represent your brand's storey.
How to use Custom Illustrations in Brand Marketing
1 – Social Media / Websites
One common mistake marketers make is that they tend to overlook their social media and website page.
These pages are your platforms to freely communicate with your audience. Personalising the icons, the landing page, or login page can make a huge difference.
2 – Posters
Illustrations can be seen everywhere, especially in posters.
Designers are taking advantage of the power printed posters can do — they create custom illustrations that you can notice even from a distance.
Some would even use custom illustrations to aid those who are taking a political stand.
3 – Advertisements
Advertising is all about promoting a product, brand, or service — custom illustrations play the perfect role in doing so.
Out-of-this-world illustrations paired with a compelling context are a power duo that can benefit a multitude of businesses worldwide.
3 – Product Package Design
Marketers are pairing up with brilliant creatives to develop a design concept that will help their product or service stand on the shelves for years — and it works!
Whether we admit it or not, the design of a product's packaging has a significant impact on us.
Cosmetics, food, and even gadgets are now packed in a package that is incredibly hard to dismiss.
Countries like China, Korea, and Japan are known to have the best industries that produce cute and irresistible designs; it's not that hard to understand why they are a few of the leading countries that export their products worldwide.
Conclusion
Custom illustrations have a multitude of ways it can help boost your brand's marketing.
These art forms are storytelling materials that can lessen your brand's robotic voice and turn it into something more customer-friendly and appealing.
Custom illustrations can benefit your business in a global setting as it can present your brand as a versatile company that utilises imagery to communicate with people around the world.
Lengthy messages are limited to people interested in reading more and those who can only read that specific language.
Visual representations of these narratives can reach a broader range of audiences as they have no language barriers.
No wonder why books and novels with unique custom illustrations tend to go viral internationally.
Another benefit to investing in custom illustrations is that it tugs the viewer's long-term memory.
These illustrations can last a lifetime in a person's mind if they felt a personal connection with it.
If the illustration accurately captures your brand's storey, then that image will always be the representative of your company.
Quick-witted creators can create humorous and whimsical illustrations — these characteristics are essential if you want your brand to be remembered for decades to come.
Utilising custom illustrations can be used for different purposes like posting them on social media or your website to communicate with your customers.
Companies and organisations also incorporate custom illustrations in their posters to help attract customers from a distance.
Advertising agencies have been utilising custom illustrations for years by pairing them with compelling contexts to maximise their audience reach.
Lastly, every company worldwide uses custom illustrations for their packaging to instantly be noticed by consumers in the market.
The digital market is highly competitive today; brands need to find ways and strategies to help their mission become the number one source of whatever product or service they are offering.
Whether you want an original art form that speaks for your brand and simplifies complex and abstract ideas — custom illustrations are always a great solution.
They are cost reliable, useful, and entertaining enough to get any message across—everything you need to have a successful branding strategy.