Creating YouTube Thumbnails That Convert Like Crazy
The thumbnail you use on your YouTube video can have a huge effect on how many people watch it. 
Enticing images encourage people to click on your content, which equals more views. 
But, creating good YouTube thumbnails is more than choosing an image from the video and adding text. 
You should have a repeatable strategy you can use to create compelling images. 
This is something we have recently found success with at Authority Hacker. 
We've been creating YouTube videos for years now, but only began to focus on it as a growth channel at the start of 2020. 
Things really started to take off when we implemented a new thumbnail strategy.
The aim was to make our images as clickable as possible. Over a few months we changed from this style thumbnail:
To this one:
While the first style wasn't bad, we think the second is a significant improvement. It stands out and also fits better with our existing branding. 
Viewers seem to agree. 
The changes led to a significant overall jump in video views, as well as larger spikes when we release new content. 
You can see the increase in the image below. We implemented our current thumbnail template in August, and there is a clear jump soon after.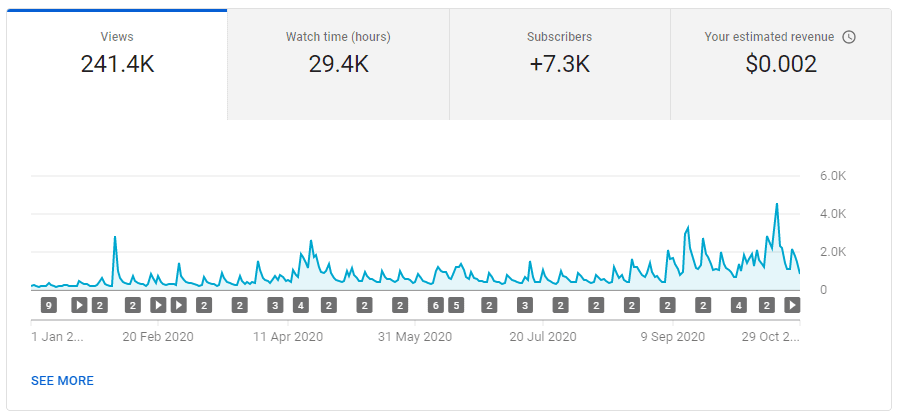 Of course, this increase isn't only down to YouTube thumbnails. 
The cumulative growth of our YouTube strategy will have also played a big part. 
Nonetheless, the new thumbnails coincide with the biggest spikes.
In this article, we'll go through the strategies we used in our YouTube growth journey. 
Why Custom YouTube Thumbnails?
Youtube is super competitive, and you need a way to make your videos stand out from the hundreds of hours of content uploaded every minute.
Creating high-quality, engaging videos that viewers love is important. 
But if you can't get people to click on them, you won't get any views. 
You have two main ways to encourage clicks: your title and your thumbnail. It's essential to get this combination right. 
YouTube says that 90% of its top-performing videos have custom thumbnails. 
"Custom" means the image you see isn't taken directly from the video but instead is an image created solely for the purpose of attracting views. 
It will typically contain an image relevant to the video, as well as text and sometimes a logo. 
In August, BestSEOCompanies analysed the 740 most popular YouTube videos of 2020 and discovered some interesting trends. 
For example:
● 72 per cent of the videos featured an image of a human. These videos gained an average of 921,000 more views than those without a human face.
● Videos with a logo or brand in the thumbnail averaged 1.2 million more views than those without.
● 70 per cent of top videos had either a title or explanatory text.
● 88 per cent of the top videos were vibrant and colourful. These videos averaged more views than ones with minimalist colour schemes.
These results typically tie in with our findings. 
Top Tips for Creating YouTube Thumbnails That Covert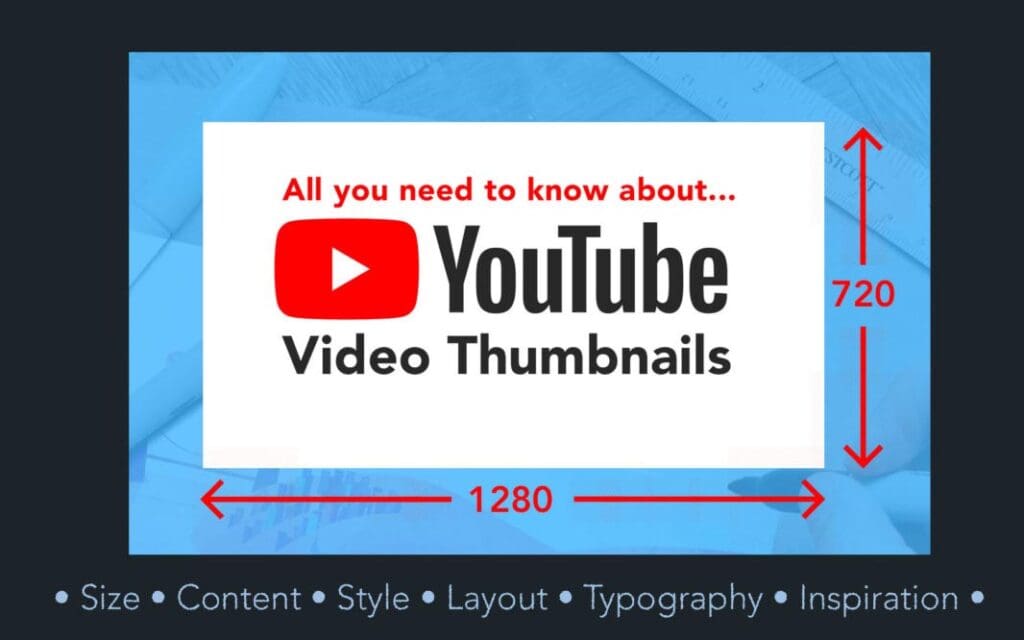 These are the main things we did to improve our YouTube thumbnails.
1 – Use Consistent Branding
The first thing we did when upgrading our thumbnail strategy was to ensure the images reflected our brand identity.
We created templates that ensured each thumbnail would match the branding on our website and social media channels. 
Things we did include:
● Keeping the primary background colour consistent with our website.
● Using the same font as we do in other materials.
● Ensuring secondary colours are consistent.
● Keeping combinations of text, images, and backgrounds the same.
Consistent branding on YouTube thumbnails has two main benefits.
First, it ensures that when fans see one of our videos, they know straight away that it is one of ours. As they're fans, they'll watch the video.
The second benefit is that having guidelines in place makes creating YouTube thumbnails super easy. 
We don't spend time worrying about what format each one should take. Instead, we just fit what we want to say into our existing structure.
You can see the consistency in the image below. Each of the videos is instantly recognisable as one of ours due to consistent thumbnail branding.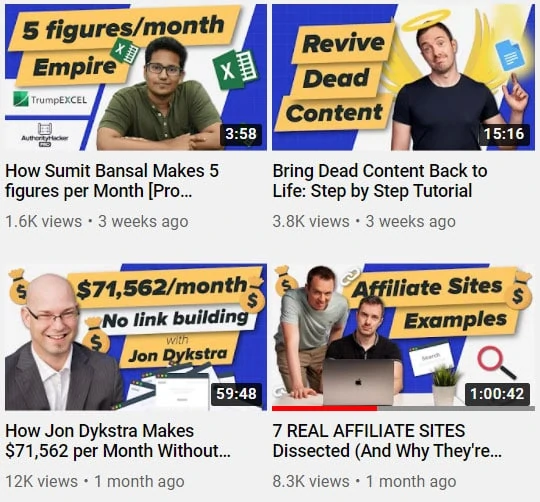 The branding is also recognisable to people who've seen our website. 
See how the design of this post about the best affiliate marketing programs uses the same font and background colours as the video thumbnails.
At Authority Hacker, we had an existing brand book document that we used to create our new template.
It details everything from which colours we use, to how we use our logo, to guidelines for social media posts. 
Creating the YouTube thumbnail template was just a case of taking relevant parts and putting them together in a way we liked. 
If your business doesn't have a brand book yet, it is a good idea to create one. 
While it may take time to build, it saves a ton of work in the long-term, and your brand will benefit from the consistency it brings. 
If you want to learn more about how to create a brand book, then check out Inkbot Design's complete guide here. 
2 – Add Compelling Text
When you look at the videos that are recommended to you on YouTube, you'll notice that many of the thumbnails contain words or sentences.
There are two main ways of adding text.
The first is simply adding the title to the thumbnail. 
This is something we experimented with when we started doing YouTube videos. 
It's also something many popular channels do. Check out how it looks in the thumbnail for the video below.
It's a good strategy because you can make thumbnail text larger and more eye-catching than the regular title that appears below the video. 
If more people notice an interesting title, they are more likely to watch the video. 
The second method is adding related text to the thumbnail. 
Instead of just repeating the title, adding a related phrase will give context to the video and potentially increase clickability.
We've been adding related text to our YouTube thumbnails in recent months, and we've found that doing so has coincided with an increase in views. 
You can see an example in the image below.
3 – Show Off Your Personality
The study we mentioned above found that videos with faces got more views on average than those without. 
This makes a lot of sense. People react to personal stories, and a good way to show personality is via a face.
At Authority Hacker, we've long used our faces in our YouTube videos. But over time, we've refined our strategy.
Check out the thumbnail for this PayKickstart review from two years ago. 
It's one of the first YouTube videos we released and one of our first attempts at a custom thumbnail.
While the image looks decent, the thumbnail doesn't stand out as much as our later efforts. 
As we refined our strategy, we tried ways to add more personality to the images. 
One of the first strategies we used was adding elements to our standard photos to make them more interesting. You can see how this looks in the image below.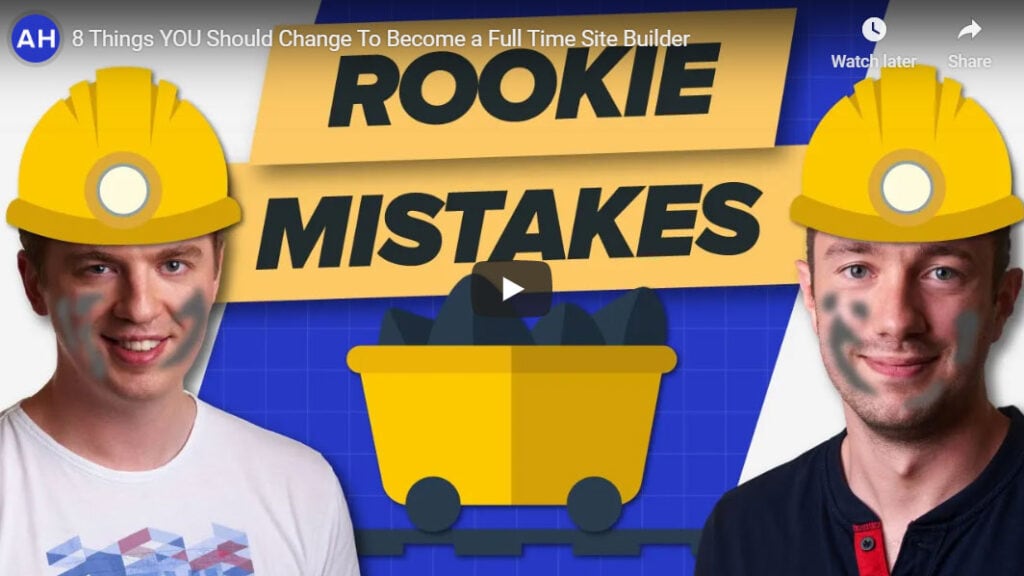 This style of thumbnail was a definite improvement, but we still wanted more. 
In recent months, we found success by adding images of us in exaggerated poses. We think these images bring a ton of personality to the thumbnails. 
The numbers suggest that viewers agree, as clicks have increased since we implemented this strategy.
We don't have time to create a new image for each video. But we found a way around this.
Back in August, we hired a photographer who took a ton of photos of us in different poses. 
We can now use these images in many different situations. 
Whenever we need a picture for one of our videos, we select one that fits and add it to the thumbnail. 
4 – Avoid Clickbait
In the search for more views, it can be tempting to go too far and create a thumbnail that misrepresents your video. 
While this may initially result in more clicks, if people feel the video content doesn't represent the title, they are more likely to stop watching after a short time. 
This can reduce your video's reach as YouTube's algorithm considers the amount of time people spend watching a video when choosing which ones to promote.
Of course, you should still make your title and thumbnail as clickable as possible. 
After all, that's what they're there for. 
The difference between good clickbait and bad clickbait is a fine line. 
YouTube says that creators should avoid making their titles and thumbnails deceiving, shocking, disgusting, violent, indecent, or loud.
Perhaps the best method is to think about your video honestly. 
If you'd be disappointed with the content after clicking on the thumbnail, then it's probably too clickbaity.
We have an article on writing great headlines that includes nine title recipes you can easily use in your own content. 
While it's more targeted at blog posts than YouTube videos, most of the tips are easily transferable.
5 – Check Your Metrics
As you upgrade your YouTube thumbnails, you should keep an eye on key metrics to ensure that your efforts are working. 
Initially, you'll want to check the click-through rate of your videos as this is what will tell you if people like your thumbnails.
However, a feature of the YouTube algorithm means that your click-through-rate may actually go down as your videos become more popular.
This is because as YouTube shows your video to more people, it gets seen by not just your fans and existing audience, but by people who have never seen you or your content before.
This second group will naturally click on your video less than the first group. 
YouTube itself says that videos shown on the homepage typically have a very low click-through rate. 
Yet not many creators would turn down the chance to be shown on this page!
As long as your views are consistently going up, we think you shouldn't worry too much about the click-through rate.  
As a guide for what to look out for, YouTube says that half of channels and videos have a click-through-rate of between 2 and 10 per cent. 
Ultimately, thumbnails are an essential part of any YouTube strategy. 
While good ones won't make up for bad content, the fact that custom thumbnails are so widely used suggests that they can make a material difference to your viewing figures. 
We hope the tips in this article will help you implement a better performing YouTube thumbnail strategy of your own.