Top 10 Best Books on Strategy and Business Marketing
In a world where business competition is as fierce as a pack of hyenas fighting over a juicy piece of meat, having a solid marketing and strategy plan is critical to surviving and thriving. But let's face it, with the abundance of resources out there, figuring out which ones are worth your time and investment can be more confusing than deciphering ancient hieroglyphics.
That's why we've compiled a comprehensive list of the Top 10 Best Books on Strategy and Business Marketing. Think of it as your survival guide in the wilds of the business world. These books are like the Swiss Army knife of business resources – they equip you with all the knowledge and skills you need to survive and dominate your competition.
From the timeless classic "The Art of Strategy" to the must-read "Contagious" by Jonah Berger, these books are like the Avengers of business literature – they assemble the best strategies and tactics to help you save your business from the brink of disaster.
Whether you're a seasoned entrepreneur who's been through more business battles than a medieval knight or a fresh-faced newbie just starting, these books will have you armed and ready to take on any challenge that comes your way.
So, please sit back, relax, grab a cup of coffee (or whatever your beverage is), and get ready to dive into our Top 10 Best Books on Strategy and Business Marketing list. Your business survival and success depend on it (no pressure).
Top 10 Best Books on Strategy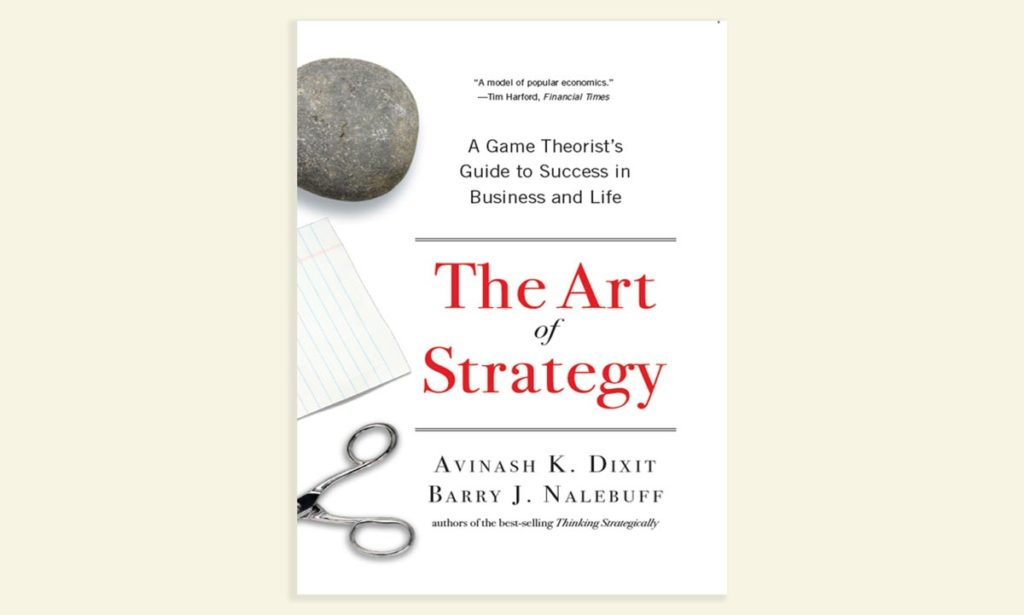 1 – Your Next Five Moves: Master the Art of Business Strategy
Sale
Bestseller No. 1
Do you ever feel like you're playing a game of chess with your business? Trying to anticipate the next five moves of your competition while also figuring out how to make the right moves for your success? Well, fear not, my friend, because Patrick Bet-David, the creator of Valuetainment (aka the number-one YouTube channel for entrepreneurs), is here to help.
According to Ray Dalio, author of "Principles", Patrick is "one of the most exciting thinkers" in business today. And in his book, "Your Next Five Moves", he provides a practical approach to thinking more clearly and achieving your professional goals.
You may be thinking, "What does chess have to do with my business?" Successful entrepreneurs and chess masters have the vision to look at the pieces before them and anticipate their next five moves. And in this book, Patrick Bet-David helps entrepreneurs translate this skill into a practical methodology.
With insights from industry leaders like Brian Tracy, author of "Eat That Frog!", "Your Next Five Moves" is the ultimate guide for entrepreneurs looking to up their game. Whether you've hit a wall or lost your fire, this book has the answers to help you take your business to the next level.
So, if you're ready to become the chess grandmaster of your business and make your next five moves with confidence, then grab a copy of "Your Next Five Moves" and get ready to dominate the game. And if all else fails, remember what they say in chess, "When in doubt, move your queen." (Okay, maybe that's not the best advice, but you get the point).
2 – 7 Powers: The Foundations of Business Strategy
Sale
Do you find yourself constantly searching for a practical theory of strategy that you can understand and apply? Well, fear not, because Hamilton Helmer has covered you with his groundbreaking book, "7 Powers".
Drawing on his decades of authority as a business strategy adviser, active equity investor, and Stanford University teacher, Helmer has developed a comprehensive strategy toolset that is easy to learn, communicate, and quickly apply. And let's face it, in business, time is money, so the quicker you can use a strategy, the better.
But what exactly is a "power", you may ask? According to Helmer, those conditions create the potential for persistent differential returns. In other words, it sets your business apart and gives you that competitive edge.
Using real-world examples, Helmer explains precisely what your business needs to achieve to create power and why it's crucial for success. He even develops the Power Progression to help you target when your power needs to be established: in your business's origination, take-off, or stability phases.
Let's face it; every business faces a crux directional choice made amidst swirling uncertainty. But fear not; with "7 Powers" at your fingertips, you'll have a real-time strategy compass to discern your true north and make the right decision for your business.
So, if you're ready to take your business strategy to the next level and become the master of your power, grab a copy of "7 Powers". And who knows, maybe one day you'll be so powerful, you'll be able to take over the world (just kidding, please don't do that).
3 – Good Strategy/Bad Strategy: The difference and why it matters
Sale
Are you tired of hearing business buzzwords thrown like confetti and motivational slogans that leave you feeling more confused than inspired? Richard Rumelt is here to save the day with his book "Good Strategy/Bad Strategy".
When first published in 2011, this book immediately struck a chord, calling out the mish-mash of pop culture and misleading jargon that so often passes for real strategy. And let's be honest, if we had a dollar for every time we heard someone say "synergy" or "disruptive innovation", we'd be living on our private island by now.
But Rumelt's ideas aren't just a breath of fresh air but also practical and actionable. His pragmatic approach has won fans worldwide, and his book continues to help readers recognise and avoid the pitfalls of bad strategy while adopting good, action-oriented strategies that honestly acknowledge the challenges being faced.
So, what is a good strategy? It's not just about ambition, leadership, vision, or planning. It's about coherent action backed by an argument. In other words, it's about having a clear plan of attack and the evidence to back it up.
But don't just take our word for it. Give "Good Strategy/Bad Strategy" a read and see how Rumelt's ideas can help you cut through the noise and develop a strategy that works. And who knows, maybe one day you'll be coming up with the next big buzzword (don't make it too cheesy, okay?).
4 – Contagious: Why Things Catch On
Sale
Contagious: Why Things Catch On
Audible Audiobook
Jonah Berger (Author) – Keith Nobbs (Narrator)
English (Publication Language)
03/05/2013 (Publication Date) – Simon & Schuster Audio (Publisher)
Are you tired of your business ideas falling flat? Have you ever wondered why some products or ideas go viral while others don't even get off the ground? You must listen if you're ready to take your business to the next level. Dynamic young professor Jonah Berger has cracked the code on what makes ideas contagious, and he's sharing his secrets with you.
In his groundbreaking book Contagious, Berger outlines the six critical steps to making your products, ideas, and behaviours catch on like wildfire. Drawing on his extensive research, he reveals surprising insights, like the fact that word of mouth is far more effective than advertising and that online buzz isn't always the key to success.
If you're ready to harness the power of word of mouth and take your business to new heights, Contagious is the must-listen book for you. Already hailed by experts like Dan Ariely and Dan Gilbert, this book has become a global sensation, selling in nine countries and changing how businesses think about marketing. So what are you waiting for? Get ready to go viral!
5 – Blue Ocean Strategy
Are you tired of swimming in a sea of red oceans, where every business is vying for the same customers and profits? Then it's time to dive into Blue Ocean Strategy, the book that has challenged conventional wisdom about strategic success for over a decade. Coauthored by renowned management gurus W. Chan Kim and Renee Mauborgne, this perennial bestseller has become a must-read for business leaders and entrepreneurs.
Forget about trying to outcompete your rivals in a crowded market. Based on a groundbreaking study of 150 strategic moves spanning over 100 years and 30 industries, Kim and Mauborgne argue that the key to lasting success lies in creating "blue oceans" – untapped markets where your business can thrive without facing fierce competition. This updated edition includes fresh content from the authors, ensuring that their insights remain relevant in today's fast-changing business landscape.
So, if you're tired of being a small fish in a red ocean, it's time to take the plunge and explore the blue ocean strategy. You might discover a whole new world of opportunity for your business to grow and thrive.
6 – Playing to Win: How Strategy Really Works
Are you looking to create a winning strategy for your company? Well, look no further! In this book, two of the business world's best-known thinkers, A.G. Lafley and Roger Martin, team up to provide a playbook to guide you through the process.
First, let's get one thing straight: strategy is complicated. It's not rocket science, but it requires making tough choices about your company's future – and that's not always easy. But fear not; Lafley and Martin are here to help.
Using the success story of Procter & Gamble, where Lafley served as CEO and Martin as a strategic adviser, they demonstrate how clear and essential elements can determine business success. In just ten years, they doubled P&G's sales, quadrupled its profits, and increased its market value by over $100 billion. Not too shabby, right?
But what's their secret? Well, it's all about understanding where to play and how to win. They guide you through identifying the areas where your company can thrive and developing strategies to dominate those markets. And if anyone knows about dominating a market, it's P&G.
So, if you're ready to take your company to the next level, Lafley and Martin are prepared to show you the way. And who knows, maybe you'll be the next business success story!
7 – Competition Demystified
Bruce Greenwald, one of the nation's leading business professors, has a new and simplified approach to strategy that will cut through the fog like a hot knife through butter.
Based on his wildly popular course at Columbia Business School, Greenwald and his coauthor, Judd Kahn, offer an easy-to-follow method for understanding the competitive structure of your industry and developing an appropriate strategy for your specific position. And let's be honest, who doesn't love an easy-to-follow method?
It is crucial to avoid getting lost in complex models of your competitors, suppliers, buyers, substitutes, and other players. Greenwald and Kahn's approach will help you answer the big question: Are there barriers to entry that allow you to do things that other firms cannot? If the answer is yes, you're on your way to success!
8 – The Art of Strategy: A Game Theorist's Guide to Success
Sale
This isn't just your run-of-the-mill common sense – it's about developing a new way of seeing the world and anticipating the moves of those around you.
Thankfully, game theory experts Avinash Dixit and Barry Nalebuff are here to help you level up. In their book, they delve into a wealth of examples from pop culture, TV, movies, sports, politics, and history, showing how game theory plays a role in nearly every business and personal interaction.
It's all about understanding your opponents' strategies and anticipating their next move – all while they're doing the same to you. But don't worry; with the help of this lively and engaging book, you'll be able to master the art of game theory and become a true strategic genius.
So whether you're in business, politics, or just looking to outsmart your friends and family at the next game night, game theory is the ultimate key to success.
9 – Build: An Unorthodox Guide to Making Things Worth Making
Sale
Are you looking to advance your career? Want to be the next big thing in Silicon Valley? Then listen up because Tony Fadell has some advice for you.
In his book, Build, Fadell shares his journey from a product designer to a leader and mentor, all while working on some of the most impactful products of the 21st century. And trust us; this guy knows what he's talking about. He helped create the first iPod and iPhone, for crying out loud!
But don't worry; you don't have to be a tech whiz to benefit from Fadell's wisdom. Each chapter is designed to help you with the problems you're facing right now, whether getting funding for your startup or dealing with that annoying coworker in the next cubicle (we all have one).
And unlike some Silicon Valley types who think they must reinvent the wheel with every new product, Fadell takes a more old-school approach. He knows human nature doesn't change, so why reinvent how you lead and manage? Just focus on making something great.
So if you're ready to take your career to the next level, grab a copy of Build and start building your way to success!
10 – Love as a Business Strategy: Resilience, Belonging, and Success
Were you looking for a business book to make your heart race and pulse pound? Look no further than Love as a Business Strategy, the latest tome from Softway, a company that knows about transformation.
But don't let the title fool you. This isn't a book about puppies and rainbows. Love as a Business Strategy is packed with real-world examples of how love can transform a business, even when all seems lost.
And let's be honest, who doesn't love a juicy exposé? Love as a Business Strategy is chock-full of mistakes, heartbreak, and redemption stories. It's like a soap opera but with more spreadsheets.
But don't worry, Love as a Business Strategy isn't just about drama. It's a practical guide to achieving better business outcomes, like boosting employee engagement, improving patient experiences, and increasing efficiency. And unlike those other business books full of piety and theoretical concepts, Love as a Business Strategy is grounded in the real world, with step-by-step instructions for success.
So if you're ready to transform your business and fall in love with your work again, pick up a copy of Love as a Business Strategy.
Wrapping Up
In conclusion, taking control of your career and staying ahead of the ever-evolving world of business is essential. And what better way to do that than by diving into the top books on strategy and business marketing? These books are like a secret weapon, providing you with the right tools and techniques to navigate through the complex landscape of business. And let's be honest, who doesn't love a good secret weapon?
With classics like Patrick Bet-David's "Your Next 5 Moves" and contemporary gems like Jonah Berger's "Contagious," the list of top strategy and business marketing books will have something for everyone. Not only will these books offer you invaluable insights and practical tips, but they will also make you look intelligent and impressive in meetings. Who wouldn't want that?
So, take some time to grab a coffee, get comfy, and start reading. These books are a passport to success in any industry, and your business acumen will undoubtedly thank you. And who knows, you'll even drop some impressive business jargon in casual conversation, impressing your colleagues and friends.
Last update on 2023-09-24 / Affiliate links / Images from Amazon Product Advertising API