Top 10 Best Tablets for Drawing, Design & Art
Most tablets are excellent for creating notes, taking photos, playing games, watching movies, and browsing the web. But some tablets are designed specifically for artists to create, design, or make art. This roundup includes the best drawing tablets in the world, whether you're looking for one for your kids or yourself. We've included the right tablet for you and your style of art.
With the release of new tablet devices, we can now enjoy the convenience of having our favourite art tools at our fingertips. Whether you are an artist, designer, or photographer, a tablet device provides a portable, reliable and affordable way to create, display, edit and share your work.
Tablets are a great way to enjoy art and design. They are easy to use and can be carried anywhere.
There are many reasons why you should use tablets for art and design. The first reason is that they are portable, which means you can carry them anywhere and don't need a desktop or laptop. The second reason is that they are simple to use. They have a touch screen that makes drawing and designing a breeze. And lastly, they are affordable.
I have reviewed the top 10 best tablets for drawing, art and design to make your life easier. These tablets have the best features to help you draw and design and are available in different sizes and price ranges.
1 – Wacom Cintiq 16
If you've never used a Cintiq before, you may wonder what makes it unique. I'm personally obsessed with technology, and I'm constantly researching the newest gadgets out there.
I remember first hearing about Cintiq and seeing the pictures online. I knew I had to get one for myself, and I was ecstatic when I finally got my hands on one.
The Cintiq is a highly accurate digital pen display that allows you to draw directly onto your computer screen, and it comes with a high-resolution (1920×1080) screen.
The pen has a very smooth surface and can achieve incredible precision. It's 8,192 levels of pressure sensitivity, and it recognises even the lightest strokes, so you won't accidentally make a mark.
The Cintiq comes with a low activation Force, and the pen feels like a natural extension of your hand. The display is super responsive, and you can see the cursor move as you draw on the screen.
You can connect it to your Mac or Windows PC using the included 3-in-1 cable, and you'll get the fastest and most responsive connection possible.
The Cintiq is a genuinely incredible device, and you'll love every second of it. I can't recommend it enough, and it's a must-have for anyone who loves drawing and painting.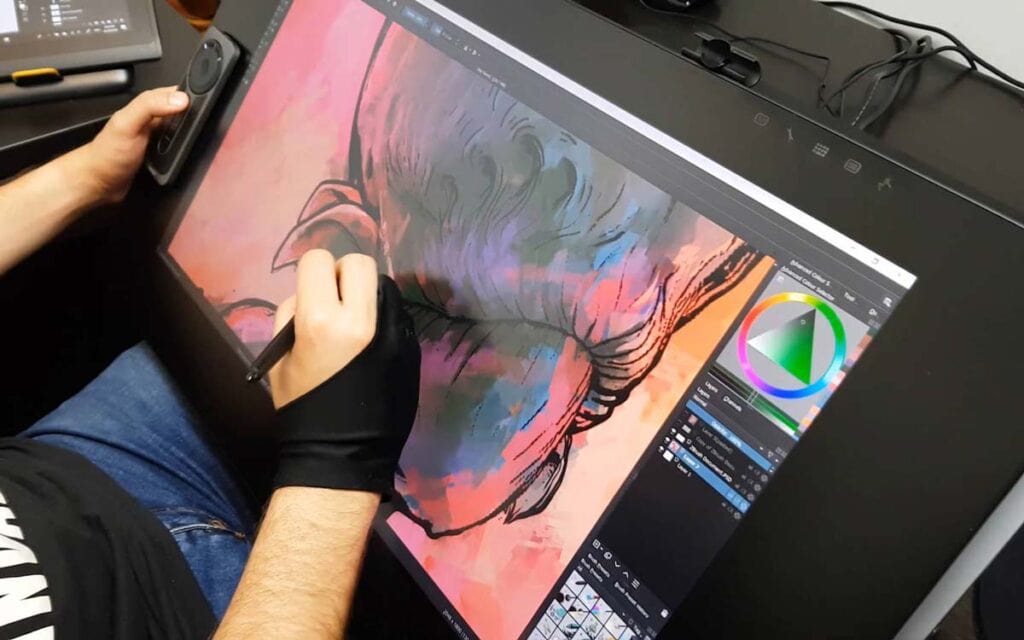 2 – XP-PEN Artist12
The XP-PEN Artist12 is a high-performance, battery-free stylus for artists. It has a lot of excellent features, and it's also very affordable.
It's one of the best styluses for the price and one of the few that come with a screen. It's easy to use, and it has a great range.
The pen is compatible with Windows, Mac or Linux. It's also compatible with Photoshop, Illustrator, SAI, Painter, MediBang, Clip Studio, and more.
The Artist12 is compatible with many different programs and websites and has a great range. You can also draw on the screen and connect to a computer wirelessly. This is convenient for students and teachers who want to use a drawing tablet in class or at home.
The Artist12 has an excellent ergonomic design and is comfortable to hold. The grip is a little stiff, but it's still easy to hold.
The Artist12 has good battery life. It lasts a long time, and you can use it without recharging.
It comes with a USB charger, so you can charge the pen while it's plugged into the wall. It takes about 2 hours to charge the pen fully and less than 3 hours to get it back to full power.
It's easy to use. There's no manual, and it doesn't take long to figure it out. The pen is intuitive, and it's simple to navigate the menus.
Eight replacement nibs are included with the pen holder, and the nibs are easy to replace.
3 – HUION KAMVAS Pro
With its fantastic drawing experience, the Huion Kamvas Pro 16 tablet is the best choice for artists and designers. It's a high-quality product with outstanding visual quality, and I was impressed with its performance.
Huion Kamvas Pro 16 is designed to be used with a mouse, but it works perfectly with my Logitech MX Anywhere 2.0 mouse, and the difference is incredible. The Huion Kamvas Pro 16 felt much smoother when using it with the mouse, and I had no problem with lag when drawing.
I used the Huion Kamvas Pro 16 for about an hour, and the pen did not lose track. I only noticed that the pen would lose track if I moved it too far from the screen, but that wasn't a big issue.
The Huion Kamvas Pro 16 is lightweight and easily folded to carry around. I appreciated that feature.
The battery life is pretty good, too. The battery lasted for 4 hours of continuous drawing.
The Huion Kamvas Pro 16 is a great product, and I highly recommend it.
4 – Wacom One HD
I was sceptical about buying a tablet for my work, but I enjoyed using this one, especially since it came with the Wacom One bundle.
I've been using my computer for a long time, so I thought using a tablet would be a hassle. I was surprised at how much I enjoyed the experience, though, and I can't imagine going back to using a mouse and keyboard.
The tablet comes with a stylus, and the pen is very comfortable. I find myself drawing a lot with it, and I enjoy the natural pen experience.
It's also compatible with Photoshop, Illustrator, InDesign, and many other programs so that you can be as creative as possible.
There's no lag when drawing or moving things around, so you can get your ideas out quickly and efficiently. The battery also lasts long; I had to charge it a few weeks ago.
It's also great for note-taking, and the tablet has good handwriting recognition.
The tablet is a little bit heavy, but it feels good in the hand. The screen is big and bright, and the resolution is impressive.
The tablet is designed for professionals and has many professional features, such as Wacom's Ergonomic Design.
It's nice to have a tablet that feels natural to use, and this one has done that for me.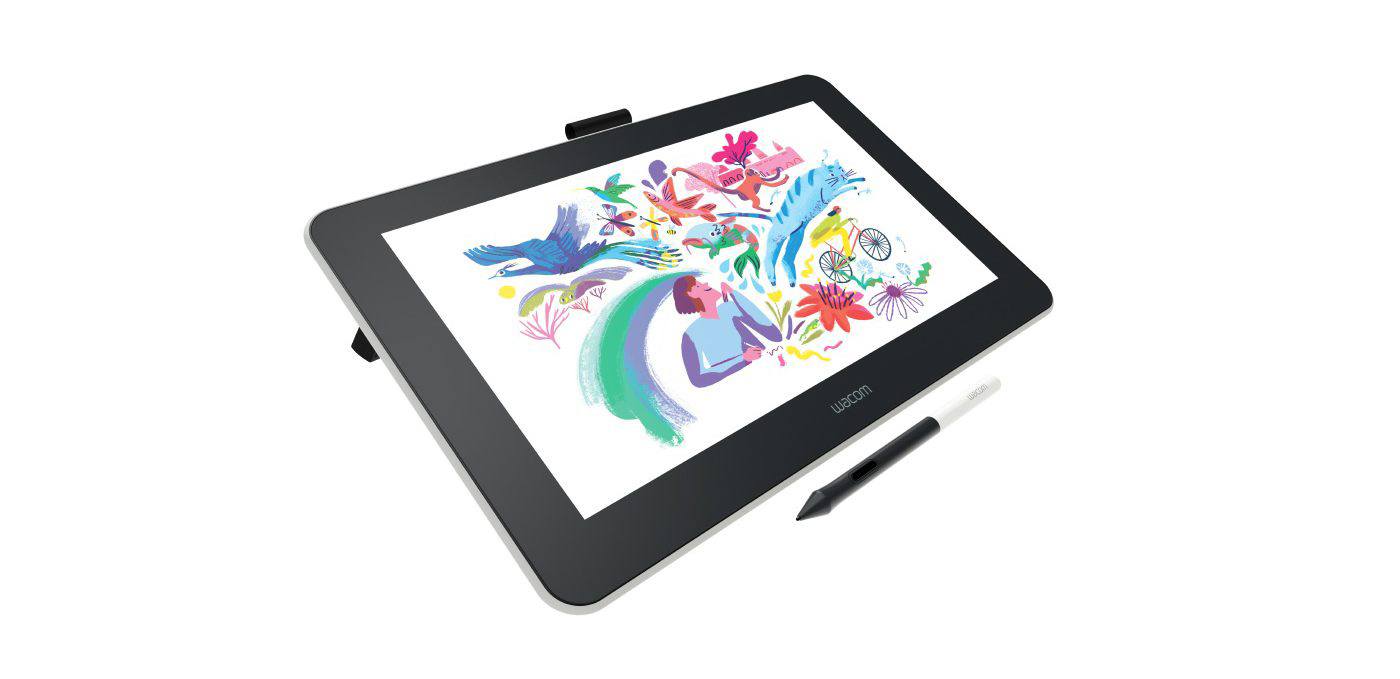 5 – Xencelabs Drawing Tablet
If you're a creative professional who needs to produce high-quality work, then the Xencelabs Pen Tablet is the tablet for you.
The pen tablet is made from high-quality materials so that it can withstand the rigours of heavy use. The surface is coated with a particular material that provides a frosted, textured look that makes the pen feel like it's sitting on a piece of paper.
It comes with two different-sized pens, so you'll have flexibility in your work. The larger pen is ideal for sketching and freehand drawing, while the smaller pen is perfect for precise lines and fine detail.
Both pens feature the same pressure sensitivity, so you won't have to worry about having the wrong pen for the job.
The pen has an OLED screen that lets you see exactly what each button does, so you can adjust it to suit your workflow.
The pen is very comfortable to hold, and the pen case is designed to ensure it stays clean and protected.
The pen was easy to use, and I got accurate results immediately.
You can customise the buttons to do whatever you want and use both pens in tandem.
There are many different apps for tablets out there, but most of them could be more customisable. Xencelabs Pen Tablet allows you to set up your shortcuts and assign custom buttons to do whatever you want.
The pen case is also pretty good, protecting the pen from getting scratched or damaged.
6 – Apple 12.9-inch iPad Pro
There are so many good reasons why we love the iPad Pro. But when we say "we", we mean Apple itself.
The iPad Pro is a powerful machine, but it is also Apple's first tablet. So when Apple updates a device's design and specs, the company can do it better than anyone else.
Apple knows that tablets are no longer just for consumption – they're a tool for creation too. And they've designed the iPad Pro to be that.
The new design brings the display closer to the surface, making it easier to view and use. That's because the display is larger and has a higher resolution than before.
The 12.9-inch screen is also the same size as the 12.9-inch MacBook. So if you've been considering an iPad Pro as a laptop replacement, now might be a good time to consider it.
The display is one of many upgrades. The new iPad Pro is powered by the A12X Bionic chip, which includes two performance cores, two efficiency cores, and four graphics cores.
The A12X chip is Apple's fastest chip ever made for a tablet. It's so fast that it can process two full frames of 4K video at 60fps. That's a lot faster than the previous A12 chip and means that video apps such as Netflix and YouTube can stream videos at a much smoother pace.
But what's even more impressive is how long the battery will last. With the new iPad Pro, Apple claims the device will get 10 hours of battery life. That's a significant improvement over the 9.5-hour battery life of the previous iPad Pro.
As for the display, the iPad Pro is now using P3 wide colour. This means that colours are more accurate, and the device can produce a broader range of tones.
The new iPad Pro is also the first to feature True Tone technology. This allows the display to adapt to the environment around it. For instance, the display will automatically adjust to suit the sun's brightness when watching a movie outside in the sunlight.
And if you want to make your movies, the new iPad Pro is the first to feature the new iMovie app. This makes it easy to create and edit movies right on the device.
If you want to make the most of the iPad Pro, you'll need a powerful external keyboard. Apple's new Smart Keyboard is the perfect accessory for the iPad Pro and works seamlessly with the device.
It connects to the iPad via Bluetooth and offers various functions. You can use it to type up documents, draw on the screen, or even play games.
And if you want to take the Smart Keyboard with you wherever you go, it comes with a Lightning to USB-C cable that lets you charge the keyboard and the iPad at the same time.
So if you're looking for an iPad Pro that does everything, this is the one for you.
7 – Wacom Cintiq 22
The Cintiq 22 is one of the best-selling graphics tablets today. It's also one of the best-reviewed ones, thanks to its user-friendly, smooth and responsive touchscreen and a pen that works smoothly and accurately, even in low light.
However, the tablet has flaws. The screen is smaller than the previous model, but it's still a considerable improvement over the previous model. Its battery life is shorter, but it still lasts very long. The biggest downside is the price: the Cintiq 22 is currently priced at $1,699, while the Cintiq 21 Pro starts at $1,299.
The Cintiq 22 is an excellent choice if you're a creative person. It has many valuable features, including dual USB ports, a headphone jack, an SD card slot, a VGA port, and a wireless dongle.
If you're worried about the price, consider looking into the Cintiq 21 Pro instead. It has the same pen and holder, but the display is a little larger, and the battery life is longer.
8 – Microsoft Surface Pro
The Surface Pro is a great device, but at the time of this review, it could have been better in the market. So let's start from the beginning.
Surface Pro is the flagship device of Microsoft, the tablet that combines the power of a laptop with the flexibility of a tablet. It's the most expensive of the Surface Pro series, and it is the most powerful.
Microsoft's Surface Pro is a 13.5-inch touchscreen device with a full HD resolution of 2160×1440 pixels, the same as the Apple iPad Pro. It has a 4th generation Intel Core i5 processor, and it runs Windows 10 Pro.
The Surface Pro has an Intel Core i5-7300U processor and a 2.6GHz dual-core processor with Intel HD 620 graphics. This is a higher-end processor compared to the previous generation of Surface Pro models.
The processor of the Surface Pro is fast enough to run all Windows 10 apps and programs smoothly. It can run most games and productivity programs too.
Surface Pro is available in two configurations: 64GB and 128 GB. These configurations have the same processor, but the storage space is different.
The 64GB model has 6GB of RAM, and the 128GB model has 8GB of RAM.
These configurations are available with both 4th generation Intel Core i5 and i7 processors.
The Surface Pro is a tablet and not a laptop. This means you can detach the keyboard and use it as a tablet.
But unlike other tablets, the Surface Pro has a kickstand, which makes it easy to use as a laptop. You can prop the Surface Pro on a table and use it as a laptop.
The Surface Pro comes with a 4th generation Intel Core i5 processor powered by a discrete graphics card. This means that it is not a low-power chip like the previous generation.
The Surface Pro is rated at 9 hours of battery life, which is decent battery life. But it has a limited battery life on the market.
9 – XP-PEN Deco Pro
The XP-Pen Deco Pro is the best stylus for sketching and painting; it's the ideal tool for people who want to create.
It's not the first time that XP-PEN has won a design award, but it's for the Deco Pro this time. It's a very sturdy pen and has a lovely ergonomic shape, making it comfortable to hold.
The roller wheels are great, and they're also effortless to use. The Deco Pro is great for sketching and is also suitable for writing.
It's very sturdy and feels great in your hand, so you won't get tired of using it after a while. The pen holder is a great feature, and it's perfect for keeping your Deco Pro safe and secure.
The XP-Pen Deco Pro is very comfortable to use, and it has an affordable price tag too. It's worth the money and the best stylus for sketching and painting.
10 – HUION Kamvas 22 Plus
The HUION Kamvas 22 Plus is an excellent choice for your drawing monitor.
The full laminated screen technology means no ghosting or ghosting-like problems. The Kamvas 22 Plus can also provide the most accurate colours.
When you use the pen to draw, the cursor moves precisely as you expect it to. There is almost no lag or delay in the cursor, which makes for an excellent experience.
There is an excellent contrast ratio, which makes the colours pop out and look vivid and realistic. The Huion Kamvas 22 Plus also has a vast viewing angle, which makes it easier to see the screen from all angles.
The Huion Kamvas 22 Plus is extremely easy to set up and use. It comes with a USB-C cable, which makes it very easy to connect to a computer. You can also add a full-featured USB-C to USB-C cable to connect to an android tablet.
The Huion Kamvas 22 Plus also has an adjustable stand that is included. You can use the included stand to get into the perfect position to start your creation.
This is the one for you if you want a drawing monitor that will give you the best working experience.
Wrapping Up the Best Tablets for Drawing
The tablet market is exploding, and tablets with touchscreens continue to gain popularity as we speak. While some people prefer desktops or laptops for their computer needs, a new class of people enjoy using tablets for almost everything. This class of users includes artists, designers, architects, illustrators, writers and many others.
In conclusion, the best tablet for drawing, designing, and art are lightweight, offer good screen resolution, are affordable, easy to use, and portable. For drawing and design purposes, the ideal tablet should have a high-resolution screen, have a good stylus, support many different file formats, and have a good range of software programs.
Get your tablet today, and prepare for the most creative week of your life.
Last update on 2023-03-09 / Affiliate links / Images from Amazon Product Advertising API