Top 12 Best Sales Books To Help You Sell More
I'm not saying that every book you read will help you sell more—but the ones that do will help you understand more about yourself, what you want, and how to get there. It would be best to learn what works when working on your business. The sales books below are the most helpful in learning how to sell more.
Selling is a skill. It takes practice, and it takes work. Selling is a science. It takes data. Selling is art. It takes creativity. Selling is a mindset. It takes a change of heart.
We all want to sell. We all want to make money. We all want to be successful. We all want to be good at selling. The problem is that we don't always know how.
So we look around for books to help us learn how to sell.
But what if I told you that the best sales books to help you sell are already out there?
I want to share the 12 best sales books with you because they will help you become your best salesperson. They will teach you everything you need to know to sell. And they will give you the tools and resources to make it happen.
Our Top 12 Best Sales Books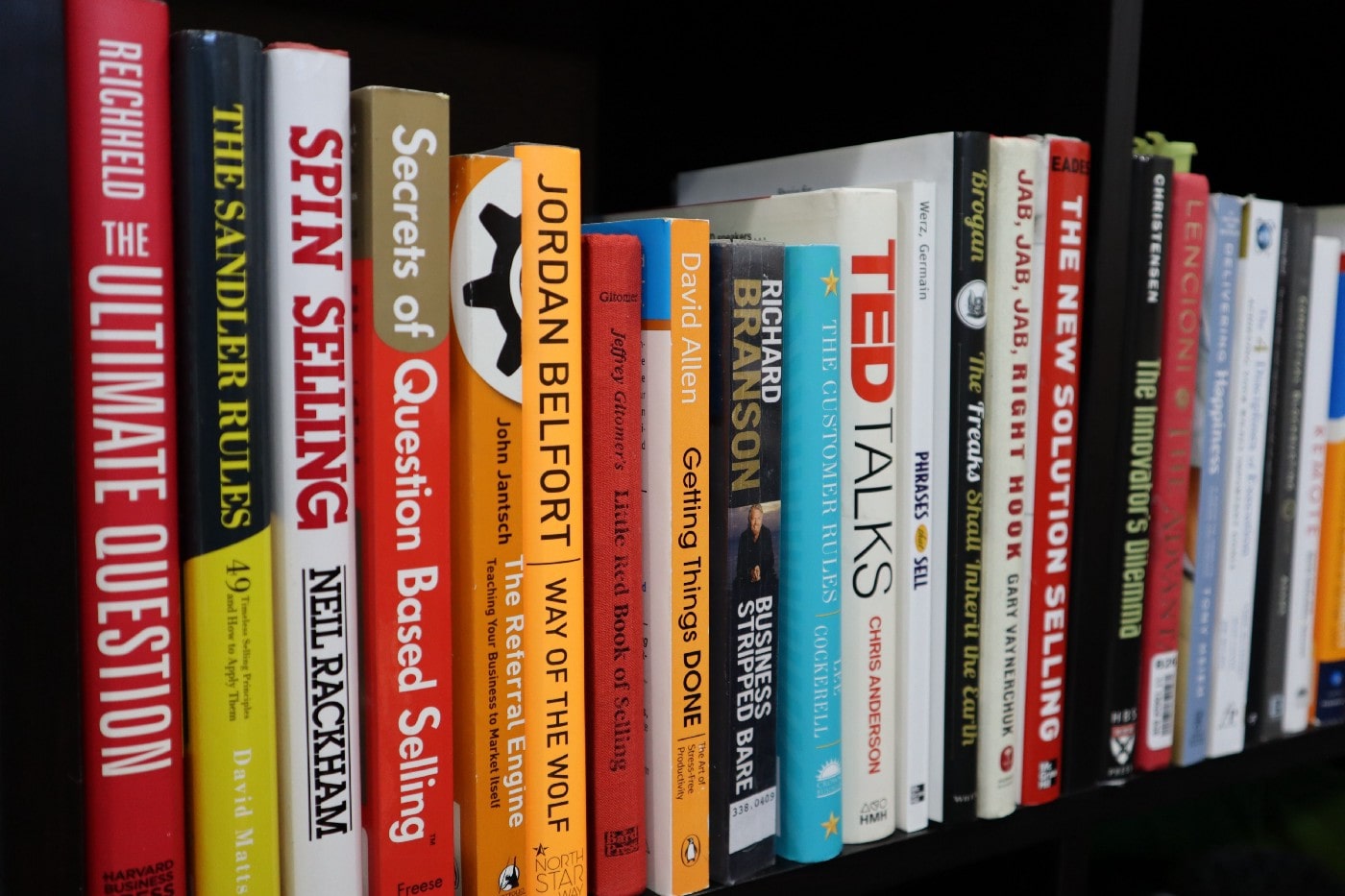 1 – Inbound Selling
Sale
I'm a huge fan of inbound sales, and this book is very informative and valuable. It's an excellent read for any salesperson or team leader looking to improve their sales skills.
There are many inbound books, but this is the one I've found to be the most helpful.
The author explains in detail how to sell and why inbound works. He goes through the various steps of the inbound sales process, explaining each step and how to implement it into your own sales process.
He goes through the entire sales cycle, from identifying prospects to closing the deal, and explains how to improve your skills at each stage.
He covers how to handle objections and close deals in the most effective manner. He gives examples of how to use email to get the best results.
This book was instrumental. It covers the basics of inbound sales in a concise and easy-to-understand manner.
2 – Way of the Wolf: Straight-Line Selling
Sale
In this book, Jordan Belfort shows us how to change our lives by selling. I mean, really sell!
You'll learn how to sell to anyone, regardless of background or experience.
Jordan's advice and examples are practical and applicable to anyone.
The techniques are so simple that anyone could use them. You can start right now even if you've never sold anything. You don't need special skills or knowledge to use this method.
I know many people who have read this book and seen the results. They've gone from struggling to make ends meet to becoming very successful.
The most impressive thing about this book is that it's written in a conversational style and doesn't assume you have any special skills or knowledge.
All you need is the desire to make changes in your life and the determination to learn. This book will help you get there.
3 – The Challenger Sale
We're huge fans of Neil Rackham and his books, so we were naturally excited to get our hands on a copy of his latest book, Challenger Sale.
The Challenger Sale provides valuable insights into how to become a better salesperson. It contains several interesting observations that could help anyone break out of their comfort zone and become a better salesperson.
The first thing to note is the strong theme of using sales skills to become a leader. People with leadership skills tend to be more respected by their colleagues and customers and more likely to be promoted. If you want to be a leader in your company, consider changing your approach to sales.
Rackham's Challenger Sale provides several valuable insights, and I'd recommend it to anyone looking to improve their sales skills.
4 – The Little Red Book of Selling
No products found.
After reading Jeffrey Gitomer's "12.5 Principles of Sales Greatness", I can say this book is definitely worth the money.
This book is a must-read for anyone thinking about starting a business or wanting to improve the sales process at their current job.
The book explains very clearly why sales happen and how to make them happen. It breaks down the sales process into the 12.5 principles of sales greatness and teaches you how to use each principle to make sales happen.
This book is for you if you are a salesperson or want to be one. If you are a business owner or want to improve the sales process at your company, then this book is for you.
This book is an excellent addition to your library, whether you are a seasoned salesperson or a beginner.
5 – Fanatical Prospecting
Sale
The concept of prospecting is straightforward: go to people and ask them about their businesses.
In the case of selling, though, it's more complex than that. There are many ways to go about it; while some are better, no one is 'the right way'.
Fanatical Prospecting is a book that describes what works and doesn't.
While it's not a comprehensive list of techniques, it does cover the most common ones and shows why they work.
This is a book that every salesperson should read. It's less of a sales book than a prospecting book, but if you want to increase your sales, this book will help.
It covers the basics of prospecting and shows you why it's so important. It then shows you how to do it right and avoid the pitfalls.
You'll learn a lot of good ideas, and the book gives you the tools to implement them.
I highly recommend this book to anyone wanting to increase their sales or improve their skills.
6 – Gap Selling: Getting the Customer to Yes
The author of this book is a bit of a mad scientist because he is passionate about sales and the sales process.
In my opinion, Gap Selling is the best book on sales that I've read. It's a no-BS sales approach and provides a simple solution to many sales problems.
The book is filled with actionable advice and practical examples. The author walks you through the sales process step-by-step, explaining why things work and how to change them.
One of the biggest problems salespeople face is the gap between the sales process and the salesperson. They're two separate entities, and when the sales process and the salesperson need to work together, the results are alarming.
The author's key point is that the salesperson is only as good as the process, and the process is only as good as the person. He's right, but the book takes it a step further.
He explains that the salesperson and the process are the same people. The salesperson is the process, and the process is the salesperson.
He calls this the "theory of the salesperson" and argues that the salesperson is a process. If you can improve the process, you can improve the salesperson.
He has a lot of great ideas for improving the sales process, and he presents them prominently and concisely.
Gap Selling is an excellent resource for anyone who is struggling with sales. It's not just about closing the sale; it's about influencing the buyer and making the sale.
7 – New Sales. Simplified.
Sale
In the last few years, the world of sales has changed dramatically.
The old-school approach of cold calling, using a scripted speech, and asking for referrals no longer works.
The old methods are just not cutting it anymore, and the sales world has shifted to a new approach.
Nowadays, sales are all about relationship building, listening, and connecting.
New Sales. Simplified. It takes you step by step through turning strangers into potential clients.
The book starts with the basics. It covers the five pillars of sales: the sales process, the buyer, the salesperson, the seller, and the customer.
It shows you how to get out there and make a living as a salesperson.
It also explains how to close sales and what to do after you close.
You will also learn how to overcome objections and get the highest possible percentage of sales.
By reading this book, you will better understand the industry and its people.
You will gain confidence and be able to sell more effectively.
And you will get many valuable tips to improve your personal sales skills.
This book is a must-have if you want to get started in sales.
8 – To Sell Is Human
Sale
The best-selling author of Drive and A Whole New Mind, Daniel Pink, returns with this new book that focuses on selling.
In this book, Daniel Pink discusses the art and science of selling and gives us some great tips on improving our skills.
Pink says that the key to selling is to understand the six successors to the elevator pitch, the three rules for understanding another's perspective. These five frames can make your message clearer and more persuasive, and much more.
This book is a must-read if you want to become a better salesperson.
9 – The Ultimate Sales Machine
Sale
When The Ultimate Sales Machine was first published in 2007, legendary sales expert Chet Holmes gave us the key to doing just that. You need to focus on twelve critical areas of improvement—and practice them over and over with pigheaded discipline.
A decade later, Chet's daughter Amanda Holmes breathes new life into her father's classic advice. With updated language to match our ever-changing times and over 50 new pages of content, The Ultimate Sales Machine will help any modern reader transform their organisation into a high-performing, moneymaking force. With practical tools, real-life examples, and proven strategies, this book will show you how to:
• Teach your team to work smarter, not harder
• Get more bang from your marketing for less
• Perfect every sales interaction by working on sales, not just in sales
• Land your dream clients
This revised edition expands on these proven concepts, with checklists to get faster ROIs, Core Story Frameworks to get your company to number one in your marketplace, and a bonus, never-before-revealed chapter from Chet, "How to Live a Rich and Full Life," that will put you in the best possible mindset to own your career.
10 – Pitch anything
Klaff is a real-life pitchman, and Pitch Anything is a book that explains what happens inside the mind when trying to persuade someone to buy something.
While the book is aimed at salespeople and marketers, anyone who wants to be more persuasive in their daily lives would benefit from reading it.
Klaff's method is unique. The idea of framing is not new, but his method is, and the book reveals how the brain works when trying to persuade someone to make a decision.
To sell something, the first thing you have to do is set the frame. This is done by identifying your customer's problems and then showing them a solution to their problem. The solution doesn't have to be complicated, but it does have to be relevant.
Then, you have to tell a story. A story is a narrative that takes the audience on a journey. The story must be compelling enough to make them want to learn more.
Klaff talks about the importance of 'revealing the intrigue'. If the audience doesn't care about the problem, they won't care about the solution either. It would help if you got them excited about the product, which means offering them something to get excited about.
After the story is told, you must persuade the customer to accept your offer. For that, you need to give them a prize.
Finally, you have to nail the hook point. The hook is when the prospect agrees to take the next step. Once that happens, you can ask for the sale.
This book has much truth, and Klaff shares his experiences delivering pitches to get his point across.
I've read many books on persuasion, and I was surprised that this is one of the best.
11 – Ninja Selling: Subtle Skills. Big Results.
Sale
I'm a self-made entrepreneur, and a few years ago, I decided to take my sales skills to the next level.
I needed a book to teach me how to sell and close deals to generate more leads and increase my income per hour.
What I got was different from what I expected – Larry Kendall's book.
After reading the book, I realised that his approach works for everyone. That's why I recommend this book to anyone wanting to get started in sales or improve their sales skills.
Larry's book will help you improve your ability to ask the right questions, and he's got a ton of tips and tricks to help you get more deals and turn more of your prospects into customers.
The book is filled with helpful exercises and fun and interesting information.
Larry also offers additional resources to help you develop a winning mindset.
After reading this book, you'll be able to ask the right questions and attract clients to turn them into customers.
You'll be able to close more deals and earn more money per hour to live a life of purpose and meaning.
If you're thinking about selling but are unsure whether you can succeed, this book is for you.
12 – Zig Ziglar's Secrets of Closing the Sale
Sale
Zig Ziglar's Secrets of Closing the Sale is an instrumental book that teaches how to make people say "yes."
There are so many different ways to sell yourself and your ideas, and Zig Ziglar covers all of them.
If you're looking to sell something, he shows you how to do it. If you want to make money, he gives you the best ways to do that.
This is an excellent book for anyone who wants to learn how to sell, and it's a must-read for entrepreneurs.
In this book, Zig Ziglar teaches you the most effective sales techniques in the business world.
Whether you want to sell yourself, a product, or anything else, you'll find this book beneficial.
Wrapping Up
The best sales books are for more than just people who sell a product. They're for anyone trying to sell their ideas, services, and expertise.
If you're serious about selling, you must get good at sales. This means understanding your personality and what it takes to close the deal.
Get this list of 12 best-selling books at a fraction of the cost you'd pay from any bookstore, and learn how to increase your conversion rates in no time.
Last update on 2023-12-09 / Affiliate links / Images from Amazon Product Advertising API