How to Create Resources That Benefit Your Target Audience
Knowing who your target audience is covers part of the equation for building an excellent user experience (UX) on your website. However, you must also know what pain points drive them and how to create resources that will benefit your site visitors.
According to Internet Live Stats, approximately 4.7million new blog posts appear each day on the internet. Unfortunately, not all have the same quality or meet users' expectations. Google's algorithms pull up results that match most closely with search intent. Your resources must do so much more than simply provide quality information.
To reach the users you want and keep them coming back for more, you must become a bit of an amateur psychologist and problem solver. The resources your brand offers need to stand out from anything else available among the massive billions of pieces of content available.
How to Create Resources that Target Your Audience
Segmenting your audience and figuring out the needs of each portion is probably one of the most time-consuming and challenging parts of your content marketing strategy. Take the time to look at internal statistics, study what competitors are doing and even survey your site visitors to see what would be most effective for them.
Constantly go back to the pain points driving people to visit your site in the first place. How can you best solve those issues for them through your offerings? Are you missing anything? Which topics are most popular? Can you expand on them more?
Here are some tips for creating resources to benefit your target audience and gain your brand some name recognition in the industry.
1. Take an Inventory
It's challenging to add to your resources until you understand what you have. Spend time creating a database of every asset, from infographics to articles to white papers to videos. Ask for feedback on anything missing from the content. Can you add a section to ramp up the effectiveness? Is anything irrelevant and needs to be cut?
Take a step back and look at the info through the eyes of your buyer personas. What's missing? Your inventory should help you plan to move forward with new content you should develop.
2. Point Out Benefits
Although it's wise to address pain points, you should also point out the benefits of your brand. What makes you stand out from the competition? What is your unique value proposition (UVP) that makes customers choose you over any other option?
You must look at the benefits through the eyes of your customers. You may have the best company culture and adopt the most interesting causes of any brand out there. However, if you don't sell it from how it helps your users, they won't care.
Instead of pushing your fantastic company culture, tell them why your employees being satisfied in their roles helps the customer have a better experience.
Source: https://www.refijet.com/lincoln-refinancing
RefiJet understands a Lincoln is a significant investment for most people. Folks might wonder how they'll afford the payments. By stating upfront how much users can save by refinancing, they take ownership of a luxury car a possibility and put payment fears at ease.
3. Tap Into Emotions
Don't just throw together a few buyer personas. Segment your list and call it a day. Take some time to dig deep into the demographics and psychographics driving your customers. What pain points make them seek your site in the first place? What are the emotions behind those pain points?
For example, someone who runs a nanny service might understand that a single mom needs a nanny so she can go to work without worrying about being late or missing days when the kids are sick. Since most daycares don't allow kids to come when they're running a fever, a full-time nanny can be a lifesaver.
The pain point is that the parent needs someone to care for her child while she works. However, the psychographic factors are massive. The mom must be able to trust the person she's leaving her child with. She worries about criminal background, mental cruelty, someone who isn't reliable and even the costs involved.
The job of the nanny service is to provide content answering those emotions of fear and worry by perhaps highlighting happy customers, introducing some of the people working for them and being transparent about how they conduct interviews and background checks before hiring anyone.
4. Find Industry Trends
Every industry has trends or finds itself impacted by technology and societal changes. What are the trends in your particular industry, and how do they translate into the customer experience?
Showing you understand changing times can also help you gain the confidence of potential customers. You'll prove you're a leader in your niche and fully understand the company's future.
Source: https://www.wework.com
WeWork understands people's current concerns with keeping social distance and ensuring everyone stays safe. Their landing page addresses their response to COVID-19 and their standards to ensure everyone stays safe.
The section shows they understand current needs and are fast to respond. It reassures their leads they will make changes when necessary to ensure the safety and wellbeing of their clients.
5. Consider Hangouts
Your target audience probably has places they hang out, either in real life or online. For example, if your customers are mainly teens, you might find them on Snapchat or TikTok. Once you know where your buyers spend most of their time, it's much easier to create content catered to those platforms.
The videos created for TikTok will look much different than something you'd post on YouTube or Facebook. Learn the platforms as well as you can so when you target your people. You'll speak the correct language.
You may also find some limitations to what you can do, such as a set number of characters, some images that aren't allowed, how you can link back to your site and any number of other rules you must navigate.
Pay attention to how other brands handle the platforms you want to target. Do they use a particular type of image? How do they handle links? Are their descriptions short? What about hashtags and when and how they utilise them?
6. Listen to Discussions
What are some things people discuss on social media and in forums? Pay attention to the questions they ask or the things they say they'd love to see. These may be opportunities for you to create unique content and meet their needs.
You never want to spam a group you're in, so make sure you can share a link before doing so. If not, you can always just mention you wrote an article on the topic and thank them for the idea. Many will look you up by your name or click on your profile and get your website address. You won't be spamming the group, but you'll still get the word out.
Source: https://www.quixservice.com/blogs
Quix Plumbing Service pays attention to questions their target audience has most frequently and then attempts to answer those issues on their blog. You'll find topics such as furnace maintenance tips, how to keep your pipes from freezing and what to do about a hissing radiator.
Pay attention to popular questions. If a competitor covered the same information and offered a resource, study their version and see how you might expand on it or make it more usable. Can you create a checklist for the user, for example? Perhaps a video would be more helpful.
7. Get to the Point
It might be tempting to add in many extra words to try to achieve a higher search engine rank, but users don't appreciate it. Have you ever visited a recipe site and had to read through a lengthy story about the author's grandmother's Thanksgiving dinners and how they inspired her to cook?
Most people looking for a recipe will say to themselves, "Get to the point already! I don't care about all this backstory." To rank higher in Google's algorithm and hit position zero, the blog owner overdid it and added too much information the user doesn't care about.
If you must add more words, then make the most of them. Think through what would be helpful to your audience. Perhaps you could go into greater detail about fixing the problem or analysing it.
8. Show the Process
Most consumers want the process laid out for them. What steps do they need to take to solve their problem, order your solution and follow through? There are several ways you can highlight the steps for your audience.
You can use infographics for a bit more detail. Write an article and show them the steps in listicle format. Create a video that highlights the process after the order arrives. It doesn't matter which method you use to lay out the steps. It most matters that users understand the solution and how to implement it. How exactly are you going to help them?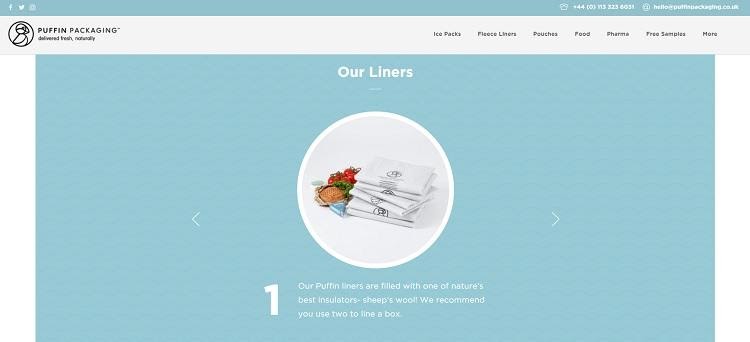 Source: https://www.puffinpackaging.co.uk/how-it-works
Puffin Packaging does an excellent job explaining the relevance and superiority of its packaging materials. They lay out the points one by one and go a bit more in-depth under each section.
Limiting the headline to a sentence, they help[ those who want to skim over the material. On the other hand, if you need more detail, you'll find that as well. They use relevant images to finish out the discussion.
9. Get Backlinks
You can write the most awesome content anyone has ever read, but it does them no good if people can't find it. Spend time reaching out to influencers in your industry—trade links with other business owners and post on social media.
Building backlinks isn't an immediate process. Any method that gives you instant backlinks is considered blackhat, and you want to avoid them. However, building quality backlinks to your quality content helps bump you up in search engine results and helps your audience find your resources.
Think about where your buyers hang out and try to get your links in those locations.
Your site's navigation is one of the most critical components on any page. People tend to use the navigation bar to orient themselves to your site's content. You should place it in the exact location no matter which page the user lands on.
Limit categories to four or five main ones. You can always add subcategories and sub-subcategories as needed. Your menu is expandable as a mega menu. However, you risk watering down your message and losing site visitors if you make it too complex.
You should also add a search feature so people can look for a specific topic. An effective search requires you to use relevant tags and keywords, but setting up the structure of your resources to include those features is just smart business sense.
Leave breadcrumbs so people can find their way back to the content they enjoyed. Perhaps someone read an article and wants to backtrack and share the link with their social media followers. You should also make it as easy as a single click to share your content on other Facebook, Twitter and Instagram.
Throw Out What Doesn't Work
Don't be afraid to throw out or completely revamp stale content. You don't want to waste space on something that isn't as high quality as you'd like. Ideally, everything your visitors read speaks to them somehow and sparks the desire to share it with those they know or order something from you.
The more content you add, the choosier you should be about topics and quality. It's better to have one long, valuable piece than many short articles that never fully answer the user's question.