16 Creative Gift Card Packaging Design Ideas for Inspiration
We tend to value gift cards for their convenience—they're simple but thoughtful ways to show recipients you care, while also ensuring that your audience ends up with something they want.
However, just because gift cards are the archetypal "easy" option doesn't mean you should slack off where presentation is concerned.
After all, when it comes to packaging design, it's what's on the outside that counts.
The way in which a gift card is packaged has a significant effect on the way that recipients will perceive it—not to mention the brand with which it's associated.
Coming up with a creative gift card packaging design can be difficult.
Fortunately, we've created a helpful solution: a collection of 16 design guidelines and ideas to spark your imagination and inspire your next project.
Try a unique shape
Gift card packaging doesn't necessarily need to be a standard sleeve or rectangular envelope.
Try thinking outside the box and experimenting with unusual sizes and shapes.
You might consider petal envelopes, such as the hand-painted examples shown here.
Make sure that whatever shape you choose matches the overall tone and theme you're going for; the packaging for a Valentine's Day event, for instance, might be shaped like a heart.
Source: https://www.behance.net/gallery/23062057/Packaging-Gift-Cards
Make it look expensive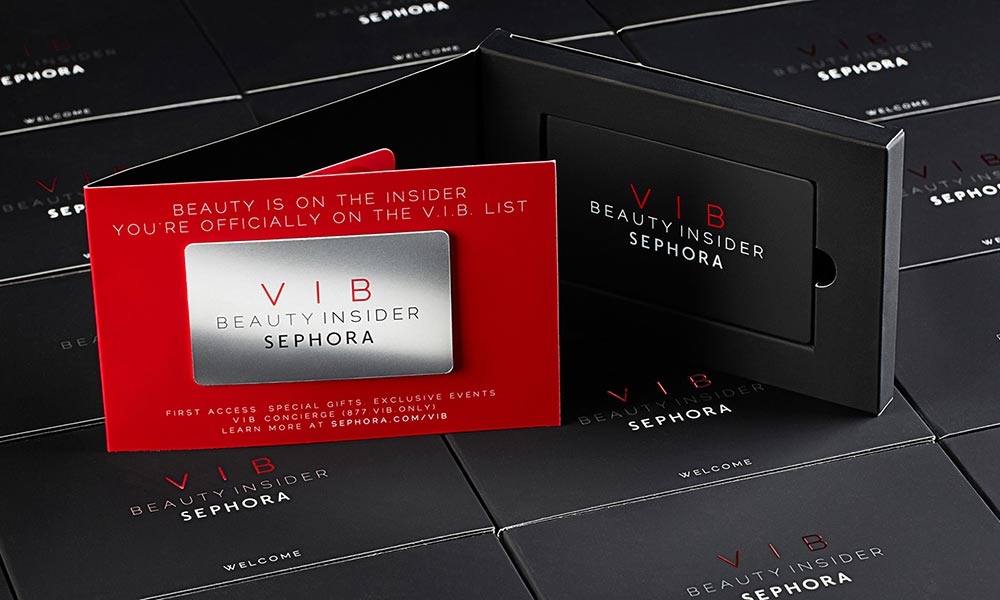 You don't necessarily need to spend a whole lot of money to make a design look high-end.
There are relatively simple, cost-effective things you can do to give your packaging an expensive-looking aesthetic.
Try using thin, elegant sans-serif fonts and solid colours in the background (as shown in the example from Sephora).
You can also use techniques such as foil stamped text or a wax seal to give a design a sense of luxury and style.
Note that this style won't work for every brand—only ones that are meant to appeal to a high-end audience.
Source: https://designpackaginginc.com/packaging-project/sephora/
Create seasonal variations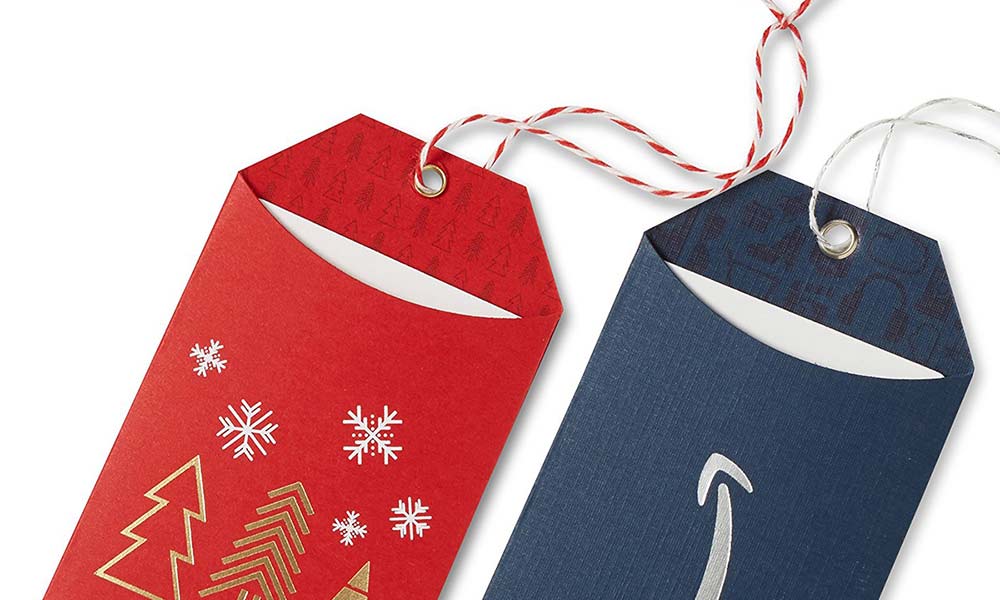 People give away gift cards for a wide range of occasions—holidays, birthdays, or even awards.
These different events all call for very different types of packaging, so you may want to create a few different variations on your design, as seen with these beautiful Amazon gift card sleeves designed by Steve Karlson.
You could even create a separate design for each season of the year.
This way, clients can choose whichever design is best suited for their particular occasion.
Source: https://www.stevekarlson.com/amazon-gift-cards
Make use of silhouettes
Silhouettes are an excellent way to allow your design to depict a specific scene while still giving it an air of mystery (and without requiring a lot of extra visual details).
We usually tend to think of silhouettes as being like shadows – dark shapes cast against a lighter background – but the reverse can also make for a very distinctive look.
This holiday design for a pet shop, for instance, features pets enjoying a star-studded winter scene—something that would be very difficult to capture in a full photograph.
Source: https://www.companyfolders.com/economy-standard-gift-card-holder?popup=PG-001-326
Add a personal touch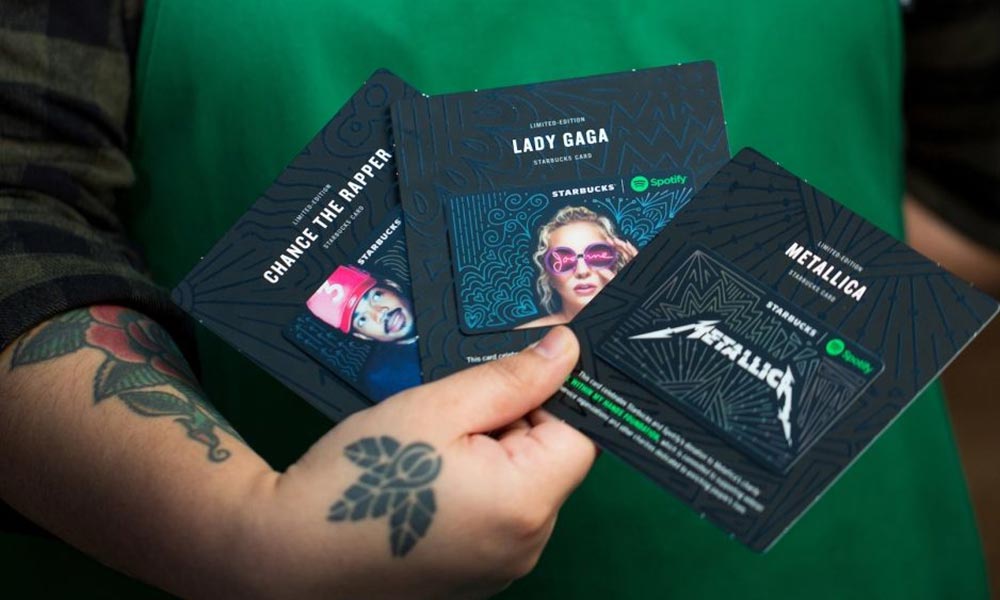 Sometimes all you need to connect with your audience is a personal touch—something that suggests humanity and creativity rather than slick graphics from a faceless corporation.
These limited edition gift cards from Starbucks and Spotify, for instance, feature a hand-drawn-style background unique to each musician.
Consider adding an original illustration or sketch to your packaging.
You could even include an actual handwritten note on the back of the package, custom-tailored to the recipient.
These are the sorts of things that let people know you've put some thought and care into your gift.
Source: https://news.starbucks.com/press-releases/starbucks-and-spotify-debut-limited-edition-gift-cards
Include an image of the product
When potential clients aren't already acquainted with a brand, receiving a gift card from that company isn't quite as exciting a prospect as it could be; after all, the recipient doesn't know what they're getting yet.
If your audience is less familiar with your product, including an image of it on your gift card packaging can give them a better idea of what to expect.
This design for a herb vendor, for instance, is framed by lush, appetising photos of fresh produce.
Source: https://www.companyfolders.com/side-fold-gift-card-holder?gallery=6&popup=PG-000-772
Less is more
You might be tempted to add as many flashy elements to your design to grab people's attention.
However, quite often, it's better to focus on just one or two notable features, like a logo or the name of the company.
A minimalist design can make your brand recognisable without overloading the recipient's senses.
This works best for more upscale brands; the simplicity of the design allows it to speak for itself.
Get creative with folding
Unusual folding techniques can be a great way to give your packaging a standout look that encourages interaction.
This package for an S&K gift card folds up into an elegant-looking box, making it both convenient and visually appealing.
You also might consider a tri-fold style or other piece with multiple panels if there's extra information you want to include.
Source: https://www.behance.net/gallery/52639985/S-K-gift-packaging-gift-card
Be bold with colour
Bold, warm colours such as red and orange are one of the best ways to get eyes on your gift card packaging.
Designs with this powerful style can help signal to an audience that the brand is exciting, energetic, or passionate.
Consider using a sharp contrast in your colour scheme to help the most important elements stand out.
Source: https://www.companyfolders.com/2-3-4-x-3-3-4-gift-key-card-holder?gallery=15&popup=PG-000-745
Try soft and inviting colours
Not every occasion calls for a bright and bold colour scheme. Individual events (mainly weddings) require a softer touch.
Cute gift card packaging with soft, pastel hues tends to suggest feminine, delicate, or comforting qualities, which may be the best choice if you're offering a product or service that's relevant to those traits.
Source: http://hagueandhague.co.uk/project/oh-you-pretty-things-gift-cards/
Use eye-catching imagery
A striking image – even one that's not of your product, service, or staff – can go a long way towards attracting a recipient's eye.
In many cases, this can be something conceptual or abstract.
Express your creativity and choose an image that expresses the overall theme or message of your brand.
Source: https://www.behance.net/gallery/731608/WAZOO-GIFT-CARD-PACKAGING
Show your rebellious side
Being a little edgy is a great way to appeal to younger audiences or alternative subcultures.
If the brand allows for it, try adding grungy or otherwise "rough" elements to your packaging.
The cool graffiti pattern in this design, for instance, is suggestive of a vibrant urban landscape.
You can also use stone or concrete textures, casual and modern fonts, or a playful mascot that shows audiences the brand doesn't take itself too seriously.
Source: https://www.companyfolders.com/4-color-process-card-sleeve?gallery=21&popup=PG-001-334
Play with patterns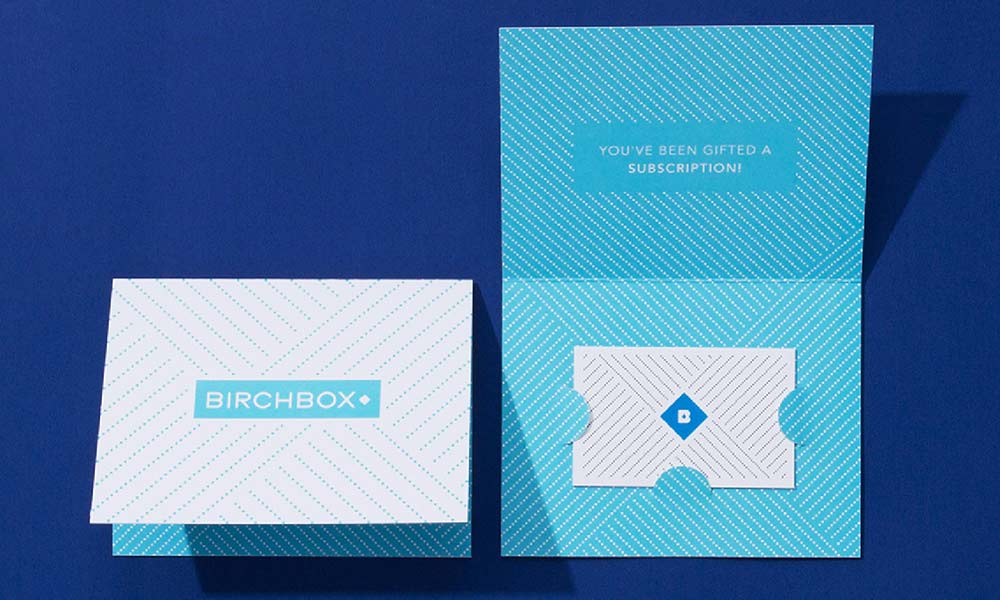 Patterns are an excellent way to add visual interest to a piece of gift card packaging without being too ostentatious.
This custom printed design from Birchbox, for instance, uses a consistent pattern of diagonal lines throughout both the inside and outside.
The diagonal lines are indicative of motion, and the resemblance to cloth or wood panelling helps give the piece a more personal and relatable atmosphere.
Source: https://dribbble.com/shots/5410830-Birchbox-holiday-gift-card
Include additional calls to action
Gift card packaging rarely requires a call to action to be successful.
After all, most people don't need much convincing to take advantage of a free gift.
You may, however, want to compel them to do something else, such as join a mailing list or submit a review.
Since you're giving them something for free, this is an opportune time to include a message encouraging them to take action.
Avoid making it too intrusive; try placing it somewhere on the back, out of the way of your central branding.
Source: https://www.companyfolders.com/curved-right-pocket-key-gift-card-holder?gallery=10&popup=PG-000-768
Complement the look of the card
When it comes to branding, it's vital to stay consistent.
Make sure you design your packaging in a way that complements the card itself; this will make it clear that you're engaging the recipient a singular, unified voice.
You don't necessarily need an exact match; consider using contrasting or analogous colours.
You can even make the packaging a sort of continuation of the design on the card, as shown in this branded retail packaging example for iTunes.
Source: https://www.androidcentral.com/how-use-itunes-gift-card-android-user
Include a slogan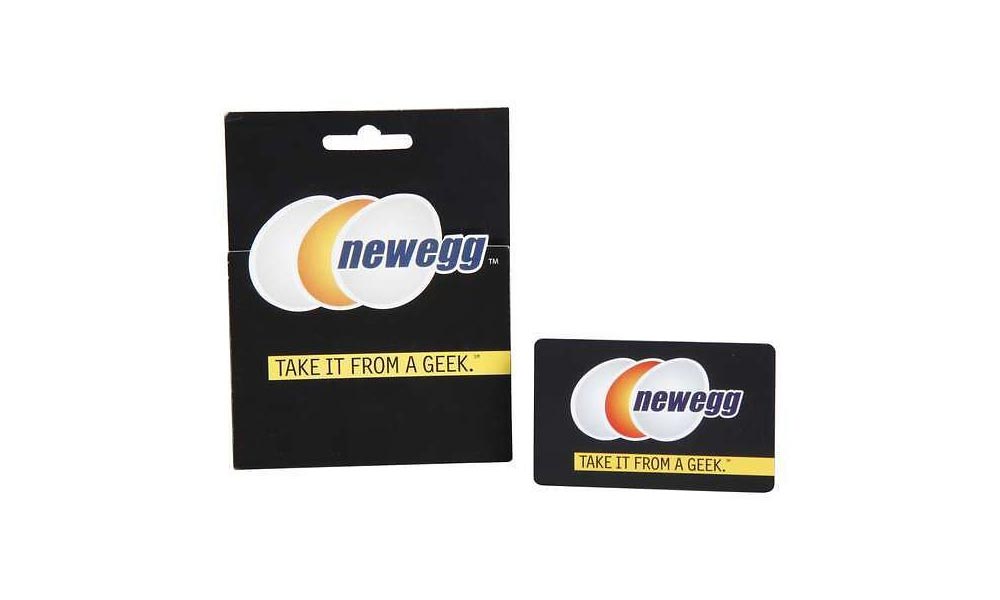 A slogan is a short, catchy way to let recipients know what the brand is all about—its values, promises, or personality.
Printing that slogan on your gift card packaging (as shown in this example from Newegg) helps you connect with your audience in a highly memorable way—especially if they aren't already familiar with your brand (making it particularly useful for small business owners).
Try to come up with creative ways to highlight the company's slogan, making it stand out with a colour background, an unusual font, or other graphical elements.
Final Thoughts on Creative Gift Card Packaging
A great piece of gift card packaging does more than simply decorate your gift; it lends it a certain degree of prestige and gravitas.
Think of it as similar to the wrapping you'd put on a present during the holidays.
It's such a simple thing—but it's highly influential when it comes to your brand's image.
Any questions about creating gift card packing, or design ideas you'd like to share?
Let us know in the comments below.