Animal Logo Design Inspiration – Logos and Ideas
Logos have certainly evolved over the years – organisations no longer want their logos to be literal representations of themselves.
They want their brand and vision to flow through their logo design.
One way they can do this is by leveraging animal symbolism.
Animals are brands in themselves as they represent many things to many people.
Looking at a Tiger will provoke images of elegance and strength. Whereas, a bird will, of course, represent freedom and sincerity.
These are precisely the kind of emotions that brands can capitalise on to represent their identity.
However, with an exhaustive pool of ideas, it may be challenging to come up with original animal logos.
In this article, we will take you through various animal logos that are prime examples, and that can help you get inspired to create something truly unique and personal.
But before we do that, let's first understand the process to create an animal logo design.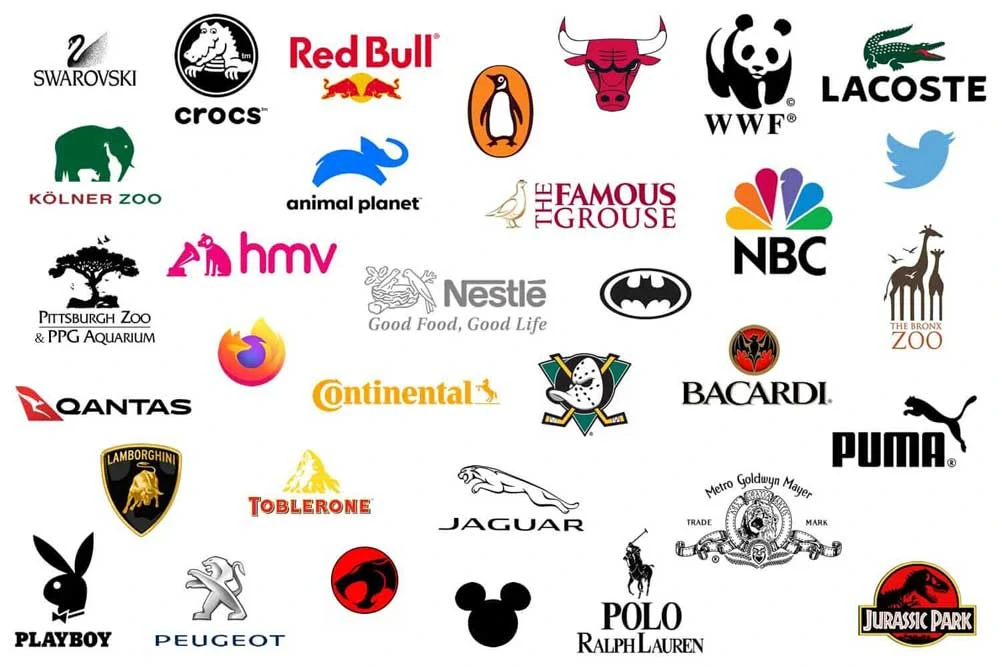 Define your brand –The first step of the process involves introspection and understanding what exactly your brand stands for. You, along with your colleagues, need to sit down and brainstorm to find answers to these broad-level questions.
Choose a type of logo – Even if you have decided you want to go ahead with an animal logo design, you still need to understand what kind of animal logo you want. There are several types you can consider –
Symbol – A relatively simple and minimalist style of animal logo design with a bold and robust impact.
Wordmark – Your organisation's name can be incorporated into the logo while leveraging animal imagery.
Monogram – You can abbreviate your name to create a memorable and lasting impression.
Mascots – Having comical and whimsical animal characters can help you reach out to a specific demographic. At the same time, also help you remain relevant and memorable in the mind of the audience.
Choose an animal – Simply deciding that you want an animal logo is just the seed of an idea. Once you have defined your brand and decided the kind of logo you want, you must then choose the animal you wish to use in your logo. You must, however, be cognizant of what an animal represents in various countries and cultures. For example, a pig is considered to be a dirty animal in many cultures, so you must consider that.
Logo Colour – Once again, not just the colour but its representation is what matters to a brand. Blue is the most common colour used in logos and represents serenity, stability and trustworthiness.
Scalability and Originality – While creating an animal logo, you must ensure that it is original and scalable to avoid any long term challenges.
Now that we have understood the process of creating a logo.
Let us also take a look at some existing animal logos that have created an impact by their originality and can be truly inspirational.
You must also understand that we are only suggesting that you take inspiration from them not plagiarise them. 
1 – Playboy
If you have been distracted while reading this article, we're sure you're paying attention now.
Playboy has undoubtedly been at the top of its game, especially when it comes to its logo design.
The Playboy bunny has been able to capture the essence of the adult entertainment industry perfectly.
Firstly, the animal itself is a sex icon. Bunnies are known to be filled with love and aren't shy to express it.
Choosing a rabbit is the perfect way to represent what Playboy's brand stands for – it's spicy, ambiguous but not crass.
Additionally, the rabbit has also been dressed in a dapper and gentlemanly bow tie.
This adds a classy look to the design and allows the brand to target a specific demographic.
Through this logo and brand imagery, Playboy has also led the movement on female empowerment.
It has allowed and promoted women to express their sexuality more openly and healthily.
This is precisely the kind of impact a simple animal logo can have not only on the brand but also on society.
2 – Ferrari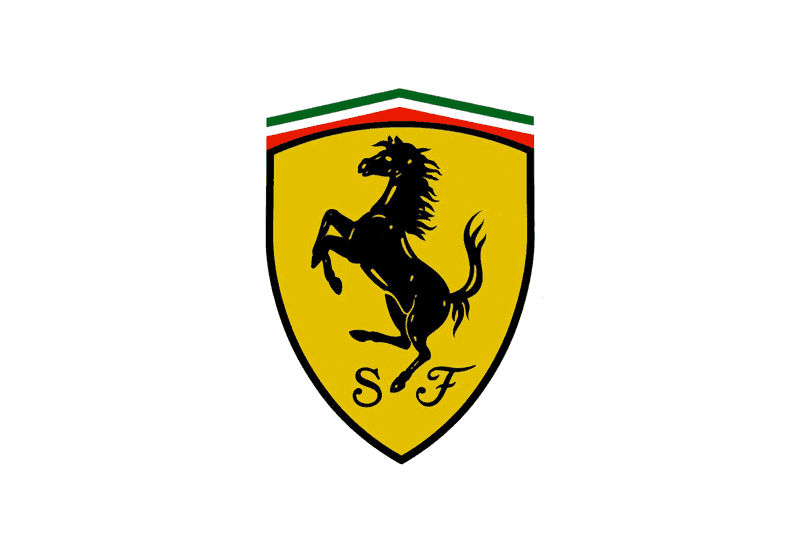 Ferrari has the most recognisable logo in motorsport across the world, and rightly so.
The Ferrari logo itself is a prancing stallion on a yellow background.
There are several stories as to how the animal logo came into existence.
Legend says that Paulina Barraca proposed it to Enzo Ferrari and noted that it would be a good-luck charm on his racing vehicle.
Though there have been tweaks to the design, the logo has remained roughly untouched ever since.
The prancing horse is a perfect fit for the brand as the cars are considered to be fast, ferocious and untamable, similar to the wild stallion.
The colours represented in the logo also have a detailed history to them.
The Black colour of the horse represents grief on Baracca's part as her son was killed during WW1.
To the stallion, Ferrari added a Canary Yellow background, to represent the city of Modena, his birthplace.
Lastly, the logo is crowned with red, white and green stripes, which is a representation of the Italian national flag.
3 – Nestle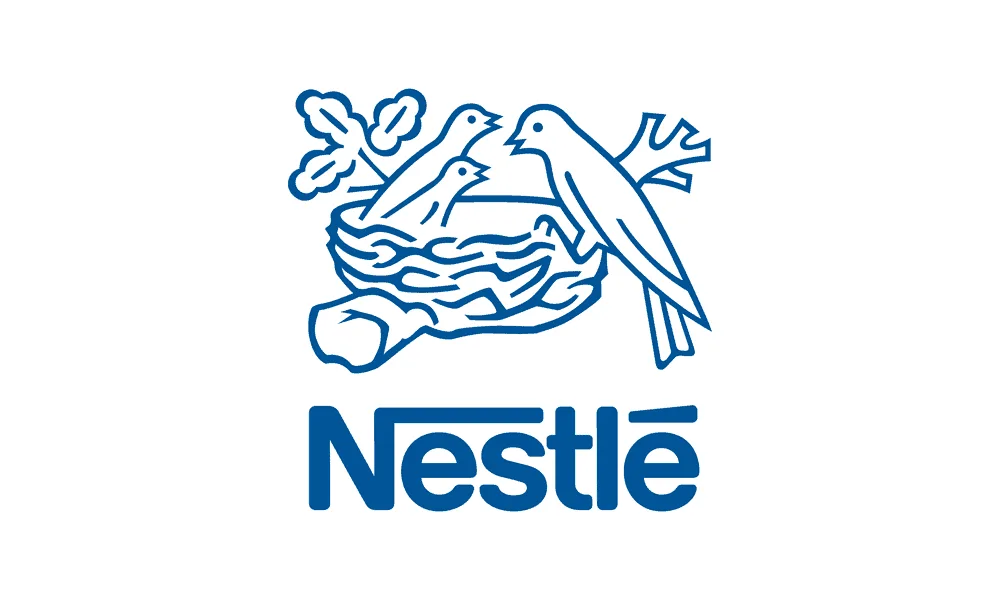 Nestle is one of the most significant Fast-Moving Consumer Goods (FMCG) companies in the world, and its logo is instantly recognisable.
The logo displays a bird tending to its nest and newborn chicks and was first introduced way back in 1875.
Though there have been iterations to the initial design, the original concept is preserved within the current one.
The literal representation is that Nestlé is Swiss for 'nest', but the deeper meaning of the iconic animal logo was reinforced through their foray into baby cereal products.
The nest itself became iconic and synonymous with nourishment and family.
Through this, customers create a subconscious connection to the brand.
They feel they are in business with an organisation that is righteous and subsequently makes them feel better to share it with their family and children.
This is one of the real examples of brands displaying their beliefs and values through their logo.
Even today, Nestle employees proudly wear their company's logo because the symbol is deep-rooted in the company's culture.
The customers and the employees all know what it represents and the heritage it carries.
Though creating a valuable brand like Nestle will take many years, you must start on the right track.
That is precisely what they have done and is a great example to be inspired by for your own animal logo design.
4 – Lacoste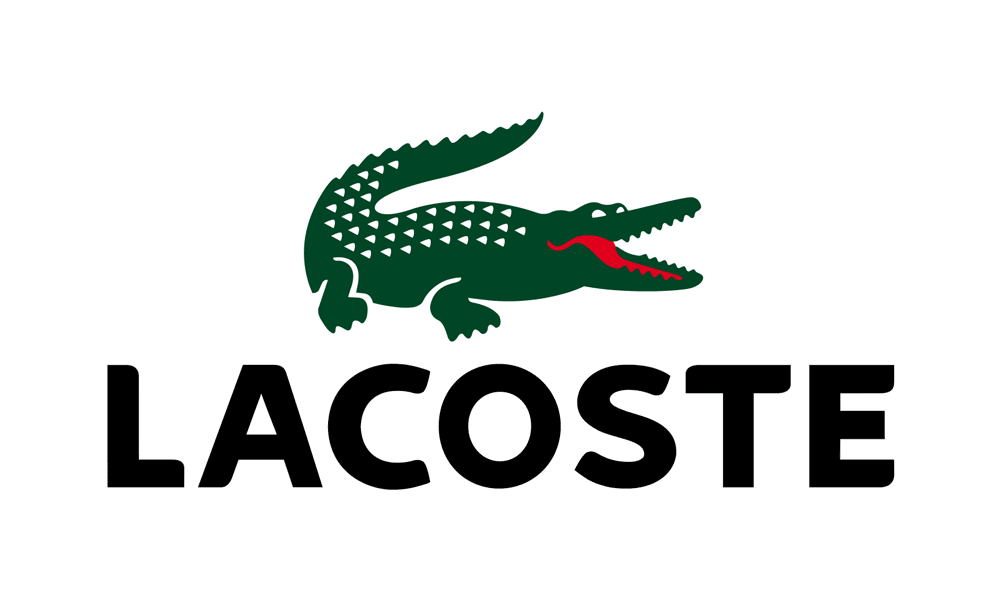 Established in 1933, Lacoste is synonymous with premium clothing, footwear and perfume.
The Crocodile logo can be found on everything Lacoste manufactures such as their legendary polos, shoes etc.
Establishing the Croc as the Lacoste logo can be detailed through a small story of René Lacoste.
Ten years before the foundation of the firm, he made a bet with the captain of his tennis team regarding a crocodile suitcase.
If Lacoste went on to win the game that he had that day, he would have won a brand new bag.
Unfortunately, he didn't win the match or the bet.
However, a local journalist got to know about his wager and quoted Lacoste as "fighting like a true crocodile" in the newspaper.
It permanently stuck to Lacoste and became his nickname.
Smartly, enough while establishing his clothing line, he was able to capitalise on his personal brand and used a crocodile for his animal logo.
Sometimes in our creative process, we are too close to something to see it.
In those cases, it is best to take a step back and try to grasp the larger picture.
Even while creating your animal logo design, you must try to understand if there is something that is staring you right in the face, but you can't see it.
5 – Twitter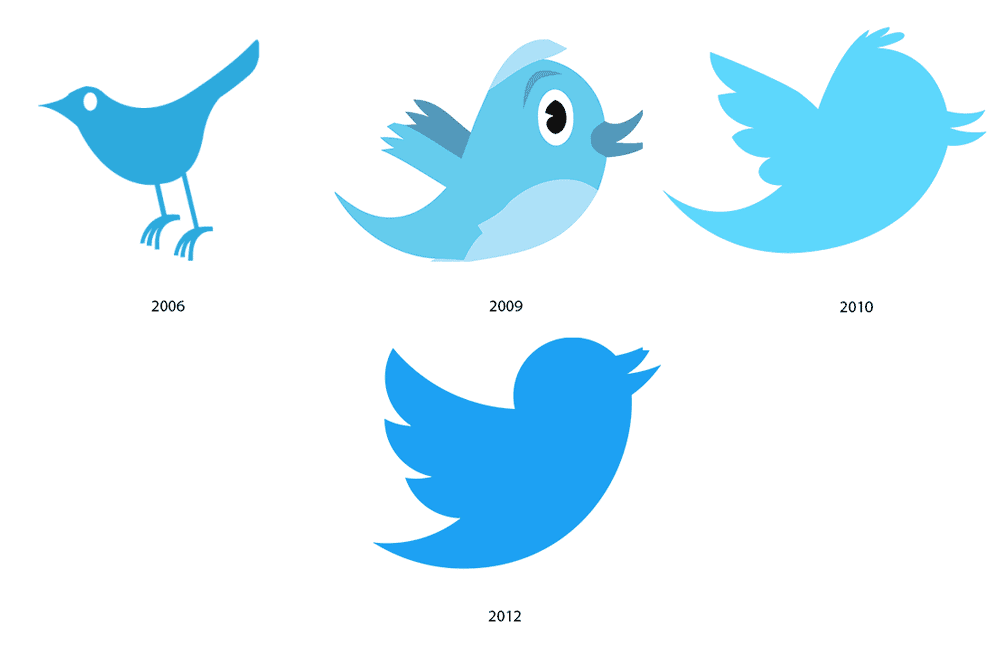 Another exquisite and minimal design is an identifying mark of the global brand. 
The little blue bird closely resembles a mountain bluebird.
Though the mascot was initially added to the site in 2010, its current iteration was completed in 2012.
The designer, Grasser was just three years out of design school when he got a mysterious phone call asking him to interview for a project, he could know nothing about.
Grasser and his team eventually drew thousands of designs of birds before choosing the final one.
The success of the Twitter logo makes it clear that you don't need an elaborate design and a simple bluebird can do the trick (even if it takes a thousand versions).
Summary
We hope these stories, examples and ideas have been able to help you create your own animal logo design.
If not, at least it has given you something to ponder about, and that is precisely how great ideas are formed.
There should be no rush into creating a great logo, take your time and go through loads of options.
It should be something that you are proud of and can stand behind.
Of course, if you don't like the logo you go with, you can always think of something else a few years down the line.
So, even though your animal logo design is crucial to your brand, don't stress about it when starting out.