How AI-Based Logo Design Tools are Changing the Industry
The design industry is growing faster, allowing business owners to create a perfect brand identity and give a digital face to their startups. With the advent of artificial intelligence, the design world has completely transformed. Now AI-powered tools can assist designers in creating aesthetically pleasing designs, including company logos, in a highly efficient manner.
Web design and logo design teams can use artificial intelligence to improve the creative design process. Using AI in logo design will provide personalisation opportunities for business owners. AI-powered design creation tools allow designers to create logos more efficiently. From idea generation to automating repetitive tasks, customisation, rapid prototyping and design assistance, AI influences the logo design industry in various ways.
AI is making logo design more accessible, efficient, and cost-effective for businesses of all sizes. While AI-powered logo design tools cannot replace human creativity and design skills, they can significantly streamline the logo design process and make it easier for businesses to establish their brand identity.
Let's figure out how artificial intelligence transforms the logo design process and allows businesses to create a stronger brand identity.
How is AI Transforming the Logo Design Industry?
With the advent of AI, high-quality logo creation has become easier, more accessible, and faster. Graphic design teams and logo designers use artificial intelligence to create a memorable and distinct brand identity. Many logo design teams harness AI-powered tools to streamline the design process and create compelling logos.
Remember that AI-generated logo designs are less creative than human logo designers. However, leveraging artificial intelligence technology will provide many valuable benefits, including:
Automated Logo Design Process
The automated logo design process uses artificial intelligence (AI) and machine learning algorithms to generate logos automatically. You need to enter basic information such as brand name, industry, and target audience, and AI can create logos automatically by analysing the provided data. Many AI-based logo design tools use machine learning algorithms to generate symbols based on user preferences and design elements.
It is important to note that AI-powered logo design tools can help generate logo designs quickly and efficiently, but they can't replace graphic designers. You can't rely on such tools for creating your brand identity.
,The logos generated by these tools may need more creativity and unique style than a professional logo design team can bring. Therefore, it's essential to evaluate the quality and uniqueness of the generated logos before finalising a design. Additionally, AI-powered tools must be considered design assistance, not a complete solution for creating a brand identity.
Rapid Prototyping
One of the significant benefits of implementing artificial intelligence in your logo design process is that it saves you time. With AI-based tools, businesses can create a logo quickly and easily without spending hours designing and iterating independently. AI-based logo design tools can quickly generate multiple logo design variations, making it easier for designers to develop more exciting logos. Many logo design companies are investing in AI-based tools to increase the efficiency of logo designers and refresh their business logo design.
AI can quickly generate multiple logo design variations, making it easier for designers to create and test designs before finalising one. The tool uses machine learning algorithms to analyse the input data and generate multiple logo design options. The AI may use a combination of fonts, colours, and graphics to create unique designs.
Design Assistance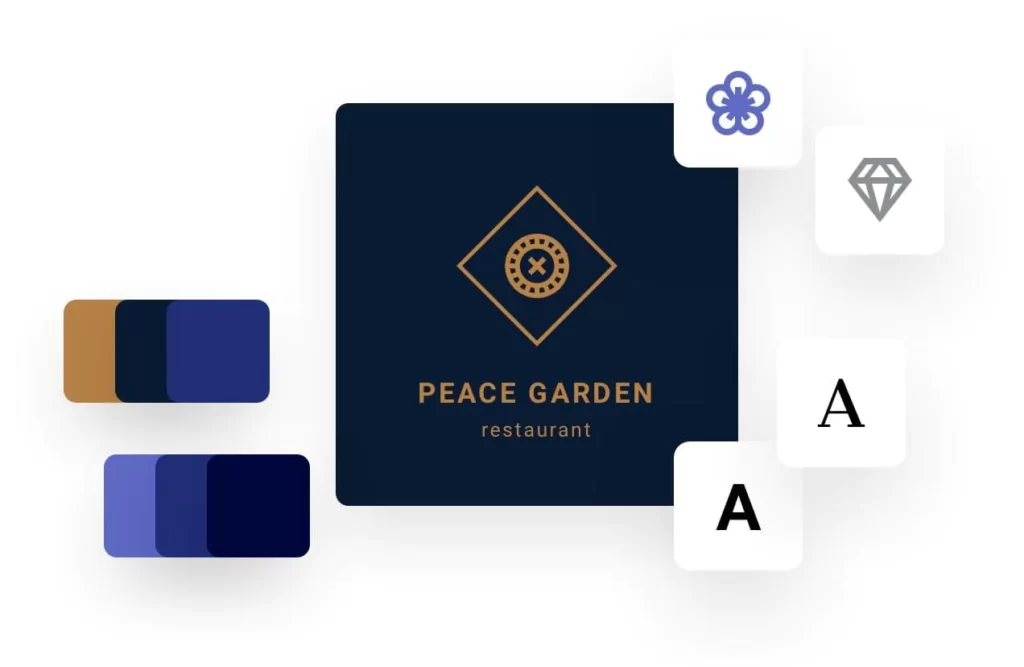 For many logo designers, coming up with a unique, exciting idea is a daunting task. Idea generation is one of the most time-consuming aspects of the logo design process. Logo designers provide multiple logo concepts, giving their clients some choices. The iteration process starts with tweaking the design elements, such as changing the colours, adjusting the font and vice versa.
AI-powered tools assist logo designers in performing different tasks such as font selection, colour palettes, and layout, helping them save time and improve the quality of their designs. The design assistance will reduce the time the iteration process takes. It is a worthwhile option for logo designers and clients both, as it helps them save a lot of time.
An Affordable Option
AI-based logo design tools can also be cost-effective, especially for small businesses or startups with limited budgets to hire a famous logo designer. With AI-based tools, companies can create a logo at affordable prices. Many AI-based logo design tools are free or low-cost, making them accessible to businesses with a limited budget. Some tools may require a subscription or one-time fee, but they are generally less expensive than hiring a professional logo design company.
Additionally, using AI-based logo design tools can save businesses time and money by streamlining the design process. AI-based logo design tools can be a cost-effective and efficient option for small businesses looking to create a logo that aligns with their branding and messaging.
Offer Personalisation
AI-powered logo design tools allow for easy customisation of logos, allowing users to experiment with different fonts, colours, and graphics. You can choose design elements that perfectly fit your brand's style and message. The AI may also suggest modifications based on user feedback.
AI-powered tools offer a range of customisation options, such as font selection, colour palette, and different icons and symbols. This can allow businesses to create a logo that stands out from competitors. The significant benefit of using AI-based logo design tools is that they use advanced machine learning algorithms to analyse the design preferences of a business and generate logo concepts based on those preferences. This can help companies create a logo tailored to their specific needs.
Brand Analysis
AI can analyse a brand's industry, target audience, and competition to generate logos that better reflect the brand's identity and purpose. The user inputs the brand name, industry, and other relevant information into an AI-powered logo design tool.
AI-based logo design tools can perform brand analysis to help businesses create a logo that aligns with their branding and messaging. Brand analysis involves analysing a company's personality, messaging, and values to create a logo that reflects those attributes. Some AI-based logo design tools use machine learning algorithms to analyse a business's brand attributes and generate logo concepts based on those attributes.
For example, AI-based logo design tools can analyse a company's website, social media profiles, and other online presence to understand its brand personality and messaging. The tool may then generate logo concepts that align with the company's brand attributes, such as colours and design elements. Performing brand analysis will ensure that the logo accurately represents the business and helps build brand recognition and customer trust.
List of the Best AI-Based Logo Design Tools
1 – Logo AI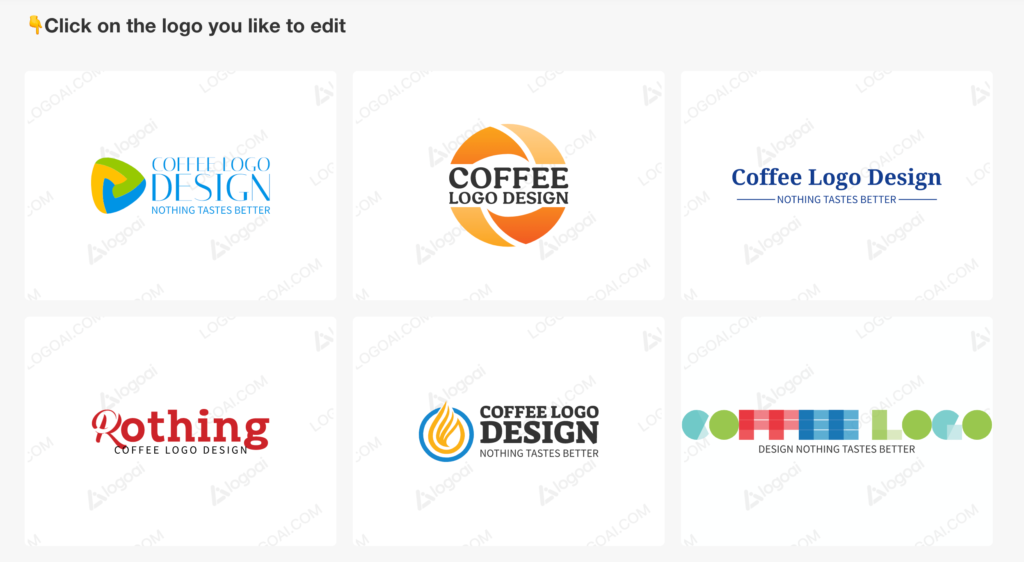 LogoAI is one of the best AI logo design tools to help you create a powerful brand identity for your business. The powerful AI engine follows the logo design practices and creates inspiring designs for your brand. The tool carefully considers the data you provide and creates multiple logo formats. The best thing about using LogoAI is that it makes unique and inspiring designs for every business. LogoAI is an excellent tool for small business owners, bloggers, startups, and eCommerce stores. The AI logo design maker can create a logo communicating your brand values.
2 – Tailor Brands
Tailor Brands Logo Maker is a great AI tool for creating unique and inspiring logo designs. The smart AI-powered logo maker can create custom logos in a few clicks. You need to provide your company information and what type of services you offer. The tool provides hundreds of design variations to choose from. The dashboard is intuitive enough, and you don't need any design skills to create a logo.
Choose the type of logo, favourite fonts, icons or monogram, and you will get a fantastic logo. Tailor Brands Logo Makers gives you customisation options to change the fonts, icons, and colours. The tool provides high-resolution logo files in EPS, SVG, and PNG formats for your website and social media platforms.
3 – Logomaster AI
Logomaster AI is one of the best logo design makers for startups, entrepreneurs, and small businesses. The AI-based logo maker helps you to create beautiful logos that can fulfil your branding needs. The tool is affordable enough to get a brand identity at low prices. The logo you get from Logomaster AI can be used to show your brand identity. You can choose from hundreds of logo design templates and make customisations per your brand requirements.
4 – Looka
Looka is an AI-powered logo design tool to create your brand identity. The brand identity platform makes designing a custom logo and launching your new business easier. If you have no design skills or experience, don't worry. Looka will provide endless logo options; you can tweak the design and get exactly what you want.
Looka acts as your logo designer that uses artificial intelligence to create different versions of your brand logo. You will get 15+ logo files that you can use across multiple platforms. From colours, symbols and font selection to background variations, you can easily customise your logo per your brand needs.
Besides creating a logo design for your business, Looka's brand kit can help you create different branding materials for your brand marketing. The tool provides over 300 templates for business cards, social profiles, email signatures, and other branded marketing materials. Looka is an excellent tool for creating a memorable brand identity and strengthening your brand image.
5 – Brandmark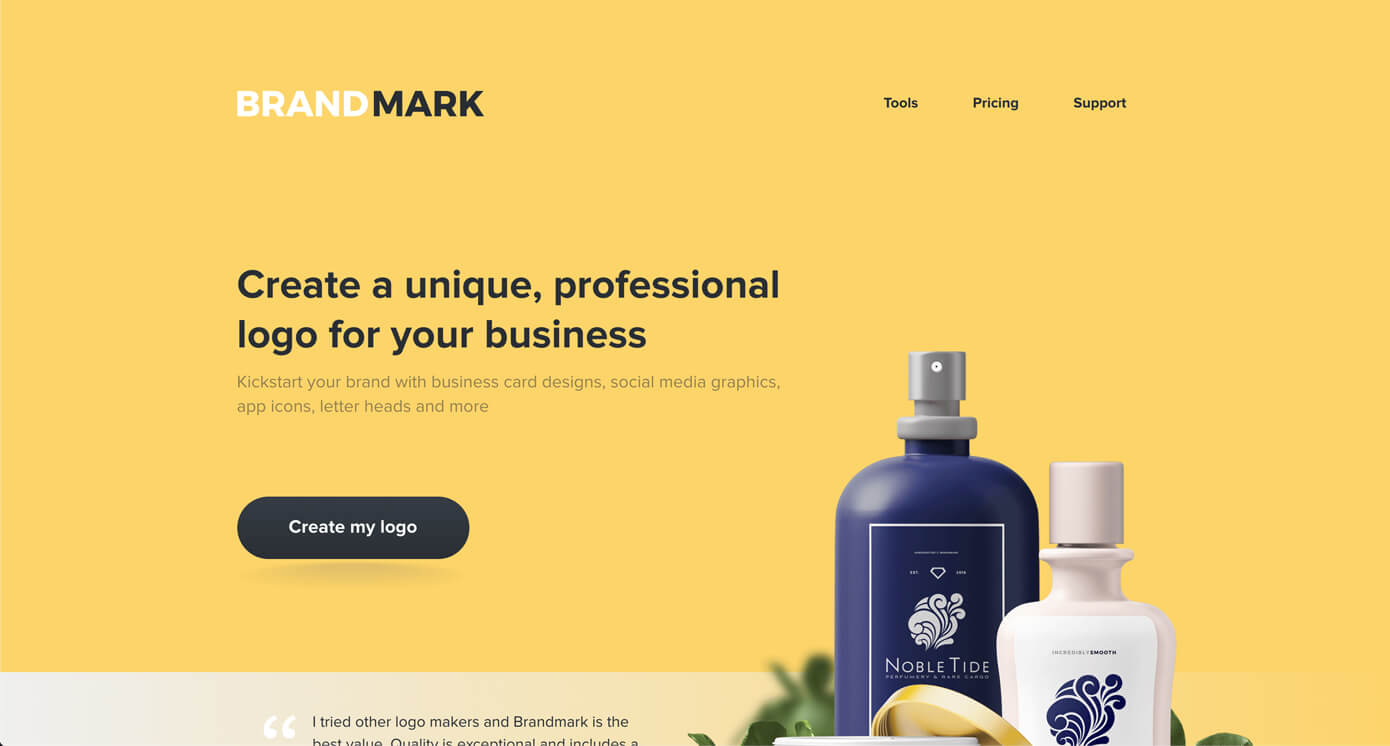 Brandmark is an AI logo design tool that can create a professional logo for your business. Whether you want to redesign your company logo or create a new identity, Brandmark can create a unique logo for your brand. With the help of Brand mark, you can create a custom logo on a budget. You will find thousands of logo design files, social profile icons, business card designs, letterhead templates and animated designs.
The incredible customisation option will help you customise the design per your brand style. You can modify your logo anytime and get unlimited revisions for a perfect identity. Brandmark is packed with many useful AI-powered design tools that provide you with colours, fonts and, icons, ideas that you can use to create your logo.
6 – Designs.AI
Designs.Ai offers a fantastic tool – Logomaker for creating powerful logos in seconds. Whether you are an entrepreneur, agency, government organisation, startup, or enterprise, Logomaker is the right tool for businesses of all types and sizes. The advanced AI technology of Logomaker enables you to quickly generate thousands of unique logos. It provides as many logo drafts as you want to meet your branding needs.
The tool provides intelligent suggestions for icons, fonts, and colours. It can also create social media-ready logos so that you can use them on your social media platforms. Logomaker has an innovative and intuitive logo editor that allows you to create, edit and share your logo. It provides a step-by-step process to make your logo. You need to provide the essential company information and logo preferences. The tool auto-generates thousands of logo design variations. You can customise the logo in real-time and export the logo with a brand kit.
7 – Wix Logomaker
If you want to redesign your brand logo or create a new one, try Wix Logomaker. The AI logo design maker can create a professional logo in minutes. Create a logo with Wix if you want to develop sports, food, fitness, restaurant, or medical logos.
Add your brand name, tagline, and specific industry, and choose a design style from the options. You can get a personalised logo for your business by giving this essential information. You can customise the logo by changing the font, colours, and icons to make it highly personalised. It provides high-quality image files to create custom logo designs easily.
8 – Logomker
Logomker is an online logo design tool that creates, edits and saves logos. The professional logo generator is packed with easy-to-use tools to design a professional logo for your business. You can choose from thousands of professional templates that best suit your brand style and needs. It is the most affordable way to design a custom logo, especially for small businesses. Just submit your brand name, choose a logo template, and customise the logo per your needs. You can download a logo in several formats and sizes.
9 – Logo.com
Logo.com is an artificial intelligence logo maker that allows you to create your logo for any business. The tool provides you with unlimited logo ideas for your logo. If you have yet to decide on your brand name, the autonomous development business name generator can give you unlimited business names for your brand. The free AI logo maker is easy to use and offers comprehensive customisation options for a perfect logo to communicate your brand vision.
If you need logo design experience, you can choose from awesome templates and start building your brand identity. You can preview your logo and choose the logo with your favourite background and design. Logo.com logo generator can help you get a new company logo and stand out in the market.
10 – Hatchful
Hatchful is a free artificial intelligence logo maker by Shopify that can help you launch your new business. You can give your brand a new face with the Hatchful logo design generator. The intelligent tool can help you design and customise the AI logo in simple steps. You don't need graphic design experience to create a custom logo design.
Hatchful provides hundreds of design templates to choose from. The design studio offers icons, colours, font options and edit layouts to allow you to create a unique logo. Once created, you can download the logo and brand assets to meet your branding and marketing needs.
11 – Zyro
Zyro is an AI logo maker that can turn your idea into reality. You can create your custom logo for your business without any help from a professional designer for free. You can edit your custom logo designs and change the icon, size, colour, and text. The tool is free, and you can create a stunning and professional-looking logo design that fits your brand vision. The high-quality logo design templates will help you communicate your business mission and make a positive brand image.
12 – Fotor
Fotor AI logo generator creates logos by harnessing the power of artificial intelligence technology. No matter what type of business you are doing, making a custom logo design for your business has become necessary. Thanks to Fotor's AI logo generator, you can create a logo for your startup in a few steps. The easy-to-use online logo maker is super easy to use and creates AI logos as per the given company information.
With AI-generated logos, you can promote your business and increase brand recognition. It allows you to turn the AI logo into logo stickers that you can use on product packaging, posters, and more. Fotor's AI logo maker provides different logo styles; you can create 3D, food, and construction logos based on your industry type.
How AI-Based Logo Design Tools Work?
Using an AI-powered logo design maker is an easy task. You don't need design expertise or specialised skills to make a logo. You need to add a little dose of creativity and imagination, and you will get a better outcome. If you are unsatisfied with the results, you can get another version, as the customised dashboard will allow you to get multiple logo versions.
You can preview the logo on different backdrops and formats such as JPEG, PNG, SVG, and other vector file formats. Whether you need a real estate logo, restaurant logo, eCommerce logo or car logo, you can easily design an effective logo with AI-powered tools. AI-generated logos can easily be customised so that you can easily match the demands of your company logo.
Cons of Using AI-Based Logo Design Tools
Unsurprisingly, AI logo makers provide many benefits that make them worth considering your brand. Besides providing many benefits, AI logos have pros, and you must know their disadvantages. Sometimes AI logos look unoriginal as they lack creativity and are created by machine learning algorithms. If the AI logo maker you use has a limited selection of versions, you will likely get some generic concepts. Furthermore, AI logo design tools don't allow you to make significant changes to the logo. It would help if you started from scratch to make a substantial change. However, it is okay if you need minor changes, like colour or font changes.
Are You Ready to Embrace Artificial Intelligence for Logo Designing?
The rapidly expanding technology is making a massive impact on the creative design industry, and its influence is expected to grow. As technology advances, the innovative design industry must leverage new AI-based tools and methods to generate exciting ideas, perform repetitive tasks, and get valuable insights.
AI has become more accessible, allowing businesses of all sizes and industries to use this viable option for logo designing. The high level of affordability, convenience and flexibility will make AI-generated logos more common in the years to come.
If you are a small business, you can try AI-based logo design tools to create a brand identity for your business. With the help of AI, you can end up with a logo that creates a positive impression of your brand. So, become an artificially intelligent designer and generate endless amounts of creative logos in a short amount of time!