Top 5 Website Design Mistakes and How to Tackle Them
Every other day, a small business is turning to the web for establishing brand presence and reaching out to a broader audience.
However, this increasingly stiffening competition demands more precise, smooth and customer-centric website design to ensure optimum performance and output.
In spite of this, regarding website design mistakes, there are plenty among most sites.
Some of these web design mistakes are ruining the business conversion, traffic and brand image.
Here we have picked five such design mistakes and precise guide to tackling them.
1 – Slow loading speed
There is a no bigger crime for a website design than having a slow page loading speed.
Thanks to an overwhelming range of options for every search term, no user is interested in holding on to a page for more than a few seconds.
Moreover, as mobile browsing has taken over the desktop browsing the users are likely to be more restless to get information on the go and right on the small screen of a handheld device.
All recent surveys point out that the majority of users leaves a website if it fails to load within just 2 to 3 seconds.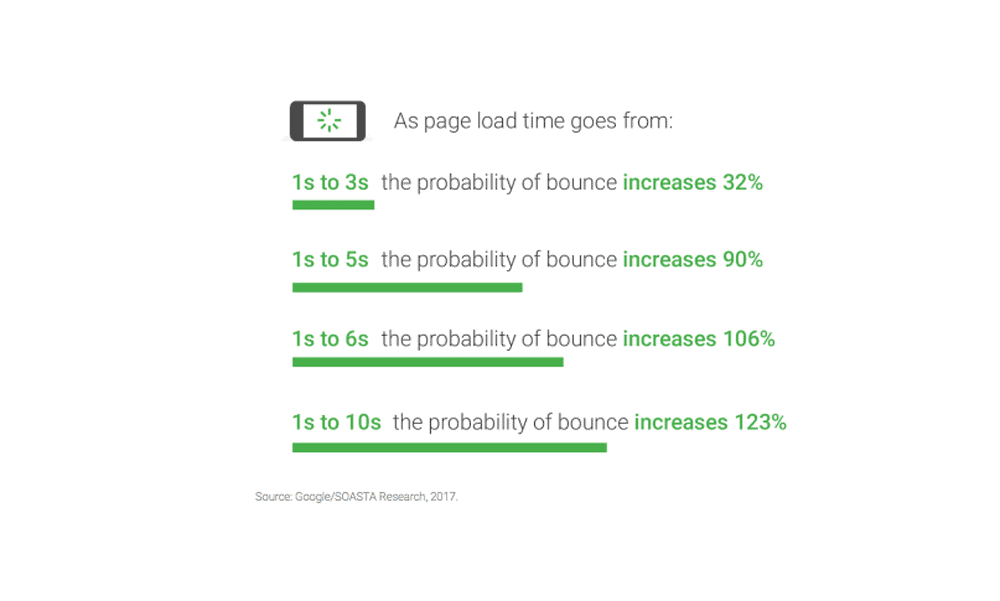 To make things even worse, a majority of these churned users do not return to your website again.
Naturally, a slow loading speed pulls down your traffic, business conversion and brand image.
If you want to ensure good page speed at all costs, follow certain time-tested design principles that boost loading speed.
Follow these below mentioned steps and tips:
First of all, optimise your website code, removing all unnecessary spaces and code lines.
Avoid using Flash and instead, use HTML5 inbuilt media support.
Compress the images to a minimum size without undermining the quality of visuals too much.
Upload only a particular low memory-savvy image format to avoid the memory overload.
Reduce HTTP requests to a minimum.
Remove all broken and outdated links that are no longer in function.
Don't use too many plugins and extensions.
Don't take onboard multiple plugins for a similar feature.
Use lazy loading wherever possible to allow quick viewing without needing to load the entire website.
Make use of server-side caching.
Make minimal use of 301 redirects.
2 – Use colours appropriately
The first look and feel of a website create a mood.
Now, a website painted in blue can look calm and sober, but for a food and restaurant website, it undermines the spirit of appetite and enjoyment.
Thus, inappropriate use of colours actually can prove detrimental to the user engagement.
There is another common mistake of using too many colours without any thought to consistency.
When your website is splattered with too many colours, and the colours do not conform to a single aesthetic all over, it will look repulsive.
Such confusing and whimsical use of colours will also make a cheap impression of your brand.
Observe the following colour principles for optimum user engagement and business conversion.
Blue is a cold, masculine, professional, trustworthy and mature colour. Characteristically it is an ideal colour for a professional business to business website.
White is the symbol of purity, honesty, decency and cleanliness.
Green is the colour of earthen spirit, comfort, organic quality, positivity and growth.
Pink is a feminine colour with a tint of youthfulness and warmth.
Gray is about neutrality, integrity and maturity.
Purple is a bright colour boasting of youthfulness, contemporary style.
Yellow is the colour of emotional connect, joy and positivity.
Red is about excitement, energy, alarming state and danger.
Orange is an organic colour with emotional contour and positive
energy.
Black is a too serious colour expressing grief, pain and sombreness.
Brown is an organic, unpretentious, wholesome
colour.
Gold is elegant, reliable and highly conservative
colour.
Utilising a few colours to create an appropriate mood of your website will play a crucial role in business conversion.
3 – Not making your website easy to crawl
Let us come to the necessity of any website, i.e. search engine rank.
Yes, your website needs continuous traffic of your target niche against the search terms you are targeting and steady business conversion.
This cannot happen when the search engine crawler is prevented from crawling your website easily.
What prevents search engines crawling your website in depth?
Well, there are several things on the list that we need to address one by one.
As of now, text content is most easily accessed by search engines.
You need to provide a mixed bag of contents including images, videos and podcasts.
However, the search engine crawler looks for keyword phrases or search terms even in them.
So, when you need to focus on something important in respect of search terms, always ensure crawler can find it in text content and image descriptions.
With every image and media content always provide ALT attributes to offer a description containing the search keyword.
Secondly, on-Page SEO proves to be very important for search engine visibility.
The ideal required length of SEO title should be around 50-60 characters, the meta description should have 150-160 characters, and the density of keyword should be approximately 1 to 2 times in an article of 700 to 1000 words.
Lastly, keywords should be used very contextually and naturally with the flow of the language.
There is also a Google recommendation that each website page should be reached at least from one website page link.
Easy navigation starts with the principle of allowing quick access to the contents of a website.
Lastly, as Google crawler reads and understands only text contents, avoid providing any information through an image.
Instead of using so-called generic names of images like SUV IMG0001.JPG. It is recommendable to use descriptive image names.
This further helps crawler engines to find contents.
4 – Continuously running blocks of text
A vast majority of web users are now habituated with content that can be grasped at a glance.
It is painful to take a quick look and grab important points from large blocks of text on a mobile screen.
This is why large chunks of text are derogatory for user experience in more ways than one.
Most users will avoid reading such text blocks and go elsewhere for the information.
Here are some tried and tested solutions to optimise contents at a glance:
Instead of using such a continuous length of the text, use small paragraphs and break up the material into small sections with appropriate subheadings.
To kill the monotony use different fonts, fonts in a variety of colours and sizes to optimise the readability visually.
Use bullet points to help users get the crucial points at a glance.
Make use of infographics and images between small blocks of text content to add more relevance and context.
5 – Poor Calls to Action
Every website has a purpose to exist, and they look for the response from the user in a specific manner.
A website allows users to react and respond decisively through the Call to Action (CTA).
In an e-commerce website, the CTA buttons are many like buying, checkout, 'add to cart', 'add to wishlist' etc.
In a travel blog, the CTA can be clickable links to other relevant contents or buttons for Newsletter.
The prime objective of a website is to push users taking actions through these CTA buttons and CTA links.
CTA buttons stand as the gateway between a website and business conversion.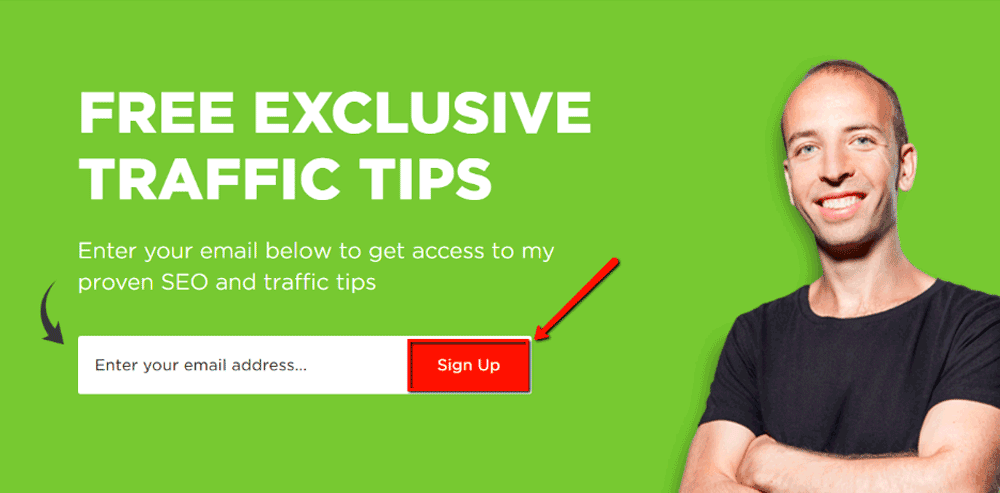 Naturally, it would help if you designed CTA to invite more engagement and actions from the users.
Common problems are hard to notice CTA that is not optimised for quick, at-a-glance visibility.
Another problem for many websites is several CTA buttons competing for visibility with one another.
Here are some time-tested solutions to optimise your website CTA.
Make CTA prominently visible with the proper contrast of colours and size of the button for an "at a glance" visibility.
Provide CTA in most relevant places of the content in a contextual manner.
Always set clear expectations about what the CTA is supposed to lead them.
For mobile devices take extreme care to provide CTA buttons in larger sizes to allow easy finger tap.
Don't surround CTA with other clickable links and buttons.
Always provide users one CTA to click at a time.
Ensure providing some white space around CTA for clear visibility and natural finger tap.
Do not make users fill up too many fields before guiding them to click a CTA.
Help them fill up a short form with less number of areas.
Use CTA popups to boost productivity but take care of not annoying users with too many of them.
Several other website design mistakes are still common.
Lack of responsive or mobile-friendly design is still a common mistake for many websites.
One needs to be continuously vigilant about the factors that undermine the user experience across all devices.
Author Bio: Hi friends, This is Roma Kapadiya, a Digital Marketing Specialist, SEO Consultant & Blogger at Nimblechapps – fast-growing hybrid application development company. I have over five years of experience in SEO. I love to write on new and upcoming technology, startups, programming tools, and business and web design. When I am not writing, I read so that I can write more.