Digital Marketing Tips for Construction Companies
The construction industry is expected to grow to $8 trillion by the year 2030, and currently, it's ranked as the second biggest in the world, just behind eCommerce. However, this doesn't mean that the industry isn't facing several challenges.
The shortage of skilled labour and the lack of confidence are two significant issues that can be resolved by improving your public image. Fortunately, both of these can be improved via digital marketing. In an age with a labour shortage (especially a lack of interest from younger generations), leveraging digital marketing to improve your hiring process is enormous.
Besides this, while the industry is constantly growing, many local markets are pretty saturated, and finding new investors takes work. Via digital marketing, you have a lot easier job manipulating these odds in your favour.
Keep in mind that the construction industry is already implementing many new technologies. Various architectural software and on-site platforms are used for better collaboration. This data and imagery can easily be saved and used in your digital marketing company. For instance, more and more high-end companies are using AR/VR technology, so why not alter and use some of this footage for customers later on? The same goes for drone imagery.
Either way, it's clear from the very start that there's a vast potential hidden in your digital marketing, a potential that you need to tap into. With that in mind and without further ado, here are some things that will enable you to get the most out of your next marketing campaign and elevate your construction company to the next level.
Why Is Digital Marketing Important in The Construction Industry?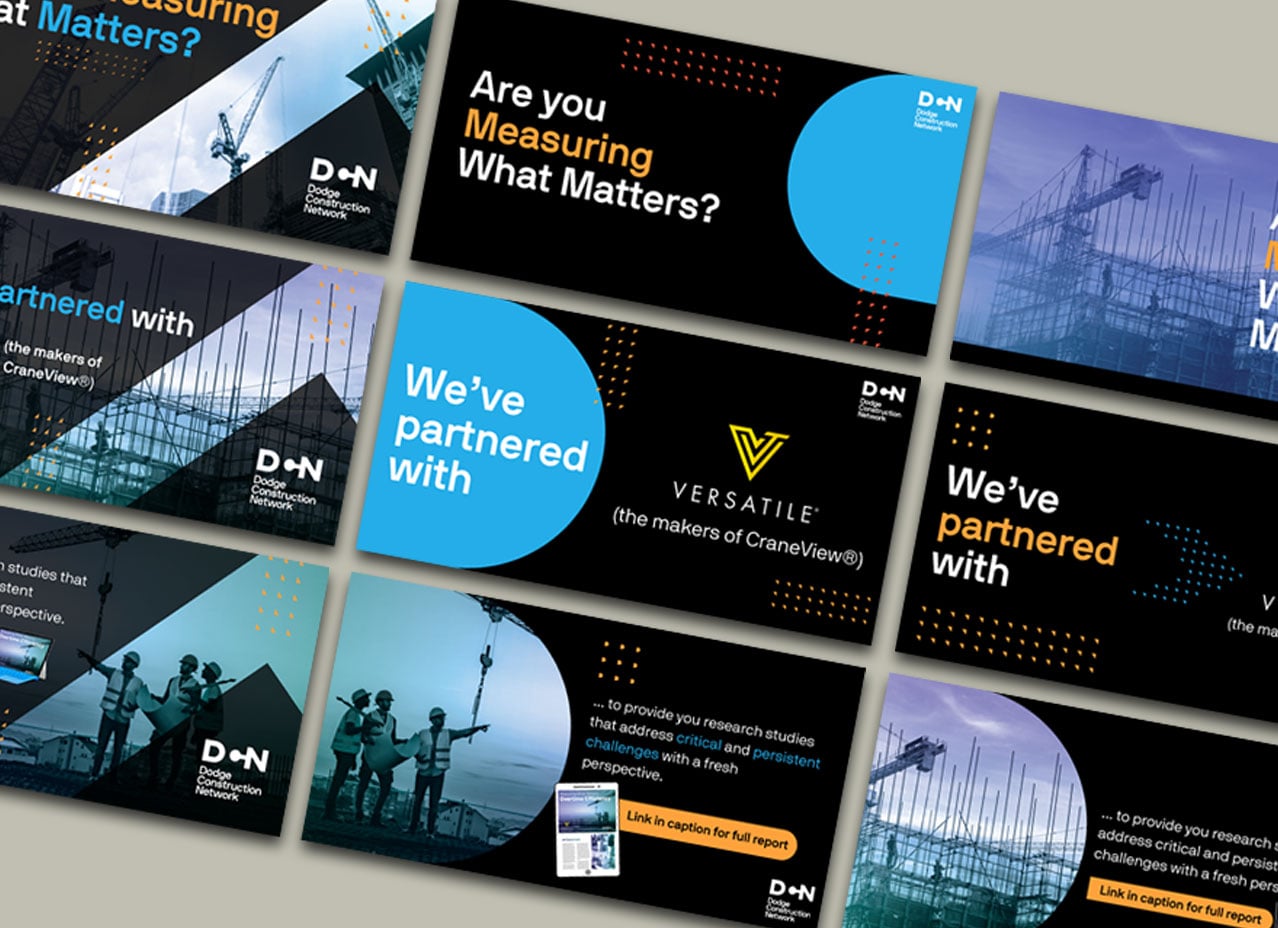 Sure, no one can dispute the importance of digital marketing, but what makes it so detrimental to the construction industry? What are specific perks and approaches to be considered in this industry? Understanding this helps you understand your industry's bottlenecks and customise your approach to digital marketing.
Digital marketing is measurable
The first thing you need to understand about digital marketing is that it's measurable. Seeing the exact ROI of your marketing efforts is pivotal in an industry that's so resource-heavy as the construction industry.
During your marketing campaign, you can track precisely how big of an audience you've managed to gather. Remember that setting the KPIs is one of many things that matter. You need real-time data to help you track this KPI across your platforms.
By tracking exactly where your audience came from, you have a much longer customer journey to track. In other words, you get to analyse their relationship with your brand even before they've contacted you. This alone is a significant issue worth your attention.
Overcoming construction industry bottlenecks
Because the construction industry is present all over the globe and there are conditions under which the construction industry is unnecessary, there are a few things you could improve about construction and marketing.
First, there's this absurd idea that the construction industry generates interest. While this is partially true, an interest doesn't reign supreme. A person needing a construction company will look for a construction company. It doesn't need to be your company. In this situation, you have zero benefits from such interest. Digital marketing, however, can quickly funnel this interest toward you.
Second, the very nature of digital marketing seems like something abstract when compared to the construction industry. Most digital marketing experts are either working from an office or at home. This may seem unnatural for a construction industry that employs almost all its crew as on-site employees. This is also why many construction businesses outsource rather than make their in-house departments.
Finally, most construction companies prefer old-school marketing methods due to their territorial nature. They prefer mesh banners, flyers, and billboards, preferably in areas where they're active. Still, you can combine this with digital marketing. One of the biggest misconceptions about digital vs analogue marketing is that you have to choose.
Lastly, it's also worth mentioning that many construction businesses are lagging in corporate social responsibility. We can quickly mitigate this problem with a cunning PR campaign.
Digital marketing is more accurate
While the target audience for the construction industry is enormous on a global scale, the truth is that the local market could be more welcoming. Previously, we've mentioned that e-commerce is a bigger market than construction.
When you think of it, this is only natural, seeing as how eCommerce is used by everyone everywhere. How many people/entities are interested (at this moment) in constructing a new residential or commercial space? Not as many.
With the help of digital marketing, you'll save so much time when it comes to targeting and engaging your audience. This is a huge deal on its own, which we'll discuss at length in our next section.
Finding Your Target Audience
Finding potential investors is the single biggest challenge in the construction industry. Without the investor, there's no project. However, investing in a construction project is costly, even if it's just a micro home that we're talking about. This narrows the list of potential investors quite drastically and puts an even greater emphasis on targeting. With that in mind, there are several things you can do to target your audience more accurately.
Define your target market
The first thing you need to do is define your target market. Your construction business specialises in one type of construction. Are you primarily making residential homes, buildings, warehouses, office floors, or woodland cabins? All of this (and more) falls under the construction industry, and each of these groups has a different target audience.
In other words, you need to set your primary focus on the demographic that is the most likely to become your target audience. For instance, a typical first-time home buyer is 33 years old, but if you could reach out to these people and convince them that constructing is a better or more cost-effective option, things should start sorting themselves out on their own.
Then again, as we've mentioned, you can also use digital marketing to enhance your hiring process. The average age of construction workers in the US is 42.5 years old, but you might be looking for a way to make your staff a bit younger.
Here, in Canada, only 13% of the workforce in the construction industry are women. This is worth pointing out because Canada is a world leader in this regard by far. In the US, this number goes down to 10%, but even this is relatively high for the world average. In less developed countries, women are barely even present in this industry, which is another thing to keep in mind during profiling and outreach.
SEO Optimisation and Google My Business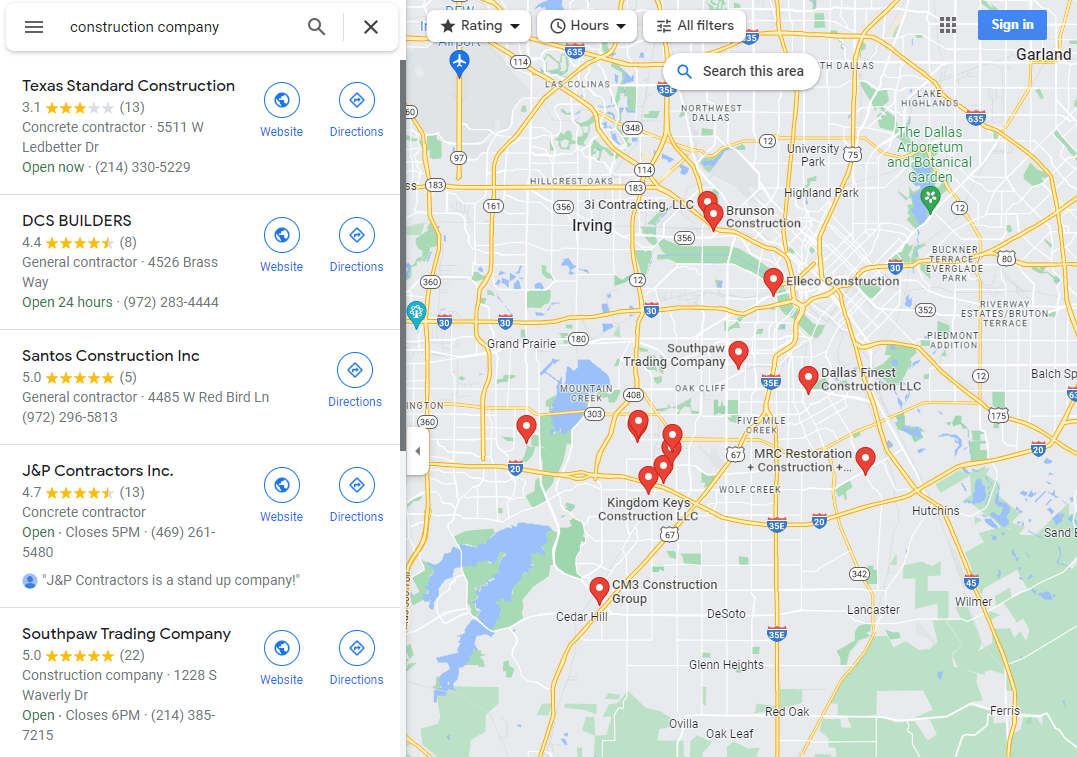 Previously, we've mentioned that the construction industry tends to be territorial; you can also be territorial in the digital world. How? Well, the two most obvious ways to do so are to increase your visibility (via SEO) and list yourself in a local business registry (via Google My Business).
SEO and construction
Ranking higher leads to a higher reputation, higher sales, and, overall, more attention. The only way to actively ensure that you rank higher is via SEO.
Regardless of your industry, looking you up is the first thing people will do when they learn of your business. So, what do they expect to see on a construction company's website? Ideally, you'll have an accessible contact page, examples of your works, and a list of your services. The website in question needs to be:
Responsive
Fast
Readable
Interlinked
Other than this, you'll probably have a blog. Here, you can do so much optimisation, and it's a great way to get some more attention. Keep in mind that this field is broad and all-encompassing, so finding topics should be easy.
On-site optimisation is about more than what the audience can see. Things like:
Title tags
Meta descriptions
Alt tags
These are just some things you need to pay attention to. The most important thing you need to know about SEO is that it consists of two audiences – humans and algorithms. To make it possible (or just easier) for the algorithm to interpret your pages, you need to leave breadcrumbs in this metadata. This is something that only those with experience in technical SEO will be able to pull off.
Your offsite SEO is just as essential and may take tremendous work. Link building, listing yourself on other registers, and earning reviews are pretty challenging in their own right. They might also require a sizable workforce on your offsite SEO team.
Google My Business
We cannot stress the importance of Google My Business (GMB) for your construction company. Still, setting it up properly takes some patience and planning. It will take some time to verify, so you should start as soon as possible.
Getting started is relatively easy. You need to claim a profile, add contact information, pick a business category, and decide what to show your audience. Stating that you're a contractor, showing your previous works, and showing them how to find you are three things that every contractor needs. GMB gives you a more straightforward way of doing so.
Remember that this also increases your visibility, which makes it great for your SEO (which we've already covered).
Just keep in mind that your customers are looking for local contractors, which is why you want to have a listing for every area if you're operating in several different cities. After all, GMB always makes suggestions based on location.
Social Media Profiles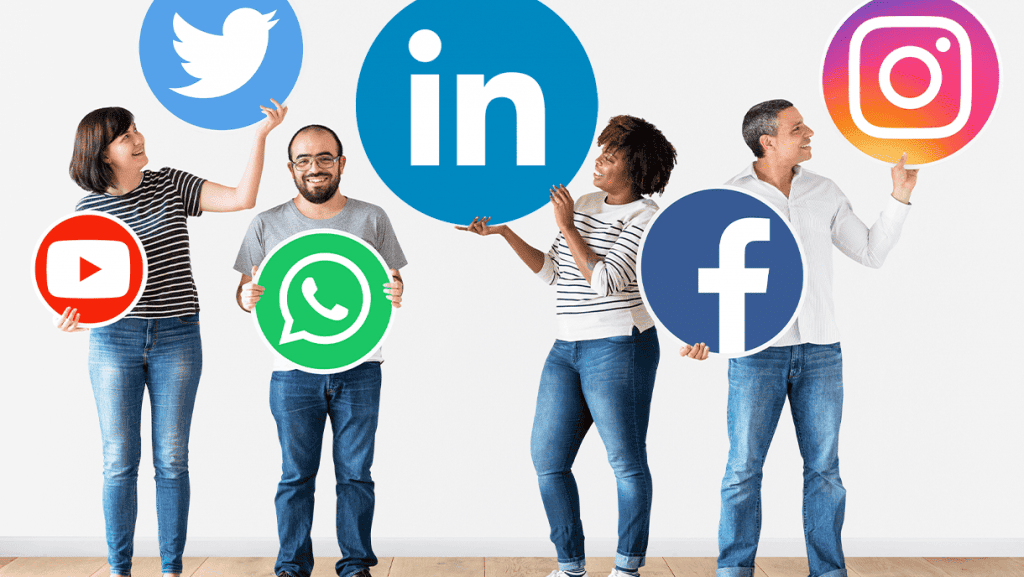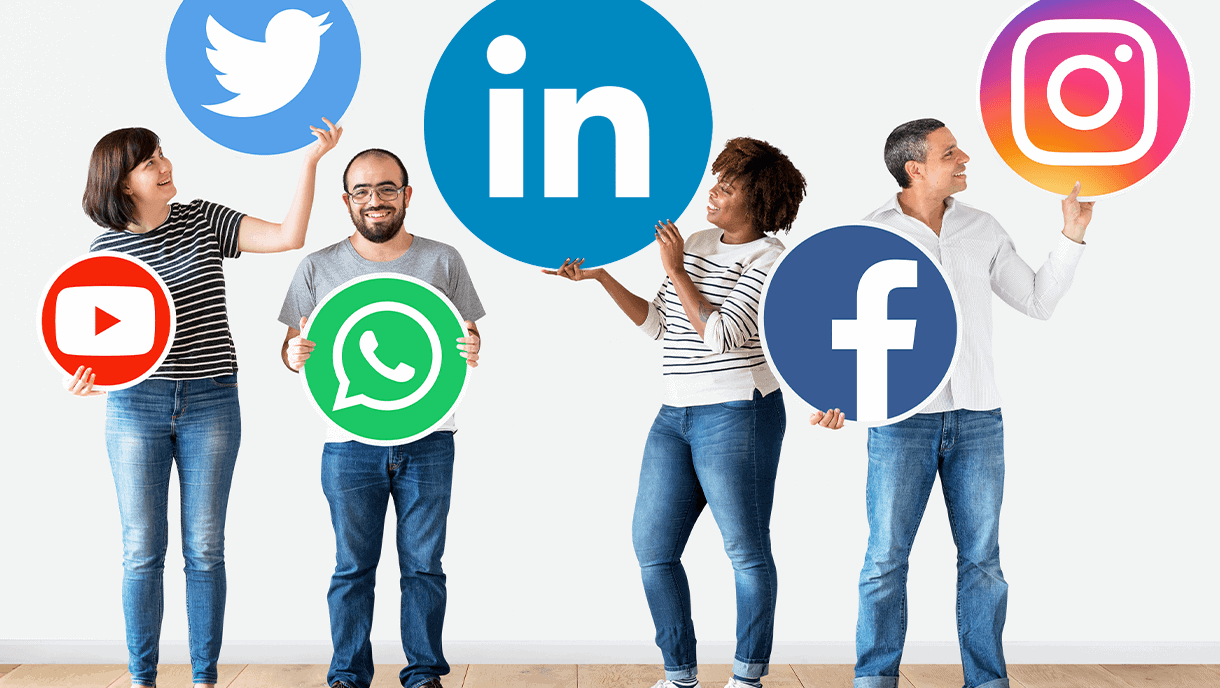 While social media marketing is critical, you probably want to limit your activity to one or two platforms. This will allow you to post regularly without stretching yourself too thin or outsourcing your social media management. Your best choice is Facebook, Instagram, and LinkedIn. Going with these three and using them the right way will change everything.
There are specialised platforms like Houzz, which have a disproportionally large number of construction companies and real estate agencies present. You can also use this platform as a networking tool. Either way, social media is critical.
Other than this, you want to mix up the content of your post but always make it relevant to your industry/audience. Show work in progress, demonstrate the skill/efficiency of your team in practice and even do how-to videos. Remember, this is not a trade secret; if you can offer practical advice, you should do so. It's not like someone will watch your video and construct a warehouse on their own.
Even in the construction industry, the proper use of social media can:
Amplify the reach of your brand
Boost brand awareness
Connect you to the audience
Increase lead generation
Also, bear in mind that setting goals matter quite a bit. As a construction company, you're not measuring clicks. Regardless of your objectives, you need to understand the difference between KPIs and vanity metrics. Now, there's nothing wrong with just increasing your reach, but your objectives should always be more oriented toward the goals of the construction industry.
Most importantly, while social media marketing is vital, you must emphasise social media advertising. So, set aside a generous ad budget.
Email Marketing in Construction Industry
Email marketing still has an ROI of 4400%. This means that every time you invest $1, you stand to earn $44. However, for these numbers to hold, you must know how to use your email marketing properly.
Making an email list
The first step lies in making a good email list. This controls your outreach, as emails will only be visible to their recipients, contrary to social media posts. In other words, the reach of the content you send via your email will depend on the length of your email list.
Most importantly, you want to grow your email list organically. When buying email lists, you never know whom the emails belong to or how many will bounce.
Writing a compelling email
While some people don't open emails from unknown sources no matter what, the truth is that you can do so much to turn these odds in your favour. First of all, you can make a compelling subject line. Be straight to the punch. Why lie about what you're writing when they're going to figure it out in a matter of seconds?
Second, make sure that you're brief and to the point. At first, avoid inserting links (other than your CTA) to avoid being suspected of phishing. An attachment, especially in a recognised format, is another thing entirely. This is important for construction companies, as there's sometimes too much information to convey in an email.
When talking about the content of your email, try to make it skimmable. First of all, people only sometimes read the entirety of the email. Make sure you treat the email's content like a traditional blog post. Split text into small paragraphs, bold the most important parts and emphasise the introduction.
Branding your email address is a nice touch that can convey a powerful message. It takes just a minute to make your email address appear more professional, and it can help people figure out who is sending emails and for what reason. A signature at the bottom of the email will make it easier for them to reach out to you. After all, it helps them figure out in what capacity you're contacting them.
Avoid spamming
Spamming is, arguably, the most significant plight of email marketing. So, you need to avoid appearing spam-like. One of the ways to do so is to avoid spam triggers, which are words like:
Free
Help
Special offer
Trial
Win
These are what some email marketing experts refer to as spam triggers. Keep in mind that spam filters are getting increasingly sophisticated, so avoiding using these words doesn't mean you're in the clear.
Remember that while it may seem more challenging to write a direct CTA without using these spam triggers, it's by no means impossible. Make sure that the CTA button stands out from the body of the text since, even in an email, this increases the potential CTR.
Improving the Client Relations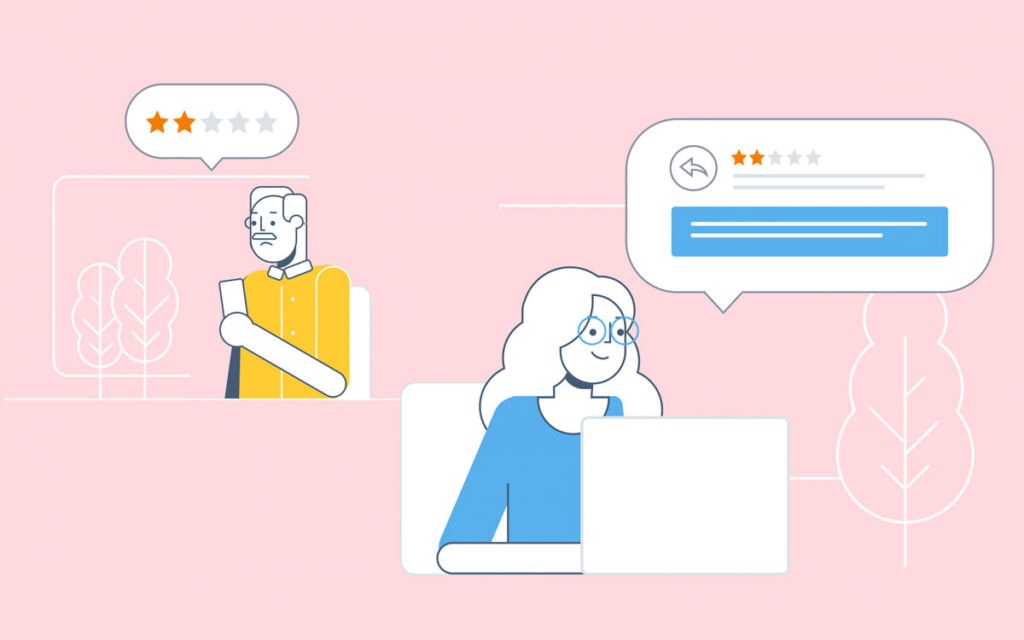 Now, while this is not an outright digital marketing tip, the truth is that you stand to earn so much credit for little effort. For instance, by using an invoice automation solution, you will facilitate all the transactions between you and your clients or vendors. As a result, customer relations are higher, and you get a higher reputation in both the digital and analogue worlds. With that in mind and without further ado, here are a few tweaks you can use to improve on this front.
Be more transparent
Keep in mind that you need to show as much transparency as possible. Sure, this is only sometimes possible in the construction industry, considering how some expenses and timelines will elude you. The number of rainy days and the increase in the cost of materials/gas/power may all impact the outcome. Still, as long as you're forthcoming with the information that you have available and explain why the rest of the information is currently unavailable, they're bound to accept this exceptionally well.
This can be done digitally, as well. Discussing prices and delays on your site and blog posts can humanise your business and show why you're so different from the rest.
Talk like a human
Construction has always been an industry that's a bit rough around the edges. Generally speaking, people expect contractors to be harsh and direct. You do not want to disappoint.
Just put yourself in an investor's shoes. They're supposed to trust you with tens of thousands to tens of millions of their dollars, and if you appear to be too meek, their confidence won't be that high. How are you supposed to handle your crew? How are you supposed to handle all the subcontractors and investors?
Make sure that some of this strong personality also translates into your online interactions. With the right help, some of this can be shown in your digital marketing. This will help you seem more confident and authentic. This is yet another way for you to make your brand more memorable.
Follow your audience
To interact with your audience, you must figure out where they're gathering. Forums and social networks are great for networking, but they also provide you with too many options at a time. Instead, look for different groups that discuss your niche and cover your topics. Remember, it's your job to put yourself out there while they need your services.
Competent digital marketers will analyse the target audience and tell you where you can interact with them. This way, your job will be much easier, even if you choose to do it independently instead of outsourcing it to experts.
Wrapping Up our Digital Marketing Tips
In the end, while digital marketing, you get to display the value of your business before doing business with other parties. This gives them a chance to discover you, research your brand, and become convinced that doing business with you is the right decision. It would help if you leveraged your social media influence to get ahead in this lucrative but competitive market.