Social Recruiting: How to Recruit the Right Graphic Designer
If you're looking to recruit a graphic designer for your business, social media can be helpful. Graphic designers have always been ahead in adapting to new technology. This also means you can use social media for your talent acquisition since many graphic designers are already on social media.
Whether your company is looking for a junior graphic designer or someone for a leadership role, you need a solid social recruiting strategy.
But, you may need more than just using your Facebook profile to share a job post occasionally to attract suitable applicants. If you want to get the best out of social media recruiting, there are specific strategies worth knowing.
Keep reading to learn how to hire the right graphic designer for your business using social media.
What is Social Recruiting?
Social recruiting uses social media platforms to identify, engage, and hire the most qualified candidates for open positions. You can go on platforms like LinkedIn, Facebook, Instagram, and Twitter and spot the most suitable passive candidates for your company. Or, you can post job openings and secure plenty of applications from social media users.
Here's an example.
Social recruiting is a cost-effective way to find the right employees for your business. You don't need to pay extra for paper or venue rentals. You'd have to shell out for these things in traditional recruitment methods such as job fairs, physical job boards, and print advertising.
Social recruiting works by leveraging the power of social media. Effective social recruitment can be achieved through a combination of activities. Here are some of them:
creating job postings or job openings on social media
posting other recruitment-related content
using hashtags
reaching out directly to potential candidates
With social media, you can leverage organic and paid social recruiting posts for talent acquisition. Both organic and paid social media posts contribute to building a following, whether through genuine engagement or strategies like buying Instagram likes or followers to boost your online presence.
Unpaid, organic posts drive continuous engagement and long-term ROI. Regular activity gives loyal and new visitors a reason to stay and interact with your brand. If optimised well, organic posts can expand your brand's reach to new audiences. This means you'd need to use hashtags and keyword targeting so your posts are more searchable on social networks.
With paid social ads, you get a short-term boost to your social media content. They help your posts reach existing and new audiences outside your organic reach. You can specify the people you want to target, too.
Use organic and sponsored social strategies if you want a community of loyal advocates and potential candidates.
Social recruiting is becoming an essential part of the hiring process in an increasingly digital world. Just look at the social recruiting statistics below. Most recruiters and job-seekers say they use the platform for social recruiting and job hunting.
Social recruitment methods help employers reach a wider talent pool than what they would reach with traditional ones (think career sites or agencies). With the rise of social media, employers can post job openings and search for potential candidates within the apps. Social recruiting also helps organisations better target job postings and offer company careers to ideal candidates.
Social recruiting also enables employers to target specific active job seekers and reach passive candidates. After all, employers like you can use various social channels to post job openings and engage with potential employees. You can also leverage your contacts and networks to find high-quality job candidates. Additionally, you can use social media to build relationships with potential candidates and discover their skills and experience.
Social recruiting allows employers to understand a candidate's personality before an interview. A candidate's social profile can provide information about their interests, hobbies, and backgrounds. You can use such data to determine whether they fit the organisation well.
Finally, social recruiting can help employers build their employer brand. By engaging with candidates on social media, employers can create positive associations with their organisations. Plus, they can show potential candidates they are an employer of choice.
Overall, social recruiting is an integral part of today's job market. It can help employers with talent acquisition and address their company needs.
Social platforms for recruiting can offer employers many benefits. Here are three you can reap as an employer:
1. Allows you to showcase your brand culture
Social recruiting allows employers to showcase their brand culture. Employers can create a positive and attractive image for potential candidates with visuals, videos, and stories. As a result, you can help job-seekers make informed decisions about whether your company is the right fit for them. Around 88% of job seekers find solid company cultures critical when applying.
To attract the right graphic designer, create a professional social media presence on LinkedIn, Twitter, Facebook, and Instagram. Use these platforms to showcase your company values and culture.
For instance, why not feature your current employees on social media? When candidates see you proudly introducing to the world your existing staff, you will more than convince them to apply. After all, this shows that you appreciate your employees' input and value them.
But make sure you do this regularly, not just when you announce a new job opening. Check out this example.
Mediology Production regularly posts employee features on Facebook, like the one below:
So, when it posted a job opening for a graphic designer, it could rest easy that it would get applicants for the post.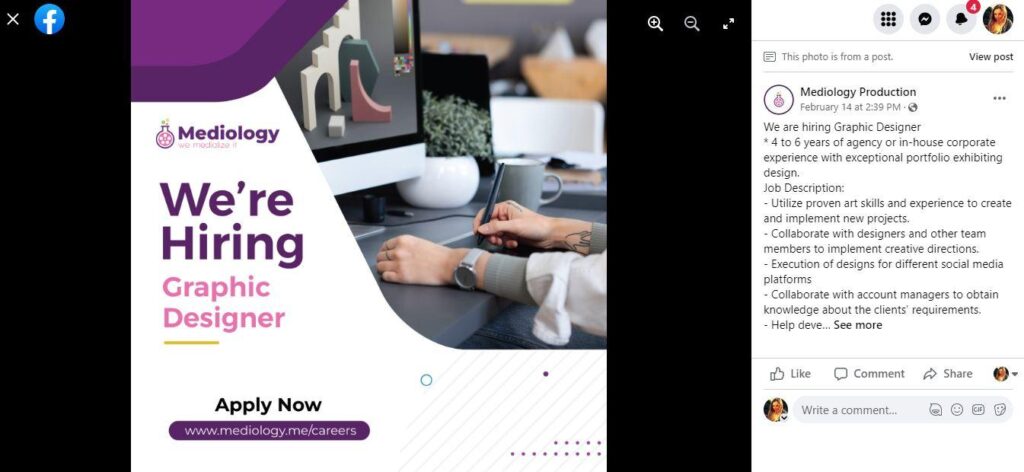 After all, interested potential employees who see the job opening will research the company. Job-seekers will conclude Mediology Production is a potential good employer when they see the employee features on the company's Facebook profile. The result? They send in their applications.
You don't always have to post your employee features directly on your social media platform. You can also write a blog post on your featured employee of the month on your website. Then, include a link to that blog post in your social media post. When someone clicks on the link, they can access your company website, read the feature and explore other web pages. If you have a good website, that might be the nudge they need to apply for your graphic designer post.
Plus, there's only so much you can write about your employees in social media posts. You can write more in-depth employee features if these are published on your website.
Just follow blog writing tips when creating your employee feature for your website. Remember, your goal isn't just to develop high-quality content potential candidates will read. Since this is content published on your site, you want that content to rank in search engine results in pages as well.
2. Helps you target relevant candidates
Social recruiting allows employers to target writers, graphic designers, other freelancers and relevant candidates through keywords and hashtags. This can help employers narrow their search and find the most qualified candidates for their open positions.
AIMS Soft, for instance, used hashtags in this job announcement for a graphic designer. People will likely use these hashtags when performing job searches on social platforms. The company also included branded hashtags.
Each social media channel offers something different. Let's look closely at some of the popular platforms and the tools you can use to target different types of candidates.
Instagram is a photo and video-sharing social media network. It usually sees a vast amount of active graphic designer users. As it's primarily an image-oriented platform, many graphic designers regularly share their pieces on Instagram for their fans, employers, and potential collaborations.
The best and most popular ones know what and when to post to get Instagram likes. Their Instagram feed works great as a marketing tool and a portfolio to showcase artwork pieces.
Here's an Instagram feed of Anna Rudak, a graphic designer from Poland. She doesn't just post her work on the platform. She also throws in pictures of herself, showing how she spends time, so you can get to know her better.
How do you make sure you target these individuals on Instagram? Use hashtags like #graphicdesigner and similar hashtags in your posts. If you want to reach out to these individuals, you can search for that same hashtag or think of keywords associated with them. You'll find a list of graphic designers to choose from.
Facebook allows users to share information, photos, and videos. Graphic designers can share their portfolios and join relevant groups in the app.
With Facebook search capabilities, you can get results based on people's location, interests, pages liked, and more. So, if you're looking for a local graphic designer with specific education, experience, or interests, Graph Search will bring you matching results. Just type in what you want to find in the search bar seen below.
If you have a Facebook business page, you can add post listings to Facebook under the jobs bookmark. From there, your employees can share these on their social profiles.
Out of all social media networks, LinkedIn is the most business-oriented one. You can browse people's profiles and learn about their career paths, education, skills, and recommendations from other LinkedIn members. So, if your company is after a junior graphic designer, you can pick ideal candidates through the app.
LinkedIn's advanced search tools can help you find candidates with desired experience and skill sets. LinkedIn Recruiter offers advanced search features. Smart suggestions speed up the search process. Plus, thanks to the applicant tracking feature, you can track applicants' actions. Look out for the #OPENTOWORK frame, which indicates at a glance that a user is open to new job opportunities.
To target relevant candidates, use the advanced search capabilities of social media platforms described above. Then, you can send the possible candidates a paid ad or contact individuals directly.
3. Ensures cost-effective recruitment
Social recruiting is also cost-effective and can help employers save money on traditional recruiting methods. You can post job openings for free on many social media platforms. This can help employers save on standard recruitment costs and quickly find the most qualified candidates.
You wouldn't have to pay on a cost-per-click basis. You'd focus on getting your job postings in front of the right candidate pools through a solid social media recruiting strategy.
LinkedIn offers paid membership if you want to reach 875 million platform members. You can leverage over 40 advanced search filters rather than just six on the free version. Then, DM anyone on the network.
Here are some of the differences between free and paid membership:
With prices starting from just under £25 per month, this still makes it a cost-effective recruitment tool. It can help you find the most qualified candidates for your graphic design opening in less time.
So, how exactly do you use social media to hire the right graphic designer? Complement these tips with a suitable job description template, and you'll reap the best results:
Social media is where millennial candidates–aged between 18 and 34– spend their time. So, to target graphic designers within that group, you need to be on social media, specifically the platforms they use. You can check out your built-in analytics to see the type of audience your current social media platforms cater to. Then, decide the platform/s you'll use for social hiring from there.
Depending on your social media platform audience analysis findings, you can have more than one. You'll also want to consider your current human resources. If you have a small recruitment team, you'll want to limit the number of social media platforms.
Also, pick the platform that has the features you're looking for.
For instance, LinkedIn allows you to post your recruitment articles. Twitter lets you share links to job listings. Facebook allows you to share photos and videos. Instagram is also an excellent platform for sharing visuals showcasing your corporate culture.
2. Leverage employee advocacy
Employee advocacy is a great way to reach graphic designers qualified for your job post.
Employers like you should encourage their employees to share your job postings on their personal social media accounts.
Encourage your employees to create company-related or employee-generated content (EGC). The sky's the limit to the content they can produce. They can post pictures of themselves while at work. Or they can post images of that lovely new employee lounge.
You can reward employees with the most number of posts. Your rewards don't have to be monetary. An X number of additional vacation leaves, for instance, can work. 
Remember, 92% of people will trust recommendations from people they know over other marketing, promotional, or advertising content. Employees can create a positive image of you as an employer. Take advantage of it.
3. Implement other employer branding tips
Apart from the tips we've mentioned (EGC and employee features, among others), there are other ways to help build your employer branding on social media. Here are other ideas:
Show off your company benefits (casual wear Fridays, work-from-home days)
Showcase your corporate social responsibility initiatives (plant-a-tree, adopt-a-pet programs)
Use interactive content. For instance, you can post recruitment-related polls or quizzes with fun questions like, "What do graphic designers eat in the office?" Post any content that will portray you as a great employer. A strong employer brand can help you lure the best professionals. They can give you an edge over the other companies trying to recruit the best graphic designers.
4. Engage with potential candidates
Employers should follow graphic designers on the platforms and comment on their posts. Engaging with potential candidates won't just help you determine if they fit the job. It can also help you build relationships with potential employees. You can add a link to your digital business card or even connect via message and share your business card with all relevant contact details for them to contact you.
Your comments don't have to be that complicated. Ask and answer questions and provide helpful advice. Or you can make fun comments like a friend usually does. You can even compliment the graphic design work they posted, for example.
Join social media groups of graphic designers. Here are just some examples of such groups on Facebook:
Once you are a group member, you can start interesting graphic design conversations. If you've talked enough with a graphic designer, you can contact them directly through direct messages or email.
Here's a good conversation starter on Linkedin if you're unsure how to reach out.
Announce a design contest in these groups to get people interested in your job posting. There are many ways you can reach out to potential candidates. Just make sure you don't spam them with too many messages.
Three additional tips
You need to do other things to ensure a smooth social hiring process. These tips apply whether you're hiring for graphic designer posts or something else:
1. Ensure legal compliance
Your social media recruiting policies should comply with applicable laws and regulations.
For instance, an equal opportunities policy outlines a company's commitment to fair treatment of all employees. That means you hire based on merit, regardless of people's age, race, gender, reassignment, disability, pregnancy, marital status, and religion or beliefs. Apply this policy when social media hiring, too.
Including a disclaimer in your job post, as Sub-K did below, is a good idea.
If you don't have that policy yet, develop at least one for your social media recruitment. You can include a link to such a policy in your job post. So, if users want to find out more, they can do so just by clicking. Or, you can publish a portion of your policy and show people where to find the rest.
2. Maintain a consistent brand message
Employers need to ensure that their recruiting messages align with their overall brand message. You want your brand to be associated with specific values. You can only do that if you maintain a consistent brand message across platforms.
Maintaining a consistent brand message doesn't just mean showcasing the same company values in your job posts. It also means applying the visual elements you use in your other marketing collateral to your job-related announcements.
Notice how this company keeps all their posts consistent. There's a post about a job vacancy in the bottom left corner of the screenshot. That post blends in with all the other posts.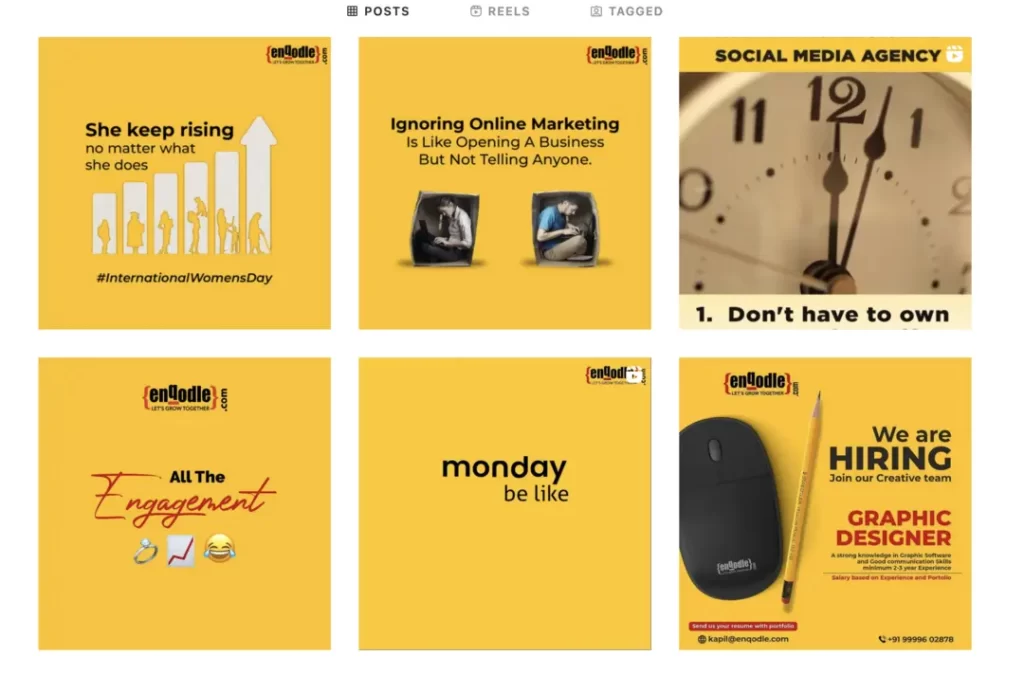 Now, check out the company's website with the same colour scheme and similar imagery. This is visual consistency across channels.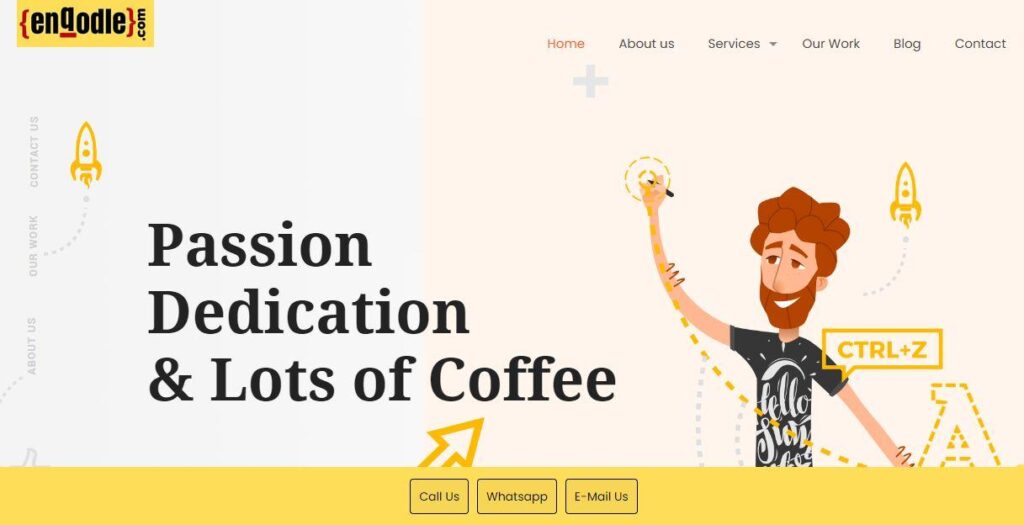 Whether you use social media for recruitment or not, most active candidates interested in your brand will check your online presence. So, ensure your social media is always an extension of your other marketing platforms.
3. Respond to negative reviews
Employers need to be prepared to deal with negative reviews from social media users, not necessarily applicants or former employees. Respond to negative reviews in a professional and timely manner. You want other social users to hear your side. If you're in the wrong, you want them to see you acknowledge your mistakes and find ways to improve.
Have a plan to deal with adverse reactions to social media posts and online activity. This way, you'll avoid saying something you'll regret afterwards.
In general, though, the best strategy for dealing with negative reviews is to thank users for the comment. Then, offer further assistance via email.
Conclusion
Social media is a great way to recruit the right graphic designer for your business. Employers like you should use social media platforms to build relationships with potential candidates. Also, create a strong employer brand and leverage employee advocacy.
Ensure you maintain a consistent brand message, ensure legal compliance, and deal with negative reviews from social media users.
With social media recruitment, you can showcase your brand culture, target relevant job seekers, and ensure cost-effective recruitment campaigns.
Leverage social media for recruitment, and you'll reap these benefits. At the same time, you'll find the right graphic designer for your business. Good luck!
Author Bio: Mackenzie Lepretre is currently the Director of Operations at FreeUp Marketplace, a top-rated marketplace for businesses to find and connect with the best remote professionals. She has worked with freelancers and has run freelance teams for 5+ years.