9 Things You Probably Forget to Design for Almost Every Project
Are you planning to design a website?
There are many crucial aspects that you have to consider to make the most out of your project.
However, forgetting some designs while you are busy in perfecting a few other features is pretty common.
We all are humans, after all, and it's possible for us to commit mistakes.
Every project has hundreds of things which mean that designers have a lot on their shoulders.
Starting from the most appealing screens to the homepage, contact us page, and so on, everything seems to be critical while website planning.
However, after a significant period, it needs prioritisation.
And that's when you might end up leaving some work for later on.
If you are a website designer, you are well aware of this fact.
However, project deadlines can often be overwhelming, and the pressure that you experience can lead you to forget many things which you leave for later on.
Well, that's fine!
In this piece of writing, you will get an in-detail depiction of such things which could probably go out of your mind while handling a web design project.
I hope this article helps you to remember.
You may also like this web design checklist before getting started.
The 'Thank You' note for signing up.
When it comes to designing a website successfully, it's important to let people know that they have rightly signed up.
It will not only give them a confirmation that their email address and other details have been added successfully but also conveys a positive message across while reflecting the perfect professional approach of the company.
The visitors on your website mustn't get offended while they enter their email address.
Hence, don't forget to recognise and thank them for signing up to your website.
You might forget designing this page because of your high focus on the functionality of registration, but that's not worth it.
The welcome email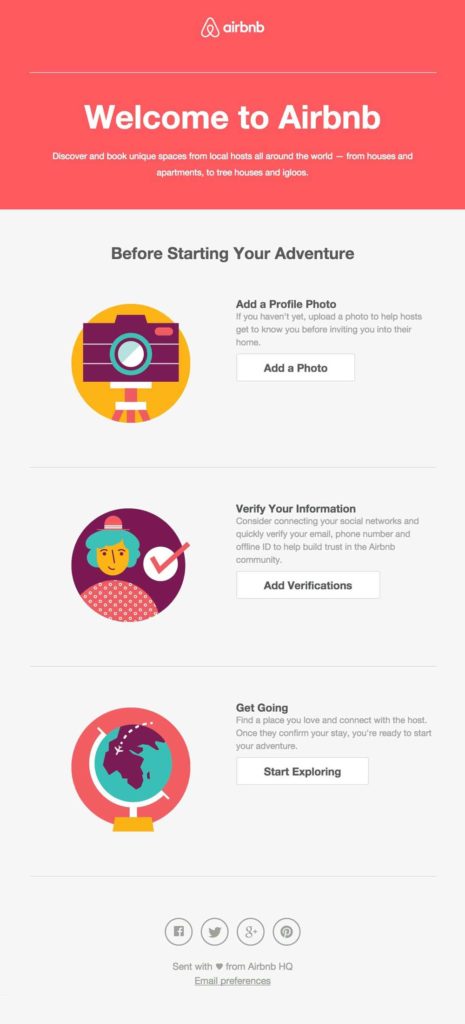 When someone successfully signs up with your website, you need to send them a welcome email and get personal.
Make sure that you're not missing out this while designing your website.
You need to introduce your brand innovatively and convey all the benefits that a customer can relish upon signing up, including, discounts, special offers, updates, and much more.
You might even want to give a coupon or discount as a token of thanks for the users.
It will make your customers feel positive about your brand. Therefore, don't forget to design a welcome email to give your customers a better experience.
The terms and conditions page
Of course, customers love to check the box without reading it.
However, it's imperative to design one and place it exactly where it is visible.
This is nothing but the set of rules and regulations that users must follow to use a service.
However, you might often ask yourself why you need it on your website when most of the people don't need the same.
Well, the page lets you authenticate the content on your website and determine how users can use or share it.
So, it can be considered as one of the most significant aspects of your website designing. Don't forget it!
An interactive error 404 page
If by any chance, users come across any broken link, HTTP will typically display an error via a 404 page.
This is not only irritating, but it can altogether put off the users.
Why should you take that risk?
Instead, what you can do is create an innovative and interactive error page.
It would help if you tried adding some funny pictures or meme.
Most of the visitors are usually not aware of what '404 error' means.
What they can understand is that something is wrong.
Hence, it is always recommended to give the news creatively.
While designing, replace the tech-terminologies like '404 page' into a layman language.
For example, 'sorry page not found 'can be effective.
If you take the blame on yourself and avoid such words which show the possibility of any mistake by the users, it will be convincing to the customers.
For instance, in spite of saying 'you are on the wrong page', if you try keeping a human face over there with a creative quote like 'seems like Joe failed to work correctly, it will not end up upsetting your customers so intensely as it could do in the opposite case scenario.
Customised cursors, please.
While designing a website, you need to customise cursors according to the content.
If you create a hand cursor, it won't indicate a clickable button, as it has always been believed.
Rather, buttons should have pointers, a text must come with text cursors and the non-clickable spaces should have the default cursor.
Make sure that you are using all the individual types for specific functions.
Moreover, when it comes to hand cursors, they should be used for denoting links and of course, links and buttons are not similar.
Therefore, while you use cursors in the website designing, you need to keep this information in mind.
Thus, you will not forget to make the right use of the right cursor at the right time.
Figure out how your website screen reacts
As a designer, you might sometimes forget to identify screen behaviour, and it can end up to be a big mistake.
Hence, keep the scrolling behaviour in mind because it plays a significant role in enhancing user experience.
If you are designing a website for any of your client, keep his/her preference in mind.
Majority of them like fix headers while others want to use some key buttons.
Also, there's a specific section of clients who don't want headers at all as they want the users to scroll down the screen.
Moreover, some clients want to keep some options fixed in the footer while others want footers to appear when users have reached up to the end of the screen.
Therefore, don't predefine any default option to define your users' experience.
You need to discuss with your client clearly and customise according to their taste.
Make sure that you do not forget this significant facet while designing your clients' website.
Prioritise notifications for users
Users love to get notified but not up to such a high limit that it becomes annoying for them.
Moreover, they might finally end up deleting your app.
Hence, design your website or app in such a way that it doesn't send unnecessary notifications to anyone.
Instead, let your users choose the notifications that they want to see.
Don't forget to pass the right information to the right customers through your website.
It can finally prove to be one of the significant reasons to attract high traffic.
Design images for app stores
Imagine, a user downloading your business app from the App Store and witnessed Android screenshots only.
Jeez, that's a grave mistake! It would be best if you did not commit this at any cost.
On the contrary, you should make users feel that you've invested a significant period and effort into designing the app.
If people find that you are serious in your business, it will convince them about your efficiency and reliability.
You might feel tempted and simply use a screenshot or downloaded image for representing your app in the play store.
However, don't do that and don't forget to design your images for the app.
This insight can play a significant role in users' decision to download the app or not.
It is something you must remember to do while designing your app to make sure that you are omitting any chance of your app not getting downloaded by users.
Allow users to delete accounts.
As a business owner, you don't want users to delete their accounts.
However, sometimes it is necessary for them because they don't feel comfortable anymore to stay connected with your website.
That's when; you shouldn't be forceful anymore and give them a chance to disconnect from your website.
Thus, don't forget to keep an option for users to delete their accounts while designing your website.
It will add a sense of security and convenience in them.
Finally, users will not get trapped! Also, they will sign up for your site at the first go itself.
Summing Things Up
Are you going to start your next designing project?
Keep these things above in your mind, and you will undoubtedly end up planning a successful one without any error.
These facets will not only enhance the efficiency of your project but also provide a great end-to-end experience.
How many of these points have you missed for your project?
Have you missed some common designs that designers often forget in the hassle?
Make sure that you are keeping all of them in mind for the next time and there you go!
So, what are you waiting for?
Get started now without any fail!
Author Bio: Maulik Patel is Founder & Director of Click Matix. His passion for helping people in all aspects of online marketing flows through in the expert industry coverage he provides. He is an expert in web marketing, search engine optimization, social media, affiliate marketing, B2B marketing, online advertisement of Google, Yahoo and MSN.