Post title: Xero vs Freshbooks Review for Designers
If you are a designer, it is very likely that you do not take joy in number crunching.
However, sometimes accounting is necessary, particularly for creatives who take the freelance approach to design work.
Accounting is what lets you create invoices, stay on top of payments, and keep up with your outgoing payments.
If you are like me, you want to make this process as quick and painless as possible.
However, the fact remains that accounting is a practical part of any work.
"You have to know accounting. It is the language of practical business life. It was a handy thing to deliver to civilisation. I have heard it came to civilisation through Venice which of course was once the great commercial power in the Mediterranean. However, double entry bookkeeping was a hell of an invention."
~ Charlie Munger
This may be tongue-in-cheek, but Charlie has a good point.
Accounting brings practicality to a business of any kind.
Creative freelancer or not, you will need an effective way of managing the more practical aspects of your work.
This is where proven accounting software tools can come in.
These days there are plenty of SaaS accounting tools out there for design firms and freelancers alike.
Two of the most common tools searched online are Xero vs FreshBooks.
Both have a SaaS focus with an affordable price point, and both compete with QuickBooks.
So what are the differences between Xero vs FreshBooks, particularly for designers?
Here we can dive into reviews from designers to get to the bottom of Xero vs FreshBooks for graphic and web designers.
FreshBooks Review: The Good and the Bad According to Designers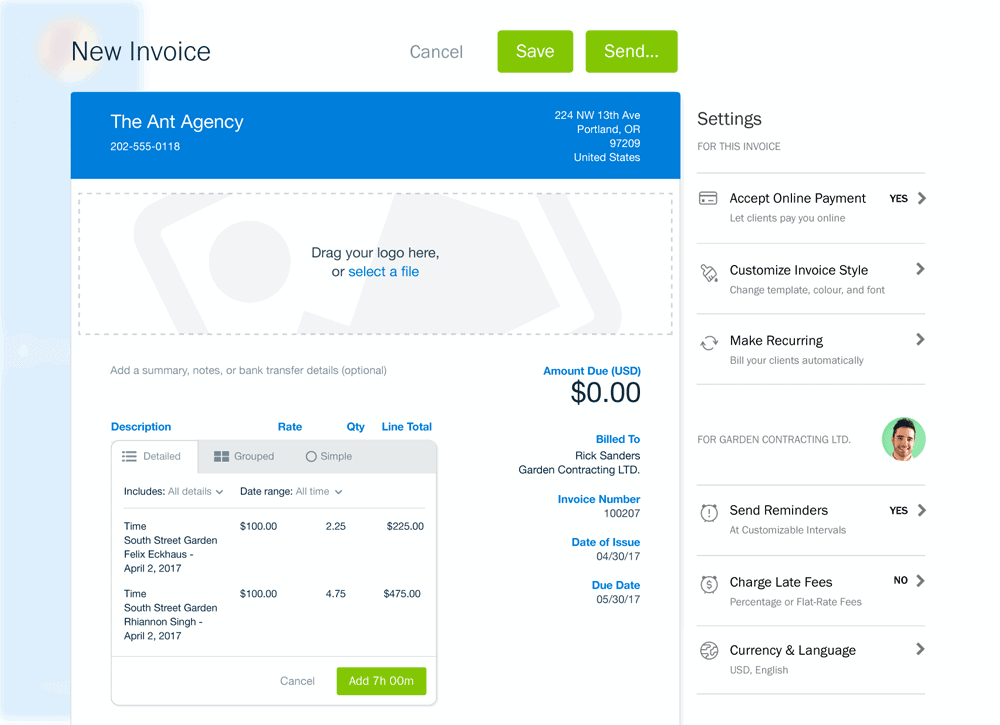 Before jumping into an accounting software with both feet, it is crucial to do your research.
All accounting software solutions have both pros and cons for designers.
That said, FreshBooks lands near the top for robust accounting for designers.
FreshBooks is priced at $15 per month on the low end.
This includes invoices for up to 5 clients.
Features include customizable invoices, reminders, recurring invoices and credit card processing.
The accounting software has an 8.2 out of 10 rating on TrustRadius – but let's dive into what designers have to say about FreshBooks as a creative solution to accounting.
"It is perfect for new business owners or businesses that want to be able to keep their books. Of course, it is still important to check with an accountant, but this can certainly save some time and money. This is also great for freelancers because you can choose between billing by project or hourly. You can even keep track of how many hours you are working on each project."
~ Mandy Cramer | Graphic Designer | Miss Mandible Designs
While reviews of the software are positive, designers have taken the time to break down the benefits and potential drawbacks of using FreshBooks.
Some of the benefits highlighted by designers in their reviews include:
A free trial option, with the ability to try it out before jumping in with both feet.
User-Friendly design and dynamic UX
The ability to accept payments from various sources
Automated invoicing, helping users stay on top of client payments
A time tracking tool connected to invoicing
Easy payment feature
Of course, FreshBooks will not necessarily work in every use case.
To help potential customers figure out what will work for them, designers have also included potential drawbacks of FreshBooks.
These include:
There is a limit on how many clients you can bill
The service is associated with high credit card fees
There is not much flexibility with late payment options
The FreshBooks platform does not allow consistent branding
While these may be potential drawbacks for businesses, a few designers have highlighted FreshBooks as an excellent option for creative freelancers.
Lisa stresses the practicality of the software:
"FreshBooks is a great fit for small businesses, entrepreneurs, freelancers, and solopreneurs that invoice on a regular basis. The suite of tools it offers make it a great fit for a freelancer with a few dozen clients, thanks to the ability to create quotes, charge deposits, and create custom projects and tasks with their rates."
~ Lisa Keyser | Web Designer & Marketing Consultant | LMK Web Design & Consulting
Xero Review: The Good and the Bad According to Designers
Xero is a primary competitor to FreshBooks, along with QuickBooks online.
Xero reviews on TrustRadius show an 8.8 out of 10 scores, placing it on the higher end of top rated accounting software.
Xero features a subscription model with tools for bookkeeping, invoicing, expense management, taxes and more.
The SaaS starts at $10/mo.
Moreover, runs up $70/mo. for a premium package.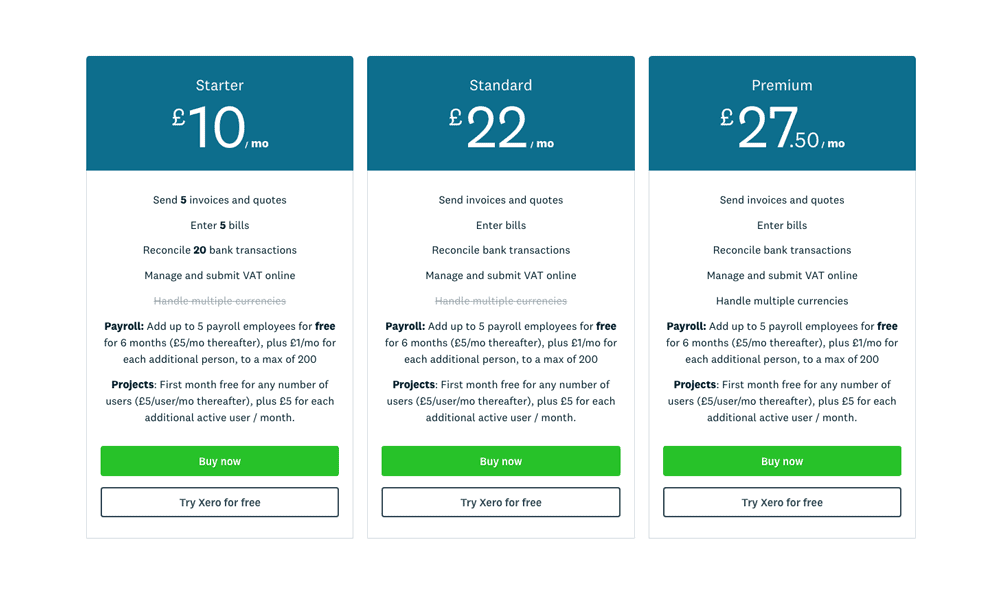 However, what do designers have to say about how the tool works for them?
For starters, take a look at one designer's description of how his team uses Xero to make accounting simpler for their small business.
"We are a CPA firm serving small businesses, and set up our customers on Xero to track their business finances. The design, usability, and forward-looking development path attracted me to Xero.The level of automation possible makes life simpler for small businesses. Also, the ability to collaborate in real-time makes it possible to serve customers in a way we could not before. So the continued release of features that impact our customers for the better continues to reassure us this was a good choice."
~ Adrian G. Simmons | Chief Creative Designer | Thriveal Laboratory
Designers and creatives have also pointed out the ease of use for Xero.
This photographer highlights how Xero wins in a cost/benefit analysis:
"Xero has decreased the amount of time we spend on our accounting. Come tax time; this is a huge benefit and cost/time savings for us! We chose Xero because it was cloud-based, was easy for our other employees to gain access, and worked in sync with our bank accounts. They have had very responsive and great customer service, and we are delighted with our experience with them thus far!"
~ Amy Lemaniak | Owner/Photographer | Ten Tiny Toes Photography
Xero offers an accessible option for some small businesses and freelancers.
Some of the specific benefits of the tool that users highlight in Xero reviews include:
The intuitive visual design
The flexibility in using financial data
Account integration
Automatic imports of transactions
Cloud-based software
Multi-user functionality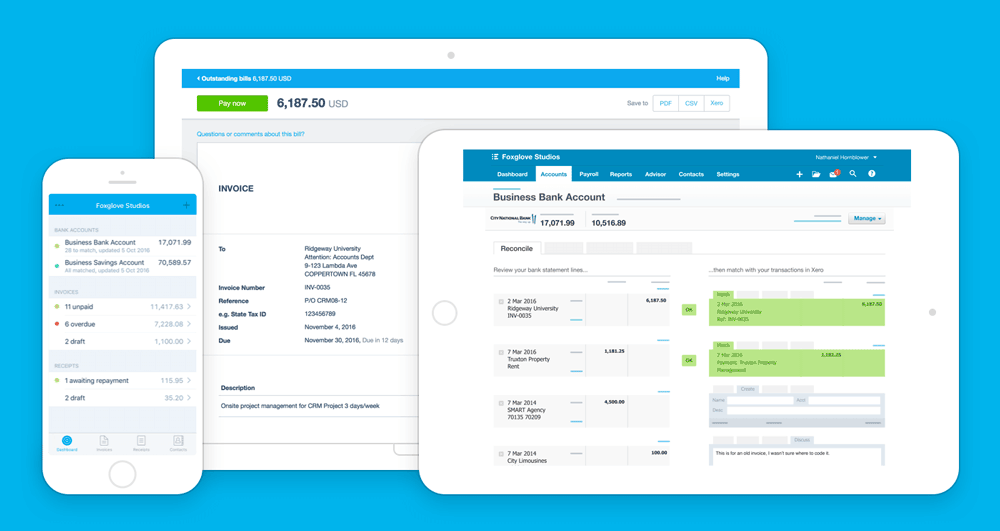 Some of the potential drawbacks of creative teams and designers using Xero include:
Xero takes a different approach to accounting, which can be challenging to adjust to
Financial reports are not that powerful
The mobile version may be in need of an update
It can be difficult to convert files from other accounting software versions
The Bottom Line: Xero vs FreshBooks Review
Besides the pros and cons of the software solutions, these Xero and FreshBooks reviews from designers highlight one thing.
The reports show that using Xero vs FreshBooks depends entirely on what you will be using the accounting software for.
Take this web designer's review, for example:
"I use FreshBooks for invoicing clients for both hourly and project-based work. I can also invite contractors to track and bill hours through FreshBooks, which is helpful when re-billing hours. One of the biggest issues we continually face is late payments. FreshBooks help us manage that problem with automated invoice reminders and late fees."
~ Lisa Keyser | Web Designer & Marketing Consultant | LMK Web Design & Consulting
Similarly, this Chief Creative Designer focuses on how his firm utilises Xero for multiple clients and multiple users:
"Xero works great for a small business that is service based or one which will be integrated with an add-on for sophisticated use cases. It is also great for multi-user scenarios since unlimited users are provided. It is less suited to be implemented as an all-in-one (i.e., without add-ons) when there are specific industry needs."
~ Adrian G. Simmons | Chief Creative Designer | Thriveal Laboratory
Simmons, too, focuses in on how Xero fits the use case of his business. He even points out where the accounting tool may not work (i.e. as an all-in-one solution).
As a last point of consideration, look at this review from photographer Amy Lemaniak.
The creative artist points out exactly why Xero is so useful for their studio – and it has everything to do with how the software is used:
"We use Xero as our Accounting Software for our growing photography business. It is used by two users in our company to enter our sales and manage our bank accounts and reconciliations. Xero makes the often dreaded job of accounting very easy and manageable."
~ Amy Lemaniak | Owner/Photographer | Ten Tiny Toes Photography
Amy points out that Xero is useful for her photography business because it is primarily used by two people who are indeed not accountants.
In this case, and in others, Xero vs FreshBooks comes down to which one users think will be more straightforward to use.
For many designers and creatives, the more straightforward approach to accounting the better.
This post should give you a good idea of which features to consider when looking at jumping into accounting software.
Potential buyers should do their homework, considering both the pros and cons of each accounting tool.
On top of that, you should take the time to consider how you will be using Xero vs FreshBooks – and who will be using the tool.
To get a more in-depth understanding of these tools or to explore other accounting software options, you can use authentic online reviews.
These will act as a resource as you make your purchasing decision for Xero vs FreshBooks – or any other accounting tool!
Author Bio: Brooklin Nash writes about the latest tools and small business trends for TrustRadius. When he is not writing, you can find him reading YA dystopian fiction (with guilty pleasure) and cooking.
---
If you wish to discuss how we can develop your brand or provide graphic design for your product or business, email us: [email protected]
Inkbot Design is a Creative Branding Agency that is passionate about effective Graphic Design, Brand Identity, Logos and Web Design.
T: @inkbotdesign F: /inkbotdesign
---