Web Development Budget: 12 Ways to Spend Your Money
A web development budget can strain a company's resources and frequently run over budget in terms of both time and money, which is understandable given that website development costs include more than just development. 
When developing a web development budget for a project, there are numerous factors to consider.
Many companies mistakenly believe that programming and design are the sole factors that affect the budget. 
However, there are many other factors to consider that might significantly impact the development process. 
Details like choosing a domain name, choosing a suitable maintenance plan, and ensuring proper security will help you budget more realistically.
Here we are sharing the 12 top-notch ways to spend your money out of your web development budget.
1 – Domain Name
The domain name is one of the most overlooked steps when creating a new website.
It is the address that hundreds of users will use to access your business site. However, even though it is so important, you should not spend too much time thinking about a good domain name.
Just make sure it's easy to read, avoid complex words, and make sure it's unique so that people don't confuse your company's website with another website.
In addition, you can add keywords; this will help your SEO in the future by telling Google and users what your website is about at a glance.
2 – Buy An Scalable Hosting Plan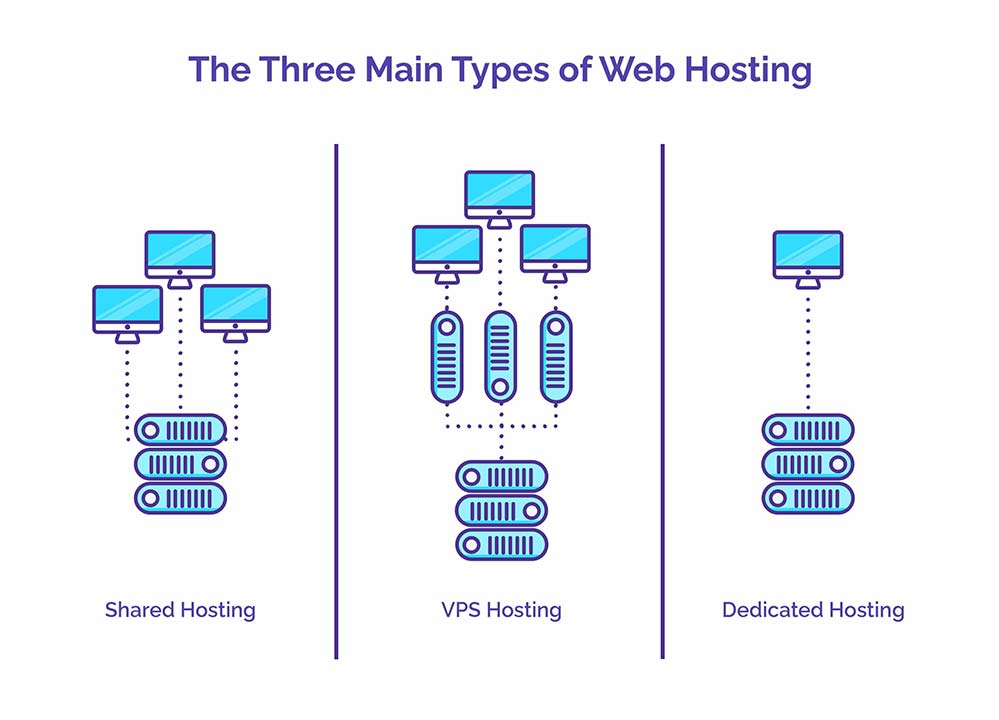 To make your website live on the internet, you have to hire a hosting provider. 
The pricing of hosting services can vary a lot depending on your needs. If you need more storage or speed, that will cost you more money.
The cheapest options usually are called "shared hosting". This has its advantages and disadvantages. The good thing is that it is affordable. The bad thing is that it is constrained because you are sharing resources with other people.
The price of a shared hosting service is around $7 to +$100.
On the other hand, there is a service called "dedicated server". In this case, you are actually "buying" a whole server for your purposes. The cost varies a lot, but on average, it is from $100 to +$2,000.
In the beginning, you can start with a shared hosting service. Then, while your business website grows, you can update your hosting service to a dedicated server.
This is entirely possible, and it will save you tons of money in the long run.
Here you have several reliable hosting providers:
3 – Create a Descriptive Home Page
The home page is the face of your website. Some people say that you never get a second chance to make a first impression. 
So, you need to have a professional and user-friendly home page, so your users understand what your website is about quickly.
There are some elements that every home page should have, headlines, call-to-actions, images, testimonials, etc.
4 – Install a Content Management System
A content management system or CMS is the tool that will allow you to create your website based on your personal or business preferences.
A CMS is highly flexible, and it has lots of features to choose from. Also, if your chosen CMS doesn't have a feature that you'd like to add to your website, in some cases, you can install it as a plugin or add-on.
It is the best tool for people who don't want to spend thousands of dollars on a web developer but still want a professional website.
Let's talk about the most popular Content Management Systems out there.
WordPress
WordPress is by far the most popular Content Management system out there. It is powerful, easy to use, and has unlimited customisation options.
It has a massive community so that you won't lack support, and if you want to hire a web developer to work on your WordPress website, it won't be challenging to find one.
The significant advantage of WordPress is its unlimited personalisation features. However, WordPress itself is not that powerful; the thing that makes WordPress so convenient is its library of plugins.
If you don't have a feature included in WordPress, you need to download a small file, and instantly it will have that feature that you wanted.
But not everything is perfect with WordPress. Its major downside is its security. The thing with such an amount of third-party plugins is that some of them are not updated all the time, and your website can quickly become prey to hackers.
Drupal
Drupal is a powerful open-source CMS that can scale with your company over the years. It is constantly updated by its developer and has strict security protocols.
However, it is pretty hard to use, and the cost to maintain the best Drupal hosting can be higher than with other Content Management Systems.
Joomla!
Joomla! is a CMS with many years of establishment in the market. It is open-source, it has extensive documentation, and the editing workflow is very intuitive. The best thing about Joomla! is that it is free.
It has lots of benefits, but not everything is good about it. It has few add-ons (compared to WordPress), and it demands lots of server resources.
For many years, Squarespace has been obfuscated by other more popular Content Management Systems like WordPress and Drupal; however, it is gaining more popularity because of its impressive capabilities.
The significant advantage of Squarespace is its templates. It has more than 100 options to choose from, which are highly customisable to fit your personal needs.
Also, it has a professional and reliable support team that is willing to help you when you need them.
The major disadvantage of Squarespace is its ease of use. It is not the best tool for beginners since it has tons of features and settings to launch a website.
Wix
It has similar (more user-friendly) functionality to Squarespace and charges a monthly fee rather than an annual fee. 
Wix is also primarily a drag-and-drop website builder, allowing you to drag and drop website pieces wherever on the page quickly. 
However, Squarespace is more structured regarding where you may drag and drop or where you want to specific place objects on the page.
Wix's learning curve is even lower than Squarespace's, so if you need to get a site up and running quickly, this might be the best option.
Wix has many templates for any business website. E-commerce, blog, service page, etc.
The downside of the Wix templates is that once you select one, you can't change your website design once it is published. You will have to start from scratch.
5 – Set Up eCommerce Features in Your Website (Optional)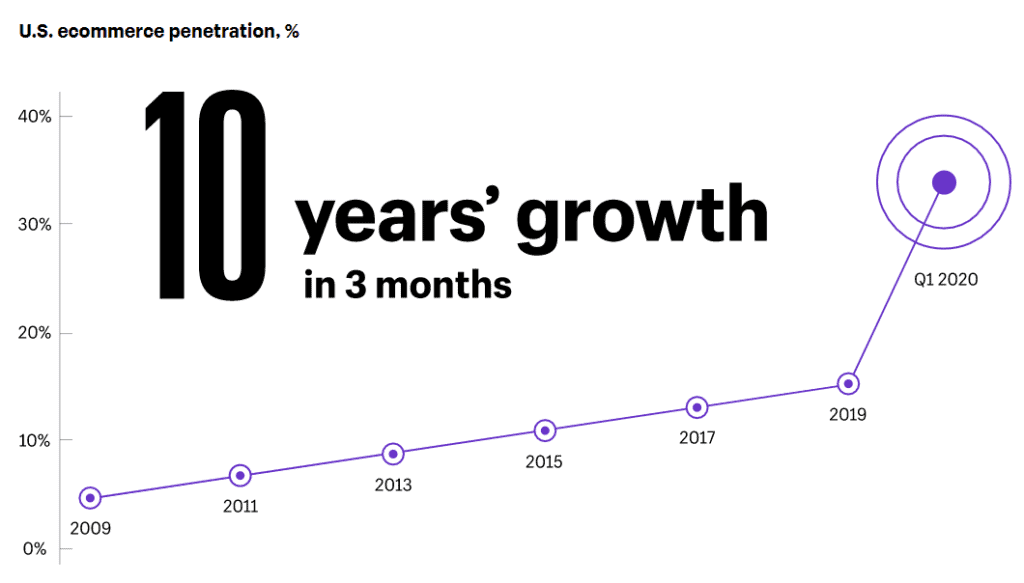 In this section, we will show you what the most reputable eCommerce platforms are.
WooCommerce
WooCommerce is a well-known eCommerce plugin for WordPress. It is highly customisable, and this characteristic comes due that this is an open-source add-on.
It can be integrated with many external platforms like PayPal, MailChimp, Stripe, Facebook and much more.
It has an active user community, and it is free. Without a shadow of a doubt, this is one of the best eCommerce platforms out there.
Shopify comes with a robust back-end editor and inventory system, which is ideal for big businesses. 
It allows you multi-platform compatibility with Facebook, Instagram, etc., so you can expand your shop into social media much easier than with other eCommerce systems.
It comes with a large number of templates, and lots of payment options, and its 24/7 support service is going to be with you if you need help.
One of the best things about Shopify is that it has a vast library of third-party extensions that you can install to add more features to your eCommerce business.
Shopify is also great for beginners since it is a dedicated page builder for eCommerce stores.
This is one of the best platforms to create an affordable and functional eCommerce website.
Business Squarespace
Squarespace offers a particular eCommerce subscription for anyone who wants to create an eCommerce store. 
This platform shines because of its available high-quality templates. It also comes with some inventory and analytical tools for you to analyse your sales performance.
The significant downsides of this platform are that it is not as easy to use as its competitors, and it doesn't have an app store so extensive.
Wix
Wix provides a user-friendly Shopify plugin that can be used by upgrading your Wix account and subscribing to Shopify. It also provides some add-on features like adding multiple domains to a single site etc.
GoDaddy Online Store
Like Squarespace, GoDaddy offers a unique website builder for eCommerce stores besides its regular website builder.
It has many marketing features that are extremely useful to analyse your website's performance. Also, it comes with sophisticated artificial intelligence that they created to help you create your website faster.
It also comes with many templates to choose from, and it has one of the most advanced payment systems of all eCommerce platforms.
GoDaddy is one of the most popular website builders, and it is only improving over time.
6 – Create an Engaging Website Interface
If you want to sell more than your competitors, you have to offer a better experience than theirs. Investing some of your web development budgets in developing an excellent website interface will help you in every way.
The website interface is composed of three main elements:
A clean and easy-to-use website interface will facilitate the interactions of your users with your website. Nothing is more frustrating than losing a potential customer just because they don't know the product they're looking for.
Also, building an excellent website interface will encourage your users to keep navigating your website, which is ideal for SEO.
7 – Make Your Company's Website Search Engine Friendly
Search engine optimisation (SEO) is a collection of tactics you apply to your website to ensure that search engines properly index, rank, and display it to search engine users. 
The most crucial SEO components are:
Keyword Research
SEO On-Page
SEO Off-Page
Mobile-friendliness
SEO is a process that takes lots of time and patience. It also requires a considerable investment of time or your web development budget. 
However, SEO enables the possibility of attracting customers almost automatically to your website. 
So, it is an excellent inversion for increasing your business revenue over time.
8 – Create and Publish High-Quality Content Regularly
A website is fueled by content. If you want to sell, you need to add copywriting to your website. If you want to attract visitors, you need to add content to your website.
Furthermore, high-quality content will establish trust with your customers, which is critical when running an online business; there are no sales without confidence.
So, publishing content regularly will help you attract more visitors to your website and help you establish trust and become an authoritative brand with time.
9 – Set Up Webmaster Tools
Google Analytics, Google Search Console, and Bing Webmaster tools are helpful tools that will allow you to make intelligent decisions based on numbers. 
For example, you can see what pages are getting the worst performance and improve it to achieve better results.
You can track the following data using these means:
Visitors
Visitors' average time spent on the site
Keywords that bring people to your website
Keywords rankings
Mobile design issues
Load time issues
10 – Create A Maintenance Schedule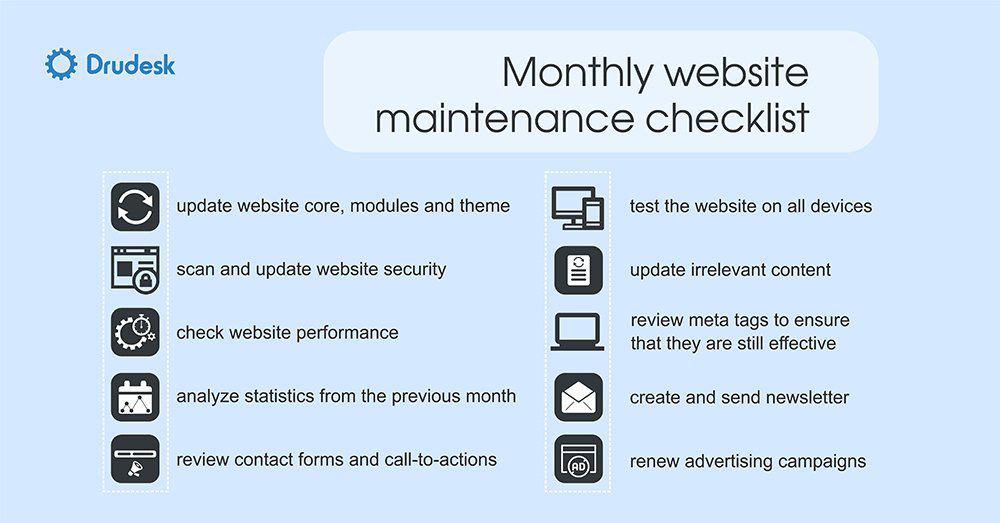 You must make sure that you have a proper maintenance schedule for your website. This will maintain your site at top performance at every moment.
These are some things that you could do every month:
Check That Your Software is Up To Date
The first thing you could check is that your website software is up to date. If you are using WordPress, it could be worth checking your plugins and WordPress version.
If you are using Shopify, make sure that your Shopify version is up to date and so on.
Compatibility Issues
Sometimes, when you update a WordPress plugin, it could have compatibility issues with other WordPress plugins. 
It is essential to check the compatibility notes from the plugin's official page when you update something.
Another thing that you can do is to update the plugin and then navigate through your website to make sure that everything is working correctly.
This is something that can get out of hand quickly because of the WordPress plugin's automatic updates.
Check For Internal Broken Links
Sometimes when you remove a page from your website and that page has been linked to in the past from other internal pages, and you don't remove that link, your users will not have a good user experience, which is not suitable for SEO.
Remove Spam
If you produce online content, this is something that you will suffer. There will always be spammy comments trying to sell a service or promote their website. 
It is important to delete this kind of user-generated content to conserve the credibility of your website.
11 – Spend on Website Security
Any program or action to prevent the exploitation of websites or ensure that website data is not exposed to cybercriminals is referred to as website security. 
A good website security program can examine your site for security vulnerabilities, including redirect hacks, Trojan malware, and so on.
Security issues can occur on any website. This holds even when web servers are connected to networks. Website security guards against a variety of threats, including the following:
Vulnerability exploits
DDoS attacks
Blacklisting
Malware
Defacement
SQL injection
Cross-site scripting (XSS)
12 – Use "A/B Testing"
Split testing, also known as "A/B testing," is a technique for determining whether certain variations of your website improve performance. 
These days implementing this technique is very easy. For example, Google Tag Manager gives you the possibility of creating multiple copies of your website so you can test which version works better for selling more and creating more user engagement with your website.
A/B testing is a technique that has been used for years for marketers and web designers, so if your competitors are using it and you are not, maybe they have a competitive advantage over you.
The Bottom Line
I hope this article has given you valuable ideas to spend a web development budget on tasks wisely.
Yes, here you discovered things directly related to web development but are also important when creating a website.
Remember that the ultimate goal of any web development budget is to produce something that will prosper in the long run.