How Web Designers can Contribute to a Sites SEO
SEO needs to be at the forefront of the mind in the planning of a website, and before anything else is done; a site can look stunning, but if some of the barebones SEO hasn't been done at the web design stage, then the site could suffer in terms of reduced organic search results.

A website isn't just built for the public—Google's crawlers need to be able to easily navigate a site and know exactly what niche you're in and the type of people your website is aimed at.
Hosting
A reliable hosting service is worth its weight in gold.
If you're outsourcing this feature to a web designer, then ensure that they can back up their claims as to the host's credentials.
Bear in mind that some designers may direct you to a host based solely on how much commission they make!

Also, there's absolutely no point in going for the cheapest hosting as the chances are your site is going to experience a higher downtime and errors.

SEO is useless if your site has poor uptime, has slow loading speeds and limited bandwidth—a web designer can help ensure that these are all present in the host that's being used.

This is especially the case if you're looking to buy an existing website—if it's not already known, then do your due diligence and get the help of a web designer while you're at it.
While buying a website that is already earning money might be desirable, do you really want to pick something up that you cannot work with because the back end is so complicated?

Site structure
This is often overlooked by so many bloggers and website owners but is a fundamental part of SEO.
Loved by one and all, there are many reasons why a site should be structured in a very particular way.
Any web designer that's worth their invoice value should be proactive in ensuring that a site's structure is optimised.
Put yourself in the shoes of the of a visitor to your site.
If they can't navigate with ease, or access to the different categories (via menus or internal links) isn't simple, and they can't find what they're looking for within a very short space of time, then the site's traffic is going to be affected negatively long-term when your visitors keep bouncing.

Improves conversion rate
If a visitor can easily find what they're looking for and they don't get cheesed off by a poor structure then this is going to result in a much more enjoyable experience for them, and therefore, will improve conversion rates and customer engagement.

Improves customer experience
This then has a knock-on effect by them leaving positive reviews—internally and externally—perhaps sharing your content, products and/or services on their social media, and telling their peers about your site.

Silo structure for content
Siloing your website's structure basically involves grouping parts of your website together—especially written blog content—and confirming to Google your site's niche relevance, ultimately improving rankings for certain keywords.
This is something that should not be ignored or overlooked for it's a core part of SEO building blocks.

The major step in ensuring a site's silo structure is to determine its overall theme.
If you do this from the very beginning—which is highly advised—then you already know how any additional content categories and menus are going to feature.

For example, say you have a website that is in the health and fitness niche; you could silo this site into 3 different categories: Gym equipment, home workouts, and nutrition.
Consider this part as the OCD for SEO web design. By having all of your nutrition content under the nutrition category, Google's crawlers and your website's visitors can navigate the site more easily.

Here's an example of such a structure:

Major theme: health and fitness

Sub-theme 1: nutrition

Nutrition informational blog posts
Nutrition Product reviews

Sub-theme 2: gym equipment

Gym equipment informational blog posts
Gym equipment reviews

Sub-theme 3: home workouts

Home workouts for beginners

Blog content
Video reviews

Home workouts for professionals

Blog content
Video reviews

Home workouts for kids

Blog content
Video reviews
The above structure gives you a working example, however, you can use templates from design programs or even word processing programs—very useful tools for a web designer and the site owner to discuss the most efficient structure.
This can then form as a robust template going forward, not only for the current site but also for any future website projects.

One of the strengths of the silo structure, aside from being loved by Google and visitors, is that it gives you the opportunity to strengthen the bonds between different sub-themes using internal links.
What you then have to take into account—as a web designer— is the structure of the URLs. Using the above health and fitness example this could look like:

healthandfitness.com
healthandfitness.com/nutrition
healthandfitness.com/nutrition/nutritionblogpost1
healthandfitness.com/nutrition/nutritionblogpost2
healthandfitness.com/gymequipment/
healthandfitness.com/gymequipment/gymequipmentblogpost1
healthandfitness.com/gymequipment/gymequipmentblogpost1
etc.

You can further strengthen this silo structure by only linking internally within silos.
This 'batching' of content helps to tell Google that you are an authority on this particular subject which will indirectly affect your Google rankings in a positive way.
Mobile-friendly
Most internet users use mobile phones for searching the internet, rather than desktops.
The main reason for this is accessibility and simplicity—by reaching into your pocket and unlocking your phone with your thumbprint, within seconds you are finding the answer to your query.

It, therefore, makes not optimizing your website for mobile devices simply a travesty.
Have you ever landed on a site for it to look awful on your mobile phone?
If you have, I bet you didn't stay on that website for long and instead went to one that was optimised for mobile.
Not only is this beneficial to your site's visitors, but also to search engines, since they will use the mobile version of your website to determine your ranking for specific keywords.
If this fact doesn't give you that nudge to optimise your site for mobiles then I don't know what will.
Theme optimisation
How aesthetic a website is for the eye plays an important factor for visitors. As humans, we seem to link certain blends and pairings of colours as a sign of authority and knowledge, with our first experience of a site being the above the fold section.
Ensuring that this area is clutter-free helps to tell the visitor what your website is about, and it should contain navigation of your site a breeze, making it obvious where to go to find out what they need.
This is a vital requirement for on-page SEO.

Having a repetitive structure to all your pages and using neutral colors will most likely improve visitor engagement and conversion rates.

This goes further into making sure that the theme you're using—for example a premium WordPress theme—is designed in such a way that the above points are included.
Optimised for speed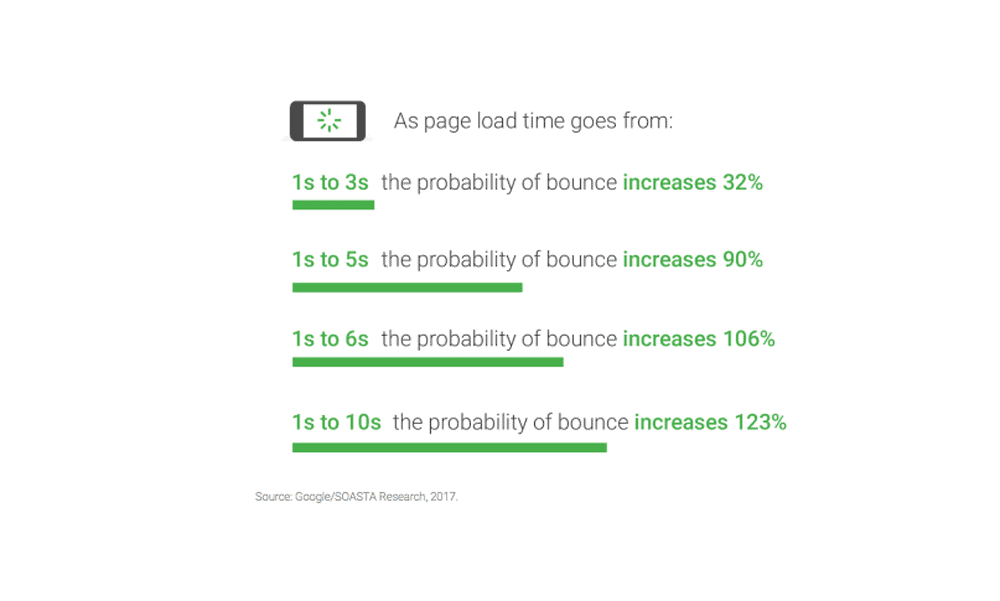 This leads on nicely to site speed optimization.
While this is important for both desktop and mobile, it's more applicable to mobiles due to data connection restrictions and due to the popularity of mobiles for web browsing.

A site can be sped up by ensuring any gadgets, widgets, and plugins are up-to-date and that nothing is obviously slowing down the loading speed of pages.
The initial design of the site plays a big part in this in ensuring that there aren't features that just aren't needed.
To take this a step further, plugins that are only needed to carry out a function on one page could be removed, and the function hardcoded to that individual page, thus avoiding 'bloat' across the whole site.

Also, regular updates and reviews of the site by the web designer (or by the web designer teaching the site owner how to do this) play a significant role in the smooth running of the site and preventing downtime.

An excellent way for a web designer to test the speed is to use Google's own test.

URL structure for existing sites
While a 'pretty' URL structure is often desirable, designers should never just change the URLs thinking this will increase rankings.
If a site is already getting traffic then this line of thinking can lead to the businesses traffic tanking, rather than improving.

If there are plans for the URL structure to be improved then it is advisable to work with an experienced SEO who can work with you to get this done the right way.
Beta test before launch
A chef wouldn't launch a new recipe without tasting at themselves, and so nor should your website go live without it being robustly tested, primarily for the points discussed above.

The web designer should be doing this before it's sent over to the customer, and likewise, the customer should double-check this prior to launching the site—which can be done using a test group from the public or by asking friends and family.

Final words
A close collaboration between the web designer and site owner will play a huge part in the success of a site.
The site owner primarily needs to know what his audience will be on their site for and so can tailor it to meet their needs, with the web designers professional experience and assistance.