Remote Video Podcasting: All You Need to Know
The outbreak of COVID19 has turned the world upside down and forced us all to stay indoors. 
Social distancing has become a new norm today attending face to face webinars, and podcasts have become next to impossible. 
But does that mean we are not going to do that anymore? Not at all. 
The advanced technology presents us with a plethora of options and has made everything pretty convenient. 
Since face to face interviews are not on the table anymore, podcasts are expected to be recorded remotely from the comfort of our homes.
However, this is not something new, remote interviews have always been in fashion, but it was never out of necessity. 
Today, due to pandemics, since we are left with no other option these days. Remote video podcasting does not seem to be a bad option. 
The good thing about remote interviews is that it has always been indispensable in podcasting. So it would not be wrong to say for many people. There will not be any drastic change in how the recordings are done.
Remote video podcasting Interview
In case you are alien to this concept, then conducting a remote interview must be nerve-wracking for you. 
You must know it is like a simple walk in the park. And does not require a recorder to go out of their way to set it all up. 
It would not be wrong to say, remote video podcasting is more straightforward than face-to-face interviews.
You may have many questions at this stage; what tools do I need at home? Do I need to create a sound recording environment at home? What kind of software do regular remote video podcasting pros use? How can I edit the episodes in the shortest time possible?
Well, it's time you take a break, sit back, and relax as we have got you covered here. And will explain the whole process in detail to make this remote podcasting more convenient for you.
There is no denying that recording in the same location as your guest will always result in the best conversational chemistry and audio quality. 
But all credits go to the advanced technology today that makes it all possible to put together the professional-sounding podcast – even if your guest is from another corner of the world.
So if you are looking for ways to widen your horizon and planning to shoot a remote podcast video, here is everything that you need to know.
Remote video podcast recording essentials
No matter how up-to-date and trendy your software is. You are in for the massive loss if you do not have bare essentials. 
Gear up with the essential tools and get ready for the crazy yet smooth podcast with your guest.
1 – Get a Good Podcast Mic
You cannot expect to rely on your computer software and use your laptop or computer in-built mic; if you do that, you are making a grave mistake. They will not save your day. 
Remember, if your audio is not clear and your audience is not enjoying it. They are less likely to stick around until your podcast ends.
The good news is there are a lot of go-USB microphones. And great plugins available in the market that are relatively light on the pocket. Here are a few of the mics that we think you should invest in.
Rode NT-USB Mini
Rode Podcaster and
Blue Yeti
Although USB mics are easy to use, they do not match the crazy sound quality of XLR mics. So if you can afford to break your bank, you must invest in the XLR mics.
Sale
Blue Yeti USB Microphone for PC, Mac, Gaming, Recording, Streaming, Podcasting, Studio and Computer Condenser Mic with Blue VO!CE effects, 4 Pickup Patterns, Plug and Play – Blackout
Custom three-capsule array: This professional USB mic produces clear, powerful, broadcast-quality sound for YouTube videos, Twitch game streaming, podcasting, Zoom meetings, music recording and more
Blue VOICE software: Elevate your streamings and recordings with clear broadcast vocal sound and entertain your audience with enhanced effects, advanced modulation and HD audio samples
Four pickup patterns: Flexible cardioid, omni, bidirectional, and stereo pickup patterns allow you to record in ways that would normally require multiple mics, for vocals, instruments and podcasts
Onboard audio controls: Headphone volume, pattern selection, instant mute, and mic gain put you in charge of every level of the audio recording and streaming process
Positionable design: Pivot the mic in relation to the sound source to optimize your sound quality thanks to the adjustable desktop stand and track your voice in real time with no-latency monitoring
2 – Do not forget the headphones
You cannot expect to have a full-fledged podcast session without headphones; they are pretty crucial for remote recording. 
You do not want to hear other irrelevant sounds while you are busy podcasting. You and your guest both need to use them to avoid your mics picking up feedback.
However, you can relax a bit when it comes to the headphone quality; you can make do with the lesser quality headphones but do not even think about compromising mic quality. 
As far as headphones are concerned, if you possess an earbuds pair already, you can tuck them in and hop on your host seat. 
On the contrary, if you are in a mood to go a little extravaganza, you can invest in some crazy "Beats" headphones.
Sale
Headphones give you the liberty to control the sound to make fly adjustments. 
If you hear a muffled sound, then you better move your mic away. In case the voice sounds distant, draw the mic closer. 
A good quality headphone will tell you when you pick up the background noises from the surroundings.
3 – Home environment set up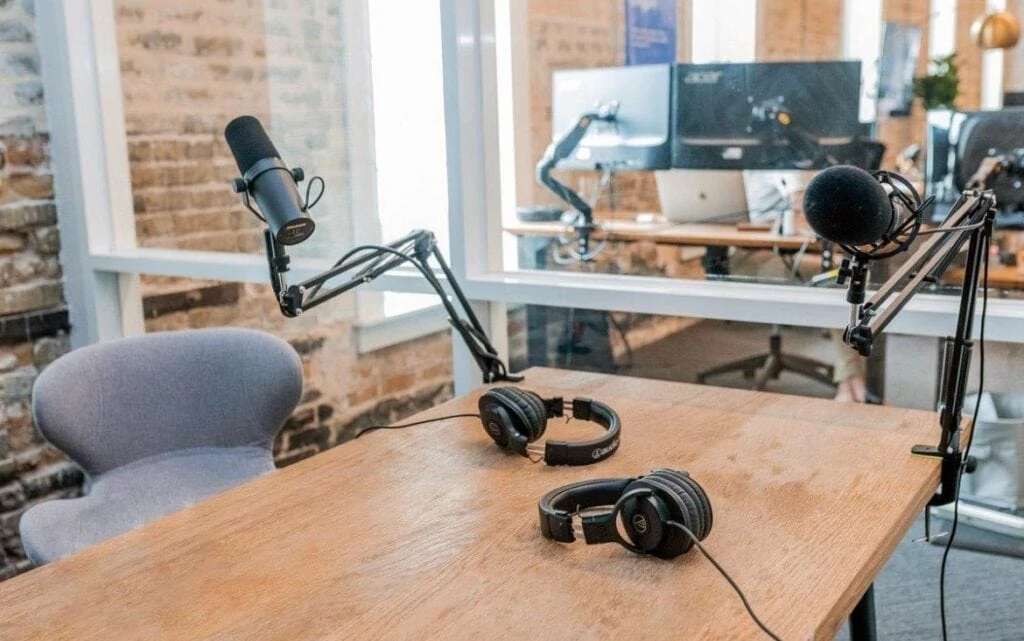 You obviously cannot soundproof your entire house or even a room. But you must ensure you are picking the quiet room. 
Otherwise, the annoying background noises can ruin your whole podcast mood. 
Move away from all the fans and the other noisy objects; if you happen to have kids, you would want to keep their ear-piercing sounded toys in the far corner of the house. 
You do not want a lousy toy to ruin your pre-planned podcast. Here is a pro-tip; a carpeted room can also help in dampening the echoes.
To make your house a more pleasant place to have a podcast in, do not forget to put a "Do not Disturb" sign on the door during the recording. 
It will prevent your family from accidentally walking in your room and thrash your overall podcast experience. However, nobody can ever take a guarantee if you have kids in your house.
In case you are looking for more professional home audio, try getting your hands on the reflection filter. 
When you have them, fit them behind your microphone as it will eliminate the echoes and give a complete studio-quality feel to your recording.
Aokeo Professional Studio Recording Microphone Isolation Shield, Pop Filter.High density absorbent foam is used to filter vocal. Suitable for Blue Yeti and any condenser microphone recording equipment
ELIMINATE INTERFERENCE: The inner side of the microphone isolation shield is made of absorbing cotton insulation that can reduce sound reflection when recording.
FLEXIBILITY & CONVENIENCE: The folding panel design features enables angle adjustments, giving you optimal insolation. Compact design, lightweight construction as well as fold-ability allows you to carry it easily and take along wherever you go.
DURABILITY: Constructed out of premium steel with high-quality screws to ensure sturdiness, and long lasting performance. DIMENSIONS: 8.3In (21CM) Tall and 10.2In (26CM) Wide when fully extended out for use.
VERSATILITY: The microphone isolation shield can be fixed on a countertop or tabletop, and also can be mounted to a microphone stand. *Does not include any Aokeo microphones, stands, etc. which is purchased separately. Only the pop shield will be in box*
DESIGN: Block unwanted sounds from entering your microphone by using this Microphone Isolation Shield. This acoustic shield features an acoustic foam front and a vented metal back plate. *NOTE: THIS DOES NOT COME WITH ANY STAND. ADDITIONALLY IT MAY OR MAY NOT FIT YOUR PERSONAL STAND SO WE INCLUDED AND ADAPTER IN BOX, BUT DOES FIT AOKEO BRANDED STANDS 100% GUARANTEE
Tips to record video podcast remotely
1 – Zoom
Before the pandemic, nobody was aware of this application. But now everybody knows an application like Zoom exists that allows people to communicate virtually. 
It comes pretty handily when you have to record video podcasts remotely. 
The main USP of this application is that it is pretty convenient to use. 
Your guest does not need to go through the hassle of downloading the software or making a new account. 
All you have to do is send them an invitation link, which you will have the moment you sign up. Zoom will then direct the guest to the call with you without leaving your browser.
The best thing about this application is that it does not only benefit the guest. But its in-built recording functionality makes Zoom perfect for remote video podcasting. 
You only need to press that record button found on the toolbar at the screen bottom. When you are done, tap on the stop button.
However, you must know that the sound quality will not be up to the mark, but you can make do with it pretty fine.  
No one can deny that its connection is more reliable than Skype. So if you are given an option to use Skype or Zoom, go with Zoom.
One of the most preferred reasons today is that it is free to use; however, there is a little time constraint. 
Forty minutes up, and Zoom will end your session, so if you need to plan a more extended session with multiple guests, you would have to upgrade your Zoom application for $15. 
The upgraded version will get you a month of unlimited calls with no time limit.
2 – Skype
Skype is one of the oldest applications that we used to depend on for audio and video calls, even when the technology was not this advanced. 
It is one of the most famous video conferencing platforms, and they are continually evolving to match up the level of their competitors. 
Its new feature lets the user record calls. Before this update, the users were required to rely on third-party software to record Skype sessions.
Its new process is pretty much the same as Zoom; all you have to do is connect with your guest and join the meeting. 
You are all ready to start the podcast. Do not forget to click the "+" symbol in the bottom right of the window.
When you click the "+" symbol, it will present you with the short dropdown menu. 
Look for the "Start Recording" tab, and you are all set to go. This way, you will be notifying your guest about the call recordings. 
The recording will be stopped when you end the call, or you can stop the recording before ending the call; the choice is yours. 
However, one of the reasons why Skype is not liked, as much, any more is its unreliability. Skype sessions drop out quite frequently, or video and audio quality gets pretty fuzzy at times. 
So unless your guests have some strong connection with Skype, we would recommend you choose Zoom as it is a little less tricky and more reliable.
Tips to edit recorded video
Creating a smooth and seamless podcast would help if you incorporated a perfect combination of Skype/ Zoom and some crazy video editing software. You cannot solely depend on the video conferencing platforms. 
And not use any software to get your episodes ready to publish on YouTube. You can upload a raw file, but if you need to tweak your video a bit or make some adjustments feel free to use Adobe Premiere Pro.
It would not be wrong to say that it is Photoshop for videos, so it might be a little tricky to get used to this software. 
But once you get your hands on it, you will have fun editing your videos. And know that this software is one of the most popular video editors, so there must be some reason behind it. 
The software will allow you to create full-length videos and snippets of your longer episodes to release on social media. You can do pretty much everything on this software; you need to give it a little time. 
Reasons to use these platforms for remote video podcasting
1 – Easy to use
Since we all are homebound these days and meeting virtually has become a new norm, nobody today is alien to these applications; it makes it pretty easy for everyone to use them. 
Since your guest is most likely to be already aware of Skype and Zoom, you will not be intimidating them by inviting them to an unknown application.
Your guests will be more relaxed as they will not use the program they have not come across before. It is pretty great as the more comfortable your guests are, the more fun you will have during the interview. 
Even the audience likes more relaxed and laid back interviews as they feel the guests are comfortable sharing their life histories.
2 – You can see your guest
Recording in different places can be pretty complicated as there are more chances of getting scammed online. Or it just does not create the right vibe to keep the rhythm of the conversation going. 
Nothing beats the charm of sitting face to face and talking, but these platforms help make the overall experience more personalised by allowing you to see each other.
Being able to see each other means you can create some crazy chemistry online by video conferencing with each other. 
Since it is essential to keep the conversational energy intact to keep your audience hooked on to your content, you are free to do whatever you want to "fake" it. 
And when you and your guest are not in the same vicinity, video conferences come pretty handily in such cases.
3 – People are used to it
Today the technology has become so advanced that people are used to hearing or seeing such shows; therefore, there will not be anything new for them or something they are not aware of. 
It can also use for business purpose; you can create high quality 1080 HD whiteboard animated videos for your business or hire professionals to do this. 
It signifies your show will not come off as half baked if you think of using a remote video podcasting recordings.
Author Bio: Jack Leo is a well-known content writer and marketer who have been associated with the InGenious Guru for the past few years. His extensive practical experience and comprehensive knowledge make him an expert in various marketing areas.
Last update on 2023-05-07 / Affiliate links / Images from Amazon Product Advertising API