5 Ways to Promote Your Construction Business Effectively
Here's a big, wild statistic for you: there are currently more than 3,600,000 construction companies in operation in the United States alone.
Of course, if you're involved in the construction business, or if you're working with a construction brand, you probably already did some research on the competition.
Even if you're a newcomer to the building business or an innocent bystander, you almost certainly have seen evidence of construction in your area. 
Post-pandemic, we seem to be entering a new building boom.
With all that competition, it's more important than ever to promote your construction business effectively, regardless of whether it's a new business launch or an established business that must continue to grow to survive.
Why Promotion Is Important
The biggest challenge facing companies in the construction field isn't necessarily finding clients. 
Instead, it is making themselves stand out among the competition, ensuring that their voice is heard, and letting everyone know their areas of specialisation.
The most critical keys to following through on these goals include:
Branding
Communication
Word of mouth
Marketing and promotion
Branding is intricately involved in effective promotion because it involves your logo and every touchpoint between the company and the potential client. 
It isn't just the way your website looks or the colours you use for your employee t-shirts; it's your whole professional reputation wrapped up in one word.
Communication is similarly crucial because it involves describing your brand to potential clientele. 
Communication requires the ability to sum up what your company does accurately, make promises that you can fulfil, and inform the public about your areas of particular skill or focus.
Word of mouth remains one of the most effective tools for promoting a business, and a few of the ways mentioned here involve capitalising on this tool. 
It works best when it is organic and fueled by honest emotions — a potential client is more likely to listen to an existing client than to a marketing tactic funded by the company because the feedback from the existing client will carry more weight. 
On the other hand, if you have an unhappy customer, word of mouth becomes a detriment since your audience will also listen to them! 
Overall, 74% of consumers cite word of mouth as determining whether they seek out a business or product.
Marketing and promotion are often pigeonholed as simply being advertising campaigns, but the fact is that there's a lot more to it than that. 
The scope for advertising is limited only by your imagination, and there are plenty of practical, out-of-the-box methods that can boost your construction business. 
Let's take a look at five of them.
Method One — Free Branded Giveaways
When you think of giving something away for marketing purposes, the first thing that probably comes to mind is your business card. 
After all, they're pretty cheap, can be carried in your pocket, and people pay attention to them. Right?
Well, business cards can be very effective direct marketing tools. But they don't help your business to stand out, in and of themselves. 
And neither do they continue to promote your business past the individual you handed the card to.
On the other hand, branded products:
Catch the eye
They are more likely to be used
Continue to market your business
Act as free advertising space
Can boost loyalty in your clients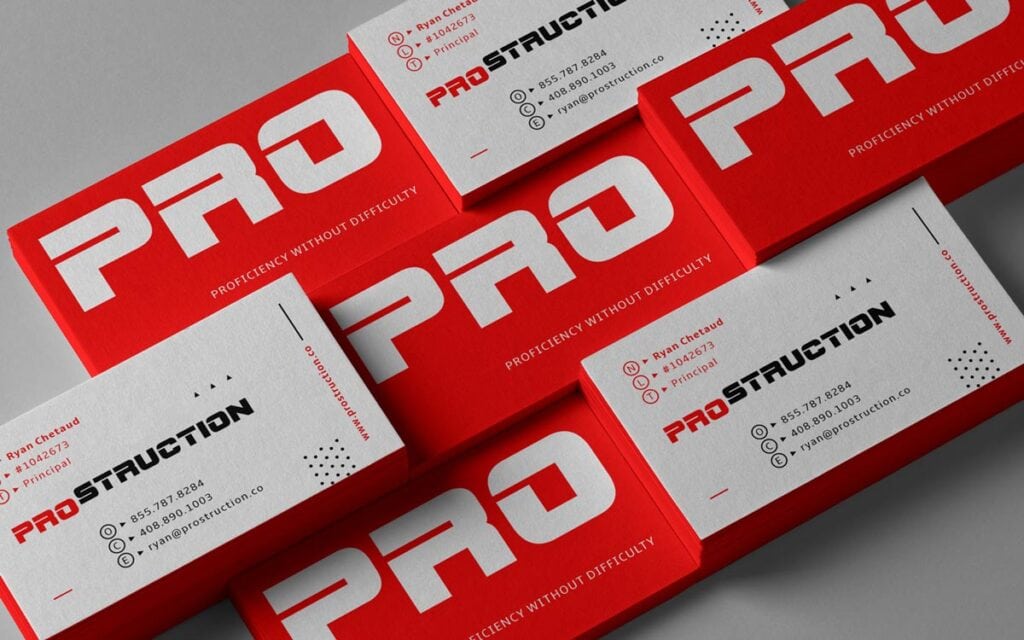 Image: Dribbble
What types of branded products might a construction business turn to? 
Well, the most common are pens, coffee mugs, and garments — think t-shirts and sweatshirts especially. 
But the sky is the limit — keychains, masks, stickers, bags, measuring tape, magnets; it can be hard to know where to draw the line!
Everybody loves free stuff. But remember that you want to maximise your output. Consider sticking to branded products that will continue to advertise for you, such as t-shirts, sweatshirts, bags, and the like. 
If you invest in good-quality products and develop an appealing and memorable logo design, giving away free branded products should be a significant boost to your construction business.
Speaking of an appealing and memorable logo design:
Method Two — Create And Utilise A Professional Logo
Logo design is probably the first thing that you think of when you think about branding. 
And there's a reason for that — your logo design is likely the first connection you have to potential clients, and it's the visual most commonly associated with any given brand or business.
That being said, is your logo doing its job?
Not all logos are created equal, and some are more effective than others. 
Creating a professional construction logo is the first step to effective branding.
Once you have a high-quality logo, however, there comes the question of when and where to use it.
Generally speaking, the answer is that there isn't a wrong place to use a logo, provided the quality of the graphic is retained. It should be used on your branded products, as mentioned previously. 
It should also be included in marketing materials, at the bottom of your emails, billing and stationery, and on your website, generally at the top left corner.
Your logo is the number one identifier of your business and can carry much weight in a promotion if you use it often.
Method Three — Post Projects On Social Media
This year, almost four billion people worldwide are active on social media daily or at least weekly.
And a hefty percentage of those social media users are turning to their platform of choice to follow and find out more about brands and companies in which they are interested. 
For example, 36% of Instagram users follow at least one brand, with 35% of the users on Twitter and 19% of Facebook users following suit.
And that's just the amount who are actively following professional accounts. 
More than 50% of social media browsers use individual platforms to look up information on companies and brands, find feedback and recommendations, and interact with the businesses in question.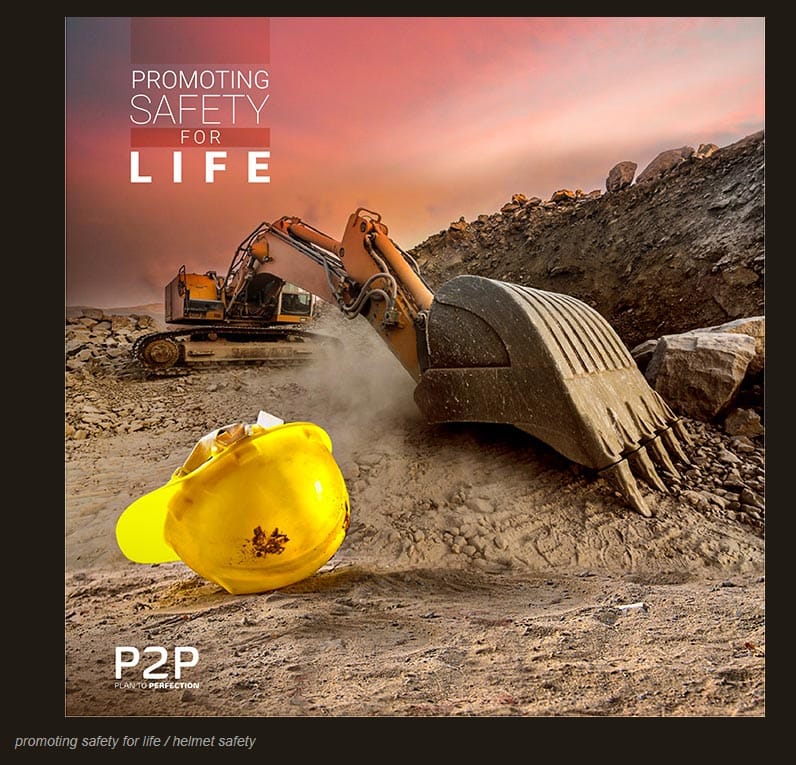 Image: Behance.net
You may not have considered a social media platform as a valuable way to promote your business, but it's evident that consumers are using it to find out about it!
It's a definite recommendation that businesses should have dedicated social media accounts. 
That doesn't mean that you need to have one for every single social platform out there, but consider which platforms are more likely to cater to your target demographic and maintain a regular presence on that account.
A great source of content to build interest and excitement for your business is the projects you've already completed or are currently working on. 
Make sure to get permission from the homeowner or property owner, and post well-photographed pictures highlighting your skill and ability in your chosen area of expertise.
You could also post photos and content related to new products that you're offering, such as different building materials, and demonstrate what they look like in use on a real-life project.
Social media marketing is here to stay, and there's a place for your construction business right in the middle of it.
But photos of projects aren't the only source of content for your social media account.
Method Four — Highlight Stories Of Customer Satisfaction
We mentioned earlier that satisfied customers are some of the best tools for marketing and promotion. But they won't always think about spreading their story.
That's where your business can take the lead.
Keep track of successful projects and happy customers, and ask them to provide comments, stories, feedback, and so on for promotional purposes. 
Storytelling is one of the most effective marketing and promotion methods, so consider hiring a content creator to compile interviews and comments into a cohesive story, giving it emotional weight and interest.
Image: Behance.net
Of course, if you're a wordsmith along with running a construction business, you could choose to do this yourself.
The important thing here is to build empathy between the reader and the happy customer. 
If you can help your potential client to identify with the satisfied client, you're far more likely to see them seek out your services for themselves.
Social media is a good platform for bites of content like this, but make sure to include the full story with details and images on your website.
Method Five — Offer Referral Incentives
Every business wants to hit the "word of mouth" jackpot — we want clients and customers who are so over the moon about their interactions with us that they tell everyone they meet about how great we are.
It's a nice thought, but the fact is that it rarely happens. 
Unhappy customers are more likely to talk about their bad experiences than the other way around. This can be detrimental for a company, even if they don't deserve the bad rep.
One way to get the "word of mouth" tool working for you is to offer referral incentives to your customers — especially if you know that they're happy about the work you did for them.
Incentives can range widely, depending on your business, area, client, and budget. 
But you could consider partnering with another local business to offer a percentage off items or host a giveaway for a gift card to a local restaurant. 
Alternatively, you could offer further services at a discount or throw in something extra for free.
Going above and beyond to make your clients happy is just a solid business practice, no matter what type of company you run. 
But construction can be downright traumatic at times, both for the client and for the business. 
There are plenty of articles out there on "red flags" that mark a problematic client, and there are just as many tutorials on how to get your money back from a construction deal gone wrong.
Customer service, the "above and beyond" factor, significantly impacts the willingness of an individual to recommend a business. 
If your clients can honestly rate your customer service as "good," then they are 38% more likely to spread word of mouth and recommend you to others. 
So good customer service is, in itself, an excellent way to promote your business.
Make sure that your client is happy, and then offer a bonus if they share that happiness with others is a great way to promote your business and boost client loyalty.
How To Promote Your Construction Business — A Summary
There may be a housing shortage, but there's no shortage of competition in the construction world. 
If you want to make sure that your own company stands out from the crowd, then intelligent, effective promotion is necessary.
By using storytelling, social media, excellent logo design, incentives, and free branded products, you can effectively promote your construction business. 
But remember that a construction company is only as good as its customer service; you must keep the promises you make to continue to see the benefits of your promotional efforts.
Quality work and good customer service are the fundamental pillars of effective construction business promotion. 
Everything else needs to be built on that foundation.
Author Bio: Alicia Rother is a freelance content strategist who works for Cashforusedlaptop.com to boost its brand reach through creative content design and write-ups. Her area of expertise includes digital marketing, infographics, branding, and graphic design. For service inquiries, you can connect with her here.