5 Productivity Tools for Entrepreneurs Following Covid-19
2021 was the year of the startup. In the UK alone, perhaps due to the coronavirus pandemic, there was a surge in entrepreneurs launching their businesses. 
The research shows almost 80 new businesses were registered every hour in the UK during the first half of 2021. 
There are many theories as to why this might be, from high redundancy rates to changing personal circumstances. Despite the reason, it is clear that 2021 was the Age of the Startup.  
Now, with 2022 well underway and the ongoing pandemic, entrepreneurs have to adapt. Life as an entrepreneur is busy. 
There is never enough time in the day, from managing workflow, hiring staff, and meeting project deadlines to keeping on top of accounts and ensuring healthy business cash flow. 
Thankfully, the challenges of the past two years have caused businesses to innovate their processes and utilise productivity tools to meet the demands of their client onboarding, customers, and their time restraints. 
Below we share the best productivity tools for entrepreneurs following Covid-19. 
1 – Trello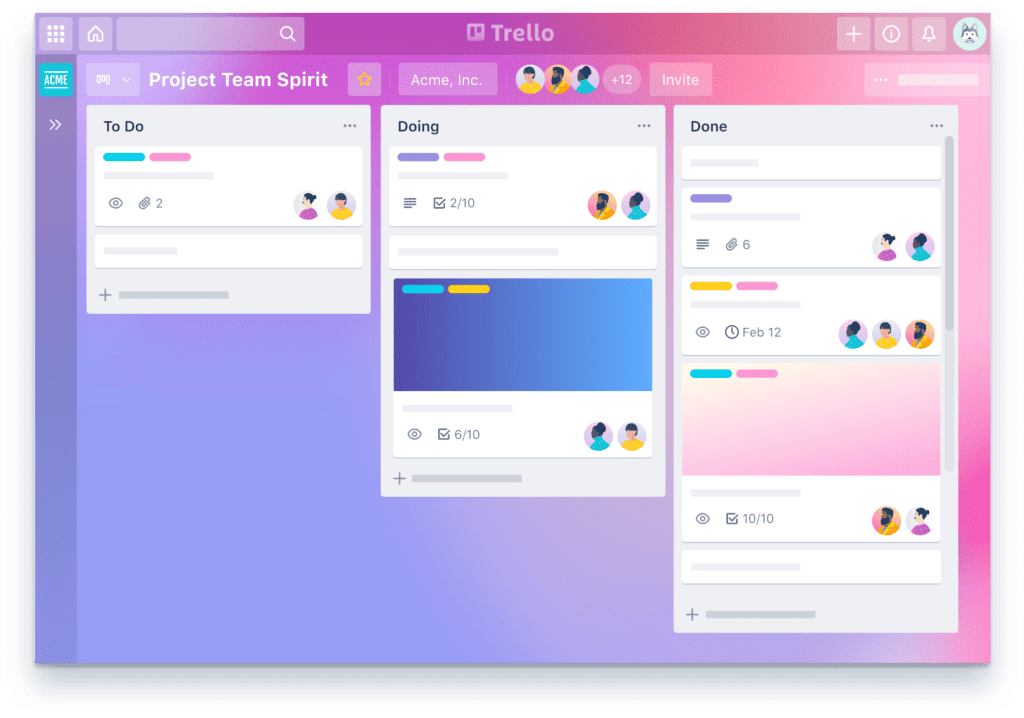 If you want to boost team productivity, keep track of work tasks, and manage your employees more effectively, Trello is the tool for you. 
No matter the size of your business, whether it's just you or a team of over 50, Trello is an excellent platform for organising your workflow and managing your projects. 
Trello is just like using virtual Post-it notes. You can write whatever you want on each 'card', from project descriptions to To-Do lists, and you can organise these cards into labelled columns. 
As the tasks on each card are completed, they can be commented on, categorised, or moved into different columns to offer a productive and transparent workflow. 
With Trello, you can: 
Create boards for each project 
Set goals 
Set up and customise workflows 
Assign tasks and project timelines 
Organise meetings 
Share information easily 
Track and share boards with others 
Trello is the ideal business tool for entrepreneurs because it increases productivity, it's affordable, and it's a process that can grow with your business. 
What's more, you can share Trello boards with your clients to provide them with a clear overview of your work and how things are progressing. 
2 – SumUp Business Account 
One of the elements of business ownership that entrepreneurs struggle with the most is managing their finances. Entrepreneurs wear a lot of hats. 
In other words, they have a lot of responsibilities, and it can be hard to balance everything they need to. As a result, many entrepreneurs neglect to monitor or manage their finances as closely as they should. 
According to Medium, 
"They spend a lot of time managing the numbers of their customers and forget to focus on their accounts. Almost all businesses struggle with this distraction of being unable to focus on managing numbers for themselves […] Managing accounts is the most important part of your business and, therefore, it should be well organised and easily accessible." 
An online business account is one of the best tools for entrepreneurs who want to manage their finances better. 
The SumUp business account is free and fully digital. Entrepreneurs no longer need to visit physical banks and avoid long payment processes – very important during Covid-19 and will continue to be in the future.
Signing up for an online business account lets entrepreneurs manage all their money in one place. You can easily monitor business cash flow, take control of your invoices, and pay your employees and suppliers with a quick and easy bank transfer. 
An online business account is essential if you want to manage your money more productivity and save time on your accounts. 
3 – Google Docs 
This is one of those tools that has been around for a while, but it can't be overlooked. Google Docs is Google's online version of Microsoft Word. 
It works in a very similar way, except that you can share the documents you create with your team so that everyone can add to, edit, and make suggestions from wherever they are. 
Since Covid-19, remote working has become the new normal for many people. As a result, tools like Google Docs have been adopted more widely to support employees in collaboration. 
Starting an online business is always challenging, but never more so than during a pandemic.
Google Docs is one of the best ways to ensure everything you write and present is created to the highest possible standard. 
With your team's input, you can write, format, edit, and collaborate on one document – making tweaks until it's just right. 
So, whether your team works in the office or remotely, Google Docs helps keep everything you do accessible for better productivity across your business. 
4 – Slack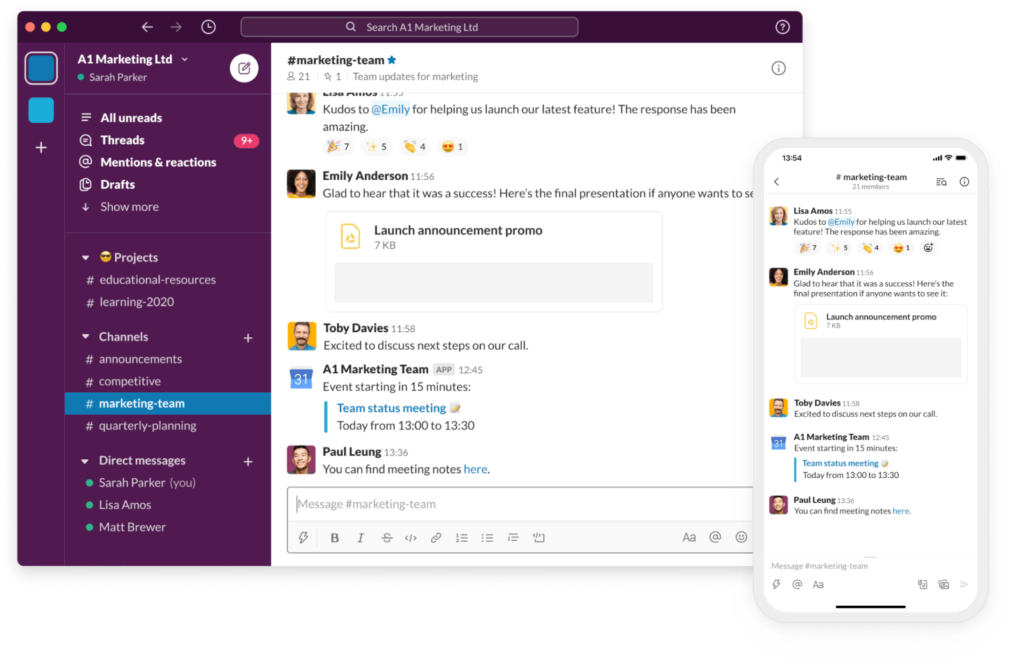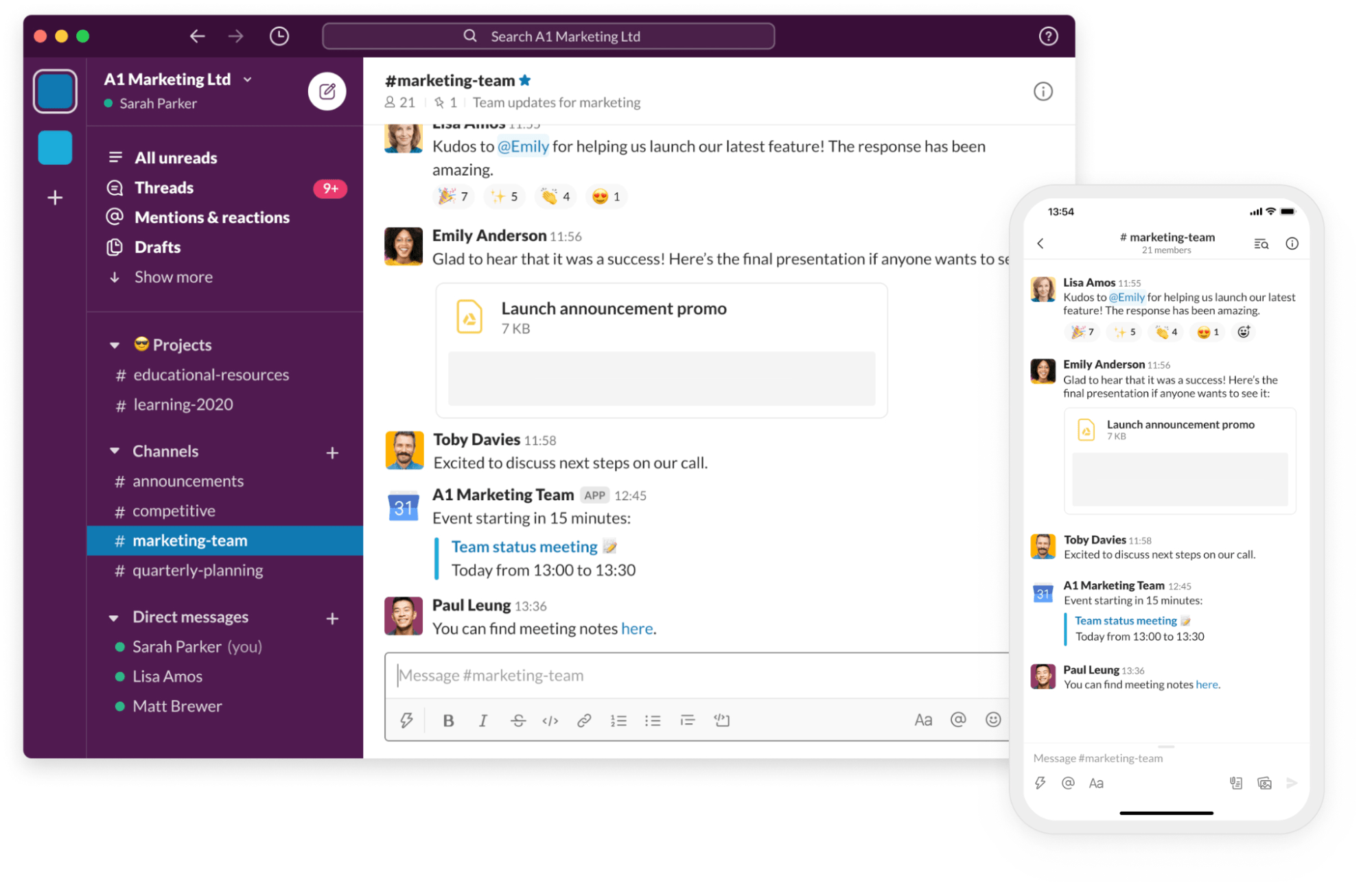 Productivity is always made better with clear communication. However, it can be challenging to keep in touch when you run a business and have people working for you (whether in the office or remotely). 
Sometimes, all you want is a quick answer to a question. So, rather than sending an email or making a call, you can now send someone a message on Slack.
Slack is a great way to communicate effectively with your team. The tool helps you get work done more efficiently and lets you ensure everyone is on track for project deadlines. 
Within Slack, you can create different channels. These channels can be organised or titled however you like. 
You can invite those you like to each channel, make some channels private, and even share files. Slack is an all-in-one workspace where collaboration is productive, transparent, and communicative. 
5 – 1Password 
It can be challenging to stay productive when you can't remember the login for your email account. Logins are tricky because, while they help keep your accounts secure, today, you need a login for just about everything! 
And, no, you cannot just use the same password for every account you have… unfortunately. 
To keep things simple, we highly recommend 1Password. This neat password manager tool is an online vault that contains all of your passwords. 
1Password syncs with your computer so you can request automatic filling whenever you log in to a website, email account, or application (basically, anything that requires a password). With just one click, the password auto-fills to save you time. 
1Password will provide you with suggested passwords as well as strength ratings for your existing passwords so that you can keep all your accounts secure. 
When using 1Password for business, you can create a vault shared with chosen members of your team. You can also create a vault that is private to you. 
This will save you oodles of time responding to messages from employees asking, 'can I have the password for X client's WordPress site, please?' 
Bonus: Fyle
With AI-powered expense tracking, powerful policies, real-time analytics with actionable insights, audit-ready reports and so much more – Fyle is the best expense management software for your business.
Are you suffering from the lowest productivity? Struggle like never before to keep track of the ever-increasing workload? Are you unable to manage or share important documents with co-workers or clients? 
If yes, then it is high time you look for a tool to deliver better results. ProofHub can help you manage projects efficiently and follow workflows to keep everything in sync. ProofHub has everything you need to organise your tasks, keep team members up-to-date and view data from one place.
From managing projects, sharing files, communicating with team members, keeping track of time spent on projects, and creating invoices for clients – ProofHub does it all. 
Customise task fields and layouts to suit your needs. Add a date field for better time-tracking or a currency field for any monetary entries like duration of work.
Collaborate with your team members, clients and stakeholders to take control of your deliverables with a proofing tool that lets you review, proof and annotate markups on multiple devices.
No matter what size business you have or what industry you are in, ProofHub fits right into your email client as a plug-in for Microsoft® Outlook®, Gmail® and Google Calendar™ with live chat helping you increase productivity. So you can finish projects faster than ever before!
With an easy-to-use interface, seamless integration with Google Drive and Slack (and much more), no per-user fee and a fixed price plan with no lock-in contracts – there's never been a better time for you and your team to give ProofHub a try!
Which are the best Productivity Tools for Entrepreneurs? 
There are so many great tools out there! This list has barely touched the tip of the iceberg. However, we have prioritised the best productivity tools for entrepreneurs looking to boost their processes following the Covid-19 pandemic. 
Productivity is one of the drivers behind successful businesses. We feel confident that the tools shared in this article will boost your productivity so that your business can thrive following the challenges of the Covid-19 pandemic.