Personal Branding Tips – How to Brand Yourself Online
High-quality branding is one of the most critical success factors in business.
Imagine our world without the McDonald's arches, red and white colours of Coca-Cola, or Apple. No way!
Great brands make everyone remember their mottos, visions, and values.
That is exactly why two-thirds of consumers claim they maintain relationships with the brands – they share the same values.
The key issue here is just how to brand yourself?
Since the global market is becoming increasingly competitive for both the companies and the employees, it is no wonder that people too are trying to develop their personal brands.
This gives professionals a chance to stand out of the crowd and show what makes them unique and trustworthy.
"Now is the perfect time for all of you out there to think about branding yourself."
For the reasons explained above, in this article, we will give you the most comprehensive guide to how to Brand yourself online with these top personal branding tips.
What makes personal branding so important?
It may sound strange even to discuss the subject of self-branding.
Branding has been traditionally related only to companies and products, so how come we are now talking about personal branding?
The reason is simple – today, we all have to distinguish ourselves and show the world what makes us better or more reliable than others.
Moreover, it can give us some valuable benefits.
Career boost
Personal branding allows you to express yourself freely and reveal all of your professional advantages.
There must be dozens (if not hundreds!) of professionals with the same sort of expertise on the market, so what makes you so unique?
To brand yourself means to add value to your career.
It proves prospects that you will bring them a different type of experience, knowledge, and creation.
All this can boost your career and give you new opportunities, which would otherwise remain impossible.
Launch your own business
People often don't enjoy working for someone else.
If you are a part of that group, personal branding can help you overcome the problem.
Branding yourself gives you the opportunity to differentiate from colleagues and competitors, which allows you to launch an entirely new business.
Namely, buyers tend to trust people more than companies in more than 90% of cases.
You can be proactive and exploit the credibility you earned during your career – you just need to put it into practice and start your own business.
You are the only prerequisite you need.
Grow professional network
Perhaps you do not need a better job or don't want to start a new business.
Maybe you do not need the change right away, but self-branding will help you to prepare correctly for future developments.
Through your brand building, you will get the opportunity to expand the professional network and grow the number of relevant contacts.
This is vital for everybody, as you can never be certain of what the next day is going to bring you.
Personal improvement
It is not only about your career, but personal branding can also help you evolve as a person.
Once you decide to brand yourself, you will face many challenges.
You will ask yourself – who am I, what my life goals are, and what sort of virtues I nurture?
When you figure it out, you will work even harder to achieve these aims.
This will make you a complete person, more satisfied, and self-confident.
How to brand yourself online?
Self-branding requires a good strategy and careful preparations.
The process may vary from individual to individual, with regards to their specific skills and experiences, but some elements are relevant in all cases.
We will explain them one by one.
Brand values
Each brand has its values, a set of beliefs that it represents.
When you start thinking about personal branding, be prepared to reconsider all your ideas and life visions.
Think about what makes you happy, confident, and satisfied.
This way, you will always bear in mind the values which give you strength to keep moving on in a career.
At the same time, people around you, your colleagues, and companies will also realise that these values make you unique.
It is harder to discover what you truly believe in during the early stages of a career.
However, with every piece of experience you gain, it will be easier for you to figure out who you are and what your brand represents.
Differentiation
Sure, you have a full set of personal values that you firmly believe in.
However, what's the matter with your professional differentiation?
Make sure to know your strongest skills and use these to sell the brand.
These are business virtues that gave you a good reputation in the first place.
If you are a salesperson, think about the tactics you use, and how you manage to sell services or commodities even to the most demanding clients.
If you know this, you are on the right path to thrill the target audience. Your band will be ready to shine and attract the attention of all potential clients.
Social media
Social media is one of the self-branding essentials.
It is the cheap and efficient way to address your target group.
Online presence is not enough; you must make an online influence.
Surveys revealed that almost 70% of Internet users rely exclusively on online search while looking for information about persons and companies.
This makes Internet the most trusted source of information globally.
In that regards, you have to pay attention to details – use the right kind of keywords to be discovered online quickly.
For instance, don't forget to emphasise your talent acquisition skills if you are an HR manager.
Every little detail matters in search engine optimisation, so make sure to cover it all.
Choose the right platform(s)
Social media activities are obligatory for the development of self-brand.
However, there are dozens of very popular platforms that you can use, and you can hardly dedicate enough time to each one.
You have to make a choice.
We suggest you begin with these:
LinkedIn
This is the one account you must have.
The global network of professionals is the right kind of place for you to present your portfolio, activities, clients, and rewards.
Twitter
Although not too much of a job source, Twitter is useful to grow your contact network and make statements on industry developments.
Website
If you are serious about branding yourself, remember that all successful brands have their web pages.
Offline networking
As much as the online presentation is outstanding, it is still necessary to increase the number of "real-life" connections.
These contacts are often the most important ones because the biggest stakeholders in the business do not burden themselves too much with Internet activities.
Be polite, communicative, and always bring a few business cards with you.
This is essential as you will sometimes have not more than a minute or so to introduce yourself to important clients.
The card must be clear and straightforward – write your name, title, email, web page, and phone number.
Whatever channel of communication your prospects prefer, it is all there.
In case you designed it correctly, any one of these brand information will be easy to remember.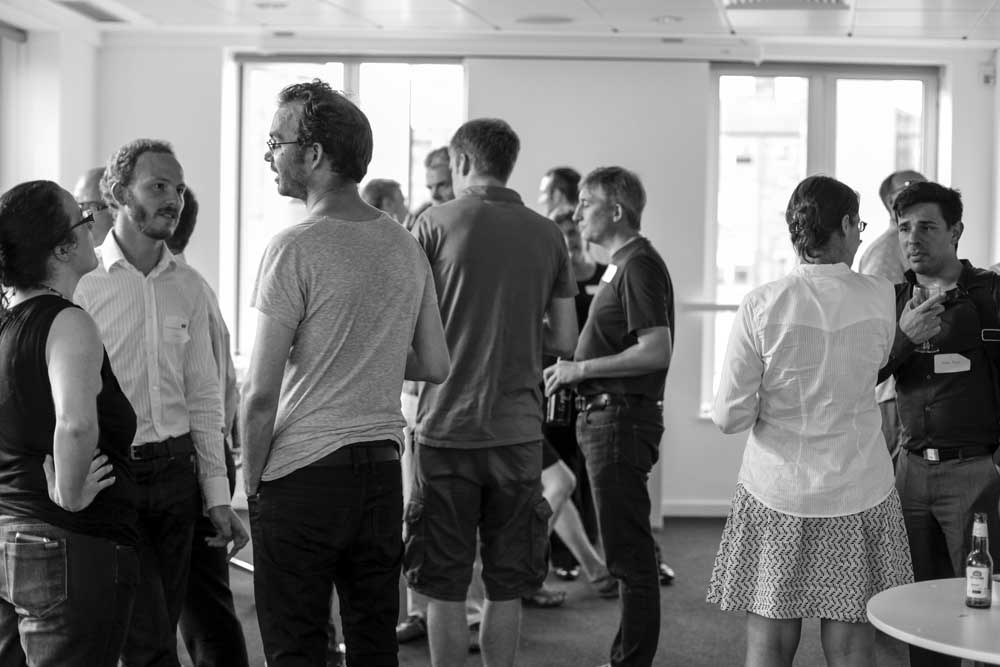 Nonverbal communication
What you say to potential clients is but a half of information they receive.
Body language is the second part of the message that you transmit.
It can reveal your self-confidence or expose your uncertainty.
However, it is up to you to choose what it will be; you just need to practice.
Stand up straight and always keep an eye contact.
Your facial gestures should show that you are interested in the subject and that you listen carefully to the speaker.
Arms should be relaxed and free to make authoritative moves, but without swift actions, that could scare off people.
Once you figure it out completely, body language will make the strongest point of your offline networking.
Recommendations
No one will praise you better than yourself, that is a simple fact.
All of the suggestions mentioned earlier are part of the general strategy that you can implement on your own.
However, people tend to trust you more if you provide them with reliable recommendations.
That is why you need to publish any approval received from colleagues or clients, making it an online anchor of self-brand reputation.
It will support your personal branding claims, give legitimacy to all the achievements you mentioned, and boost prospects' confidence.
That is why the final advice here is to make your personal branding process complete through free appraisal from your peers.
Personal Branding Tips to Process
All elements of the successful personal branding will make you stand out among others and emphasise the qualities you have.
Don't be afraid of this process, thinking that it is too difficult or that you do not have what it takes to make the brand of yourself.
You have different virtues but need to let the world know about them. Branding yourself is too important to ignore nowadays.
Recent surveys proved that almost 100% of CMOs search their names on Google to check the results.
We think that this information speaks for itself.
Don't allow Google to randomly display results about you and the brand that you represent.
Take charge and become the ruler of your brand's destiny.
You will realise how this process takes dedication and strategic thinking, but you will also enjoy the notion that your self-brand is becoming more popular and more influential.
Conclusion
Personal branding is one of the most important business trends.
Moreover, for a good reason, as it offers great privileges to persons who conduct it successfully.
Therefore, the question is not whether you need self-branding but instead how to brand yourself.
It is not a simple process, but it is definitely worth the effort.
We gave you the right kind of guidelines to make this process smooth and efficient.
Now it is up to you to use it and add new value to your career.