Optimise your Search Engine Rank with these Instagram Strategies
In this digital era, it is statutory for any line of work to make its existence online – be it a website or a social media page. 
Out of the two most popular social platforms, Facebook has no doubt billions of daily active users which are very high compared to the total number of monthly active Instagrammers. 
Despite these figures, Instagram ranks higher in regards to engagement and content sharing.
A study shows that 75% of users on Instagram visit the websites after looking at brand posts. 
That is an astonishingly huge amount of traffic. 
As clicks to your site increase, so will improve the Search Engine Rank of your website.
Google has specified that it does not rank sites based on social media followers. 
Despite that, it can be noticed that sites being shown on the top of Search Engine Results have a high social media engagement. 
A graph generated by a recent study will make it easier for you to understand:
Social media may not directly increase your ranking (as per Google), but it will for sure help in boosting the factors needed for better search engine rank on various search engines. 
Bing, as a contrast to Google, does take into account the social presence of pages while prioritising them. 
When more viewers are sharing your content over social networks, you are more likely to get new links. 
These brand new links will create brand awareness for you. 
Moreover, as a result, more people will visit your company website to explore why you are very popular.
Take a look at some smart moves that can optimise your search engine rank with the help of Instagram.
Ensure that your profile is public
Instagram sets your page as public by default. 
However, it is all right to confirm that your profile is public. 
As a brand, it is evident that you to want your account to be that way.
To change your account to public:
Go to settings
Then click on account privacy
Make sure the private account setting is off
Update your Instagram name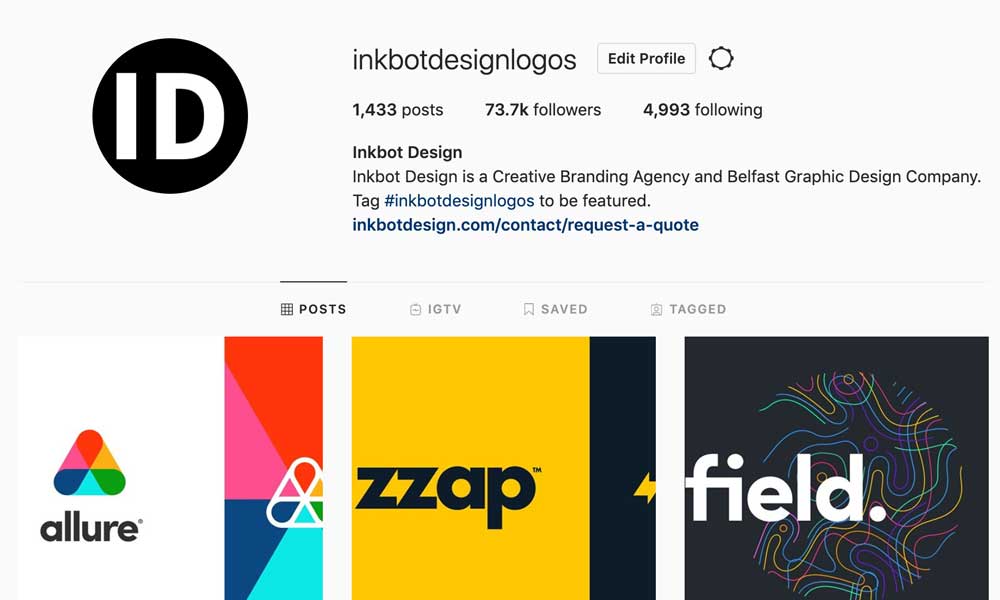 Include the most crucial keyword from your niche into the name. 
Keyword stuffing is strongly discouraged. 
There is a sure way to carry this out. 
To illustrate, company ABC offering IT solutions may update its name from ABC Limited to ABC IT services or ABC Technologies.
You can find out keywords with high volumes through volume checker tools like seoreviewtools and wordtracker.  
Choose your name wisely as it will aid the viewers in knowing more about you at a single glance.
To update your name, follow these steps:
Go to profile
Click on edit profile
Change the name
Finally, click on done
Craft a professional bio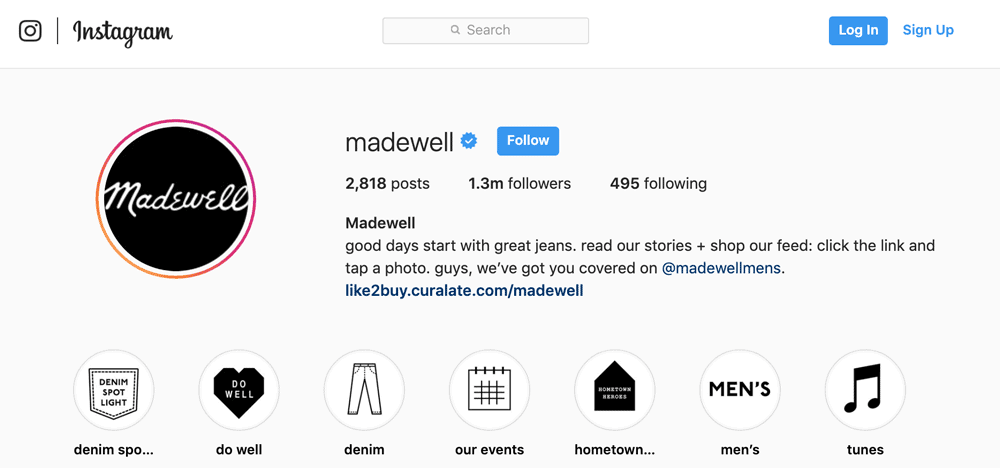 Bio can be optimised for better search results. 
In spite of the tiny character restriction of 150, it is not very complicated to generate an interesting yet search magnetising bio. 
It is the only text present virtually on your page apart from the captions in your posts. 
Meaning it is where a massive part of optimisation takes place.
Keywords, Hashtags, popular profile tags related to your other pages or a friend's page can be inserted in the bio sharp-wittedly. 
Tools for keyword research and Hashtag popularity can aid in such a situation. 
Be sure to make it clear about who you are and what is your work in the short description. 
Give out as much brief insight as possible in the little room of text allowed.
Affix your website URL below the bio. 
Even though it is a no-follow link, it cannot be neglected. 
A considerable amount of referrals can be gained through the link. 
You can insert a bio or edit the previous one by 
Going to your profile
Clicking on edit profile
typing new or updated text beside the bio option
The web URL of your brand site can be entered above the bio option.
Just as Google has meta descriptions for web pages, blogs, and pages; there are title tags shown for Instagram on Google search. 
It is a smart move to preview how your title tag will look on search engines. 
For posts on the visual platform, generally, the caption is taken as a meta description by Google. 
Therefore, take the utmost care that you draft the caption so that the most critical information is in the beginning. 
Avoid using Hashtags in the opening of your caption. 
Hashtags, in‌ ‌the‌ ‌beginning, look good on the platform, but it will look spammy on search engine results. 
Put up a contest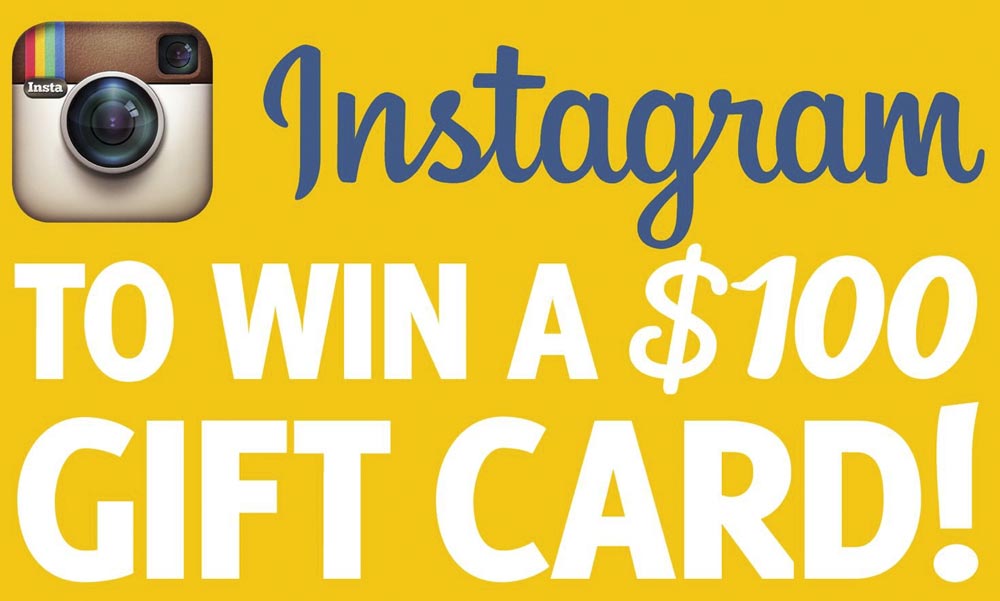 Hosting campaigns and contests on your page can attract more visitors to your page. 
You can ask viewers to like or comment on your post, share your post or follow your page. 
Moreover, you can also conduct giveaways and in return, ask Instagrammers to tag their friends. 
Such activity will make your brand come across a large number of eyes.
It is a fruitful strategy to increase your brand awareness. 
The more people know about your brand, the more will be the trips on your website. 
Also, higher sales for you when a large population is familiar with your products.
You can facilitate the sharing by adding social sharing buttons to your profile – because everyone prefers easy work.
Forge a lifestyle brand
Find out ideas to showcase your products in real-life scenarios. 
Nobody wants to see millions of advertises on just your products. 
On the contrary, when you put your products in real-time scenes, people will surely like the view. 
The engagement rate on such a post will be visibly higher. 
A great comparison is between Nike and Adidas. 
Where Nike is the brand with significantly more number of interactions from civilians with about 60% posts in the form of lifestyle shots. 
The final goal is to make customers curious to go to your website to find out what is so exciting about your offerings.
Hashtags can be a search keyword on Instagram as well as other search engines like Bing, Google, or Yahoo. 
Choose wisely the relevant tags for your page as well as posts. 
They can massively enhance your search engine rank.
Research the best hashtags with popular tools like Hashtagify. 
Partner with influencers
Influencers, as the name suggests, are people with a massive fan following and make a significant impact on their followers. 
Brands can partner with influencers related to their niche. Influencers can attract a new audience to your page. 
People are bound to trust a brand when it is promoted by an influencer they admire. 
Your business and product can be highlighted naturally by influencer marketing.
Use ALT text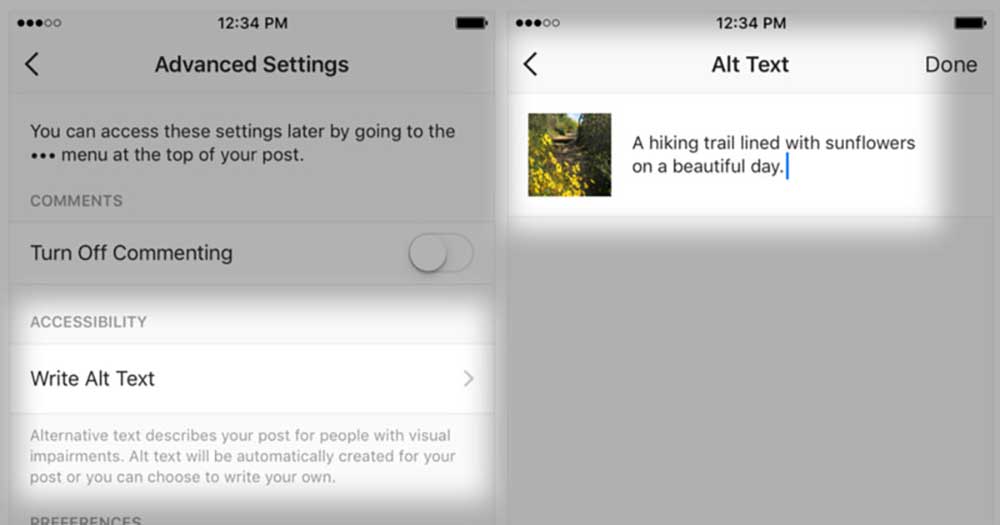 A fundamental strategy in SEO for websites is of ALT text on its photos. 
Fortunately, this feature has come to Instagram too. 
You can add ALT text the photos on your Instagram account now.
By doing so, they appear in the search results of search engines akin to Google. 
As an illustration, you are a make-up brand and have put up a photo of a matte lipstick, with the ALT word red matte lipstick. 
When someone searched on the web for a matte lipstick, your post has chances to be shown in the results.
To add an ALT text:
Upload a photo
Tap next
Press advanced settings at the bottom of the screen
Tap ALT text
Insert text
Tap on done
By following these steps, there will be more awareness of your company. 
Thus, leading to more chats on it (both online and offline). 
This, as‌ ‌a‌ ‌result,l increase clicks on your website, which over time, will improve your domain authority. 
Search engine rank is based on traffic, back-links, and keywords. 
Here, the role of Instagram in optimising the search engine ranking comes into the picture. 
Social media may not directly be related to SEO, but it surely makes a significant impact in raising the position of your site on the internet. 
Not only does it increase followers, likes and shares but also gives more footfalls and sales.
Please share with us how Instagram helped you in getting a better ROI in the comments below. 
Author Bio: Krunal Soni is the founder and CEO of Thrillax Private Limited, a digital marketing company. He holds expertise in diverse fields. Ranking up from an SEO lead, he has experience in digital marketing, advertising, social media and everything that beholds the Internet er. His 15+ year spree in this field has earned him clients, and their faith in his tactics. His intelligent strategies have put Thrillax among the leaders of Digital Marketing as per the Clutch report of 2019. A systematic approach, transparent processes and friendly mentoring have allowed him to prioritise and manage a work-life balance.