Medical SEO Guide to Rank Your Healthcare Website on Google
Like every other domain, healthcare facilities are still a business that needs recognition to keep moving.
When people look for a doctor, many of them use Google to locate the nearest one with the best rating.
A survey reveals that,
"73% of patients rely on search results to locate a doctor, and 89% use search engines to get answers to health-related questions."
So getting your website ranked at the top of the list increases your chances of people clicking through and booking an appointment with you.
You are surely losing out on newer patients by not being among the top few results. And to avoid this, you need a tailored dose of medical SEO for your website.
With Google's most recent SEO protocols and guidelines, especially for healthcare articles, you can surpass your peers and watch your online presence rise, but do pay attention to them.
Let's look over what can be done to skyrocket your leads and build your digital presence.
What Is Medical SEO?
Medical SEO is the practice of "organically" increasing your medical website's rank within the search engine for specific keywords and phrases.
Quite simply, it aids your medical business to get found through your website. So that your doctors and treatment facilities reach more people who are searching for these services.
Look at the infographics given below; this shows the complex SEO process.
This complexity has caused you to reach out and learn about SEO because of its importance in gaining visibility online.
So, let's be honest that this is due to the marketing methods you've used in the past that haven't worked for your business, and that too for a long time.
Nowadays, people conduct internet searches for health clinics, doctors, and medical centres, usually using smartphones or tablets.
Not engaging in SEO costs you lost clicks since 55% of visitors don't go beyond the first few organic results on the SERP.
Some medical professionals believe that running pay-per-click (PPC) advertisements on Google will be sufficient, but it's just "A Drop in the Bucket"; that is, it needs to be done in a certain order to get going with the lead flow.
Sure PPC advertisements are a wonderful method to grab users' attention if you're short on time or lack the resources to produce pages and pages of high-quality content.
Simply put, if you want, you can consider it a band-aid fix on your visibility problem, which may provide you with a short-term solution.
But in the long-term, the problem of SEO needs a steady solution.
You can start by reading this blog. Let's read on.
Why Is SEO Important For Medical Professionals?
Firstly, you must address that you aren't just a doctor or medical practitioner. You are a business owner as well.
With that clarity in mind, your medical clinic is a business that requires effort to stay in the market and compete with several local practices.
Many businesses are competing for the top position in search results, which is why you have little chance of getting found without SEO.
The picture below shows the percentage of consumers that searched for clinics before scheduling appointments.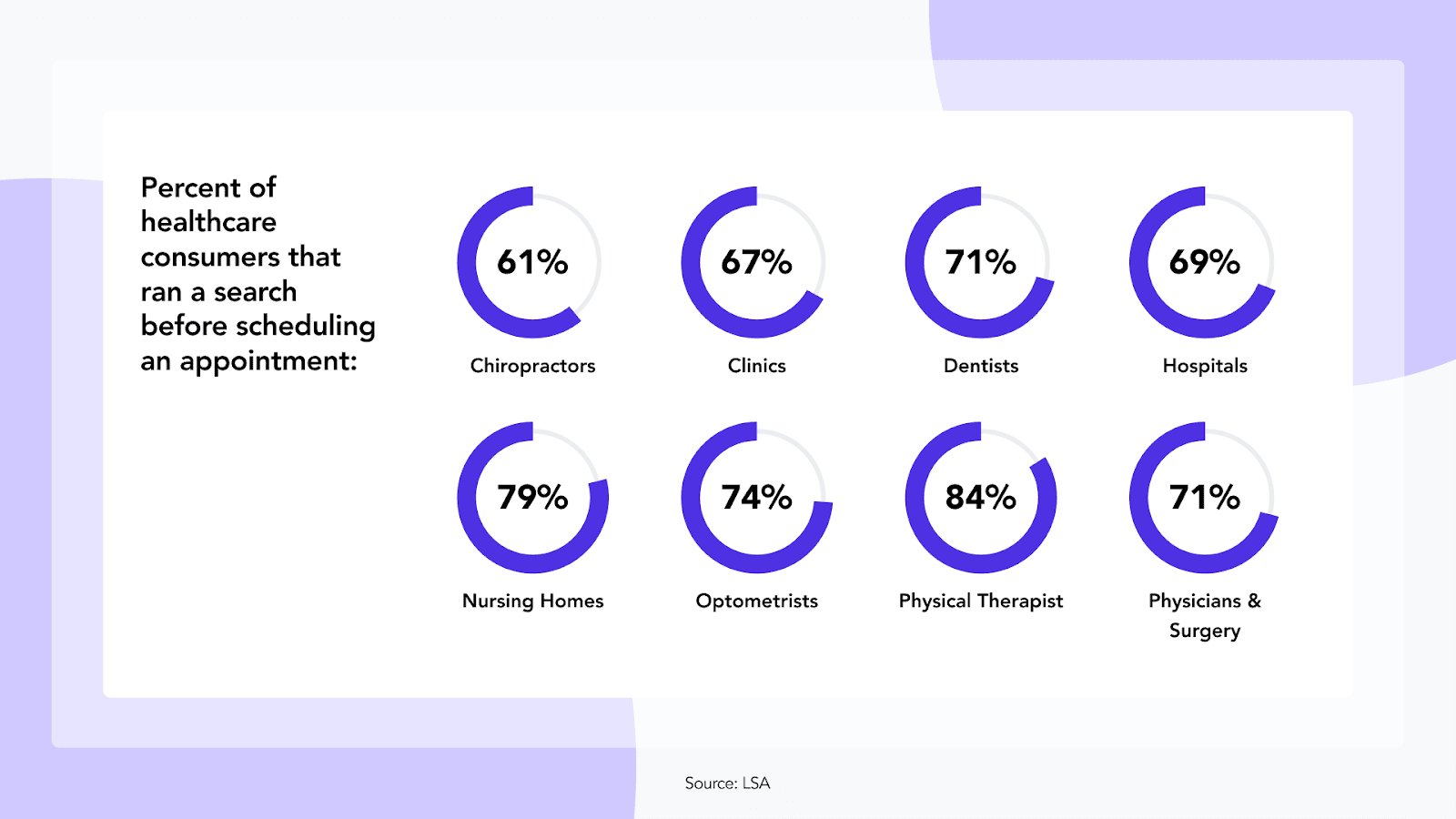 As your website ranks higher, your chances of attracting new consumers increase. When it comes to getting higher in the search engine results, healthcare SEO is the key.
And now, with the advancement of technology, the internet has become a go-to source for every searching individual for learning about optimising your healthcare facilities among local markets.
This requires proper medical SEO tactics, and you can also take advantage of the ever-growing popularity of digital technologies.
Now, the question is where you will look for such recognition. This question is answered in the next part. Let's learn.
What Is YMYL?
People use the internet for detailed research for a wide range of reasons, from medical issues to financial inquiries to upcoming news and events.
Now, of course, there might be some major consequences for them if the content they discover is misleading or otherwise wrong. That is, they suffer loss in the form of money and time.
So, if you're looking for information that may affect your

i) Mental wellbeing,
ii) Healthcare,
iii) Financial soundness or security,
Google classifies them under its initiative "Your Money or Your Life" (YMYL).

The idea of YMYL content was originally presented by Google in its Search Quality Evaluator Guidelines to enhance Google's ranking algorithm and results.
These standards were initially developed to assist independent contractors in evaluating the quality of their SERPs.
This information has been beneficial in gaining a better understanding of how Google ranks websites in the SERPs and makes a website worthy of ranking.
And thus, YMYL content has been essential for SEO and content marketing plans since its introduction.
If you want your content to rank well in the search engine results pages (SERPs), you need to know the basic guidelines of YMYL.
How Do YMYL Guidelines Affect Medical SEO?
When it comes to generating content for organic search, YMYL provides a helpful structure for dealing with YMYL subjects.
The content should aim for link building or keyword ranking success by creating high-quality and conversational that people would share.
A subject-matter expert should write this material to ensure it aligns with your brand values and offerings.
Now, creating content for medical SEO can benefit from the following additional helpful tips:
A) Incorporate An External Link Into Your Writing
Whenever possible, add connections to other websites in the material you produce. External references enable your domain and referenced site to share link equity.
This helps your site seem more reliable to potential customers. Instead of pointing your visitors to spammy or low-quality websites, point them to reputable ones instead.
B) Increase The Number Of Backlinks
To increase the number of backlinks to your website or blog: You should, on the other hand, try to have your material linked to.
When other websites connect to your site, link equity is passed from that other site to yours.
Other websites will be more likely to reference you as a source and link to your brand if cited on theirs.
C) E-A-T Your Site Or Brand
Spend some time enhancing the general E-A-T of your site.
E.A.T. is the Expertise, Authoritativeness, and Trustworthiness of your brand among your targeted users.
Update any low-quality pages on your site and make sure your contact information and company history are easily accessible.
To ensure your identity is consistent with any user-generated material, keep an eye out for things like comments and forums.
As a last precaution, refrain from using unethical SEO tactics that may permanently harm your brand's reputation and rankings (such as link spam or keyword stuffing).
D) Seek Assistance
Medical SEO professionals may be able to assist you if you're having trouble coming up with new content or improving your site's ranking position.
When it comes to YMYL subjects, SEO may be complicated. Hiring an SEO expert can help your site achieve long-term success in the search engine results pages (SERPs).
Be aware that YMYL isn't an elixir for SEO, primarily because of Google's ever-evolving algorithm.
The YMYL viewpoint challenges you to consider providing your consumers with the most significant possible experience, which includes satisfying their need for factual information, which is a must for anybody hoping to rank well in the SERPs.
Critical Points To Rank Higher With Medical SEO
A) Optimised MetaData
Metadata may be defined as information about data shown in your search engine's search result.
Unlike mainstream marketing, search engines like Google don't really "read" what you write (content.) They look for data in predefined metadata fields while indexing.
Metadata includes title, description, keyword, copyright, and activity dates.
This helps a search engine find your material more efficiently; therefore, optimising your metadata is a significant step to move forward and succeed.
Title Tags are HTML code elements that are clickable headlines for a search result that appears on SERPs.
Your page titles must be relevant, attractive, and clearly state what visitors want to learn, and then will they click on your results.
Description Tags is a summary of your content that has a limit of 160 characters. So, don't forget to add a well-thought description because this is your chance to convince the patient to click through.
While Keyword Meta Tags are hidden from regular web users, search engines still crawl them.
So, your keywords are a metric for search engines to list you in SERPs.
B) Text Formats
The H1 and the H2 classes are header tags, essential for on-page SEO elements that you should not overlook. They're used to inform search engines about the content of your website.
The clickable text that has a hyperlink attached to the blog is referred to as anchor text. So, this also works like SEO, and you can use keyword-relevant anchor text to enhance user experience.
For text style, Google is old school and checks for bold and italic for highlights, and as Google crawlers decide what's important, you have to make and add quoted text in italics and important keywords in bold to stand out.
C) Website Responsiveness
Website Response Time is sometimes referred to as page loading speed, and it measures the quickness of your web pages' loading.
This is an important metric for Google to rank your website and visibility in the search engine results pages (SERPs).
Lastly, the responsiveness of your website is measured by its mobile-friendliness, for half of the world's population uses mobile to access it.
This is a critical element of your medical SEO strategy since consumers increasingly use mobile devices to find hospitals and "medical practices near me".
D) Build Authority
Directories of Healthcare Facilities play an important role in attracting new patients and improving your medical SEO.
The number of times the practice is listed in directories, and the uniformity of that listing throughout directories are all variables in ranking.
Citations are internet references to your healthcare institution's name, location, and phone number oNAP).
Citations are similar to linking and are evaluated by search engines.
These build your company's online authority, so making sure that you are cited on well-known platforms is necessary, and you get quality traffic.
Lastly, we have review sites, a one-stop solution for newbies based on customer satisfaction.
Facebook and Yelp have the highest trust ratings among consumers. Amazing, right?
Reputation management requires you to monitor 'what people are saying about your business on social media and react appropriately. There are many different customer review sites, such as:
i) Google
ii) BBB.org
iii) ZocDoc
E) Fill Out The Google My Business
You must maintain your Google My Business page with current data updates.
Patients seek local businesses to discover your company that must appear in Google's local pack.
And a cluster of four to five companies is shown in the organic search results to targeted customers.
They are the only thing users view before scrolling down. So, your chances to get clicked increase by a huge percentage.
Because the majority of the content in these listings originates from your GMB page, you should ensure that the following information is correct and readily available:
The business classifications.
Your primary contact information.
The organisation's description.
Your business hours (and any seasonal hours).
Your physical location or service area.
Your business's Google reviews.
Conclusion
Looking towards a wider horizon, we could successfully conclude that medical SEO is today's most powerful tool.
It helps you get selected from a wide diversity and open a pathway to hit the right quality of traffic with an effective circulation of writings.
You need to understand that no website just gets on top rather than the SEO they used to understand the text better.
So, according to the analysis, SEO can help improve rankings in search engine results, help in public relations, and provide quality traffic.
Also, we do not need to pay for SEO ads. With the right blend of content, domains and keywords-one can easily create a lead for increasing sales and marketing of their specific industry.
Author Bio: Shiv Gupta is the Founder and Head of Growth at Incrementors. Incrementors is an Award-Winning Digital Marketing Agency that helps clients grow their business online by generating more traffic, leads, and sales. Incrementors specialise in providing customised, tailored online marketing solutions precise to the clients' needs.