If you are looking for a graphic designer for your next project, a graphic design portfolio website that showcases previous work can go a long way in making the decision to hire easier.
An online portfolio website proves that the designer has real experience, it helps build faith in the designer's ability, and it presents the designer as a professional who understands what the client needs to reach their goals.
Why create a portfolio website with WordPress?
For many designers, creative thinking is easy, but the technical side of the web and its technologies is baffling. WordPress is a godsend!
You get an extremely extendable and easily manageable platform that can be used to setup, create, customise and host your design portfolio on just about any budget.
However, here's a few things to keep in mind before jumping into creating your portfolio website design:
Remember… It is a showcase, not a bibliography.
You may be tempted to throw in everything you've ever created, but that may not help you achieve your goals.
An online portfolio is not an attic where you store everything you've ever created.
So, select only your best work.
The criterion is not just 'graphics that look beautiful', but 'work that has success stories' – we will get to that later.
[irp posts="14424″ name="How to Speed up WordPress"]
Know your goals
If you are looking to increase opportunities working in a particular industry or genre, then it makes sense to present previous work that fits that demographic.
If you do not have a specific target industry, go for an even, balanced representation of your style.
Create a Visual Identity
As a graphic designer, you already know how lucrative this could be in the long-run.
Create a brand for yourself using any visual elements that depict your style – logos, favicons, colours, typefaces, etc.
This can make your design portfolio more recognisable, memorable, and gives a clear sense of your personal working style and preferences to potential clients.
Bottom line: try to create your distinct visual style using your brand. In WordPress, your visual style will be controlled by a 'theme' – so pick yours carefully (more on that in a moment.)
Plan and organise your content
Navigation throughout something as simple as a WordPress portfolio website design is hard to mess up, but amateurs still manage to do it!
I've seen enough clumsy websites to be able to give this advice – keep your design portfolio organised, clean and easy to browse through.
Usability is critical when you are creating amazing websites.
Take a pen and paper, work out your 'grouping system' that's comprehensive, yet understandable.
Think about 4-5 main categories that cover the general needs:
Your Work
The primary showcase and purpose of the portfolio site. The homepage, most likely showing a preview of your best work that a visitor can click through to get a better look.
In most themes, you can create a 'filterable' portfolio, which is helpful as you can only show specific categories of work: "Logo Design, Website Design, Infographic Design, etc."
About You
Potential clients will want to know a little about you before making the decision to work with you or not – that is one of the reasons they may be looking you up in the first place.
Here's your chance to tell your prospects who you are.
Make sure you come across as a real person, instead of using corporate jargon like 'goal-orientated', 'results-driven', or 'out-of-the-box thinker.'
You'll either confuse the reader or come across as someone trying to sound smart.
Contact Page
Don't make it hard for people to get in touch with you, or else the entire procedure is a waste of time! Put your email address, or a 'contact me' link prominently on every page if possible.
Optionally, if you are comfortable speaking to potential clients on the phone, include your number.
It is also a good idea to have a contact form so potential clients can get in touch with you without having to open an email to say hello.
Blog (optional, but recommended)
If you have enough energy and enthusiasm, you can (and should) write about design or your experiences in working as a designer.
This can be both a valuable way to educate and inform potential clients and other designers alike.
It presents your viewpoint to the world, where they can get a bit of an understanding of who you are as a person.
Keep it up for a few years and you may even become a 'thought leader' in your industry which will create even more opportunities down the line!
Awards / Reviews / Press (if possible)
This is an excellent way to building credibility! If you've invested time and energy into creating something that's received recognition, don't hesitate to include it on your portfolio website – you are trying to 'sell' yourself as much as your services, so do what you can to win the potential client over!
If there aren't enough items to merit a separate category, make sure you highlight the significant projects on the main showcase.
Okay, now that the basics are planned out, we can begin the process.
[irp posts="9909″ name="How to Improve WordPress Security"]
Creating the WordPress portfolio website design
Based on your skill set, time and budget, there are a couple of options available:
1.  Go with a Managed Solution
On WordPress.com, you pay Automattic to create, host and maintain your site. Furthermore, you can only add, edit and remove content, making minimal changes to a few basic themes.
2.   Alternatively, choose Self-Hosted
Extremely flexible and open to change, this is the process I'd recommend to anyone who has even a basic understanding of how websites work, or at least, is willing to spend a few hours learning.
You only pay to get the site's hosting; then you can do the rest yourself, relatively quickly, and for the most part, for free.
I personally use and recommend Krystal for my Hosting and CDN – check them out Here
If you do encounter issues, the WordPress support community is a great place to find answers and ask questions.
If you have a bit of money left, you can always hire WordPress developers to create, customise and maintain your site as you want it – basically, like having your own IT guy!
Great! Now that the basics of getting the portfolio website set up and running are underway let's step things up and transform it into a stunning showcase of your work. Starting with:
Pick a great portfolio WordPress theme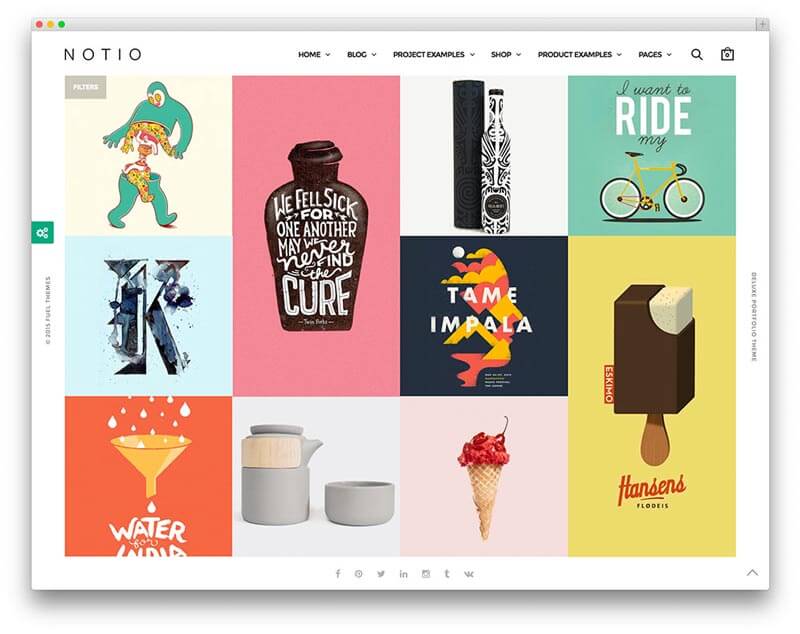 Be sure to look for a fluid, responsive, retina-ready (high-resolution device compatible), fast-loading, WordPress upgradeable theme, coded for performance and optimisation. It should:
1.  Be Simple – Draw attention to your work, rather than distract from it.
2.  Have large image holders – to display your imagery as large as possible.
3.  Have smooth transitions – any movement or effects on-site should be nice to look at.
4.  Have clear navigation – so browsing is effortless.
5.  Be well-documented – in other words, ensure that the theme has a good amount of help and support for usage.
6.  Work consistently well with your visual identity – make sure that you can alter colours in the theme to match your chosen brand values.
There are thousands of WordPress themes to choose from, many for free, some more detailed ones costing a bit of money.
You can search the repositories of marketplaces like Envato (Themeforest), iThemes and Woothemes for example, or Google the phrase "best WordPress portfolio themes".
Note: Always get your themes from trusted sources only for security, support, and performance reasons.
[irp posts="9748″ name="How to Create a Portfolio Website Using WordPress"]
Alternatively, use a WordPress Portfolio Plugin
Say you found the perfect theme, but it isn't really built for portfolio purpose.
In that case, use any of the following plugins to make an awesome showcase in a matter of minutes:
PortfolioGallery
Portfolio WP
Nimble Portfolio
Waving Portfolio
Foo Gallery
Note: Remember to do your research about the free and premium version features and test the plugin for performance and responsiveness.
Check to see how often the plugin gets upgraded and how active the authors are on the support forum.
Of course, get your plugins from trusted sources only.
Make sure you 'tell your story.'
This is your strongest work, your best projects.
Ensure you tell a story for each of them.
1.  Provide details – tell the viewer a bit about the background of the project, what inspired you? What problem did you solve for the client? What was the result?
2.  Be relevant – A light sprinkling of relevant keywords never went amiss. Use brand names and your design work description for better SEO.
3.  Be consistent – All your project stories should follow one format. Use one post type and stick to it.
4.  Don't exaggerate – or lie. Be genuine.
Make sure you use high-quality, high-resolution graphics only.
This is not the place to skimp on quality.
I use Photoshop's "save for web" feature, making the images, at least, 1000px wide or tall.
Note: The way you write can speak volumes. Use your words to describe the best work you have done, show a bit of a personality by all means, but remain professional.
[irp]
Optimise for performance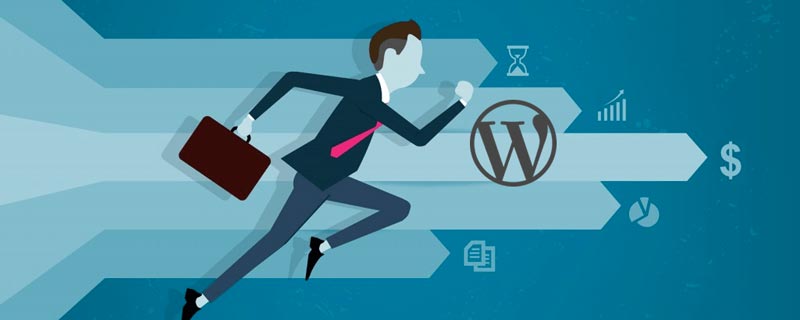 You cannot forget to optimise your WordPress website for performance.
Especially with portfolio sites that contain a lot of large images, speed is critical.
A site that takes too long to load (often as little as over 5-6 seconds on a page) will have visitors just leave in search of the next designer in the list.
In WordPress, you can add plugins for caching (WP Total Cache, WP Super Cache, etc.), and try image resizing/compressing plugins (WP Smush.it, EWWW Image Optimizer, etc.)
If you are not familiar with coding, you can hire a WordPress developer to manage CSS spriting, back-end optimisation, minifying scripts, and more, for a fast loading portfolio that doesn't irritate your visitors with slow page load times.
TL;DR
1. Before starting work on a website, figure out:
– Your best projects
– Your goal
– Your branding
– The best way to organise your content
2. Choose between Managed or Self-hosting based on your time, budget, and interests
3. Create your online portfolio:
– Pick a theme
– Or use a portfolio plugin
– Tell a story for every project
– Optimise every page for performance
[irp posts="14278″ name="How to Best Present Your Graphic Design Portfolio"]
Endnote
On a self-hosted solution, apart from managing your portfolio content, you'll also have to take care of security, spam protection, testing, debugging, performance optimisation, etc.
It sounds scary, but WordPress makes it easier than anything else out there to create an amazing online website design portfolio.
Remember to have fun and learn something new every day.
---
Author Bio: Lucy Barret is a WordPress developer and a blogger by hobby. She is employed at HireWPGeeks Ltd., a WordPress Web Development Company and has a team of developers who are experts of PSD to WordPress conversion. You can follow her company on social media channels like Facebook and Google+.
---
If you wish to discuss how we can develop your brand or provide graphic design for your product or business, email us at: [email protected]
Inkbot Design is a Creative Branding Agency that is passionate about effective Graphic Design, Brand Identity, Logos and Web Design.
T: @inkbotdesign F: /inkbotdesign
---