5 Best Websites for Hiring a Virtual Assistant
As a creative, keeping track of your work can be challenging. Projects from different clients pile up. Invoicing becomes a chore. To top it off, you're always on the hunt for new business. So, how do you keep track of it all?
A virtual assistant can keep your business on track so you can focus on what's most important: creating stellar designs and content.
What is a Virtual Assistant?
Virtual assistants (VAs) are remote-based professionals that assist with technical, administrative, or creative tasks. A virtual assistant might make phone calls, respond to emails, or find a new business on any given day.
VAs are especially appealing because they allow you to spend more hours of your day in a creative headspace. Meanwhile, they can take on repetitive tasks that eat into your workday.
In this post, we'll look at where you can find a virtual assistant and mention tools you can use to manage your VA.
Finding the best virtual assistant for your business
Admittedly, a creative-minded VA is a bit more difficult to find. While most virtual assistants need to be well-versed in using Excel, payroll systems, email, and other business tools, your VA might need additional skills depending on what you do for a living. 
Fortunately, 60% of virtual assistants are college graduates. This means that you can find some professionals who have received formal training in the following:
WordPress
Hootsuite
HTML/CSS
However, you'll need to know where to find the perfect virtual assistant. Keep reading to learn about the best websites for finding a VA.
Where to find a virtual assistant
If you're looking for a virtual assistant, you might have already posted job posts on websites like Indeed and Monster.com. You might find some success on these websites, but better platforms specialise in exactly what you're looking for.
At Hubstaff, we've found that most of our time tracking customers search for VAs on sites specialising in remote and freelance work.
With that said, where is the best place to find a talented virtual assistant?
1 – Upwork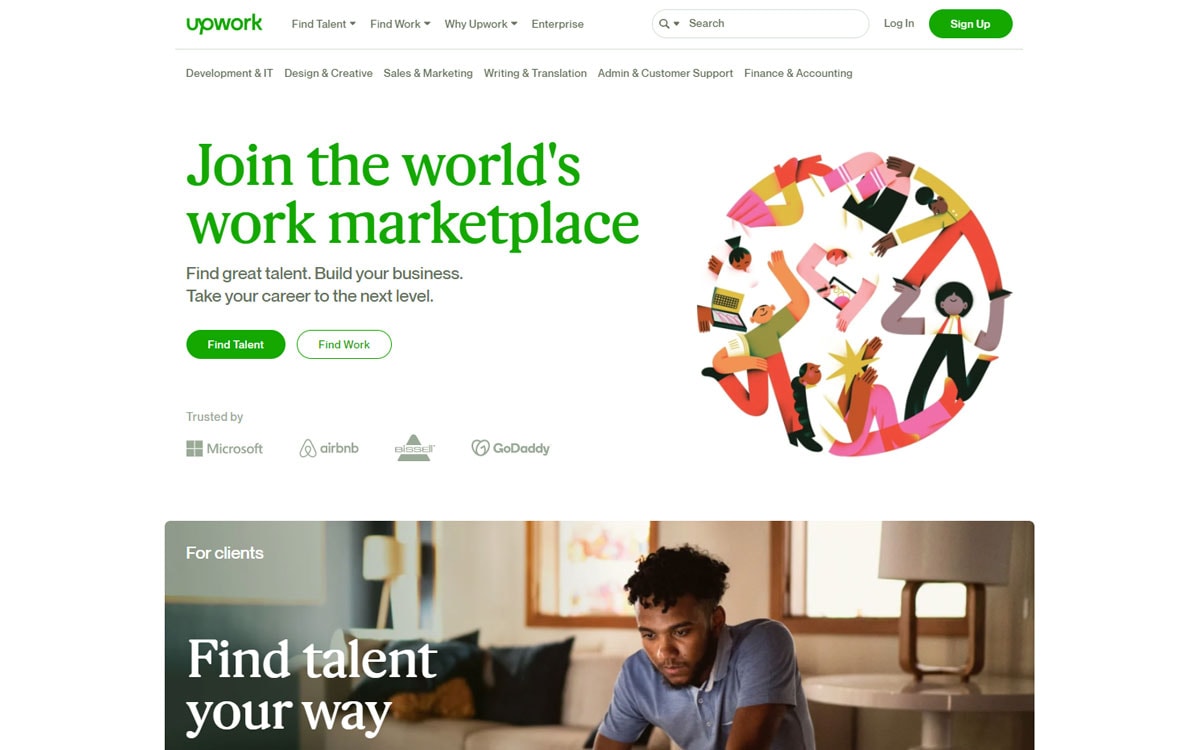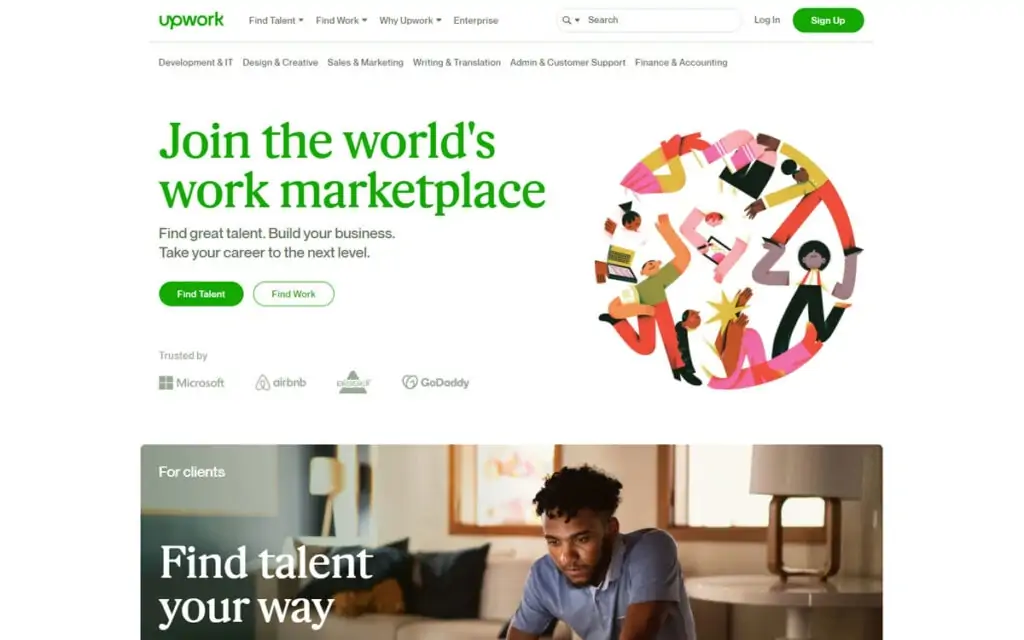 Upwork is the biggest freelancing platform in the world. Hundreds of thousands of virtual assistants use it.
Upwork is pretty simple to use. You post a job, review applications, and then choose the best person for the job. Keep in mind that virtual assistant job postings attract many applicants. Be prepared to sift through a large number of applications.
You can also invite specific freelancers to review your job posting by going to their profile page and clicking the Invite button.
Once you hire someone through the platform, you can use Upwork's software to track your VA's time and pay them.
Upwork charges businesses a 3% payment processing fee every time they pay a freelancer through the platform. If you're on the Basic plan, that's all you'll pay (along with your VA's fee).
There's also a Plus plan with premium customer support and talent-sourcing assistance. It costs $49.99/month.
2 – Delegated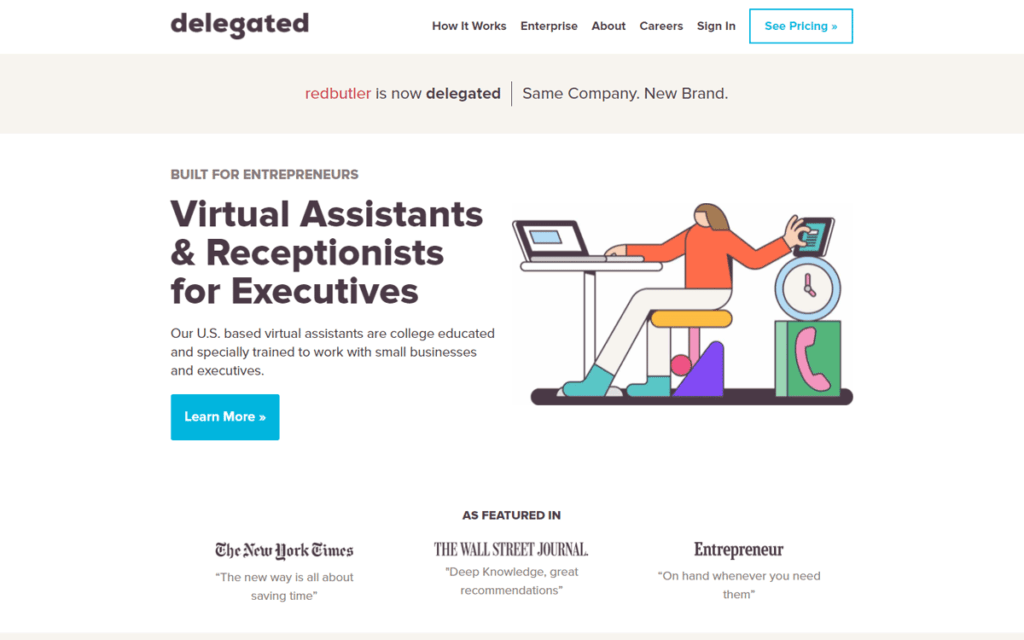 Delegated is a virtual assistant company that provides businesses with trained virtual assistants. All of Delegated's VAs are US-based and college-educated.
Their virtual assistants can help you with the following:
Front office tasks (e.g., scheduling, call taking)
Back office tasks (e.g., data entry, proofreading)
Personal tasks (e.g., making travel arrangements)
According to the Delegated website, their assistants can't help with the following:
Anything that requires a professional license
Physical errands
Artistic or creative work
Outbound sales calls
If a VA under-delivers, Delegated promises to credit the time used back to your account and assign you a different virtual assistant to do the job right.
The company will assign you a backup team ready to jump in if your virtual assistant becomes unavailable.
Before getting started, the Delegated team will ask you a few questions and then match you with an assistant that fits your needs.
You'll then create a workflow using the Delegated platform and choose how you want to communicate and work with your assistant.
The VA will be available to you from 8 AM to 5 PM your local time.
Delegated offers three subscription plans:
Lite (25 hours/month): $1200/month
Ramp (50 hours/month): $2400/month
Pro (75 hours/month): $3600/month
3 – Boldly
Boldly is a virtual assistant platform for solopreneurs, small businesses, and enterprise companies.
The company's virtual assistants are all trained individuals with ten to fifteen years of experience in the field. According to the Boldly website, their virtual assistants are skilled at:
Executive admin
Bookkeeping
You can choose between the US and Europe-based VAs. They also provide a trained backup VA to cover vacations and sick days.
Boldly's subscription plans include:
30-hour plan ($1470/month)
40-hour plan ($1960/month)
50-hour plan ($2450/month)
60-hour plan ($2940/month)
You can upgrade or downgrade your plan at any time.
4 – Zirtual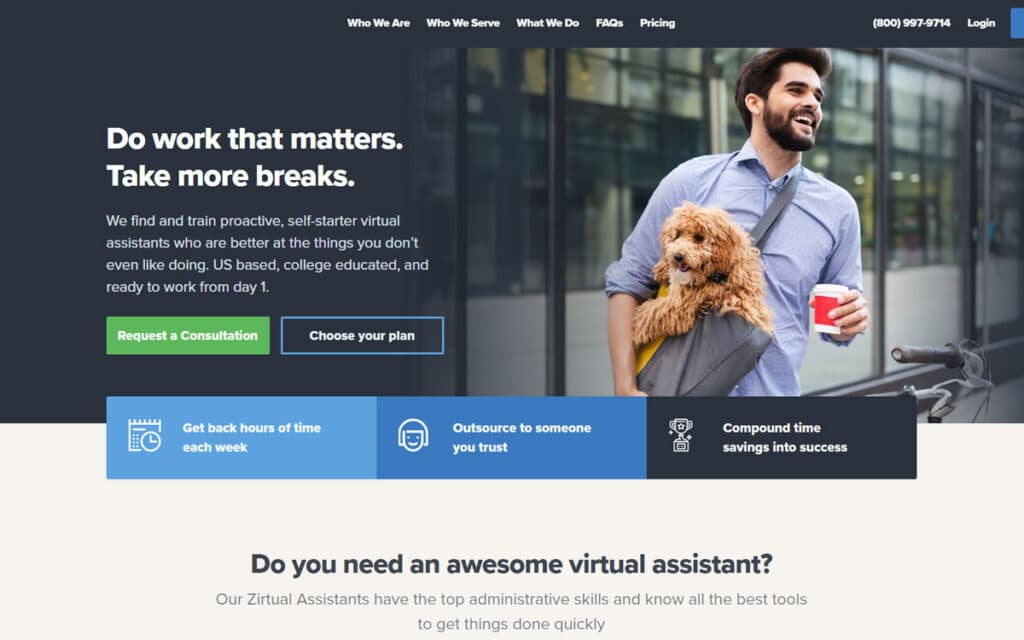 Zirtual is part of the Startups.com platform. It offers virtual assistant services from US-based and college-educated VAs.
Zirtual's virtual assistants can help you with:
Email and calendar management
Expenses and invoices
Research
Data entry
Content marketing
Event planning
Travel booking
Website maintenance
Zirtual guarantees a 2-hour response time for all their VAs. This means that their VAs can also address any urgent needs you may have.
The platform offers the following subscription plans.
Entrepreneur plan ($449/month for 12 hours of work/month)
Startup plan ($749/month for 24 hours of work/month)
Small business plan ($1099/month for 36 hours of work per month)
Team plan ($1499/month for 50 hours of work per month)
No contracts are involved, so you can upgrade or downgrade whenever possible.
5 – Hubstaff Talent
Hubstaff Talent is an online platform for finding the best remote talent. It's home to more than 140,000 skilled freelancers.
The platform lists thousands of virtual assistants available for hire. You can filter VA profiles by availability, hourly rate, experience, and country.
There's also the option to search for virtual assistants with specific skills, such as SEO, writing, or proofreading.
The best thing about Hubstaff Talent is that it's free to use. The platform doesn't charge businesses any fees for hiring a virtual assistant. The only cost businesses need to cover is the VA's hourly rate.
Bonus: Prialto
Prialto offers a managed virtual assistant service. That means that, as the service provider, Prialto hires, trains, and manages the performance of virtual assistants. They are Prialto employees.
The advantages of this approach are:
No recruiting, interviewing, vetting, onboarding, or training on your part.
A virtual assistant trained in your systems and tools arrives ready to work in a few days.
No office space, computer, HR overhead, or payroll is needed.
You get a dedicated assistant in your time zone, plus a team of fully trained managers and backup assistants for resilience and continuity.
Virtual assistants work in secure facilities, computers, and networks.
Their virtual assistants can help with the day-to-day admin tasks that rob executives and teams of 16+ hours per week:
Scheduling and calendar management.
Travel planning and expenses.
CRM data entry and cleanup.
Sales lead qualification and follow-up.
Email inbox triage.
Email and social media campaigns.
Back-office processes like invoicing, document preparation, and payment processing.
Prialto's service is optimised for long-term admin support and is not ideal for:
One-off projects.
Creative work like graphic design and content creation.
Telemarketing.
Work on nights, weekends, and holidays.
Prialto uses a thorough onboarding process—your Engagement Manager documents your processes and preferences for all tasks, and you simply forward requests for support to your dedicated assistant.
SLAs include responses to instant messaging in 13-30 minutes and emails in 30 minutes to one hour. You give feedback to the managers who coach assistants and continually improve performance.
Prialto's simplified pricing plan is:
Fifty-five hours (about two and a half days) per month (one-third of a full-time employee).
No overages—they do not want you to have to watch the clock.
Managing your virtual assistant
Once you hire a VA, you'll need the right tools to help you manage them. Here are a few solutions you should consider.
Slack
Slack is the premier communication and collaboration tool you've probably already heard of. But are you using it as a task manager or just for instant messaging?
Integrating apps like Todoist, Evernote, and Zapier can help you automate the most menial work to focus on more critical tasks. Of course, you'll need someone to configure this automation — that's where your VA will come in.
Make sure you list Slack in job descriptions related to virtual assistant hiring. Finding someone who can master this simple software can help you maximise productivity.
Zoom
Some conversations are best had over a video call. This is where Zoom can help.
It's the most popular video conferencing solution by far, and for a good reason. Zoom has all the features of this tool, including screen sharing and call recording.
It also supports advanced privacy features such as passcodes and user authentication. This ensures you'll be able to safely discuss sensitive information with your VA during calls.
Zoom is easy to use and offers a free version that's enough for most people's needs.
LastPass
Depending on what you need your VA to do, you'll likely need to give them access to one or more of your online accounts. LastPass is a password management solution that allows you to provide your virtual assistant with the necessary login information safely.
All you need to do is save your login details in LastPass and add your VA to your LastPass account. Once added, they'll be able to log in to the accounts you give them access to without typing in login details.
If you and your VA use LastPass, the Teams plan ($4.65/month) will be more than enough.
Process Street
Process Street is a workflow management solution. You can use it to create checklists and standard operating procedures for your VA.
This will reduce mistakes and ensure they'll satisfactorily complete all your tasks.
Process Street has an intuitive user interface and allows you to create process documents quickly. Once created, you can assign a checklist or process document to your VA with one click.
They'll get an email notification and will be able to get started on the task straight away. You can track their activity from the dashboard and get notified when they complete the task.
After the task is complete, you'll be able to review and approve their work from within Process Street.
Process Street offers a free plan that's limited to five workflows. A paid plan costs $25/user/month and includes unlimited workflows and team members.
Hubstaff + Hubstaff Tasks
Whether graphic design, web development, or content creation, it can be challenging to quantify how long the creative process takes. Fortunately, there are tools VAs can use to keep track of this time for you.
Time tracking software helps you track time, measure activity, and pay your team. Most feature a simple start-and-stop timer that helps you see exactly how long your projects are taking you.
Tools like Hubstaff track time, measure keyboard and mouse activity and can show apps and URLs visited. These features are customisable, and users will get alerts to know what the software is tracking and why.
To track your VA's progress from afar, Hubstaff lets you enable optional screenshotting. This allows you to check in regularly to ensure they work exclusively on your tasks when clocked in.
Hubstaff becomes even more powerful when combined with Hubstaff Tasks, an Agile project management tool. You can use Hubstaff Tasks to create and assign tasks to your virtual assistant, manage projects, and have an overview of everything your VA is doing for you.
Get more done by hiring a virtual assistant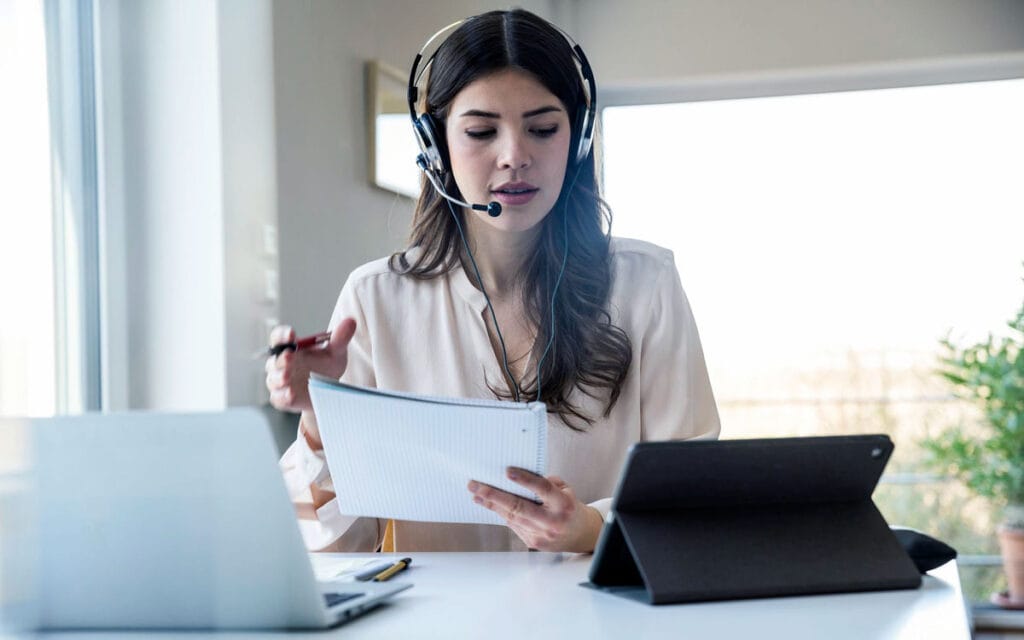 By hiring a virtual assistant (and equipping them with the right tools), you can save considerable time and money and boost your productivity.
We've already discussed where you can find virtual assistants, but it's also important to consider where your virtual assistant will work from. If you hire overseas, you will deal with limited time overlap. You can have someone on duty around the clock. Ask yourself:
Are you strict about what hours your virtual assistant will work?
Are you going to outsource work to VAs overseas?
If so, will you allow for asynchronous collaboration or require them to adjust your work schedule?
Will you be able to work around their schedule when necessary?
Once you have answers to those questions, follow these steps to hire a virtual assistant:
Assess your needs – What do you need help with? Write down all the tasks you want to outsource to a virtual assistant.
Decide on a VA platform – Check out our list of VA platforms above and decide on one. A low-risk option is a low-risk option to start with a platform that's free to join, such as Upwork or Hubstaff Talent.
Hire and train your virtual assistant – Once you've hired a virtual assistant, you'll need to show them what you need help with and how you want them to handle different tasks.
Have you tried hiring a virtual assistant already? Let us know about your experience in the comments below.
Author Bio: Austin Connolly is a blog writer at Hubstaff, where he writes content on time tracking, productivity, time management, and more.