Get Good at UX and Take Your Web Design Business to the Next Level
As a web designer, it can be all too easy to fall into the trap of thinking that your work is all about making something look glitzy and glamorous. 
Designers often invest vast amounts of time into creating stunning mock-ups that look like a piece of art, though this can be a waste if the result doesn't provide what customers need.
Most customers don't want to be wowed by each of the sites they visit. 
Instead, they want a comfortable experience, and it's your job as a web designer to provide this to them. 
UX, or user experience, design is a vital element of modern web development, but far too many freelancers and digital professionals neglect this side of their work. 
Let's take a look at some of the challenge's designers face when they ignore UX, along with some of the work that can be done to overcome an issue like this. 
You will have to do some learning to create the best user experiences, but this can be worth it to push your career forwards.
Why have you been struggling to sell websites at a high price?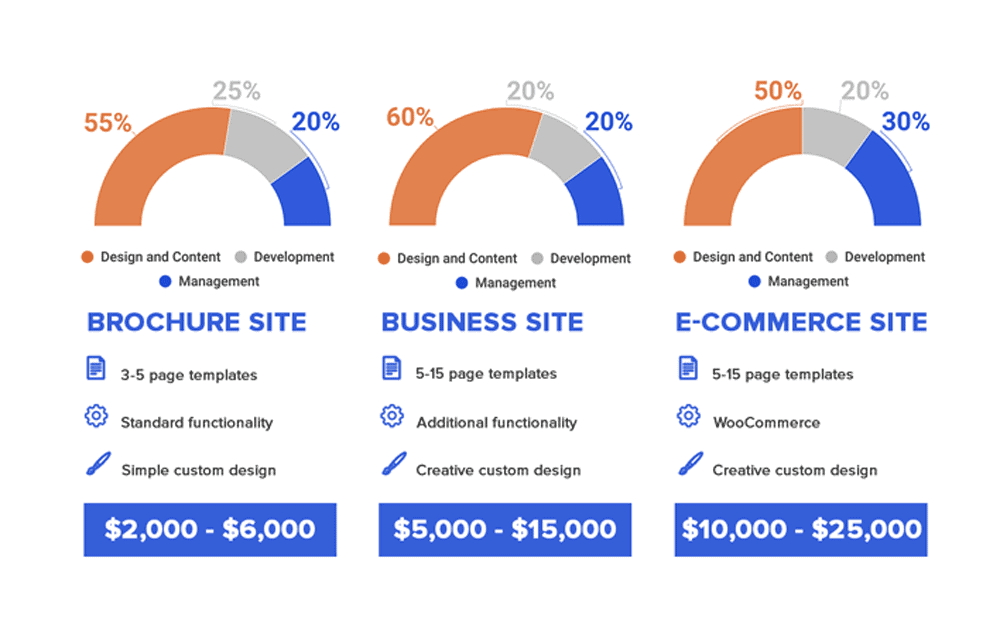 Websites take a lot of time and expertise to create, but this never guarantees that they will be valuable to the business that they're being made for. 
This can make it extremely hard to sell websites for a price that reflects the work you've put into them. 
Let's take a look at what a business client typically does and doesn't want from their website to give you an idea of where you might be slipping up.
What Does A Business Want from Their Website?
Ease for them: Business owners usually want to spend as little time thinking about their website as possible. This means that it needs to be easy for them to use it and do their work without having to ask for help from you, while also handling everything they need from it.
Ease for their customers: Having customers ask for help is even worse than the business themselves needing support. Companies want websites that make it as easy as possible for their customers to spend money with them, all without having to spend money on customer service calls.
Conversions: Ultimately, every business that has taken the time to build a website wants it for one thing; sales. If the websites you make can't convert properly, they won't be valuable to your clients, and this explains why you might struggle to sell them for the amount you want.
What Doesn't A Business Want from Their Website?
Unnecessary/Awkward Features: Businesses want straightforward websites, rather than being packed with loads of different options. Features and tools that aren't essential to customers should be cut out from websites, ensuring that they are smooth and streamlined without the chance to confuse.
Slow Loading: Creating a complex and bulky website can be a great way to make it look amazing, but this will also often cause slow loading times. Businesses want their sites to be fast and to the point.
A Piece of Art: Most businesses would agree that their website needs to be built with function over form in mind. They don't want pieces of art; they want something that will be able to sell their product.
As you can see, most businesses want something that makes it easy to sell to their customers. 
Certain types of business can benefit from having a beautiful website, though this should usually be a secondary consideration once you've already mastered your UX skills. 
For now, you should be making websites that make people's lives easier, rather than building ones that stun their audience.
How to sell them high
Before diving into what you need to do to improve your UX skills, it makes sense to explore some sales tips to make sure that you're not falling at the first hurdle. 
Selling things isn't too hard if you undersell yourself, though this will be much trickier when you're demanding a high price, and you need to know how to handle a meeting properly to get the results you want.
Ask the Right Questions: Probing questions can be used at the start of a sales call to enable you to understand the challenges your potential clients face. Once you have information like this, you can use it to phrase your pitch to show them how you can solve these problems for them.
Lead Them to The Right Conclusions: You should never have to say that your product will solve their problems directly; they should come to this conclusion on their own. This can be achieved by asking the right questions and keeping your mind on the answers as you explain your pitch.
Use Numbers to Your Advantage: Website lingo can be confusing to a business owner, though numbers will always tell a straightforward story. You can use their own sales goals and figures to make the price of your website seem much smaller, primarily if they already invest in marketing tools. 
Show Your Success: Selling a product like a website is a transaction based on trust. You can make it easier for your clients to trust you by showing the success you've had with other websites. This makes it crucial that you keep a good record of your past work.
The difference between design and UX
It can be easy to get confused when you hear people talking about design and user experience, but these areas are quite different. 
Design is all about appearances, with those who focus on this area being closer to an artist than an engineer. 
You can design beautiful websites, but this doesn't mean that they will provide a good user experience.
On the other hand, UX is all about making it easy for a customer to use a website. 
This will mean putting buttons in the right places, laying out content so that it makes sense, and generally working to make life easier for users.
In simple terms, the design is all about aesthetics, while UX is all about designed solution-based websites that make things easier for people. 
These two elements can work with one another to create websites that function well and look great at the same time, though it usually makes sense to prioritise UX.
UX design increases your client's revenue
Research has shown that companies can expect a huge return when they invest in UX design. 
In fact, on average, companies will get $100 (£76) back for every $1 (78p) (source) they spend on this side of their business. 
This shows just how important UX is, but there is more to this side of your web design than ROI.
Increased Conversions: Ideally, every visitor that comes to your website will make a purchase, though this is rarely the case. Improving conversion rates can be very difficult for a business, though those that invest in UX can expect up to a 400% improvement on their conversions (source).
Compelling Sales: Users will feel confident and happy to spend their money with a business that has a website that makes sense and is easy to use. This means that investing in UX can be a great way to compel people to buy from you.
Easier Processes: Customers often decide to go elsewhere when they reach the checkout on a website that is difficult to use. They will be much happier if you offer an accessible website and precise communication methods to make the whole thing go smoothly.
Return Customers: Giving customers an excellent experience with your website will make them far more likely to return in the future, improving your sales with people who have already bought from you in the past.
Simplicity is a discipline
Creating simple designs is a lot harder than most people expect. 
By the time you have your navigation, calls to action, and all of your content in place, it can all begin to feel like a bit of a mess. 
Being conscious of simplicity is a crucial and instrumental element of your UX design. 
Let's take a look at a couple of top-performing websites to see how simplicity plays into their work.
MailChimp: MailChimp is unique when it comes to marketing. With most of their customers being savvy and aware of marketing methods, they have to go very far to make sure that they are providing what their customers want. The MailChimp website is incredibly simple, with contextual menus and content that leads users exactly where they need to go. 
Duolingo: Duolingo is a platform that is designed to make it easy to learn new languages. When you first visit the Duolingo website, you are presented with absolutely everything you need to get started; you can make an account, look at the languages available to learn, or scroll down the page to learn more about their service.
Both of these websites share a couple of key features in common. 
They have small navigation menus with limited options, they place all of the content you need to get started on the home page, and they use as few words as possible to convey their message. 
These UX design examples can provide a wealth of inspiration when you're working on your web design business process.
Think about design from the user's perspective 
Okay, so we've explored UX and what makes it essential, but how exactly are you supposed to achieve the results you want with your designs? 
You can find some simple tips below that will enable you to improve your skills as a web and UX designer, while also giving you a more in-depth insight into this field.
Put Yourself In The Customer's Shoes: Web designers will always know their website's better than the people visiting it. This can make it all too easy to fall into the trap of thinking your website is easy to use, even if it has glaring issues that need to be solved. Putting yourself into the shoes of someone who has never been to the site is essential, ensuring that all of the options make sense that that the whole thing is easy to use.
User Testing: User testing can be a precious tool when you're working to improve a website. There are tools available that can automate this process, like Capturly, but you can also use to take a more direct approach. It would be best if you worked hard to solve any challenges your users face as they test your sites.
Use the Right Tools: UX is as much about psychology as it is about design. Tools like Chrome's UX Blur can show you how the brain first sees a website, showing you what stands out and what seems hidden when someone first visits your website.
Sell results, sell the dream
While you may have a good idea of why UX is important, selling this to your clients and making them feel comfortable with spending a large amount of money with you is the next challenge you face. 
Thankfully, this should be nice and easy once you have some results to show off.
You can show them the websites you've work on in the past, offering a rough idea of how well they performed before you started to improve their UX design. 
This will give you an excellent contrast to the results the websites are seeing now, proving to your potential clients that you can help them to realise their dreams and ambitions for their business.
Once you've managed to sell your UX skills to your client, you can start to think more about design and how you're going to make the site look great. 
Focusing on user experience and being able to empathise with users doesn't mean that you have to ignore the style and aesthetics of a site altogether; it just means that it becomes your priority.
Author Bio – Oliver Andrews is the Owner of a company OA Design services. He has a passion for all things Design and SEO. Throughout his life, he has always been very creative. Outside of work he enjoys travelling, fishing, motorbikes, keeping fit, and just generally socialising with friends and family.