Free Logo Makers Online: Are They Worthwhile?
For small business owners, launching a business and designing a logo can be a daunting task, but worry not – there are plenty of accessible tools designed to make your life easier in this day and age.
In this article, we'll explore free logo makers, freelance job platforms and online graphic design services.
Often, solo entrepreneurs find that they're the designer, marketer, salesperson and bookkeeper all at once.
Designing a logo is one of the tasks that overwhelm many business owners, especially if they have zero graphic design knowledge.
They get bogged down in the details and start doubting instead of taking action.
This is problematic because all focus and energy should be targeted at launching the business and making sales, not the nitty-gritty.
Digital Tools and Decreasing Barriers to Entry for Entrepreneurs
In the old days, much like you needed a web designer to create a website, you also needed a graphic designer to create a logo design.
It could be expensive, time-consuming and difficult to customise according to your needs.
The entry barriers for entrepreneurs were much higher.
The good news is that times have changed and digital technologies have decreased entry barriers for small business owners.
We now have platforms like Shopify and WordPress, where you can create stunning websites with zero technical know-how.
We also have an abundance of online free logo makers and services that are instantly accessible.
The importance of your companies logo
Your logo is not only a visual representation of your company.
It also represents what your company stands for regarding its mission and vision.
Many of us identify or remember certain companies through their logos.
Think of the omnipresent Apple logo, the Nike swoosh or Google's iconic typeface and colours.
They are forever ingrained in our collective consciousness.
Your companies logo is without a doubt an essential aspect of your business, but keep in mind: it doesn't need to try too hard, it shouldn't demand too much of your time and money and most of all, it shouldn't hold you back from launching a business.
Is name more critical than the logo?
Since the minimalist movement, brands have emphasised simple logos.
Nowadays, we often see large brands and their names in pure text form.
Naming is a significant aspect of the strategic development of a brand, and it comes with its own set of problems; pronunciation, global relevance and legal protection.
A company's name can grow to reflect the personality of a brand.
Think about how Google has become part of our language, being used as a verb in many instances.
In fact, many company names have found their way into our vocabulary, some decades before Google.
Think of Hoover, Post-it, Q-tips, Tupperware, Aspirin and countless more.
Your companies name has some weight in building your brand identity.
However, this isn't to say that name is more important than the logo.
Most iconic companies that have scaled to international dominance have worked endlessly to make their brands instantly recognisable through logo's, icons and colours.
Think of Mercedes-Benz or Shell.
The logos of these companies have become so synonymous with their brand that they are immediately identifiable, even when appearing without the name of the company.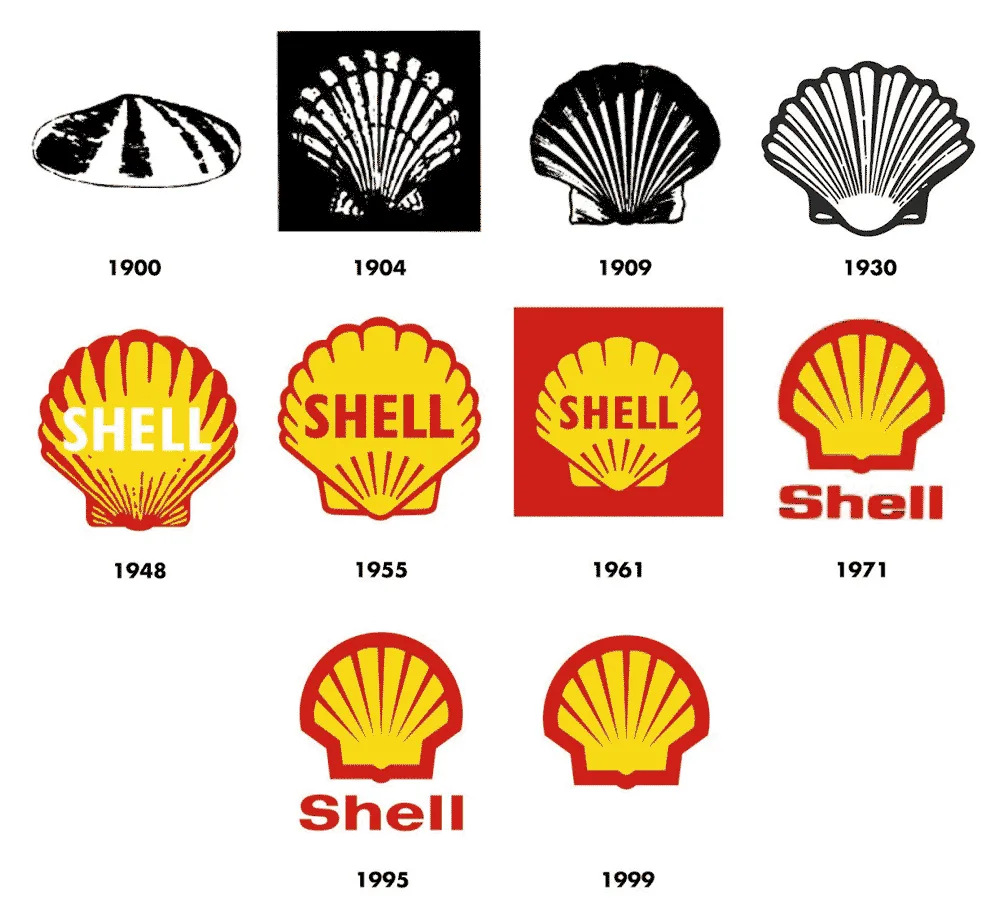 Can my logo evolve?
Many companies have decades-old logos.
This doesn't imply that their identities and logos are static.
In fact, most of today's iconic companies have changed drastically.
As a company evolves, so does its logo design.
Rebranding is exceptionally vital for a company to be able to convey their vision while remaining contemporary and visually appealing continually.
Because your companies logo is so inextricably linked to your brand, it is vital to keep elements of your companies logo in order not to lose brand awareness completely.
You can see how elegantly both these companies have evolved their logos over a century.
Royal Dutch Shell has always been based around the image of a shell.
Starting with realistic drawings of a Great Scallop and then evolving to the distinctive red and yellow colours (which were first introduced to the gas stations and then incorporated in the logo).
Mercedes-Benz didn't start off with the iconic symbol.
In the infographic above, you can see the evolution of the companies logo.
Note that the logo has gone through more significant changes than Shell, but the central symbol has remained in their logo since 1909.
These two examples show that a companies logo is not static.
It is as fluid as the company and evolves.
The only instance in which you should create an entirely new logo is if your company is changing entirely and should no longer be associated with the old company.
How much time and money should I spend on creating my logo?
Many small business owners just don't have the budget to invest in a graphic designer.
If it's in your budget, you might consider it, but if you're starting out you probably don't have the resources to invest in creating a logo.
If you're an e-commerce entrepreneur testing products with the dropshipping model, you probably don't want to allocate much to create a logo.
Your only testing at this stage in your business and tests shouldn't be expensive.
Do keep in mind that you still need to have a logo that will at the least instil enough trust for your potential customers to make a purchase.
Using free logo makers could yield results for this purpose and to brainstorm some ideas, but I wouldn't suggest using free tools for any other purpose other than testing.
With so many degrees of quality in the online logo makers available, it may be daunting to find one that is suitable for your needs.
To help you out, you can find the best free logo makers online, reviewed by Oberlo.
If you're not just testing a business model or product and you have some financial resources set aside, you should invest it into creating a professional logo that communicates trust and quality.
The most effective way to do this online is to hire a designer, and there are many ways to do this.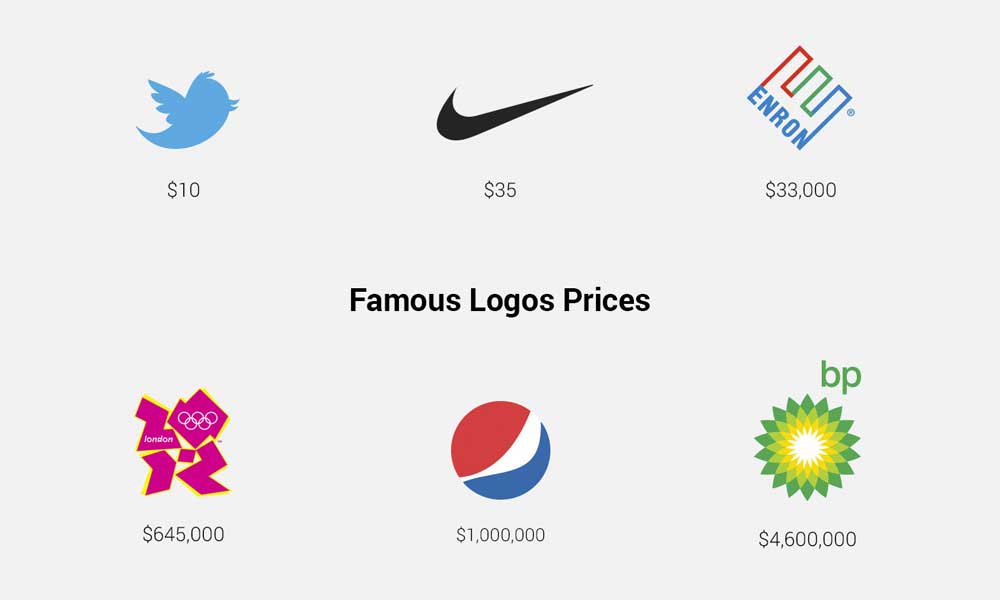 One way is to hire someone via a freelance job platform like Upwork or Freelancer.
These platforms do have highly skilled workers, although they are over-saturated with low skilled workers desperate for work.
This has unfortunately led to a race to the bottom as workers compete for low prices, undermining quality.
In this respect, finding the right person could prove quite problematic.
Another way is to find a graphic designer who has his/her own business.
You can directly access their website, check out their portfolio, read testimonials and get in contact to see whether you'd be a good fit.
It might cost a bit more, but you'll save time with a guarantee that your logo and branding will be professional.
Inkbot Design offers three affordable logo design packages, and so there are options available for entrepreneurs at every stage of their journey.
If you're a sole entrepreneur blogger, you can have a logo for only £99.00, and it'll be ready in 24 hours.
Suppose you, however, want to rely on a powerful and professional solution but are not ready to invest in hiring someone. In that case, we can recommend trying the online logo maker by VistaCreate.
This is a truly user-friendly, feature-rich and free software that allows anyone without any tech or design skills to build a beautiful logo for any industry. 
This logo maker is that cool; thanks to the bundle of pre-made logo templates made by design experts, the former can be easily customised in a visual mode with tons of design objects, animation effects, fonts and more. 
What's more, you can use it on your PC right in the browser or even download the dedicated Android/iOS app.
Will using free logo makers online yield good results?
Something free is generally thought to be mediocre at best, and although there are always exceptions to the rule, using free logo makers could result in an unprofessional logo that does not communicate trust.
About a year ago, I started an e-commerce dropshipping business as an experiment and made it a rule to spend as little money as possible.
This inevitably led me to use one of the free logo makers online.
I've been told that it looks decent (perhaps out of pity) by friends.
I asked Stuart to rip it apart, and he mentioned it looks like some old Microsoft word style font.
I'm not offended at all!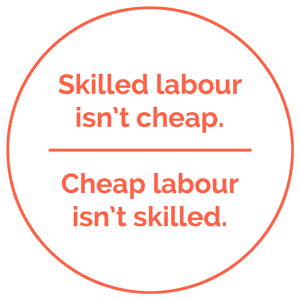 Takeaways
The value of your company's logo concerning your brand is immeasurable.
It must visually convey what your company is all about.
Both your companies logo (symbolism) and name are significant elements in creating brand awareness for your company.
That being said, if you're an entrepreneur on a shoestring budget, you shouldn't invest too much time or money and get bogged down in the details of your logo.
Thankfully, there are options for everyone these days.
Depending on your business and what you're aiming to achieve, you should be able to determine what to do with the information provided in this article.
If you get a logo and you're not sure if you like it or if it communicates your business make sure you ask friends, colleagues or other designers for their opinions.
There are usually only three reactions: yes, no and wow!
Wow, is precisely the only reaction you should be striving for, although a yes is also an excellent starting point.
Remember, the logo can always be improved and made to be more contemporary.