Proven Flyer and Leaflet Design Tips
Flyers and Leaflets can be used for anything.
Whether you are a freelancer or a small business owner, you have probably used those marketing materials to promote an event, new products, grand openings, or hot deals.
Flyers and leaflets can serve any purpose.
Therefore, you need to know how to design them properly.
Flyer and Leaflet Design Tips
If you don't know how to create a powerful leaflet or flyer, here are some tips you should follow:
Know Your Goal
What's the goal of your flyer distribution?
Do you want to increase walk-through rates at your store, improve sales, or drive more online traffic?
You also need to think about the location where your promotional materials will be showcased and what your budget is.
When you know the answers, you can think about your printed product folding type, size, and paper.
Templates Can Help
If you are an aspiring designer, free templates can serve as a base for your work.
Check out websites like Behance for some inspiration.
Templates will help you set up bleed margins and folding types, and you will save some precious time.
Sketch Your Idea First
If you have an understanding of how you want your flyer to look, draw it on paper.
A sketch will help you to visualise the concept and decide on essential elements of your artwork.
Stick to High-Quality Visual Elements
To get printed products of high-quality, make sure to use only high-resolution photographs or Vector Images.
If you ignore this rule, you might get a blurry unattractive print.
Craft a Strong CTA
Point in the right direction by telling people what would be the most logical next step.
Tell them to call you, visit your website, check out your store, or redeem a promo code.
That will help them to take the next step.
Don't Forget About Your Style Guidelines
Probably you have Corporate Design Guidelines.
You want to follow them while creating any of your marketing materials. Include your brand colours, typography, and critical visual elements to make receivers memorise your brand better.
For Aspiring Designers
If you are new to the world of Graphic Design, you can use numerous design constructors available online.
Canva is one of the best platforms for doing so.
They have thousands of templates for every occasion, and you will be able to find one suitable for your business.
More Visuals, fewer Words
Human brains process images 6,000 times faster than text meaning you shouldn't overload your leaflets and flyers with heavy sentences and data.
Include only the most important messages and keywords to let receivers know what message you are trying to convey.
Use Bright Colours and Unusual Designs
The competition is fierce, and you need to use every opportunity to stand out.
Using bright, contrast colours and beautiful designs can help you achieve this goal.
People are naturally attracted to everything flashy and unusual, and you can leverage that for your leaflet distribution campaign.
Templates
If you don't know where to start, look at these templates to get some inspiration.
A colourful event flyer to promote parties, concerts and many more!
Exhibition Flyer for the artsy entrepreneurs.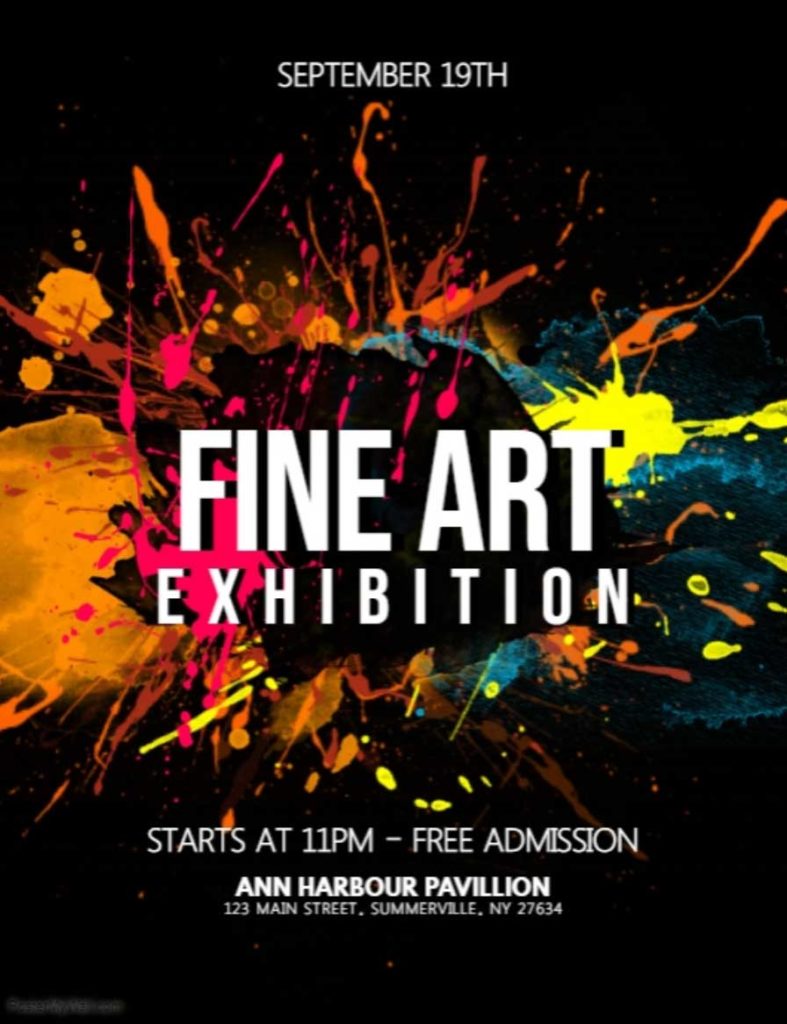 A brochure for Travel Agencies and Enthusiasts by LucidPress.
A template to showcase fashionista products.