Fashion Website Design: Why It's Important For Business
The fashion design industry has one purpose: to make people look good. It is a pretty broad category, covering clothing and accessories.
The market is quite lucrative. A Statista report shows that 2022 revenue projections are an impressive $0.99 trillion. An analyst on the report talks about an interesting emerging trend. Players are integrating shopping functionalities and content displays on social media.
Customers are also moving to mobile as opposed to using desktop devices. That necessitates ensuring a seamless browsing and checkout experience on mobile. You will understand why this is important later.
Developments For Fashion Website Design
You would hire qualified contractors when building a brick-and-mortar store, right? You want a sound structure that can withstand the test of time. You would also splurge a little on interior design. After all, you are in the business of looking good. So, your place of business must reflect the same style, class, and sophistication.
Now, let's talk about your fashion website design. The amount of effort you put into setting up the physical store should also reflect here. Remember, someone who loves fashion will most likely be online. That is where they search for information and get the latest news. If your brand is not there, you will be missing out on a significant market segment.
The website is also a place to showcase your portfolio. Let's say your line of business is anything and everything about diamond jewellery. When a customer walks into a physical store, they expect to see the best selection of your offering.
There will be a display of diamond earrings, diamond tennis bracelets, and engagement rings. You could even have them in categories like everyday wear and wedding sets. Or, it may be type categorisation like lab-grown diamonds or mined diamonds.
Your website allows you to do the same. Only, in this case, you get pictorial representations.
Website Development: What Is It?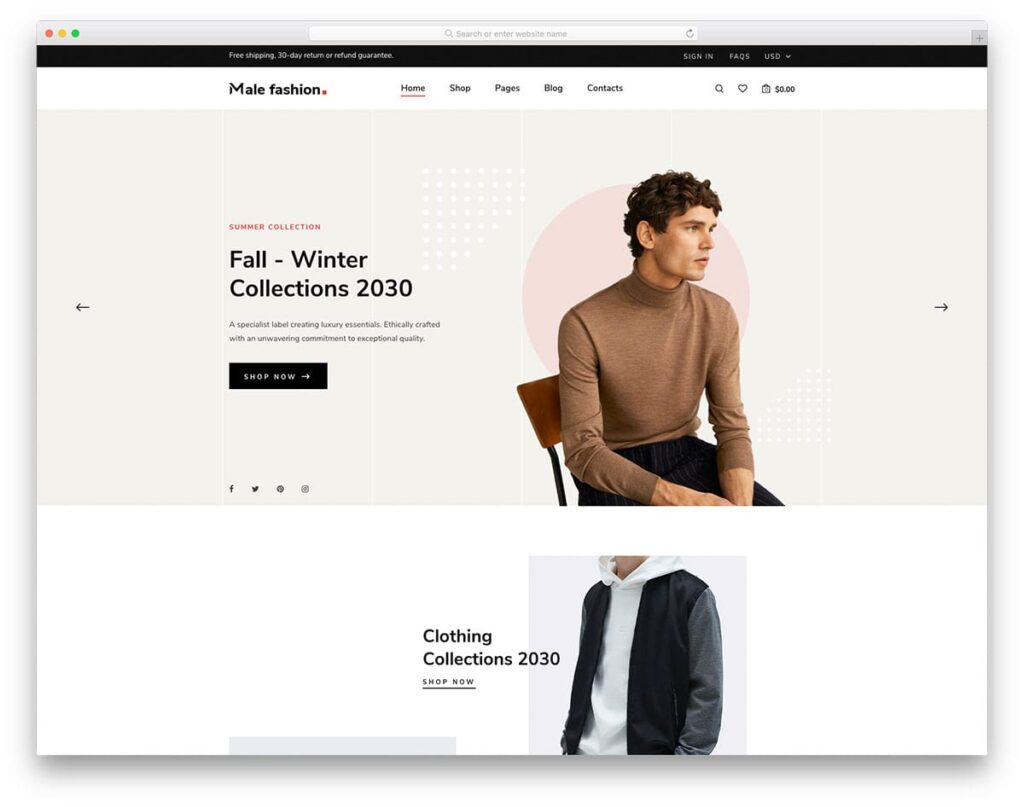 It is not uncommon for people to think website design and development are similar. Yet, these are two very jobs requiring different skill sets. Indeed, some web developers may not know much about the design aspect.
Web development covers the building and maintenance of websites. It may sound pretty straightforward, but a lot goes on in the background, as you can imagine.
There are two main classifications to the process. There is frontend and backend development.
The front end is what the online visitors will interact with. The developer uses programming languages like HTML, CSS, and JavaScript to build the client-side of the website.
The backend development is all about data storage and arrangement. Like in the case of the front end, developers use coding languages like Python, PHP, and other application frameworks. The online user does not interact with the backend at all.
This may sound pretty confusing to anyone who does not have web development knowledge. Let's see if we can simplify the explanation with an analogy.
Building a House as an Analogy
Two main contractors are the leading players in the initial stage when building a house.
The architect (web designer) draws up a blueprint of the building. All the details, including the design, number of rooms, etc., will be in the plan. The blueprint will contain the layout, fonts, colours, number of pages, etc.
The client (You) signs off on the blueprint if in agreement with the idea.
The builder (web developer) has the task of translating the architect's blueprint into an actual building. Along the way, there may be minor adjustments to the initial design. But overall, it should stay close to what the client signed off on.
When the building is complete, the client can ask for some changes. But, only as far as it does not interfere with the structure of the building. The same applies to a complete website.
It is possible to set up a fashion website design with ready-to-use templates. The advantage of using ready-made fashion website templates is you don't have to start everything from scratch. But, templates can be a bit limiting with what you can do. The developers only allow for so much leeway with customisation options.
In the end, what you will have is a fashion website design that is not unique. You lose out on the opportunity to stand out with your website look and feel.
Let's explore what expert web development can help you achieve with that understanding.
1 – Create and Increase Brand Awareness
To gain a competitive edge, people need to know your fashion brand. The first place modern customers go-to for information is the internet.
A whopping 81% of customers will go online before buying a product. 60% go straight to the search engines before coming to the company website. That means you must do all you can to ensure your fashion brand makes it to the first results page. We will share some ways to do this later in the article.
You can increase brand awareness by:
Using RSS feeds to give customers the latest fashion updates
Becoming an authority through content generation and link building. Your online traffic will improve when you become the go-to source for information.
Engaging with online visitors by responding to their queries.
Collecting customer feedback and using the insights to improve your offering.
Linking your social media platforms to the website to increase visibility.
Using the website as an advertising and marketing platform. You can run promotions and other campaigns without spending on external platforms.
Web developers will advise you on the best ways to utilise the platform. Further, they can advise on specific add-ons or integrations to help with brand building.
The best aspect of owning a website is total control. You can change the content every day if you so wish. As we said, web developers also help with maintenance. They will be at hand to give you the necessary support whenever you need it.
2 – A Fantastic User Experience
Let's say you walk into a diamond jewellery shop. Diamond earrings are together with tennis bracelets and wedding sets. There seems to be no organisation whatsoever. Chances are, the displays have you quite confused. You may leave before remembering what you came in for.
The same applies to the website. But, in this case, you are dealing with customers who have so many choices. A poor user experience (UX) is a sure way of losing traffic to your fashion website design. 70% of online customers will abandon a cart because of a poor user experience.
You can get an 83% increase in conversions by improving the site UX. Alternately, slow-loading images will make you lose 40% of online traffic.
Do seek the services of professional web developers for your fashion website design. Consider the money you spend as a wise investment in the business.
3 – Search Engine Optimisation
Search engine optimisation is all about getting good rankings on the search engines. An ideal situation would be to land on the first results page. Note that 75% of online users will not go past this page.
Web developers must ensure search engine optimisation when setting up the website. They must, for instance, ensure the pages do not have any technical issues. Such issues will affect page performance and, in the end, the UX.
Developers must also ensure the site's URLs are SEO-friendly. The URL should communicate what the page is about at a glance.
Most importantly, developers must also ensure fast page loading speeds. That requires enabling compression or minifying of coding language. Others are reducing redirects, caching, and removing render-blocking.
4 – Mobile Responsive Websites
You may have stumbled upon the term mobile-first indexing. It means that Google uses the mobile version of your fashion website design for indexing and ranking. This is because a significant part of online traffic comes from mobile devices.
Professional web developers take a mobile-first approach. They design for small screens and then optimise for larger ones. The layout seamlessly adjusts, no matter the screen or device you are using.
So, make sure to keep this in mind during the development stage of your fashion website.
5 – Integration of Different Technologies
Customers love convenience, whether online or offline. If you offer this on your fashion website, you can be sure of more traffic. Further, there will be lower bounce rates and longer stay rates. These are factors search engines will notice when ranking.
Web developers can advise on and integrate different technologies like:
Live chat and chatbots for better customer service. AI bots are excellent marketing tools. They are excellent for product recommendations and service personalisation.
Voice search functionalities for customers who cannot or find it difficult to type. It also appeals to those who simply prefer not to type.
Digital shopping assistants to help customers navigate the site and find products.
Augmented or virtual reality to enhance the shopping experience. Such are fantastic tools for remote shoppers. A customer can try on or even design a diamond engagement ring virtually.
Investing in such technologies could give you a competitive edge.
6 – An Up-to-Date Fashion Website Design
Web developers are at the forefront of knowing the latest website trends. Remember, fashion customers are primarily trendy and part of the most up-to-date demographic groups. If you want to reach demands and expectations, it is crucial to keep up. You also need the correct elements in your eCommerce site to encourage purchases.
Web development companies usually have web designers in their teams. You get advice on:
Simple, clean website designs that are in line with current trends. The teams recommend different elements like fonts and colours. The aim is to use those that give the most visual impact.
Must have elements on an eCommerce platform
Proper placement of brand elements like the logo. This is important for brand-building purposes.
There are subtle cues to get customers to buy, such as call-to-action buttons in strategic positions. They can also recommend using pop-ups in non-obtrusive positions that will not annoy customers when on the site.
Image placement to capture the shoppers' attention immediately they come to the site.
7 – Greater Accessibility
Do you know that there are guidelines on website accessibility? Everyone, including those with disabilities, should be able to use your website. The WCAG or web content accessibility guidelines look at elements like natural information around factors like sound, images, or text. It also covers markup or code that defines presentation, structure, etc.
The challenge for website owners lies in not knowing how to make their sites accessible. Yet, an internet search will reveal tons of lawsuits filed against companies by people with disabilities.
There have been over 8,000 suits between 2017 and 2020 over digital accessibility in America. Yet, this only covers federal court. More cases are in state court. Others have found amicable resolutions outside of the courtroom.
Reputable web development companies know the compliance issues you need to pay attention to on your fashion website. Hiring such professionals to build your website could save the business from costly lawsuits. Wouldn't you instead spend time designing than fighting the legal system?
Final Thoughts
An online presence is critical for fashion designers. It doesn't matter whether you are dealing with apparel or accessories. Your website is an online store that serves so many purposes.
A fashion website design provides an ideal platform for creating brand awareness. You have total control over the content and can change it whenever you wish. It frees the business from costly third-party platform expenditure for brand visibility.
The business also gets the benefit of a full-time online presence. Customers can log in anytime and browse or make purchases. The right strategies will increase organic traffic to the site. More traffic means the business has a chance to collect fantastic leads.
It is easier to convert an organic online visitor into a customer. The same does not apply to those who come to your site because of paid ads.
We have also talked about SEO, mobile access, and the use of technology. These are critical strategies for brand building and creating visibility for the business.
Your brand needs a high-performing fashion website design that offers customers convenience and a good experience. The best advice anyone can give is to seek professional web development advice. The experts know exactly what to do to get a good UX. No online customer will hang around waiting for the pages to load.