Top Email Marketing Mistakes To Avoid
With 3.7bn worldwide email users ( estimated to increase up to 4.1bn by 2021) and an average return on investment of 3,800%, email has successfully held its position among the top 3 influential sources of information for many years.
Now that's fantastic news for creative digital agencies focusing on email marketing.
While this method of reaching out to customers seems like an excellent approach, here's the hiccup:
Since email is an integral part of nearly 95% of an organisation's marketing strategy, the fight to gain the maximum level of customer engagement is often a losing battle. 
Put simply, the stakes are high, meaning it's straightforward to slip into trends and experiments while making many email marketing mistakes.
Additionally, when working on creating and executing effective strategies, email marketers tend to commit these common blunders.
In this piece, we've mentioned the top email marketing mistakes and how you can avoid them for enhanced customer engagement and better click-through and conversion rates.
Let's dive in!
1 – Leveraging an Obsolete Mailing List
As you might already know, email providers have a particular set of requirements, especially regarding the mailing list's quality. 
Moreover, they also restrict the number of complaints and acceptable returns.
If you're not working in line with the mailing list, you'll receive tons of long-abandoned emails or overflooded mailboxes over time. 
It's inevitable that, over time, you will collect email subscribers that never open or click on your emails, people who just hit delete when they see your email, or who never see it at all because it always lands in their junk mail. – Productive Blogging
Due to this, you could exceed the limit for the number of acceptable returns and complaints and further get your newsletter blocked.
How Can You Be Up-to-Date With the Mailing List?
To keep evaluating your mailing list, you could leverage email validation solutions.
With this, you can ensure that all the suspicious or non-working email addresses are erased from the system. 
By doing so, you can maintain your reputation and enhance your email marketing strategy's overall effectiveness.
2 – Sending Sudden Emails
Nearly one-third of the email marketers send a newsletter only when there's something to be shared (oops!). 
This is yet another email marketing mistake that can cause customer frustration and result in them unsubscribing to your daily newsletters.
Review your email campaign calendar and compare against your current resources. It's far better to send fewer email campaigns with high-calibre content than to send out emails just for the sake of quantity. – Send Grid
Let's imagine this.
Your customers subscribe to your newsletter but only find zero emails from you. 
A few months later, out of nowhere (probably after they've already forgotten about subscribing to your newsletter!), they receive an email regarding your new product.
This will only add to their frustration, and they might click on "spam" or, even worse, unsubscribe to the newsletter. 
What's more, this might affect both your overall newsletter statistics and the effectiveness of your email marketing campaign.
How Can You Maintain the Flow of Your Emails?
The best way to ensure that your customers aren't bombarded with unexpected emails is to strictly follow the mailing list from the beginning (even though it has just two contacts!).
You also have to make it a point that you're sending at least one email monthly to keep in regular contact with your customers.
3 – Sending Unnecessary Emails
Creating and sending unnecessary newsletters to customers is one of the most terrible mistakes email marketers commit.
Merely sending emails regarding your product or company, without really focusing on your customers' needs and interests, to improve its sales will do no good for your marketing campaign.
Sure, your products wield the sceptre in your emails, but that's not how effective email marketing strategies work.
Even brands like Adidas and Airbnb have experienced email gaffes, from sharing a random cat photo to more serious incidents, such as referring to the Boston Marathon bombings. Email mistakes could be anything from an overlooked typo, bad personalization, or a poorly-worded subject line. – MailerLite
How Can You Send Useful Newsletters?
Here are some excellent ways to create and send useful emails:
Put yourselves in the shoes of your target audience to think like them and understand their interests.
Please get to know their doubts, prejudices, and fears regarding your product or service.
Think of a way to debunk their issues in your newsletter
Instead of focusing just on your products, talk about one of your previous customers' positive experiences with them. Choose your tone and words wisely, and make sure you aren't using plagiarised content.
Make your emails as valuable and creative as possible so your customers can share them with others.
4 – Avoid Email Segmentation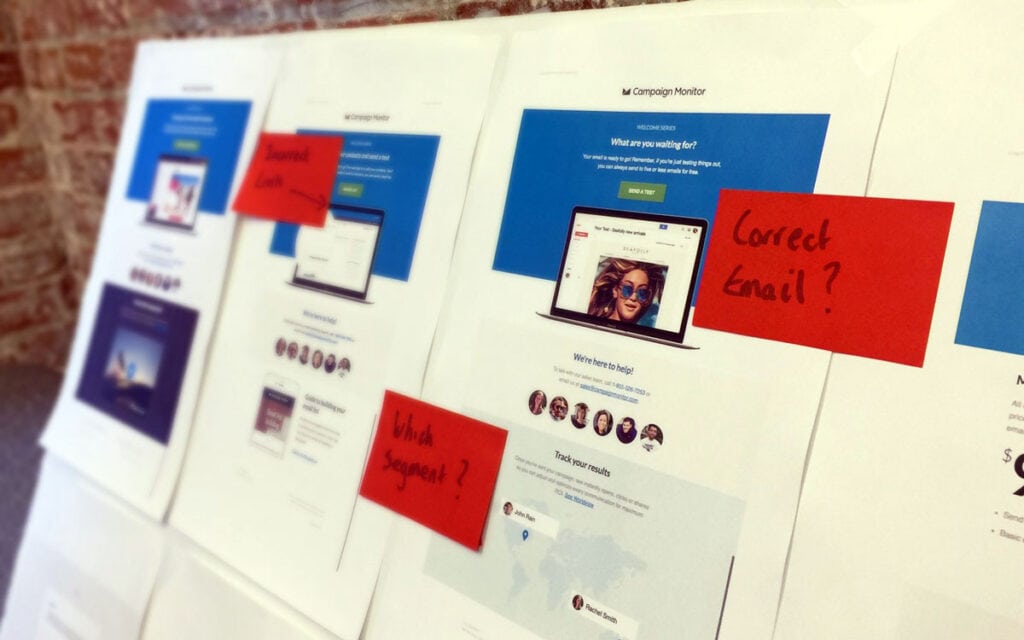 Stats have it – segmented emails receive 59.99% more clicks, 14.64% more opens, and 18x more return on investment.
That said, not segmenting the mailing list would be a huge mistake. 
Only 11% of email campaigns are segmented. – Super Office
If your customers receive irrelevant emails, they'll mark them as "spam" or unsubscribe from your newsletters.
Well, this is why email segmentation tops the chart of nearly 80% of email marketers. 
This is precisely why even personalisation is their highest priority.
Additionally, in 2022, segmentation is no longer an option – it's a must!
How Can You Ensure Your Emails Are Segmented?
As a digital marketing agency, you must establish your target audience's core intents and needs and determine based on which data you'll be separating them. 
You'll have to carry out a behavioural segmentation if you've got nothing apart from your customer's emails.
For example in an email segmentation, if you're a site that offers beginner, intermediate and advanced level advice and you ask me to sign up for your email list, you should be using what you know about me (like the page I signed up on) to send a message that is in line with the "skill level" that was indicated by the page I signed up on. – Zapier
5 – Not Systematising Your Newsletters
At no cost, you should be sending newsletters to your audience at your convenience. 
This will only result in lowered click-through rates, reduced efficiency, and many customers unsubscribing from your newsletter.
How Can You Systematically send Emails?
To systematise your emails, you must create a plan beforehand and figure out the right time and days to share the newsletter. 
As far as the frequency is concerned, this will entirely rely on your email marketing strategy, not to mention your target audience.
6 – Sharing False or Misleading Newsletters to Customers
Sharing misleading or false information is the worst thing you could do to your customers.
Let's assume certain situations.
You promised to provide discounts to new subscribers but didn't do it. 
Or perhaps, you said that your newsletter would share valuable information. Instead, you've been sharing product-related emails. 
Or even worse, you said that customers would receive newsletters once every week, but you send them daily.
This will lead to negative customer response, and ultimately, they'll start clicking on "Unsubscribe me from this newsletter!"
How Can You Ensure This Doesn't Happen?
It's straightforward – Stay true to your words! 
Don't make false promises! Provide your customers with more!
By avoiding common mistakes, marketers can target their audience far more effectively than they can with traditional radio and TV spots alone. – Convince and Convert
By following these three things, you can reinforce your customer's trust and loyalty and convert them into potential leads and then into your business' advocates.
7 – Discrepancy Between Your Email Body and Subject Line
For several marketing reasons, your email subject line speaks volumes!
While many email marketers leverage this approach without considering higher customer engagement and open rates, it could disappoint your target audience when the inside content doesn't match the subject. 
This could further lead to them unsubscribing to your newsletters.
Even worse, they will no longer trust you or the brand.
How Can You Fix This Issue?
Writing catchy headlines is nothing less than art!
While it's all right to encourage your readers to open the email, adding irrelevant content will hamper their trust and your overall campaign. 
This is why you must ensure that your subject line is somewhat relevant to the inside content.
The one mistake I see is in subject lines. I did it once with a subject line that read, "Hi, You're Fired." The lead story in the newsletter featured videos of people screwing up on the job, so the subject line wasn't totally inappropriate. But the subject line was super aggressive plenty of readers opened that email thinking they'd actually been fired! – Zapier
8 – Not Giving Any Chance for Customer Feedback
Are you sending newsletters through an "admin" or "no-reply" address? Are you using an inbox that you hardly check?
If you've been using either of these ways to send emails, then know that this indicates that you don't wish to interact with your customers.
How Can You Create An Opportunity for Customer Feedback?
First, you must realise that your customers want to talk to REAL people, not your inbox.
This is enough for you to ask your subscribers for instant feedback on your products and services while introducing them to your brand's support team and sharing other modes of communication.
When you offer them a chance to find answers to their questions, you're only improving your opportunity to convert them into potential clients.
Sending too many emails Just because someone subscribed to your email list, it doesn't give you the right to bombard them with messages all day. So it's no surprise that the number one reason why people unsubscribe from email lists is that they get too many messages. – Quick Sprout
9 – Not Testing Your Newsletter Before Sending Them
HTML errors, getting the wrong layout and going into spam – all these result from inadequate or zero testing.
There are several nuances and rules for creating a newsletter. 
Some of them are:
Avoid the use of stop words
Don't make use of link shorteners
Avoid overplaying the various exclamation points
Don't use javascript or caps lock
Another rule is to avoid creating your newsletters as images; this is what will happen if you do it:
You lose its adaptability (a mobile version won't optimise the image).
Your customer won't be able to see the image if their inbox setting isn't set to display images.
You might get blocked because of spam filters.
Remembering these rules could be difficult, so ensure you're testing your emails before sending them to the subscribers.
How Can You Test Your Emails?
One of the best ways is to use a test email list. 
Messed-up personalisation – It's always worth sending a test copy of the email to make sure you avoid these personalisation gaffes! – MailerLite
However, you should also consider the customer's perspective and be sceptical about estimating the results.
Think about whether your newsletter sounds persuasive and will it push your customers to take the next step. 
Moreover, be open about editing and revising your emails, as that will only make them sound better.
Summing up these email marketing mistakes
When it comes to email marketing mistakes, even a seasoned B2B marketing agency could forget or miss out on certain things. 
But as it's said, it's not the one who commits no mistakes that emerge victoriously, but the one who commits them significantly less!
The best advice we can give is to try new things, measure your open rate success and do more of what works. – Outbound Engine
However, now that you're aware of some top email marketing mistakes, you could try not to commit them again or at least fix them beforehand.