How to Create a Successful Email Blast
An email marketing campaign involves a series of emails a business needs to execute to interact with contemporary customers and prospects.
This highly personalised form of content is distributed among prospects via email to achieve a goal for the organisation's good, such as generating and converting leads or increasing RoI.
Email campaigns are a vital component of inbound marketing and are an ongoing process where businesses interact with potential customers in different stages of the lead generation funnel.
By incorporating a practical SaaS email marketing approach, you will be able to outstand by gaining access to the mailbox of your prospects, and you can do it at scale by utilising the best email marketing automation tools.
Creating a Successful Email Blast
To make sure that each recipient of your email blast gets a valuable and highly personalised piece of content, you need to make a perfect email marketing strategy by following these steps:
Using an Email marketing planner.
Set your objectives for the campaign.
Understand your audience
Put yourself in the shoes of the reader
Maintain a targeted list and enrollment criteria.
Determine the campaign timeline
Outline an effective strategy for your email blast and follow-ups.
Add click-worthy subject lines.
Generate personalised content.
Create your brand assets.
Include clear CTAs
We must add an option for prospects to opt-out.
Test your emails and ensure that their layout is perfect on all devices
Monitor performance metrics.
5 Examples of Successful Email Marketing Campaigns
If you're reading this blog post, you've probably been sending and receiving emails for years, and you've received some comical emails in your mailbox. We bet you didn't stop pushing them to the trash immediately.
While email marketing has proved to be a saviour in a world full of content, many marketers have failed to upgrade their email marketing strategies since the beginning and failed to get the desired results.
To ensure that you're sending personalised, engaging, and appealing emails to grasp the attention of prospects, we've included a list of 5 compelling email blast examples you need to experience to run a successful email campaign for your brand.
If you'd like to learn more about launching successful marketing campaigns, visiting a regular email summit and other events from the marketing world could be a good idea.
1 – ModCloth
Marketing Approach – Understanding Buyer's Persona
Giant companies are giants because they keep evolving, and their customers always expect more. What they don't prefer is to be made aware of those changes.
This email from ModCloth provides a refreshing experience. If you change how you interact with your prospect or customer, give them a clear signal of getting on board so they can take the necessary steps to keep their inbox clean.
How It Works
It sets benchmarks for further communication so the prospect can choose what serves their needs and expectations well.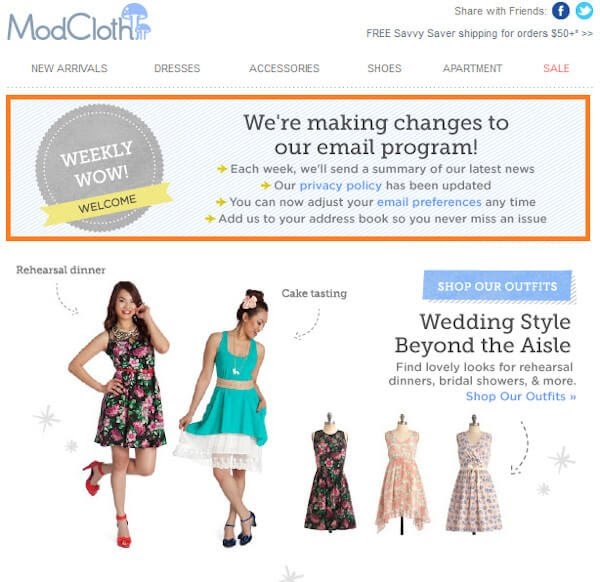 2 – Tory Burch
Marketing Approach – Promotional
Must you be amazed by looking at the visuals below? This gif animation helps this email blast from Tory Burch to outstand mainstream and static emails.
They also enjoy personalisation by interpreting the promotion as a private and dedicated sales offer.
Mostly, this promotional approach makes your potential client feel like they're being valued differently and pushes them to cash in the benefits of the unique opportunity they've been offered.
How It Works
Unlike blog posts or social media posts, Emails are generally static, boring, and lack personalisation. This distinctive approach surpasses these expectations without going into the trash.
3 – RunKeeper
Marketing Approach – Re-Engagement
RunKeeper tries to reengage off-track users with this friendly and informational email. The email encourages recipients to try the app by notifying the latest updates and features.
It also showcases the advantages the recipient does not know about and adds after using the app.
How It Works
Friendly gestures like "Hi friend" and closing statements like "You rock" make the content feel attractive and less serious.
4 – Litmus
Marketing Approach – Promotion
It is another remarkable example of animation providing a more dynamic and engaging email experience.
Unlike static content, the dynamic poster can provide an eye-catching experience and encourage prospects to go deeper into the rest of the content. The header fulfils the purpose of personalisation.
How It Works
The animation is solid, and it's added in such a way as to enhance the email's body. Apart from that, it works perfectly fine with the design of the email blast, ensuring a contrasting but complementary focal point for the reader to go further deep into the rest of the content.
5 – Loft
Marketing Approach – Email Preferences
This mail copy from Loft is intended to showcase their understanding of the messy and cluttered inbox.
To offer you the personalised content via email that you certainly want to open, Loft asks that their prospects update their email preferences to offer a more personalised experience.
This customer-centric email copy significantly improves the recipient experience.
How It Works
The email is fruitful and straightforward, including the slogan "Happy Inbox, Happy Life" and a CTA at the bottom.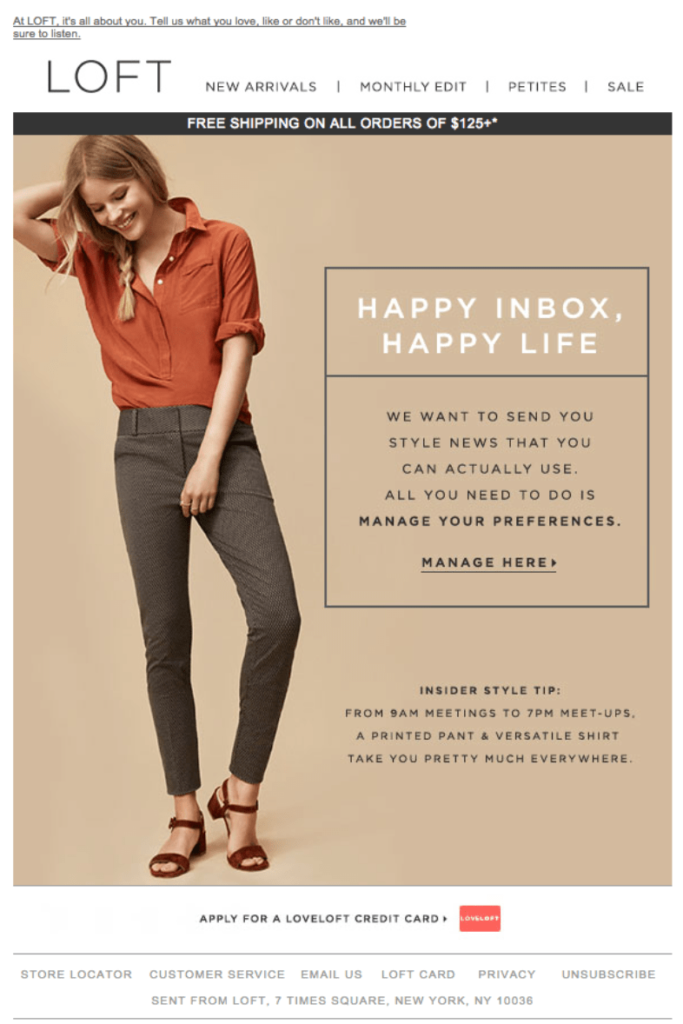 Conclusion
Now you have a clear idea about making a compelling email blast. You can incorporate these email marketing tactics and strategies to engage your prospects more effectively and improve RoI.
Combining one of these email marketing approaches with E-delivery or any other email marketing platform that meets your marketing requirements will significantly help drive your business. 
Last update on 2023-09-22 / Affiliate links / Images from Amazon Product Advertising API