14 Educational Platforms to Help You Start Your Own Business
Starting a business involves many procedures. You must be ready to carry out in-depth research and make difficult decisions that'll put your ideas in good shape. 
Also, you might have to carry out many other essential activities on your own—since you'd not be having the whole workforce needed to make specific processes easier for you. 
This is why, as a budding entrepreneur, you'd need all the necessary skills and information you can access for you to be able to set your new business in motion. 
And how best can you snag these than through the use of the most critical educational platforms for new entrepreneurs like you?
Below are some of the fantastic educational platforms and resources you can use to learn more about business and how to start one of your own:
1 – Hubspot Academy
Digital marketing is an important skill every business owner must possess to grow their businesses in this digital world we currently live in. 
Where can you access the required digital marketing skills you need to expand your brand's online presence? Hubspot Academy! 
Hubspot Academy offers free and up-to-date digital marketing courses that will help you vigorously develop target audience analysis and evaluation skills. 
You'll also be able to learn practical methods for expanding your brand's visibility and securing prospective customers' trust. 
Hubspot also provides valuable insights into business build-up and many other essential things you can do to promote your brand actively. 
2 – Moz
An essential aspect of digital marketing is search engine optimisation (SEO). 
If you want to learn how to build a better relationship with your customers by improving their customer experience, SEO would be a great place to start.
Moz is another useful educational platform designed specifically for those interested in acquiring digital marketing-/SEO-related skills. 
SEO will help you expand your brand visibility (on the web and social media) and give you the edge—you need—over your competitions. 
On Moz, you can also learn how to increase your brand authority, boost traffic, and increase web conversions using SEO.
3 – Udemy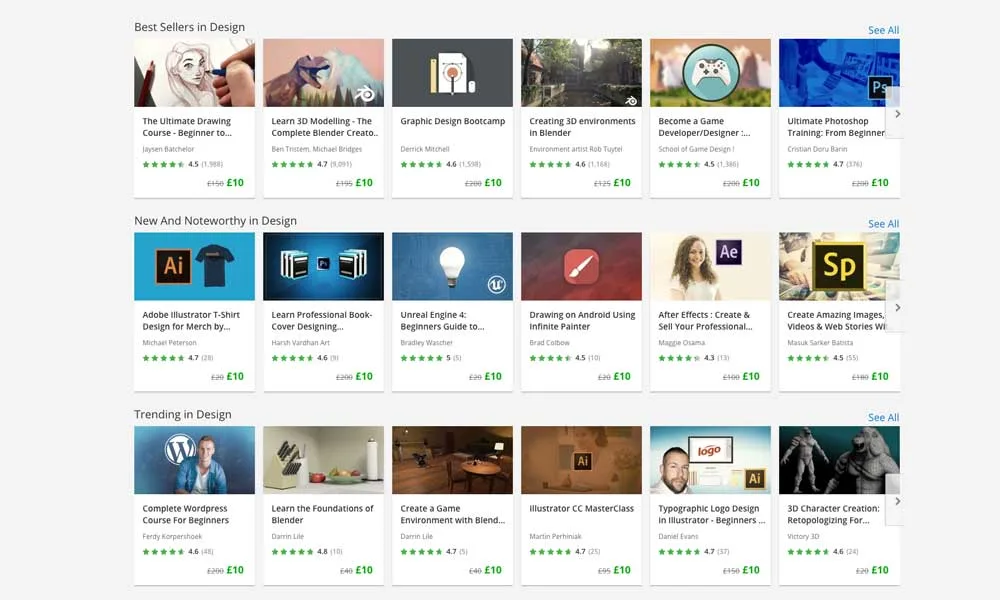 To open a new business, you need a step-by-step guide. Without a doubt, starting a business is a big deal. But, it is possible. 
People—humans like you and not aliens—have done it in the past, and that's an assurance you can do it yourself too.
Sadly, many start their businesses without reliable information, which only sets them up for failure and bankruptcy. 
Fortunately, there are different methods you can undertake to make the business startup easier than it can be. 
You can quickly learn these methods, at your own pace, on Udemy, an e-learning platform designed to assist entrepreneurs with idea thinking, business plan creation, finance analysis, marketing, and other aspects of business creation.
4 – LearnVest
As a startup, you must be more than ready before making any preparation to start your business in full swing. "More than ready", in this sense, means that you are fully capable of adequately managing the available funds for your business. 
According to Fortune.com, about 90 per cent of startups fail for many reasons. One of these is inadequate funding or the inability of many startups to manage their funds properly. 
With an educational platform like LearnVest, you can gain valuable advice and lessons you'd need as an owner of a young business to stay out of debt and keep your business finances in control.
5 – OpenCulture
Would you love to launch a business but need help developing workable ideas? Why don't you sign-up on OpenCulture to find the help you need?
Building a new business and getting it out there is not as complicated as you seem to think! 
You need to do this versatile knowledge and extensive business experience to build a company that's set automatically for success. 
OpenCulture is an educational platform you can use to gain more of the experience you need in any specialised business field of your choice. 
This online learning platform offers different free business courses (150 in all) on entrepreneurship and business. 
OpenCulture also has a list of free books (audio and pdf) on a range of exciting topics (finance, marketing, technology, management, operation, and strategy) that you can easily access to deepen your professional skills and sharpen your business ideas.
6 – Coursera
If you'd like to acquire relevant, critical business skills needed to build a sustainable brand, Coursera might be a perfect educational platform to use. 
At Coursera, you are open to a wide range of paid and free courses that you can take advantage of to upskill yourself.
Coursera has a vast network of educational partners to teach you (and your co-workers) how to keep your business competitive with their growing number of development programs in project management, financial modelling, social media marketing, human resource management and others. 
Why's Coursera so special? It offers its members many particular courses that may perfectly fit into your business niche. 
Coursera also has a unique learning experience; you can learn anything at your own pace and still earn a certificate from viable educational institutions.
7 – YouTube
YouTube is one of the most powerful video-sharing platforms in the world today. 
This excellent resource is not only a video-sharing platform for music and comedy alone, but it is also an excellent place you can watch tutorials, DIY lessons on make-up applications, food recipes videos, and a lot of other fun things you may like doing. 
You can find different videos on literally anything you'd like to learn or know. YouTube can be a fantastic e-learning tool for business-minded people, like you, who need to find urgent and cost-free answers to many business-related questions and problems they may have. 
8 – EdX
Genuine passion is an essential element a startup must have before deciding to start a company. But, passion is not all you need; without having a great deal of knowledge and experience in your business niche, it would be impossible for you to succeed.  
If you have a business idea that you'd like to run,  edX is another excellent educational platform that can get you started. 
They can offer the business help you need to start and run a business for success, right from starting with the generation of business ideas, market research, and analysis to develop business pitch and raise capital/finance. 
You can optimise your new business for great success by enrolling in entrepreneurship courses like Entrepreneurship 101, Marketing Fundamentals, Creativity & Entrepreneurship, etc. 
9 – Saylor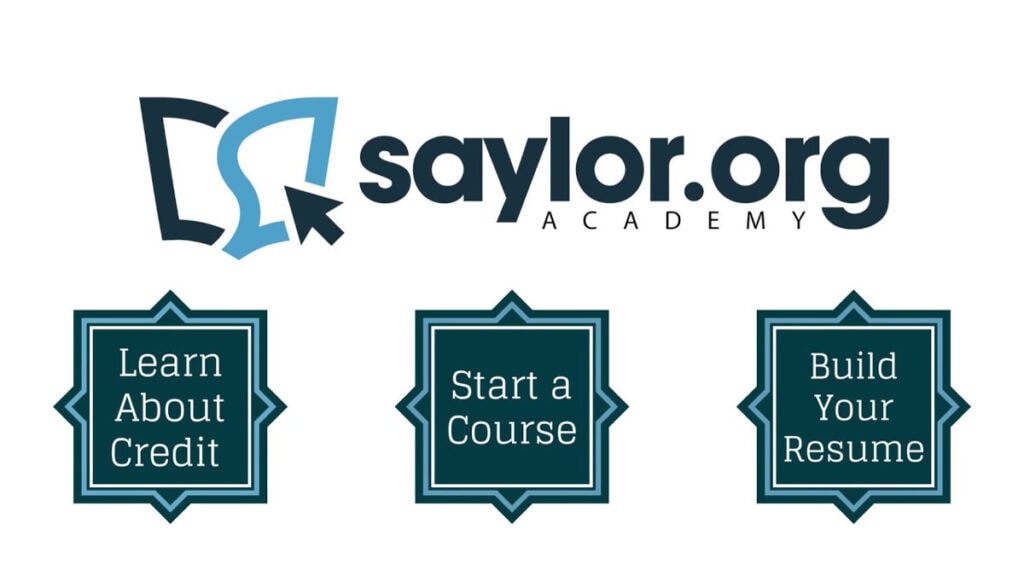 Suppose you want to make your ideas a reality. In that case, you need an educational platform like Saylor Academy that offers free online courses in partnership with accredited educational institutions to deliver detailed and engaging courses and certificates at affordable rates. 
Saylor is the place you can go if you want to have the feel of an undergraduate and still learn at your own pace.
10 – Khan Academy
Khan Academy has not only gained a strong reputation all over the world, especially in the US, for its short and precise video lessons on virtually everything but also the detailed business tutoring it offers at no cost whatsoever, for example:
At Khan Academy, you can learn the ropes by drawing on business-oriented persons' experiences, like you, who have, themselves, started their businesses and raised the bar high. 
Khan Academy offers a personalised learning experience based on videos. You're open—anytime and anywhere—to access video lessons in interactive formats and subject materials designed by specialised instructors who have successfully gathered extensive experiences in their fields.
11 – CodeAcademy
There are many skills a businessperson must possess before setting up a business enterprise. These skills range from accounting to marketing to project management, business development, and, more importantly, programming. 
Yes, you heard that right! Whether we like it or not, internet technology is the future! And if you want to be vast in the language of technology, you have to learn how to code. 
Programming is an integral part of business development. Its importance, in this present world, cannot even be exaggerated. 
You need coding skills to make intelligent decisions that will invariably drive your business to the top. Coding also sharpens your ability to think critically and put your business in better shape among your competitions. 
12 – Alison
Building a sustainable business goes beyond coinage a catchy name or designing a perfect design to fit your purpose or business idea. It would help if you had more for you to survive in the highly competitive world of business. 
From the starting stage through to all other aspects of your business organisation, you have to understand and optimise your knowledge and skills to serve you in the industry properly. 
Alison is a great place you can get this done for free. This educational platform offers free virtual courses on a range of topics that were developed by the most popular brands you know on the internet today. 
You have free access to more than 600 courses on Alison's different subjects to guide you through your business startup process.
13 – MIT Open Courseware
We are all extremely familiar with the Massachusetts Institution of Technology (MIT). Everyone knows MIT mainly because of its remarkable scientific discoveries and inventories. 
But, MIT is not only a good place to develop profound knowledge in scientific and technological practices, but it is an excellent place for business-related learning as well. 
As humans with the inherent desire for growth, we must continue to build sustainable businesses to make the future we all dream of way more advanced than today. 
The future is dependent on science and technology and the businesses that would be available, in time, to actively manage all the technological discoveries we are bound to make.  
If you want to acquire the relevant foundational skills needed for business startups, MIT Open Courseware would be a good place for you to start. 
You'll find virtually all of the courses taught at MIT on their public courseware for your personal learning experience. 
MIT offers up-to-date materials and video contents compiled by leading experts in different fields on the business world's ever-changing trends. 
14 – LinkedIn Learning
LinkedIn has always been a place for professionals to build their networks, sharpen their career skills, and find jobs. 
Recently, it developed LinkedIn Learning, an e-learning platform for professionals who would like to hone their skills. 
On this platform, you can also learn all the necessary processes you have to follow to build a good business venture that can ll successfully generate revenues that'll always surpass your capital.
According to a study, entrepreneurs are the most satisfied professionals at their jobs. Research also shows that entrepreneurs are the ones that experience stress and pressure the most, and this may be due to inadequate experience and knowledge they have in their chosen field.
As a budding entrepreneur, you must first build your business on solid grounds to overcome this stress. 
You must also gather and master all the fundamental skills you need in running your business before finally launching it. LinkedIn would be a great place to start. 
What's the best educational platforms online?
Generally, we refer to an entrepreneur as an owner or manager of a business enterprise. But, an entrepreneur is always more than that. 
An entrepreneur must be someone that can build an enterprise that can continue to make a positive impact on the economy for generations on end, no matter the kind of climate they would be exposed to. 
The requirements for building a sustainable business organisation are not inherent. They're all special skills that you can acquire with interest and dedication. The educational platforms mentioned above are only some of the e-learning available. 
Please note that these educational platforms are not arranged in any order. 
Author Bio: Article provided by Laura Fields, professional in expertwriting reviews and educational platforms. She is a passionate bookworm that has managed to turn that passion into a lucrative and creative career.