9 Responsive eCommerce WordPress Themes
An appealing and engaging website is vital for an online e-commerce store because customer engagement depends on how inviting the site is created.
Countless WordPress eCommerce themes promise to offer the features that will be able to meet your business site needs.
Moreover, if you are knowledgeable about designing websites or various WordPress theme development, even then there are some specific things that you need to look before finalising a WordPress eCommerce theme for creating your online business store.
It includes:
Alluring website design: You might have heard "the first impression is the last impression" and this same thing is applied on the website. If your site is engaging and attractive, then it will be easy to impress and get the attention of the audience at first sight.
Responsiveness: Whether it was 2018, or it is about 2019, having a responsive site is a must. As the number of mobile users is increasing rapidly, there is the need to focus more on responsive websites for turning the visitors into potential customers. This makes it utmost important to choose the themes that are responsive and represents your business efficiently.
Easy-to-Use: There come various customers with different behaviours. Some of them visit the site and finalise the product they want to buy. However, there are other customers too who before buying something goes on a little tour to explore discounts, coupons offered on the website, and much more. So, it becomes essential to choose the theme that holds up the customer's behaviour and provide them with what they are looking for.
So, thinking of starting an online eCommerce store?
There's nothing better than counting on some of given below responsive eCommerce WordPress themes.
1 – Alpha Store
Alpha Store is a fast and responsive theme that is developed on CSS3 and BootStrap and supports WooCommerce.
This theme also acts as a live customiser, and even the beginners can perform the customisations on their online store as no technical skills are required.
If you want to ease your efforts, then you can integrate Alpha Store theme with the plugin named as SiteOrigin Page Builder.
This plugin enables you to create anything that you would like to add in your website by just drag and drop.
If we talk about features, then Alpha Store is the best and free theme that is packed with a wide array of features.
You can add social share buttons on your site, customise the WooCommerce codes, and also offers you a choice of adding the additional menu in the sidebar whether left or right.
However, you must download the plugins related to WooCommerce like Wishlist, product, and more to get them added on your online eCommerce store.
2 – ShopKeeper: Flexible WordPress Theme
The ShopKeeper is the one theme that comes with distinct demo layouts and templates that can be enabled with a single click.
Furthermore, this theme helps you run your store smoothly and instantly without much of efforts.
For instance, in the shopping settings, it enables you to hide or show the sidebar, control the number of products displayed in a single row, and customise the way a specific or every product to be displayed.
The ShopKeeper theme is the best theme to keep the customers satisfied, get the praise for offering them flexibility, and keeping them as your priority.
3 – Flatsome: Multipurpose Theme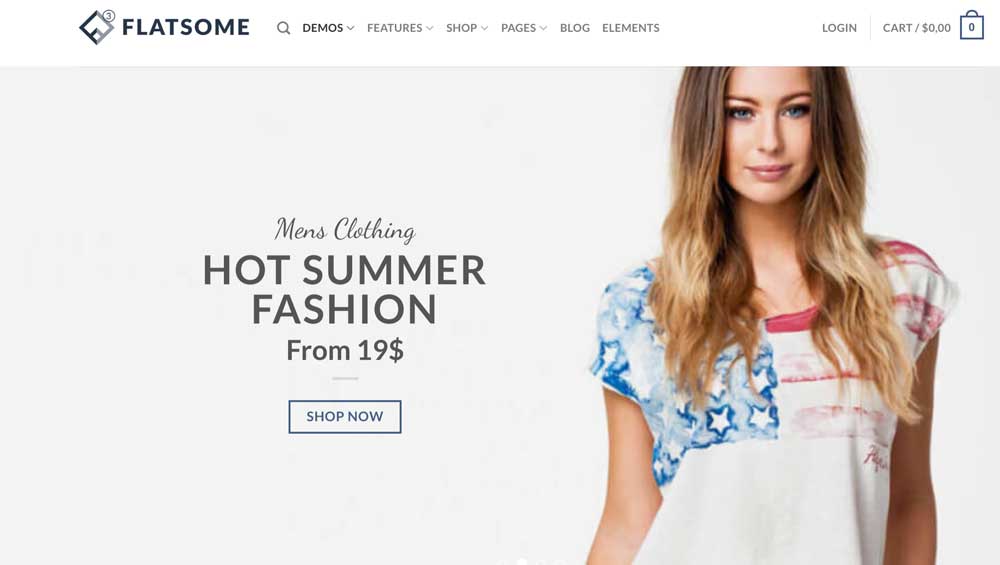 If you are in search of WordPress theme packed full with a variety of features, then look no further as Flatsome is here.
This theme enables you to create a responsive, modern, and appealing design, further boosting the visitors and turning them to potential customers.
Moreover, it offers a drag-and-drop page builder feature, catalogue mode, built-in-wishlist, and much more to enhance user experience.
Besides all these, you will thank for the account pages that allows the customers to track their orders and previous purchases.
4 – Porto: Customisable eCommerce WordPress Theme
Porto is a WordPress theme that is easy-to-use, customizable, and perfect for every business and eCommerce website.
The best thing about this theme is that it is optimised for faster loading and comes with 30 homepage layouts.
Some of the essential features Porto offers are:
Catalogue Mode
Unlimited layouts and colours
Demo content
Web Fonts
Social share buttons on products pages
Newsletter and Contact forms
5 – Flash: Multipurpose WordPress Theme
One of the best WordPress web development themes that have gained huge popularity in 2018 with more than 20,000 downloads is Flash.
Flash theme is combined with Toolkit Plugins, SiteOrigin Page Builder that helps in building a complete online store.
Site Page Builder allows the users to create web pages using the drag-and-drop method.
Whereas, the Toolkit Plugins is there to offer you around 12 widgets that you can use to enhance the appearance of your eCommerce site.
Furthermore, the free version of Flash theme offers stunning demo choices, tons of layouts, Google fonts support, and much more.
So, whenever looking for a WordPress theme, the one outstanding that you must opt is Flash.
6 – Max Store
From beginners to highly experienced developers, Max Store is a theme that is easy-to-use and comes with stunning appearance and customisable features.
No matter what type of business you own, MaxStore will meet all your needs.
The site's product categories are animated, which makes the appearance of goods and products more smooth and stylish.
This theme also comes with additional customisable features if you want to upgrade the site or enhance its looks.
The best thing about Max Store theme is that no matter how many widgets you use or place additional features, the website will remain responsive.
Moreover, choosing this theme could be a great choice as it supports the Yoast SEO plugin that helps to rank the site on Google search results.
7 – Hestia: Multipurpose WordPress Theme
One of the one-page stylish WordPress themes that are perfect for every type of business is Hestia.
Hestia theme, deeply integrated with WooCommerce, comes with a sleek design that helps in building the websites that can stand out in the crowd and drive more and more visitors on your site.
The biggest advantage of Hestia theme is its live customiser feature.
This sleek designed theme makes it super easy to modify or edit the variety of designs or elements used in the website in real time.
Also, Hestia offers a wide range of plugins and page builders for the ones who love designing.
Some of the features Hestia comes with includes tons of layouts, mega menus, fonts & icons, and much more.
Other than these, Hestia enables you to customise the backgrounds, colour schemes, and more as per your needs.
If we talk about the Hestia's best part, then it is capable of optimising the site speed and compressing the rich features so that your website performs well and provides a great user experience.
8 – eStore
Another compelling and appealing WordPress eCommerce site is eStore.
This theme is free but still is packed with tons of captivating and exciting features that can enhance the working and appearance of your website.
You'll be shocked to know that there are 10,000+ of websites that rely on the eStore theme and trusts it.
When it comes about customisation, then eStore is not behind other sites.
It is also highly customisable and brings you three custom menu locations in the right and left sidebar.
Furthermore, the free version of the eStore theme offers four different layouts that are very easy to implement and customise without much need for efforts.
One more interesting thing about this theme is that it lets you customise your category colours by which you can label the different colours with distinct goods categories.
9 – StoreFront
StoreFront is the best WooCommerce creator theme that comes already developed, and you just need to start selling your goods.
The best part you'll love about StoreFront theme is the way it showcases your products in front of the audience.
It allows your website users to navigate the products with ease and show the various colours and sizes of goods without any hassles.
Besides all these, the StoreFront theme also offers some colour scheme options that help you build your own store using distinct layouts, widgets.
Moreover, people who love coding are also offered with custom code features to add additional functionalities.
Final Conclusion
Finding a perfect and feature-packed theme becomes more daunting when you are available with a wide array of choices.
There are plenty of options, but what comes first is the comfort and satisfaction.
Researching on your own can help you find many WordPress themes that will suit your business and website requirements.
However, what if you are unable to finalise the best theme for designing your website?
Don't panic and count on these themes to choose the one that can satisfy your needs.
However, you can also seek the guidance of WordPress theme development experts too if you are not satisfied with the free themes or want something more exciting as engaging for your online store. Good Luck!
Author Bio: Ravi Sharma is a young and energetic entrepreneur who has shown intense dedication in delivering WordPress website development service through his brand, Webomaze. He has a great direction on the idea of WordPress development meeting the business goals as well as aligning a website with a search engine's perspective. He is a fun-loving person and loves to explore adventure by visiting different places.