Digital Advertising in 2021: Maximising Your ROI
As 2020 finally draws to an end, it's vital for marketing managers to think about how their brands can remain competitive and get ahead in the new year. 
The Covid-19 pandemic has altered consumer behaviour, putting more pressure on the already rapidly changing digital media landscape, and forcing businesses to adapt almost overnight.  
Has your brand been keeping up?
No matter what line of business you're in, you must prepare to put your best digital foot forward. 
In 2021, digital advertising is not about spending more but spending smarter. 
By taking steps now to identify how you can improve the return on your digital advertising investment, you'll be better placed to adapt and respond to whatever 2021 brings.
Follow these tips to ensure you maximise the reach and impact of your digital advertising efforts and make your ad budget work harder and go further in the year ahead.
Looking Back on 2020
What insights can we take from 2020 to inform our digital advertising decisions in 2021?
"90% of consumers read online reviews before visiting a business" – BrightLocal
"47% of buyers looked at 3-5 pieces of content before contacting a sales representative" – HubSpot
"In the last ten years, global GDP has grown by 3-6% every year". – World Economic Forum
"Across social channels, photo and imagery posts are the most-used content type to increase audience engagement" – HubSpot
"52% of people who search by voice are interested in receiving info about deals, sales, and promotions from brand" – DialogTEch
These are just a few essential statistics that enabled a better perspective on what to expect for the forthcoming times. 
What's important to know is that these surveys and data have not taken into account the soon-to-come pandemic that impacted the way we do business, and how the enterprises affect our personal lives. 
While we cannot know what will change in certainty, we can use the data and leverage that to get better forecasting. 
As we've seen constant growth in the use of AI, fintech and martech solutions, software automation, online advertising, there's no question that the new standard will make an even more significant impact as we dive into 2021.
Digital Advertising Dominates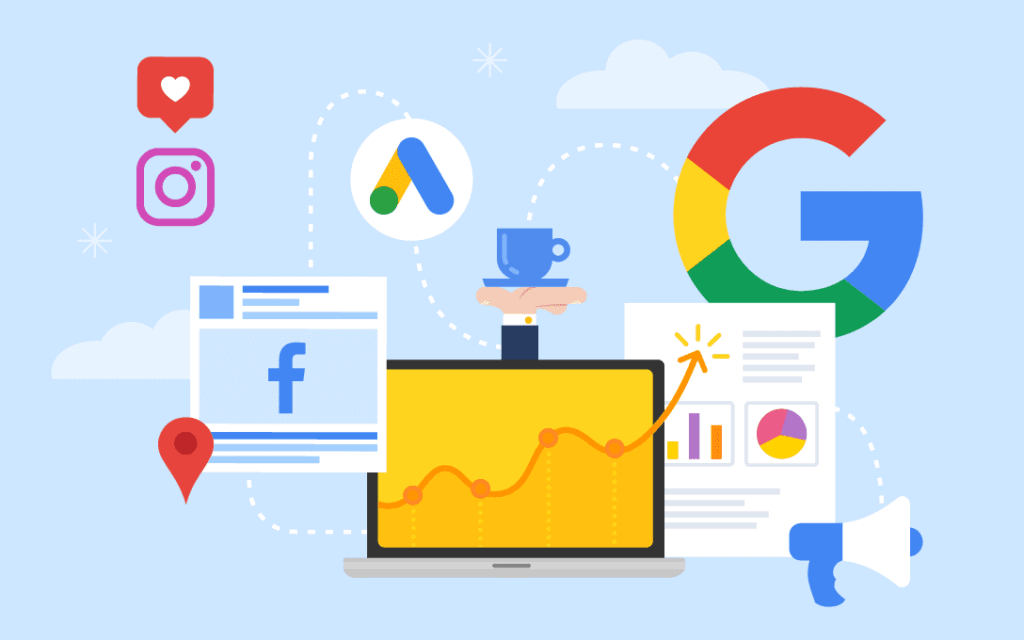 By the end of 2020, digital advertising is expected to grow by 8.2% to make up a total of 66% of advertising globally. 
In contrast, all forms of out-of-home advertising—including digital OOH—are expected to decline. 
While these trends were already well established, they've been accelerated thanks to various national lockdown measures and restrictions that have kept people at home and in front of screens. 
We're unlikely to see print and other offline media gain back any share in 2021.
This increased focus and spend on the digital ad space will increase the competition for consumers' attention, and accordingly, the associated costs, as brands compete harder for the attention of consumers. 
This, in turn, makes the need to get more bang for your buck even more pressing.
Ecommerce Became a Lifeline For Consumers
The reduced time spent in public spaces, together with restrictions across many countries in retail and hospitality sectors, has prompted even more people to embrace eCommerce. 
In place of brick and mortar shopping, many are opting to do their shopping online. 
Through the year, 53% of consumers have discovered at least one form of online shopping that they plan to continue using, and even those who had previously resisted adopting the not-so-new technology have now put their fears aside for the sake of convenience and accessibility. 
More people than ever began working from home, too, with workplaces adopting full or hybrid models of remote work. 
This extra time at home (and spare time to browse) had people searching online marketplaces for goods and necessities they'd usually buy in person or not at all. 
Especially during the COVID-19 breakdown, we're seeing these trends across the globe, across all channels and some of the latest reports point out on the grocery shopping statistics that are sure to become a new normal.
Video Content is on the Rise
Britons' consumption of online video and streaming content surged by almost a third during 2020, with the boost in screen time holding steady even when lockdown restrictions were eased. 
People are spending more time than ever looking at screens and devices, and embracing video-based social media channels like TikTok, which saw a whopping 58% increase in downloads Q1 of 2020 compared to the previous quarter. 
Any platform that keeps an audience's attention makes for a valuable advertising opportunity, and with video content proliferating it's high time to jump on board. 
And without any questions asked, keeping in mind that video is favourite consumable having 1200% more likely to be shared on social media, as opposed to text and imagery combined. 
It's pretty safe to presume that we'll be having a lot of video-centric apps and integrations supporting this type of content. 
Considering that over 85% of consumers expect from their brands for more content, the state of the obvious dictates the rules that brands of all sizes will have to comply with.
Consumers Want Authenticity
As the world continues to push through uncertain times, consumers are looking to brands for helpful, realistic, and sensitive messages that are context-appropriate. Brands that can lead with authenticity can achieve continued loyalty and relevance in the lives of their customers and ultimately gain a competitive edge. 
Putting effort and resources into listening to and understanding your customers' needs and values, and focusing on how your brand can respond with empathy to the ever-changing moods and contexts within the digital spaces into which you place your brand will ensure you have a more significant and more meaningful impact. 
The flexibility that digital advertising allows is essential for a brand's ability to adapt and modify when appropriate.
These 2020 highlights indicate that to get the best results from your advertising budget, you need to continue to invest in digital advertising, you need to invest in video, and you need to be ready to cut through the noise more than ever before with an authentic, purposeful message.
Optimising Your Digital Advertising for ROI in 2021
Consider these further tips for optimising your digital advertising and making the most of your ad spend.
Invest in the Best Creative
When focusing exclusively on ROI, one of the first things that can suffer is creative quality. 
Excellent design, visuals, copy, chatbot apps, and audio can all be significant drivers of advertising success, but only when they're done well. 
If you're only focusing on profit, it's easy to forget the importance of the quality of the media you're putting behind your brand and opt for the lowest cost creative to minimise outlay and stretch the budget as far as it will go.
Instead, maximise your ROI by backing your campaigns with the most potent creative that not only aligns with your brand and your message, but that delights and resonates with your audience, moving them to act or take the next step in your sales funnel. 
Rather than leaving creative elements to the last minute, or dumping the task on someone who lacks the expertise, enlist the help of professionals to work with you in getting it just right.
It can't be stressed enough, so we'll repeat it—make sure to incorporate video content into your strategy to capitalise on the rapid rise and high impact of video. 
84% of consumers say that watching a brand video has inspired them to make a purchase, and most marketers report seeing a significant ROI for online video. 
This may mean you need to invest additionally in an agency or in-house talent, new equipment, or in upskilling your team. 
For every buck spent on advertising budget, marketers report at least 3× returns, whereas video-referred are on the top of the investments. 
With that in mind, if you lack the expertise in your team, make sure to outsource an agency to make the most of your campaigns and make sure your brand doesn't get neglected by the lack of content.
Test and Retest. Then, Test Again
When managing a tight ad budget, it's tempting to skip out on the process of testing campaigns before they go live. 
Sure, you may feel like you know your audience and can afford to go on intuition, and perhaps you've indeed had some success that way. 
But the risk of getting it wrong, throwing money to the wind and potentially damaging your brand is not worth it.
Testing a range of variables before you sign off on a digital advertising campaign allows you to see how strong an ad's performance will be, whether it could be optimised further, and to make changes accordingly. 
It ensures you can set your campaign up with the best possible chance of hitting your ROI goals. 
With many cost-effective solutions available, new technologies, and free online studies available, there is no excuse not to run tests, and you'll find that you learn invaluable lessons about your brand and your customers in the process. 
In the end, experimentations are all part of the process, necessary to learn more and implement this knowledge to further optimising the overall business performance.
Use Advanced Brand Tracking to Make Smarter Choices and Monitor Your Impact
As digital advertising continues to grow, and online spaces become saturated, it's more important than ever that your ads are efficient. 
It's all too common for brand owners or marketing managers to make advertising decisions based on anecdotal evidence or personal opinion about how your brand is perceived. 
In doing this, you risk missing ample opportunities and wasting budget spent on channels, audiences, and tactics that aren't right for your brand.
Gathering and analysing information allows you to measure the impact of your ad spend and make better, informed decisions based on sound and robust data about the health and performance of your brand. 
With the right insights, you can learn how your brand is likely to perform and be perceived by a range of unique audiences and make digital choices that fit with your long-term brand vision. 
Why leave your digital advertising efforts to chance when there are advanced, easy-to-use tools available to help you make objective decisions and accurately measure the impact of your ad spend? 
Having the right information at hand can help you understand your brand and give you a valuable advantage for future CRO. 
Data-driven brand performance, audience segmentation, identifying the right metrics, customer journey and finding all the pain points within your sales funnel – can we afford not using this data to get connected with our target audiences?
What Else Lies Ahead?
It's an exciting time for marketing managers. 
In addition to the continued rise of video in general, we can expect to see many more trends and innovations in the digital ad landscape, such as a more significant focus on AI. 
More opportunities in in-game advertising, ad-funded video on demand (AVOD – as distinct from SVOD, or subscription video on demand), and more creation of active mobile ad features such as branded filters (already available on some platforms such as Snapchat and Instagram).
As digital advertising experts seek better ways to customise and personalise targeted advertising, the key to making the most of new ad technologies is to understand your brand and your audiences so thoroughly that you're always prepared with scalable insights. 
Equipped with the right knowledge, you'll be able to reap the rewards of strategic digital advertising decisions and maximise your ROI. 
Strategy, planning, the right and timely decisions, testing and identifying brand funnel bottlenecks, audience sentiment analyses, will all become more critical than ever.
It's becoming both challenging and thrilling time for all marketers and decision-makers for laying these foundations properly to enhance customer experience, lead generation, sales, and overall brand placement.
Digital advertising is here to stay and consistently growing in dominating the online space, how we implement our brand voice further will be the main factor in building relationships.
Learn more about how you can use brand tracking software to get the best bang for your buck in digital advertising in 2021.