Top 10 Tips for Creative And Authentic Designs
People who dare to make up their mind to build a unique design surrounding their company or project become successful at the end of the day. 
Look, who doesn't prefer a creative and authentic mindful person? Everyone, right? That's the thing. I can hear what you said on your own. 
Creativity is the word that replicates every imagination of your authenticity. And if you feel like you're not creative enough, you're growing with a wrong perception. 
All you have to do is train your brain to think creatively and sequentially turn your imagination into reality.
Bestseller No. 1
Unique thoughts generate different types of silly yet vital ideas, and one of those ideas becomes an authentic asset. That being said, this is how you accomplish your project, and that becomes creative and authentic. 
And this project could be about design, Strategy, Inventing, research, Action, Building elements, or maybe something else that is countless. 
So, here's the first and most crucial point to start with – the creative and authentic design building concepts.
1 – Better Understanding Of Your Brand
You may have hundreds of brands or projects surrounding your company. But do you know what your brand stands for? 
If you already know, please disregard; otherwise, go on to learn about the process of discovering and comprehending your brand. 
This is everything you will need first to create a creative and authentic design. But, on the other hand, an eye-catching logo can help you to brand your business. 
This is what I think is the most notable fact in all business industries.
You've heard of the term "Common Noun," right? A Common Noun is a term that refers to something's general name, such as a person, location, or item. 
When determining a brand, you think of the general name of an object, such as a company or a specific item and project.
Let's take a look at a real-world example. Consider a business that offers picture editing, videography, 3D design, and graphic design services. 
Now, tell me what this company's speciality is or what does this company stand for?
As I previously stated, your business service must have a universal term. It would be best if you also discovered the popular term that characterises your brand. 
Here the common term is "Post-Production." And, on occasion, you may wonder what the organisation offers to its customers. "Service" is the solution. 
And if you connect these two words, you'll obtain the specific speciality of your business. 
Now I can say, this is a Post-Production Service company. Suppose you operate a website where you upload numerous articles on how to, entertainment, technology, and science. 
Consider the common term that describes the preceding words. So, you can clearly say that your niche is "Blogging", and your business stands for blog content.
After research, you must focus on your design, visuals, product photo improvement, logo, or something else. If you feel like it doesn't reflect my company's niche or goal, it won't attract customers. 
Your design may look creative, but that wouldn't be authentic. Remember, having a lack of irrelevance on your design can negatively impact your brand awareness. So before starting your design, I highly recommend you understand your business and brand first.
2 – Brainstorming
What is brainstorming exactly? Brainstorming is a group creativity technique by which efforts are made to conclude a specific problem by gathering a list of ideas contributed by its members (source: Wikipedia). 
It's similar to team-working. But brainstorming is much more equivalent to team-working.  
In other words, here, everyone gets the equality to share their ideas amongst the group. And everyone can generate various types of ideas. 
All team members get a pack of sticky notes, and then they write down their ideas on paper; after the brainstorming session, the ideas are evaluated.
This same thing you can apply to make a creative and authentic design for your branding. Remember, you won't be able to generate multiple ideas very quickly. 
It's possible, but everyone's mind works and thinks quite differently. That's why when you will get to sit down and start doing this brainstorming, you and your team will come up with various unique ideas. 
After the session, the most relevant and authentic idea will be considered as an acceptable one. So, start following this technique to have a creative and authentic design. 
3 – Linking Character or Objects
Linking characters or objects plays an important role when it comes to creating a creative and authentic design. But, umm, let's break the ice. 
Suppose you have an organisation that refers to fitness. Now it's your or your team's responsibility to create a design for your brand. 
In this case, people always try to find out the brand identity by looking at its logo. So it's crucial to figure out a character or object that represents your business standing. 
The 3 images above are an example of a fitness organisation. The first two images refer to the character logo designs. And the last one is an object logo design. I hope that now it'll be easy for you to get it.
First of all, choose the character that refers to your organisation. For example, in fitness, your character should look very strong with a proper physique so that people can get to know the quality of your brand. 
As always, remember that picking colour also plays an important role. For example, the first two images have a red-circle shape. And you know what? This is a brilliant and creative way to spread the physiological side of your brand. 
The colour Red refers to energy, power, excitement, passion, and desire. Now you can clearly understand what this is all about. Pretty interesting, right? Start doing this from now. Then, move on to the next one.
The 3rd image has four types of logos. These four logos mean the same thing but in a different way. 
But here's what you've to think about. What are the requirements to get started with physical exercise, or what's the thing that everything is fond of? 
That's why you have to create an object with those gym exercise tools so that people can understand the message that you're trying to give. This is how you can easily create a very creative and authentic logo. 
4 – Brand Style
The classification of brand style is kind of a versatile thing. But, it's not that difficult to identify a brand style. 
A brand style is a structure that outlines how a company presents itself to the public through its logo, font and colour choices, photography, and other elements.
You've probably heard of front-end development. The appearance of a website or application is referred to as the front-end. The notion of Brand Style is simple to grasp.
Its brand style defines a company's perspective structure. It is the culmination of all we do to develop a business. And the things we utilise to construct a corporation are related to its brand style. This is analogous to comparing a sound by using the word vibe. 
For example, the website Wikipedia is widely known as a great resource of something valuable for people to know about. And, if you look at the website's design, you'll notice that it has a classic vibe to it, right?
On the other hand, if you visit Hubspot's official website, you'll notice that it has a more modern feel to it. 
So far, a company's brand style is determined by its brand narrative, logo, colour scheme, typography, imagery, videos, and voices. 
However, if you're ready to start developing something innovative and natural, you must stick to the aspects listed above to stand out with your business style. 
Remember that brand style is always vital when it comes to imprinting memory in the minds of your customers and audience.
5 – Generating Typography
Whatever you design, if there is text, then Typography plays a vital role. It helps to give an authentic look to your design. 
So, why is it important? And what does Typography mean? Let's break it down.
Your design may have text. What if people can't understand the text clearly because of its base arrangement. This is when Typography comes in. Constructively, there are six parts of typography. 
Font Family
Font Types
Font Style
Font Size
Font Colour
White Spacing 
Selecting a font and choosing the colour of the text is a very notable thing. You must maintain the relevancy between the design background and the brand style.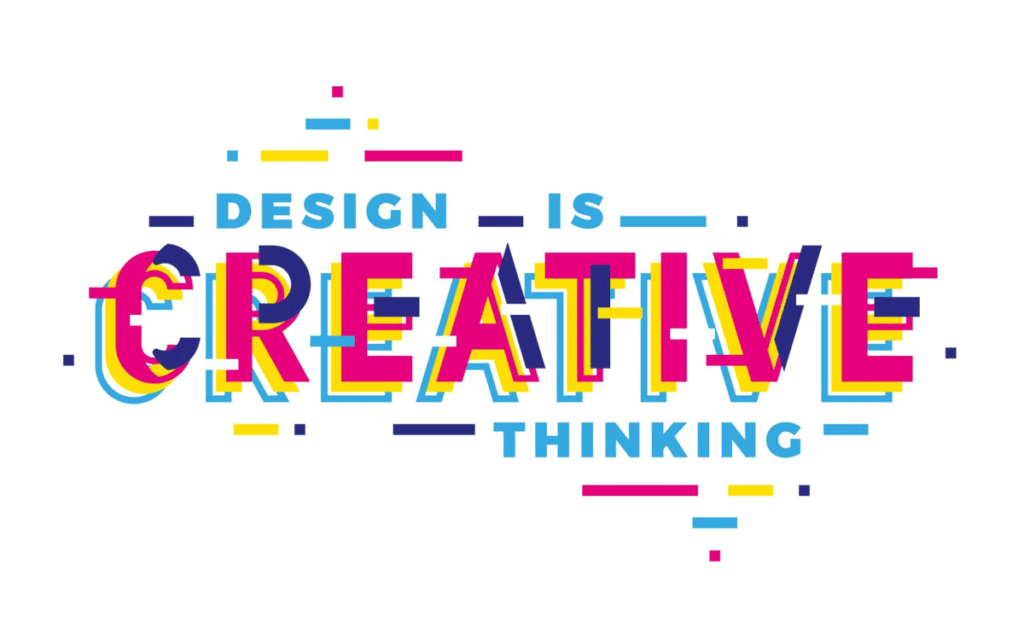 You can take a look at the above picture that you can take as an example. After that, maintain the text size. Your design may have little text. Like above design has four elements ( Design, Is, Creative & Thinking ). 
6 – Replicating Customer's Interest For The Next Step
Anybody who exhibits an interest in something wants to spread the word on behalf of an organisation that helps in the rapid and significant business growth. 
That is why a business must determine the interest of its potential consumers. Try to include their enthusiasm for your design when you consider your clients and do anything to keep them interested in your company's service or products.
Suppose you have an eCommerce business. You sell various types of products in your online store. And your team may want to create a campaign for promoting your business. 
Then you must identify what types of products are being sold over the last month, not years. It's a good practice to analyse data on the latest activities. 
After that, choose those products and merge those properly. Now, what would be the background colour of the product image? The colour itself colours a company's image to everyone. So you can check that out. Ok, after choosing the right colour, you have to add some extra elements to the design.
What can be those elements? It can be an event's name, statistics, services or product's substance, consequence icon, company logo, social logo, lighting, transparent elements, and so on to give that a creative and authentic look. I'll talk about it more deeply in the next section.
7 – Take Design Ideas From Your Audience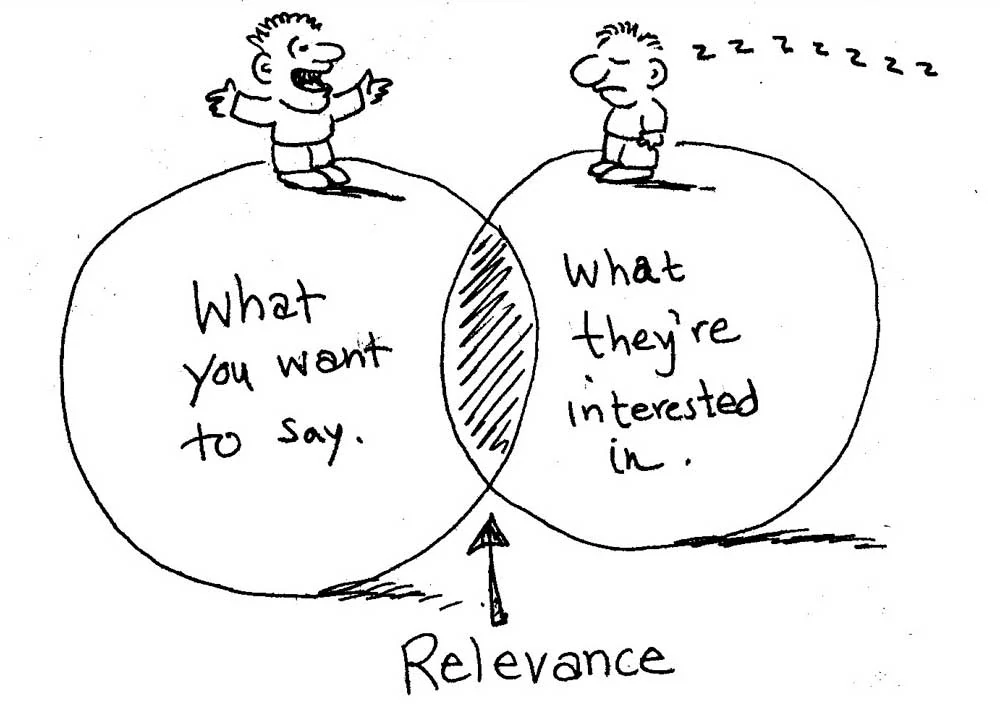 Globalisation saves our valuable time and helps to build connections across the world. And all the social media platforms become a powerful source to show our presence in this globalisation. 
That's why I've listed this section for researching purposes and acquiring knowledge from people worldwide. 
It's hard for you to read your audience's mind in general. But you can do this if you follow the well-known tricks below:
Creating Polls
Giveaway Systems
Creating Polls
Create a poll in which you will ask your questions to the audience to understand their thoughts on your project. 
For instance, suppose you wish to change your company's logo. It is increasingly more important to understand the many sorts of viewpoints expressed by your audience. 
You are aware of which logo colour or design best suits you. However, you can confirm this by just asking your followers. You can't come up with fresh ideas spontaneously. So then, construct a pool in which everyone may provide their opinion and vote on their behalf. 
That is how you will obtain additional ideas, which means that you will awaken your mind to create numerous creative design forms. 
And you don't need to be afraid of feeling frustrated after doing the design because you did the design according to your audience's opinion. So, they'll love that for sure.
Giveaway Systems
People love to receive rewards that encourage them to participate. You can create a contest where people will join to share their ideas. And the one who will come up with an incredible idea, you will give him/her the rewards. 
As well as do a winner's billboard using his/her picture to encourage them for a future giveaway. This is how you can quickly generate creative and authentic design ideas for free using your social media platforms. 
But the question is which social media platform would be great to get started with. OK. Then here's my recommended social media platforms:
Twitter 
Linkedin
Instagram
Facebook
Using a Website Blog Post 
So, don't think twice; start doing this and take advantage of social media platforms now.
8 – Use Sketching Tools and Try to Draw Your Ideas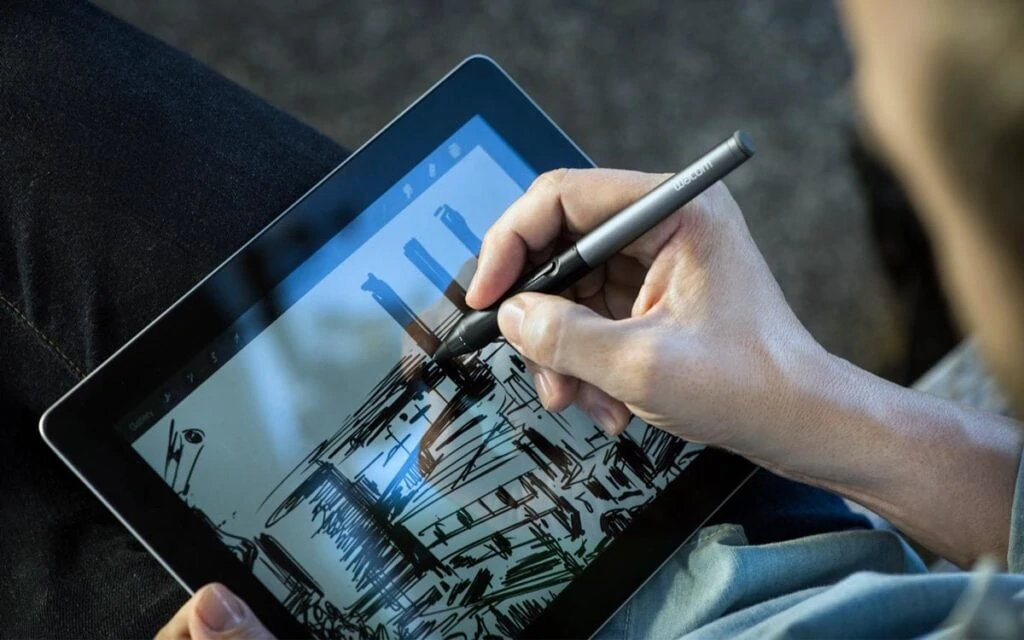 Creativity comes out when you begin to experiment with your thinking. This is why you need a sound mind environment to begin experimenting with your ideas. 
Sketching is not mandatory, but it's a very effective way to express your imagination into realism. This technique is pretty much useful for graphic designers. Although there are various types of graphic design, you can easily use this traditional technique to replicate your imagination. 
Okay, now, get back to the topic. First, make sure that you have every sketching tool beside you required for your project because the absence of any of these instruments might disrupt your activities and working stamina.
Another crucial aspect is the "Time-Breaking" restrictions. 
Everyone has different perspectives on the rules. But there is one item I would want to share with you. Please don't draw for lengthy amounts of time at a time. You require a break in between work periods. 
It helps to freshen your thoughts and progressively develop more innovative thoughts.
After you've prepared yourself, you'll pick a piece of paper and begin sketching whatever comes to mind. 
Don't become engrossed in just one item. Every time you start sketching a new one, change your point and angle of view.
Pinterest is a designer's best friend. So, whatever you intend to accomplish, make sure you do a Pinterest search on the topic. 
It's a powerful visual search engine that classifies your words and displays related concepts to visitors. So, instead of being asleep, keep looking for fresh ideas and creating something on your own with the drawing tools. 
And the majority of well-known creative designers always focus on doing things in real life before turning them into creative design digitally. As a result, when it comes to doing any professional assignment, preprocessing always comes first.
9 – Weird Thoughts To Iconic Design Thinking
Believe it or not, the most innovative things have been invented on this planet by thinking weird ideas. For example, even in our wildest thoughts, flying in the skies seemed impossible. 
But look at today's technology how it has become so easy for us to make our dreams come true. So, don't think about the ending; think about the beginning. 
Create something that people may find ridiculous but creative and authentic. That's the thing. When you're generating something that doesn't have its weight to others, then that's useless. 
Look, if you made something unusual, but people adore it, then obviously, it's a good sign for your design to get recognised even more. So make sure that you're giving the right message to your audience through your design.  
Okay, now let's take an example of it. Look at the pictures below.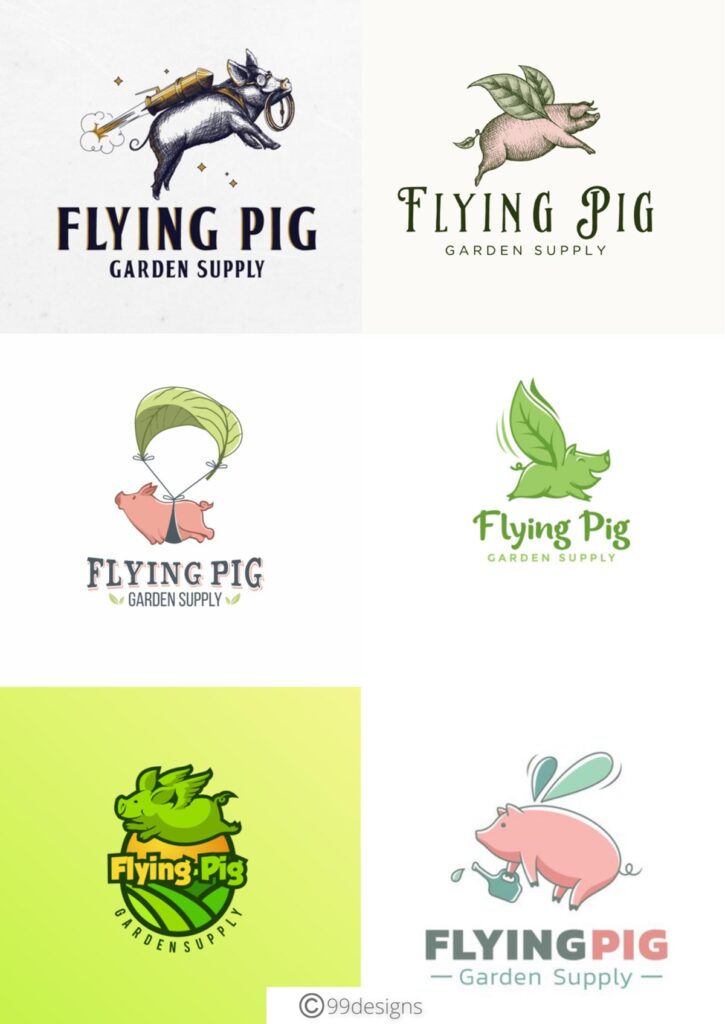 A few creative graphic designers attended a Logo Design contest on 99designs. They all did a pretty good job, but the first one won the contest. 
So, the task was to create a logo that describes "Flying Pig Garden Supply ". If you focus on each logo concept, you can figure out they did something unrealistic, which is weird, but that makes sense. That's my point here. 
When you're trying to design a logo, then think about what made this funny but authentic at the same time. Then, you'll be able to implement your thoughts successfully. 
However, what if they didn't instruct them by giving the tagline of the logo Flying Pig. You would find much more creativity in their logos. 
Now you can guess what I said earlier was right. First of all, find out your niche and understand the tagline of your company. 
If you can generate multiple taglines with relevance, your mind will generate many more ideas that you didn't even think about. 
First of all, comment below what was your reaction after looking at the PIC-2. Doesn't it feel weird? Isn't it giving you a funny vibe? Yeah, it does. 
You won't forget this logo for sure after seeing this type of logo. 
The brand BananaHeel themselves made their brand name funny to generate a unique brand logo, and people will love to share the logo across social media platforms. 
This is called U.G.C. or User Generated Content. This is what helps a business to proliferate online. 
So before opening your company, you can generate a brand name that can be considered an exciting and interesting business name. 
So it's not like you have to join the two things to create one thing. You have to generate several concepts to make one. And you can do the same thing to your brand name selection. Unite your team and start exploring ideas.
10 – Be A Neutralist & Scrutineer
Once you've completed your design project, it's time to be objective and begin evaluating it on your own. So, here's what you need to do to assess your design and choose the final version.
Be a neutralist. 
Judge based on your design concept, creativity, story, relevance, business aspects and authenticity.
Ask questions by putting yourself in other [Targeted Audience] shoes.
Use the C.R.A.P. method. (Contrast; Repetition; Alignment and proximity)
Pay attention to all of the schemes.
Find emphasis & lackings.
Technical factors
I feel like it's better not to talk too much in detail about this follow-up in this blog post because it's already a long article. 
But we'll come up with the second series of this article, where we'll cover almost everything related to creative design. So, hopefully, you'll keep in touch with us. Ok, let's get back to the point. 
We are capable of being versatile individuals, right? As a result, anytime we are finishing a design, we must be neutralists and ponder adaptability. 
It does not instil any misunderstanding in our minds, and continuing to do so allows us to make more accurate judgments. 
Second, make a decision based on all aspects of your design. What factors you've employed and what you can do to improve the aspects are. 
Put yourself in the shoes of other people to compare a design's good and bad elements. This is what helps to solve about 30% of the misunderstanding and twist. 
Following the C.R.A.P. technique, on the other hand, is a clever technique to scrutinise a design. Examine the contrast between your design elements. Examine your design's alignments as well. 
If everything is in order, check to see if there is any repeat of your elements. This is what makes your design so disorganised. 
Keep an eye on those issues. Pay close attention to all of your design's schemes, such as uses of typography, paying attention to colour, images, messages and other aspects.
Finding emphasis, deficiencies, and technical factors, on the other hand, is always crucial. 
Check to see if your design has a powerful message or if any pieces are missing. What about technical factors? 
Technical expertise should help you create a well-structured assessment that finds concrete areas for improvement in your own or others' activities. 
It is worth considering technical and physical printing systems. It would help if you considered it since you may require actual physical copies of your design. 
Does that appear to be difficult? No. Once you're familiar with it, you'll be able to complete all of these tasks efficiently.
Thank you very much for taking the time to read this article. 
Hopefully, we'll develop part 2 of this guide, which will be far more detailed and will introduce you to more unique ideas for creating creative and authentic designs. Till then, stay careful and have a good day.
Last update on 2022-10-03 / Affiliate links / Images from Amazon Product Advertising API