What is a Brand Board and Do You Need One?
Accelerating the process of diversifying your business brand is not an easy thing. However, enhancing consistency in your business brand plays a crucial role in elevating your business from one level to the next.
Visuals cover a central role whenever you talk of your business brand. The good thing about using visuals to diversify your company brand is the easiest way of processing complex business information to public members.
To create impeccable visuals for your company brand, you need to create a brand board that will serve the entire purpose of visualisation. The issue is that most company owners do not know how to create a brand board for their companies.
What is a Brand Board?
This refers to a simple and powerful arrangement of your business's essential visual branding elements such as logos, colours, fonts, and many more. The branding board is mainly referred to when discussing a specific business brand.
It is evident that when a business has a unique identity, it can be easily recognised despite the flooded industry. The visuals of a given business brand act as the humanisers of the brand, attracting potential clients from different corners of the industry.
Learning how to create a brand board, whether for your business or your client, incorporates a variety of steps and processes that you need to comprehend fully. This article breaks down the entire process giving you the simplest way of creating yours!
Essential Elements of a Brand Board
Developing a branding board from scratch is vital if you have some basic skills as a designer. You need to begin the process by collecting some basic graphics and visual elements that you will use to get the job done. You need to put the elements on one page to enhance accessibility.
Depending on the type of branding project you want to execute, there are many variations about what you need to incorporate in your brand board. Let's have a deep look at the common elements of your brand board.
1 – Logo and Variations
It is uncommon to get away with just a single version of your business logo design in the current business world. The business logo is used in different applications, such as website headers.
Sometimes, the logo is used horizontally and square to represent the business's presence. Most small business owners find it complicated to place their logo, thus calling for redesigning to suit their needs.
To be safer, you need to create your business logo in one colour to avoid variation. When you use a single colour in your business logo, you can easily find low-cost printing, saving you from spending much money on the process.
In most cases, the problem comes when you want to include text at the top of your graphic element and use different colours. Sometimes, they turn back into fantastic and full technicolour, or sometimes they change into ink blobs.
2 – Colour Palette
It would be best if you came up with a solid colour palette that reinforces the vibe of your business. Note that the colour you choose mainly depends on the type of business brand you are running.
If running a feminine business brand, go for the pastel colour to bring out some romance. When it is a corporate agency, you need to go for bold or dark colours to bring out the intensity of the organisation in the industry.
Remember that your colour choice should remain consistent across all the things to do with your business.
If you are creating a brand board for your client, it is crucial to incorporate hex codes for the colours to enhance professionalism and make it easier in case the colours are needed. After completing the work, you might also opt to provide the CMYK and the RGB values.
3 – Fonts
When creating a branding board, you need to be highly sensitive to the choice of fonts. Note that the font you choose represents the visual identity of your business or the client. The fonts you choose can either make or destroy the business brand.
The script fonts are mainly used when dealing with a feminine brand. When operating a modern business or organisation, you need to apply the chunky sans serif font. Whatever the type of font you choose, you need to include all the font names.
After you have completed designing the brand board, you need to understand the type of font to use in the paragraphs. If you have been doing the work for your client, remember to inform them about the best font type to use when creating content.
4 – Icons and Brand Elements
The icons and brand elements play a crucial part in creating a brand board. These couple of elements play a critical role, especially if you want to maintain the business brand's specific style or appearance.
Note that the brand elements and icons are maintained across all the company graphics enhancing the brand identity. Most of these elements are usually pulled out of the official business logo.
They might include borders just the way they appear on the company logo. This helps display the existence of a particular business and helps prospects feel the business's presence.
5 – Sub Mark
A sub mark is one of the significant elements pulled from the primary business logo. Note that the sub mark is smaller than that in the primary logo. This element is used as a profile picture or a favicon in most cases.
This feature is crucial, especially for the brand with long business names. A sub mark is a good feature since it gives a simple alternative to the primary logo of a given business brand.
Besides, the sub mark can also be used as a watermark in the design of the branding template.
On most occasions, sub marks are created circularly. They are then perfectly placed at the corner of photos describing more about the business brand.
Besides, the sub mark usually presents the face of the business when included in the organisation visuals.
6 – Brand Anchors
Even though most designers neglect brand anchors when creating a brand board template, this element plays a vital chore in enhancing the brand identity. The brand anchors are adjectives, for example, that gives a short description of the business brand.
You only need to choose about two or three adjectives that offer a fair description of the brand. This is a fantastic idea that anchors your thoughts during the development of the branding board. It gives you a limited area to exploit depending on the business type.
When you search for patterns or stock photography for your business or client, you can easily use the adjectives to search for the respective elements to incorporate in the design. To enhance professionalism and excellent work, you need to incorporate this in your design.
Qualities of a Great Brand Board
Apart from acquiring all the skills required in creating a brand board, it is crucial to understand the qualities of an extraordinary brand mood board for your business.
A good brand board encapsulates the business brand in a unique style to bring out a clear identity of a given brand.
When prospects look at your brand board, they need to see, understand, and feel your brand's personality.
The style and values displayed on the brand board need to give self-explanation to the respective target audiences.
The brand board should present your business identity so that prospects can confidently identify your business across the online market. You can only achieve this by enhancing consistency and maintaining your brand's unique style.
How a Brand Board Helps Your Business?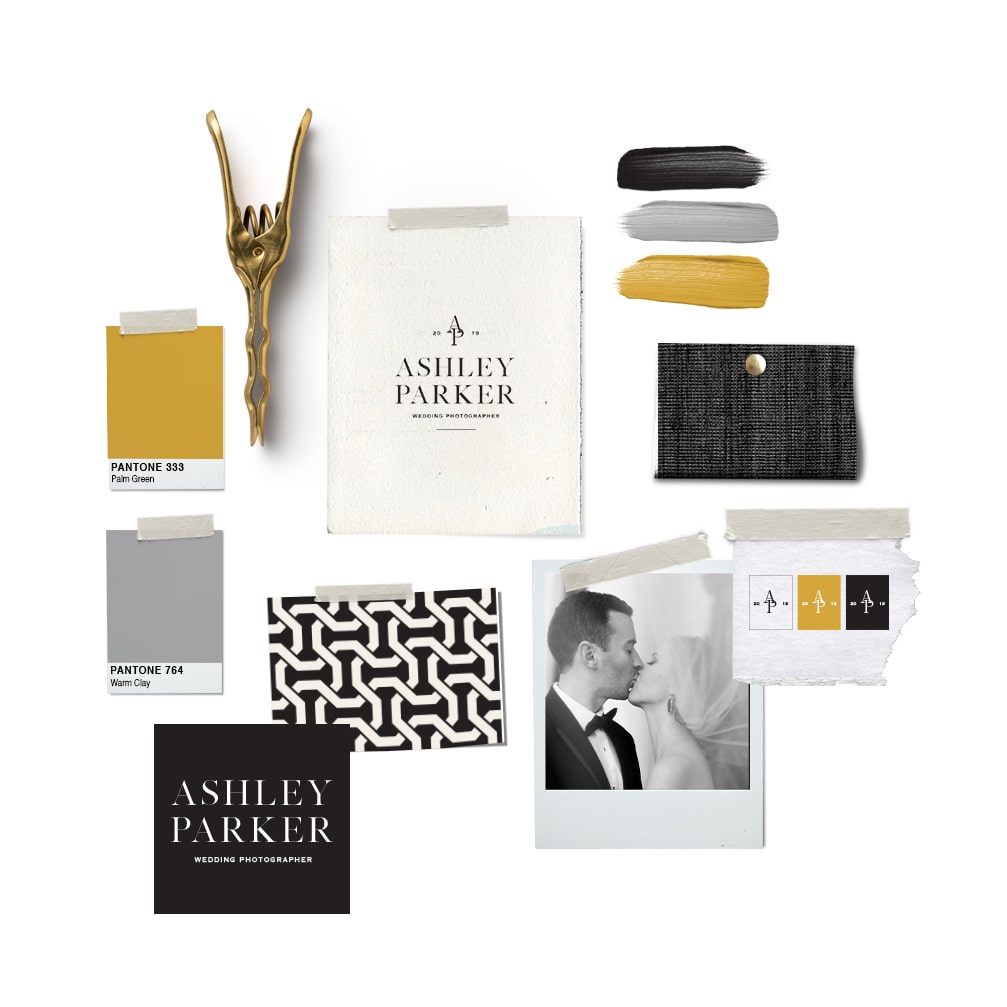 If your business brand offers a particular product or service, developing a brand board allows it to generate and combine visuals that attract potential customers across your target audience. It helps in differentiating your business from other brands flooded across the market.
A brand board is a modern method of connecting with potential consumers from a more profound and strategic point of view.
This feature helps consumers solve their problems and gives them a detailed guide that can help them eradicate issues facing their lives.
In addition, a brand board is considered a litmus test, especially during the creation of graphics to represent a given business brand.
Once you have designed visuals on different social media accounts for your business, you can post them on the brand board to evaluate their quality.
Given that your brand board incorporates a lot of playful patterns, light images, and pastel colours, you will get it easier to eliminate moody and dark social media graphics due to the nature of your business brand.
Note that all the graphics you design for your business accounts must be closely related to your brand board. You can acquire some compelling colours and patterns that you will use across all your business graphics to maintain your organisation's brand identity.
Apart from helping your business in terms of branding, creating a brand board helps an organisation to save money, human resources, and the time required to maintain a cohesive and consistent company brand in the long run.
Guidelines to Creating a Brand Board
All companies have established guidelines that manage the organisation's identity across different platforms. Let's look at some of these guidelines that play a critical role in creating a brand board.
1 – Use a Unified Resource for a Reference
Every developed business brand has operating guidelines that all the employees across the departments follow when doing anything related to graphics and the business identity.
When new members join the company, they need reference materials to understand how things are done.
The unified resource incorporates the ground rules for logo usage and the wordmarks that are used in the company graphics and other things related to identity. It may be a hierarchy of colours and fonts used by the company.
This helps avoid confusion, especially when new team members have joined you. A unified resource for reference enhances uniformity within the company setting and its identity across the target market.
2 – Minimise on Time Wastage
Using visuals to popularise the identity of your business brand plays a significant role in minimising matters to do with time wastage.
When creating a brand board, you need to ensure that every point is self-explanatory and that prospects can view every point.
All the team members should be given the guidelines to help them understand where every visual element needs to be placed.
It saves the employees from spending much time doing guesswork to create the company logo and other graphics related to the company.
The guidelines should be followed when creating promotional flyers and other advertising materials distributed directly to the target audience. The company enhances efficiency and minimises different sorts of costs by doing this.
3 – Brand Consistency
Consistency is essential, especially when you are running any business. Besides, consistency is crucial when creating the identity of a given company across the target market. When customers interact with your products regularly, they create a business perception.
However, you can only enhance consistency in your company brand if you focus on uniformity and strive to deliver the same message to the target audience. When dealing with a series of marketing materials, you need to have a uniform guide for all the team members.
Analysts have revealed that a company brand is the most expensive intangible asset that a company might have. Note that you can only elevate the worth of your organisation's brand by working on consistency and uniformity.
Wrapping Up!
Organisations with well-established brand boards tend to perform exemplarily due to the identity of their products and services.
Creating a brand board requires you to master some basic designing skills and understand the nature of your company.
Also, you need to invest in brand consistency and stick to the layout of your brand board to popularise your identity across the industry.
Author Bio: Lori Gillen is a Blogger/Content Creator who specialises in Digital Marketing & Data Analysis with five years of experience. She is currently working at PPCexpo as a Senior Content Creator.