The Cost of App Design and Determining Factors
Mobile applications are the key drivers of every business at the current time.
Amazon, Netflix, and PUBG are some of the best apps that provide utility to millions of users worldwide.
If we discuss the mobile app market, it is speculated to rise at a CAGR of 11.5% from 2020 to 2027.
We can conclude that if you have a business and want to skyrocket your customer base.
It is time for you to get an app made.
An attractive and functional app is vital for the success or failure of a business. And the design is a factor that plays a crucial role in app building.
However, as often believed, an app design is not only about the app's look; it also involves the functional aspect.
Like everything else, the app designing process begins with ideation and research.
This is an extensive phase. Each phase step is as crucial as the development phase and involves two main app elements, UX and UI.
Both these processes are inclusive of the app and impact the overall cost of design. 
As you review this article, you will know how and why the process increases app design costs.
You will also know the best place to get your job done.
Scroll down.
Factors that influence the cost of app design
Numerous factors are involved in influencing the overall cost of app design.
These may vary slightly from designer to designer and from region to region. However, the overall scenario remains the same.
Processes involved in app design
All designs involve a series of necessary steps before the actual development occurs.
This is the design phase of an app and involves the following five processes.
Research (Tech components and app business)
Illustrations and Animations
The complexity of the app
The complexity involved in developing influences the cost of app design considerably. Here is a breakdown of applications into their types to make things more apparent. 
Types of applications
Simple apps
Medium level apps
Complex Apps
The complexity of an app is affected by certain elements. These include:
No. of platforms. (Android, iOS, web, or all)
Is it or not a Minimum Viable Product (MVP)
Specialisations for end-users
Design customisation level
User roles
Remember these elements as you understand each app type more deeply. Please pay attention to the infrastructure; it is responsible for the price hike.
1 – Simple apps
As the name suggests, the app has a minimalist design and simple navigation. 
These applications are a maximum of three screens long with no animation or interactive elements.
Examples of simple apps: Calculator and Alarm.
2 – Medium complexity apps
These apps have several interactive elements, screens, and animations for end users.
These are commonly designed for Android and iOS separately to meet the platform's requirements.
Examples of medium-complexity apps are Uber and Whatsapp.
3 – Highly Complex apps
These apps are purpose-driven and depend significantly on designs.
Transitions and animations are used to send users from one screen to another to convert them into customers.
Many screens are used for this. These apps also have massive external integrations for payment, maps, etc. 
Examples of such apps include Netflix and eCommerce apps.
Check the table to understand the approximate app design cost for the three types.
| | | |
| --- | --- | --- |
| App | Time To Build (hrs) | Approx. Price (USD)($50/hour) |
| Simple app | 100-160 | 5,000 |
| Medium app | 320-640 | 16,000 |
| Complex app | 1000+ | 50,000 |
Besides, the cost of app design is also dependent on a client's preference and customisation requirements.
Custom app design
Mixed app design
| | | |
| --- | --- | --- |
| App | Time To Build (hrs) | Approx. Price (USD)($40/hour in Ukraine) |
| Custom app design | 16-80 | 2400 – 3200 |
| Logo (branding) | 24-40 | 1000 – 1600 |
| Illustrations | 16-32 | 650 – 1280 |
Custom app design. The price increases with each customisation. On average, each customisation takes 16-29 hours to complete.
Mixed app design. It is slightly less than a custom app design. With the need to add only one or two elements, the cost increases only for those charged additionally.
Number of roles
How many roles do you intend to have for your app that impacts the cost significantly? 
For instance, a simple app with a single user interface can be designed in a lesser number of hours with a lesser number of resources.
This keeps the design price relatively low compared to the ones with more user roles.
For instance, a cab-hiring service has three users: Admin, Driver, and Customer.
These three users require three different interfaces, implying more time to design with more resources and, hence, a higher price.
Read the figures below to know how much it would cost you in different countries.
1 Role (basic features): In the US, app design costs $15k. Whereas you can get it at as low as $5000.
3 Roles (mid-level features): in the US, the price is $20k, but it may also cost you around$10,000 in any other location.
>3 Roles (complex features): Apps such as Uber and Netflix need more features and cost $30k in the US.
Number of Features
In designing an app, design specialists add functionalities with the help of features.
These features can be broadly divided into two main categories, namely,
UX Design Features
UI Design Features
UX design
The UX Design is a sum of all the processes that define a user's experience with the app. 
It involves a series of strategic activities, such as,
User research: interviews, online surveys, creating a user persona
Wireframing and prototyping
Information Architecture: structure and label the content to organise it well
Navigation
While undertaking the above processes, the UX designers provide a preview of the to-be-built app.
This stage of design planning takes about 2-3 weeks.
During this stage, how the user interface will work is decided, and which screens and buttons will be added to provide smooth and straightforward navigation are also finalised.
Take the example of a food app.
UX designers' major work includes planning the restaurant category to search, adding 'save the card' and 'pay' buttons, the payment options to be offered to the customers and more.
Wireframing is time-consuming and may add to the budget of all the UX processes.
Nevertheless, it is an essential element because if you are required to make changes to a fully designed screen at any stage, the availability of wireframes will make it easier. This saves time as well as money.
The entire UX design process takes anywhere between 40 to 160 hours and is priced accordingly in different parts of the world (discussed later in this article) and uses a variety of tools such as Sketch, Axure and more.
UI Design
The visual design, or how an app looks to a user, comes under UI design. 
Designing an attractive interface takes about 3-4 weeks.
While you have plans for sliders and buttons, you need to think of the presentation. This encompasses choosing:
Colours
Typography for communication
This is a creative phase. Besides creating the app's look and feel, how the buttons or screens function in the final product is considered. 
The need for animations to be added is also contemplated.
A UI designer is responsible for creating a set of rules, aka a design system that applies to the presentation of various components.
Branding is closely related to UI or visual design as it involves a mobile app icon and logo design.
All said we know a high-quality app design speaks volumes. 
It isn't easy to gauge the price as it involves many elements such as logo and icon, screenshots of app stores and a design system using different tools.
Again it is priced differently and depends heavily on the preferences.
Mood board creation
6-8 hours
UI mockup sample creation
16-20 hours for 2-3 options
Final UI mockup sample creation
1-2 hours per unique screen for a simple design
16-20 hours per unique screen for a more sophisticated app
The complexity of business logic
According to the Harvard Business School study, 70% of the employees do not know much about their company's strategy, which should be the foundation block of mobile app design.
Creating and implementing an app strategy by deriving from a company's strategy has its set of benefits, namely,
Minimises the need for training
Higher customer satisfaction
Reduces bugs and integration requirements
Increases value, quality, employee efficiency, productivity and customer engagement.
A successful business strategy is one where business objectives meet the mobile landscape and user requirements.
It begins with understanding the company's strategy, besides the following:
Have a well-written business statement: the objectives, the competitive advantage, and where you see yourself in the next five years.
A thorough customer journey. How will the app help users? Can the customers buy it directly from the app? Can they status from the app? And more.
Creating competitor profiles. Whom are you competing against? What is that they are doing differently? What are they offering?
SWOT analysis. Strength, weakness, opportunities and threats.
Example: Asda supermarket chain.
They envisioned a store without walls for a long and implemented the same with a robust mobile app strategy. 
The app succeeded in having over 2 million mobile app downloads, with 90% of the sales coming through it while making it a convenient source.
It can be summed up as having a powerful mobile app strategy, and it is essential to define your objective for the audience with the critical KPIs included.
The Platforms
Which platform are you aiming to build your app for – iOS, Android, or both?
If you choose to go with both, the cost is significantly higher.
In general, companies design an iOS app first and then an Android. 
That said, every organisation follows a different approach.
Android apps must be matched with varied formats and resolutions, while iOS has no such requirements. This perhaps increases the cost manifold.
Check the table for the cost of app design in iOS for different devices:
| | |
| --- | --- |
| iOS device | Approx. cost |
| iPhone | 3000 – 10000 |
| iPhone 6 and above | 3000 – 10000 + 25% |
| iPad | 3000 – 10000 + 50% |
Since Android is continually changing, so are the rules.
This requires the android app developers to adapt to new ideologies and frameworks, which increases the overall price.
Besides, the number of platforms is adding to the price.
The sort of design: Native or Hybrid
What sort of design are you looking to build: native or hybrid?
If you decide to go with native apps, the next step is to finalise the platform – iOS or Android.
Your decision will affect the overall design of the mobile app.
Note that the native apps must follow certain specific platforms' guidelines and add to the user experience.
Native apps can access the user's device for built-in applications such as address book, GPS, camera, etc.
If a native app is your calling, be ready to shell out $100,000, which means if you want an iOS app for the App Store and an Android app for Google Play Store, you will have to invest in two separate apps.
And this makes designing a native app dearer.
In contrast, if you pick a hybrid app, the cost of designing is much less, as you can launch a single app on Android and iOS. 
The process is more straightforward and thus faster, adding to the lower cost.
However, the performance will not be as good as the native apps.
The Team: how many do you need, their level, type, and location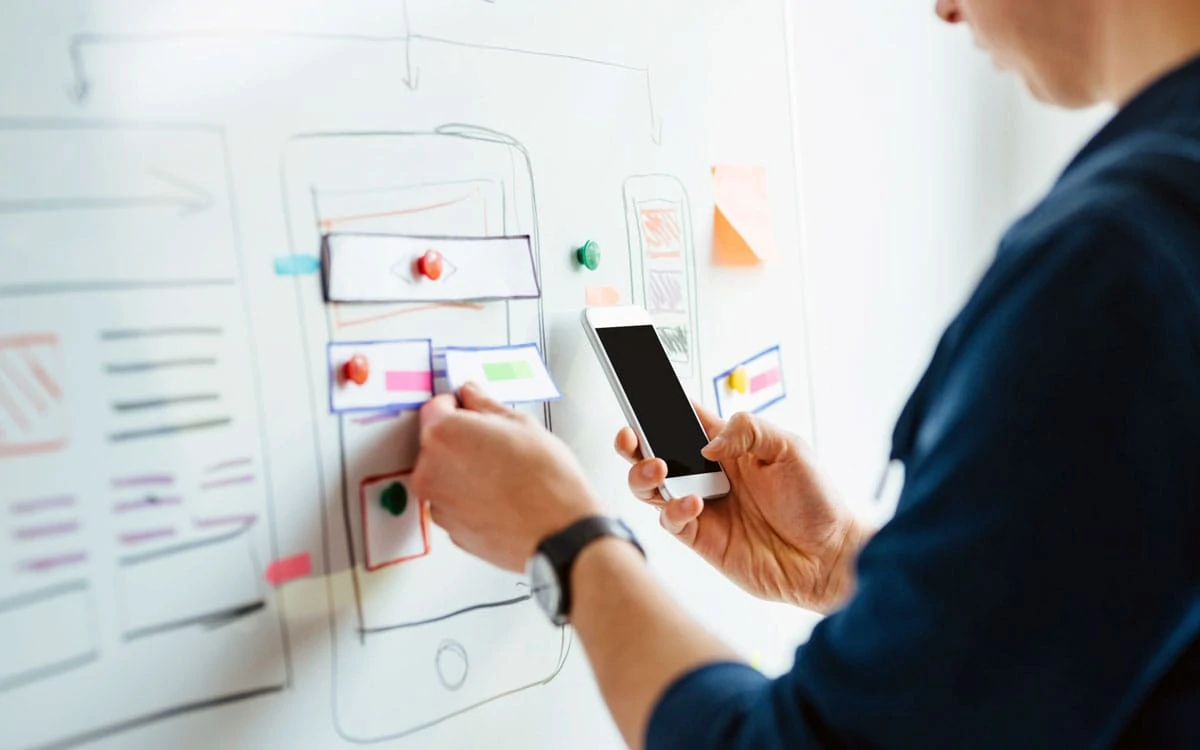 App designing is laborious work requiring calculation at each step, making it difficult for a single individual to handle it.
It requires a team of people with specific qualifications, understanding and experience to design an app that stands out from the rest.
You can categorise them into three levels:
Junior app designer
Intermediate app designer
Senior/expert app designer
These designers can be further classified into four types:
Strategist
Navigation planner
Visual planner
Content planner
You can find app designers all over the world.
However, it is seen that the price of designing an app varies from country to country.
A few geographical regions are more attractive than others due to their relatively lower rates.
Therefore it is advised to enquire about the rates upfront before outsourcing your app design task.
As per Clutch, below are some interesting statistics for designing an app country-wise:
United Kingdom: 31 per cent of the UK's design agencies demand $50 to $100 per hour, and 29 per cent ask for $100 to $150 per hour.
United States: About 42 per cent of the design studios charge $150 to $200 per hour, and 29 per cent ask for $100 to $150 per hour. Some 4 per cent did not divulge their rates.
Ukraine: Most companies (61%) charge $25 to $50 per hour, while others demand $50 to $99. 
Germany: Charges vary immensely in this European company. 37 per cent charge $50 to $100 per hour, 27 per cent charge $25 to $59 per hour, while about 23 per cent charge $100 to $149.
India. 40 per cent of the Indian app designing companies charge $25 to $49 per hour, and about 35 per cent ask for no more than 25 per cent.
The final product's quality can vary significantly from country to country, just like the cost.
Bottom line
The cost of app design rests on various factors.
From the complexity of apps to the number of roles, an app may become costlier as you add more complex features and functionalities.
These complex levels increase time, expertise, and, henceforth, the overall cost. 
You may finally choose your expert level and the country to create an app.
Everything depends on your requirements and the budget.
Make your pick wisely.