Content Marketing Plans for Real Estate Bloggers
Content marketing has opened up previously unimaginable avenues for marketers in all niches. It's particularly true for real estate marketing which can be rather tricky at times. 
That's because the nature of searches for real estate is a bit different from regular searchers. 
Plus, you're mainly dealing with local audiences. That's why content marketing plans for real estate requires a unique set of strategies. 
Real estate content marketing promotes your business by consistently sharing educational, entertaining or insightful information to attract. 
You are educating, retaining and converting leads in your local community.
Thanks to the power of content marketing, capturing leads and turning them into customers has never been easier. 
In this post, we look at some of the most effective content strategies for SEO for real estate. Let's take a look at some of the best content marketing plans. 
Go Beyond Blog Posts
A blog post is the first step in getting started with real estate marketing. But that's not enough. 
Besides offering regular high-quality, consistent content with an informative and valuable tone, it would help if you went above and beyond it.
It is essential to invest some time, energy, and money in developing resources to integrate into your blog posts. 
It could even be something that you can giveaway cost-free.
Here are a few examples of how to enrich your blog posts:
Free email courses
Free downloadable ebooks
Free tools like calculators
Slide decks
Helpful checklists
Infographics
A popular tried and tested technique is to give away these resources for free in exchange for users' email addresses. 
This will allow you to collect your target user information to devise razor-sharp and better-targeted content for them. You can even use this to build an email list.
Get Active on Social Media
As a real estate agent, social media is something you cannot ignore. It's a massive driver of referral traffic and great for interactive content marketing plans. 
It's good to have profiles (preferably with the same name) on all the popular platforms. This includes Facebook, Instagram, Twitter, YouTube, Foursquare, Pinterest, and SlideShare. 
Focus mainly on Instagram as it's big on visuals so you can share property images for better sticky-factor.
Here are some tips for tackling social media presence. 
Post Regularly 
Social media algorithms are very particular about regular feed coming in from the channel. If you are not consistent, your branding will go down. 
Consistent posts are essential not only to please the platform but also to stay engaged with people.
Integrate social follow buttons on your site
It's better to integrate your social media profile buttons in a location like a sidebar, footer, or header on a blog post. Pick a place where they are prominently visible.
Join groups to start discussions
Joining relevant real estate groups and initiating conversations is the perfect way to establish your brand as a thought leader. 
It is also perfect for building your network, connecting with people, and offering valuable advice.
Run contests/quizzes
Contests are terrific for collecting leads. You could host a quiz or contest and giveaways like gift cards, prizes, or free consultations.
Publish thoughtful, original content on LinkedIn
LinkedIn is a free and open platform for anyone to publish content and get in front of hundreds and thousands of active readers.
Use Instagram
Instagram is prominent on visuals, with the main focus on Images and videos. 
You could capture high-quality images of your properties and share them on stories and posts. You could even record IGTV videos of your properties containing virtual tours.
Spotlight Local Businesses
The key to having a winning marketing campaign is to share information that audiences and readers find helpful. It gives them a reason to come back to you. 
One way to achieve that goal is by regularly connecting with and highlighting local establishments/businesses on your blog. 
This is a great way to indirectly promote yourself while also creating a meaningful network with others in the vicinity. For example, let's say a new restaurant opened up in your target location. 
Below are a few ways in which you can promote the restaurant:
Share business information and encourage users to visit the establishment
Give them a discount or a coupon code 
Include the business name next time you send a marketing email
Encourage your followers to follow the restaurant's social media page
This step of marketing strategy is a win-win for everyone involved. It's also the perfect way to build your network without costing you a dime.
Offer Home Valuations to Capture Seller Leads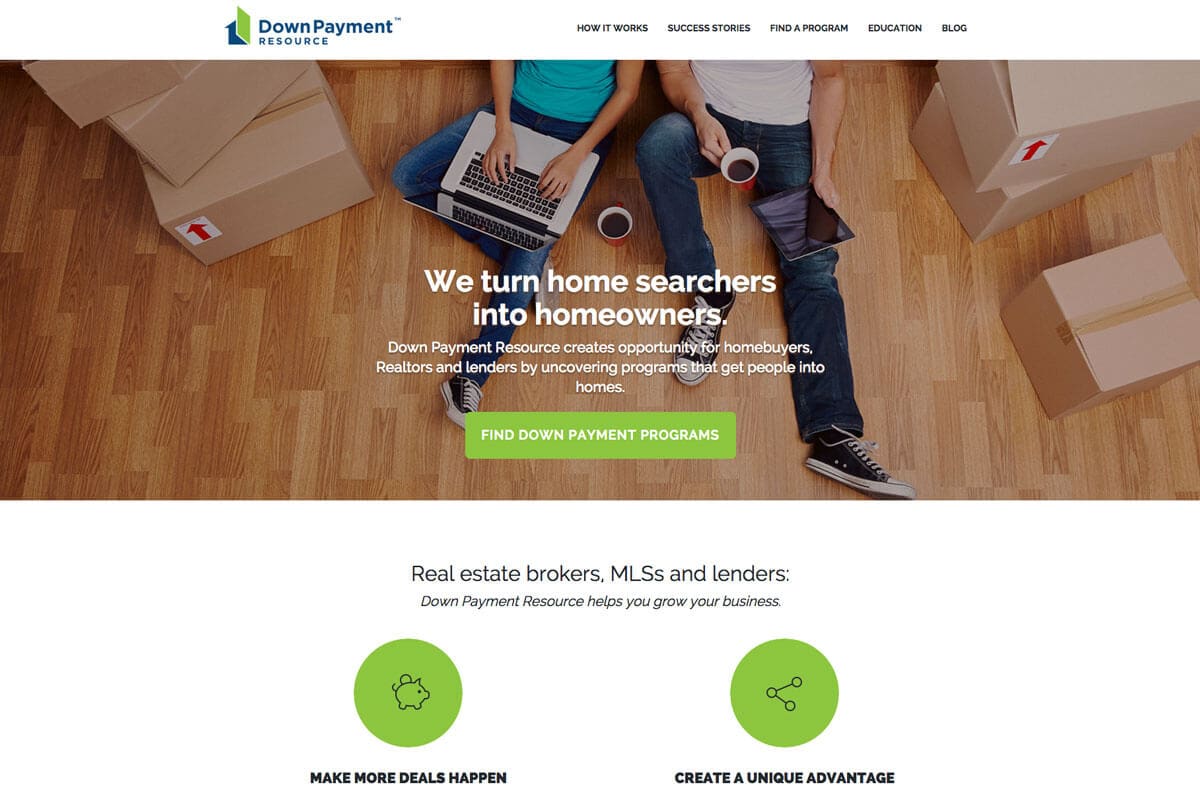 Offering free home evaluations is one of the easiest and surest ways to capture quality seller leads. 
Potential sellers are always interested in knowing their home's worth. To help them with evaluation, you have a home evaluation tool integrated on your site.
Every time a potential seller visits your site and enters their home address, they will be asked to input their email address details. 
This detail is necessary because email is where they will receive their home valuation report.
Once you have a list of sellers to reach out to, you can contact them through regular newsletters. Even if the lead didn't actively sign up for emails, you could always send follow-up emails.
Don't Sell Houses, Sell Experiences
If you want to get the most out of your real estate content marketing plans as a realtor, there's something you should know beforehand. 
Even though you are selling houses, ultimately, you are selling an experience first and a house later.
What does that mean? It means finding out things that get people excited about house-hunting and turning a house into a home. 
Focus on selling family-oriented ideas. When you grasp this, you won't just focus on functionality. You will also focus on the aesthetic aspect.
There's a difference between writing about things that you think people will enjoy and writing about things that people can relate to. 
When the focus of your writing efforts is selling a vibe and an experience, your selection of topics will also change. 
Don't just focus on features and FAQs, industry news, and blog posts. Also, talk about how you can create a family in the property you're selling. 
You will become more than just a realtor. You will become a trusted advocate for your audiences.
Use All of the Right Tools
Your content marketing plans will only be as successful as your choice of tool/software and how well you use them.
With that said, below are 6 of the most promising tools which you would do well if you knew them inside-out. 
They will help you create and launch a sustainable marketing campaign for promising results:
This is, by no means, an exhaustive list. There are a ton of other helpful real estate marketing tools you can use. You have to pick and choose the ones that work best for you.
Create 3D Virtual Tours
You can use services like roOomy and Google Tango to use virtual reality/augmented reality to create virtual tours of the property you want to sell.
Websites like Houzz are already using this technology. The idea is to allow users to pick from thousands of furniture and other items they want to buy. 
They can drag and drop the selected item and visualise it in their house. It gives them an idea of exactly how the item will look rather than imagining it in their head.
The power of VR/AR in real estate can be a game-changer. It won't be long before open houses become a thing of the past. 
People will only use their laptops to get a virtual tour of the property they want to buy. Think about what a time-save it will be.
If possible, try to incorporate this technology to get a virtual 360-degree, panoramic view of the house.
Email Marketing
It may seem like Email is no longer in the game, but that's not true. 
Especially with chatbots, texting, and countless apps in the picture, email marketing may not make sense. But, it continues to remain the most significant source of ROI for an average marketer.
Experts recommend keeping your newsletter 90% educational and 10% promotional. Other than that, pay special attention to the subject line. 
1/3rd of subscribers will only open the email based on how appealing the subject line is. So, be sure to incorporate value, utility, and brevity in the subject.
For a real estate marketer to mix and match a couple of assets in a regular newsletter. This can be:
Infographics
Blog posts
Short videos
Social media feed
Industry news
Local news
Free buyer/seller guide
Links to free downloadable ebooks
New listings
Trending data points
There's no easier way to connect and stay in touch with your previous and prospective customers than through email. 
With tools like MailChimp and HubSpot, you can manage, schedule, customise and brand your newsletters by picking from hundreds of appealing templates.
Incorporate Video Interviews
The world is slowly moving from text and images to videos. A growing number of people prefer video over other forms of content, thanks to ever-increasing internet speed. 
One more thing, video production may seem like a big deal, but it's not. Especially if you already have some knowledge of video editing software. 
Videos are highly expressive, and people tend to remember them better than something they read.
You can capture video interviews of local businesses in your target geographic area. This will help them garner online exposure. 
In exchange, they will act as a source of referral marketing for you, sending potential customers your way.
With platforms like Youtube, Facebook, and Instagram's IGTV – creating video interviews should be a piece of cake. You can also include links to your website, podcasts, listings, etc., in the description.
You might be floored by the kind of enthusiastic response your videos might receive.
Bottom Line on Content Marketing Plans
Online SEO and content marketing plans for real estate may seem intimidating at first. 
But today, things have become a lot easier. Finding a realtor was pretty simple in ancient times. You often connect with them by your friend's reference, or sometimes you see a sign or an ad. 
The problem here was that your radius was limited in terms of places and areas while searching. The web turned the whole industry upside down. 
Connecting with an agent through friends and relatives is still the preferred method. 
Although, Internet search has made it so much easier to reach outside of what you know and find a realtor with whom you have no personal connection. 
Today, you can find so many expert realtors on the web with just one click. With these tips, all this boils down to a single solution to improve your real estate content marketing plans. 
As long as you know what you're doing, content marketing plans should be fun and exciting.