Brand Awareness Strategy Through Various Media Components
We have all heard people talking about a particular brand, or it's product. This sharing of the brand name is called word of mouth marketing. People make other people aware of a brand. 
Are you confused about what we are talking? Well, we are talking about brand awareness strategy.
It is essential to make people aware of the company itself if you want to grow your brand. It takes years for a brand to have a massive list of hardcore, loyal customers.  
To do so, there are various media components that you should take care of. First of all, let us learn about brand awareness in detail.
What is brand awareness?
In simple words, it is to get familiar with the target audience. If your target audience knows about your brand or they are aware of your product or service. 
To increase your brand awareness, you need to apply effective marketing strategies. Nowadays, brand awareness strategy is empowered by various social components, as well.
Why is brand awareness critical?
Some people say brand awareness is a vogue term because it has no such base meaning, but for a successful business, awareness is highly critical. 
Let's look at some of the reasons why it is essential:
1 – Brand awareness builds trust
You must have heard of the term brand loyalty. 
Consumers who prefer using products from the same brand, again and again, are known as brand-loyal customers. 
They believe in that brand, and it is hard to move them from using similar products from another brand. 
This trust and loyalty towards your brand can be achieved by awareness only.
Image Source – lucidpress
This is why it is said that brand awareness strategy can build trust among people. 
If people trust your brand, then they might become your long term customer, which also helps other people get inspired and start using your brand. 
Like humans build trust with each other, people have to be aware of your brand to trust it and use it for a long time. 
Building brand-human relationships are essential for gaining the trust of your audience. 
2 – Brand awareness crafts an association
You might have often heard people saying make a "Xerox copy of it," "cover the wound with Band-Aids," "get some coke for the picnic." 
Whenever we want to search for any information, we say, "let's Google it." 
It's common for us to call brand names for specific food or work. 
Here, making a Xerox copy was supposed to be making a photocopy. Xerox is the pioneer brand to manufacture photocopy machines. 
For picnics, we love to have soft drinks, since coke is one of the popular brands of soft drink we commonly refer to soft drinks like coke. 
Band-Aid is also a brand that manufactures stackable bandage. 
Instead of Google, we should be saying a search engine or browser. 
According to a report, a consistent brand presentation can increase the average revenue by 23 per cent.
Image Source – kettlefirecreative
We take the brand names frequently because we are aware of the brand. 
The stronger is the impact of brand awareness strategy, the more loyal customers are found for a brand.
This is the effect of brand awareness. Our everyday movement is promoting a brand. 
A small picnic is promoting coke, and other people are also getting habituated to that. 
Awareness crafts an association that are loyal to the brand even unconsciously.
3 – Awareness helps in increasing the brand's equity
The better the consumer's experience, the better the brand value. 
Positive reviews and experiences help in expanding the brand's equity significantly. 
It is the same on the negative side as well. 
If the brand value is higher, then higher is the stock price, perceived value, and every positive point are on their side.
Brand equity can be achieved with the help of brand awareness strategy. 
If people are aware of your brand, then their experiences will reflect their results in brand equity. 
According to a survey, more than 89 per cent of digital marketers believe that brand awareness is most important as compared to other marketing goals.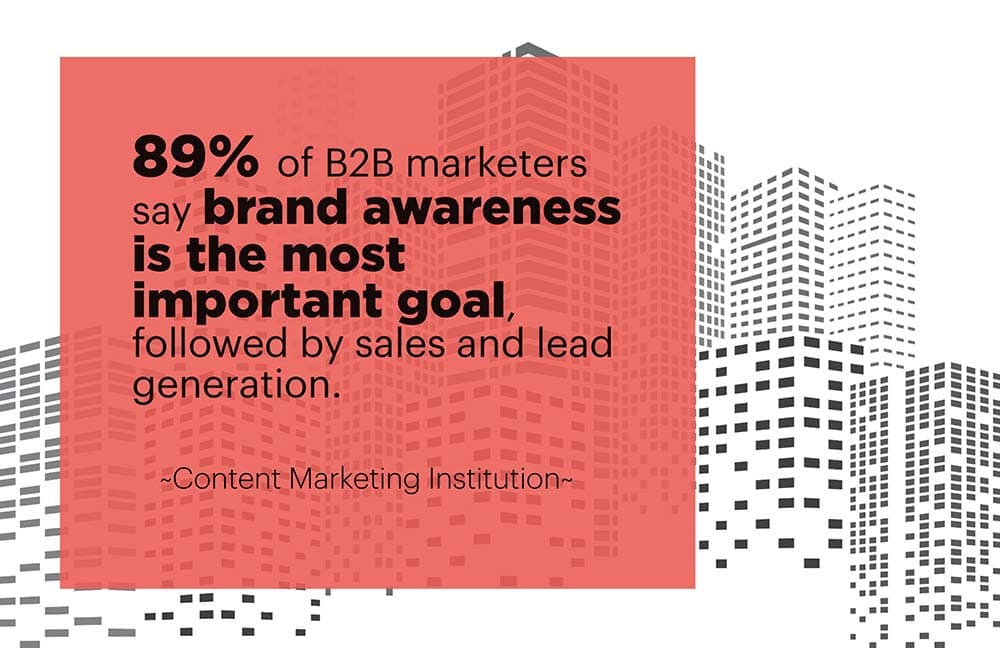 Image Source – lucidpress
It can make an entire family customer of a brand. 
A group of friends can also be loyal to the same brand because brand awareness is constant among them, which makes them brand loyal.
Establishing awareness is extremely necessary to have a successful business. 
Social components are showing a significant impact on developing a brand awareness strategy, which has created room for promoting a brand with different means of social elements. 
If improving your brand is your current job, then you must know various methods of creating awareness, which is stated here.
Perfect brand awareness strategy?
Establishing brand awareness is not a work to be done in minutes. It takes time and hard work to achieve significant results.
You must have sound marketing skills, and you also need to advertise smartly. 
Instead of investing in much indirect advertisement, you can work on affiliate marketing or targeted promotional ads. 
1 – Be an individual not a group
A company can be considered as a group that does scatter marketing. It shows the different sides of a brand. 
To establish awareness, a brand should be an individual and release every side gradually.
It is easy to see an individual, not a group of people. 
To establish your brand awareness strategy, act as an individual to get into people's memory quickly.
Humans have different natures like an introvert, extrovert, quiet, talkative, etc. If a brand is quiet, nobody will know about it. 
A brand needs to be social, needs to get introduced to people, needs to increase its digital visibility.
Keep your brand's social account active and make your brand social. 
Being social will make your brand visible to the target audience. 
Brand reputation can be built from social awareness of the brand.
3 – Make it easy to refer
If a brand or its products are easily shareable with social media links or links of e-commerce platforms, it becomes more accessible. 
It may be a blog post talking about your brand, or it can be any shareable element that makes the brand introduced to potential customers quickly. 
Social components can help to share the brand information easily.
Platforms like HubSpot templates can be a great help. Their designs can promote your brand and make it easy to share. 
The posters or social media content crafted by Companies like them also helps to establish brand awareness quickly.
How to boost brand awareness?
Once you have created a ground for the brand, you need to boost your marketing campaign:
1 – Offer products for free
Who doesn't like free products? If you give free subscriptions or if you give your brand products free, people will eventually show their attention to your brand. 
Some people will know about your brand already, and some will get attracted to your offers. 
Boosting your brand awareness can be achieved with this easy measure.
2 – Sponsor public events
Promoting your brand in public has different methods, and one of the cheapest plans is investing in public events. 
Sponsor an event that will make your brand visible to a vast crowd. 
Getting into people's minds cannot be any other cheap and easy alternative than sponsoring public events. 
The impact of this action is profound and long-lasting. 
People will search for your brand and will also look after purchasing your products or enjoying your services.
3 – Develop a brand personality
Brand personality carries much information about the brand. 
Developing a brand personality takes time, but the results are impactful.
It depends on your marketing strategies, which will make your brand accepted by the target audience and will develop a brand personality. 
Brand personality is nothing but the way how people take it. 
Brand personality can differ from person to person, but it is essential to have a brand personality.
How to measure Awareness?
Measuring brand awareness depends on multiple factors that are mentioned here:
Measuring Quantitative brand awareness – When you say quantitative awareness, it speaks about the traffic pulled by brand social actions and other digital actions. 
The counts of social media interaction, count of traffic visiting the brand website, and the count of direct engagement to the brand and its products.
Measuring qualitative brand awareness – Qualitative brand awareness depends on factors like google search appearance, social listings, and the result of awareness surveys. More visible is your brand more is the chance of interaction.
Bottom line
Brand awareness is vital to run a successful company. 
There are specific measures for creating and developing awareness, which has been discussed above. 
For a successful business, awareness among the target audience creates a customer pool among them; some are hardcore loyal to the brand, some are semi loyal, and some are many hoppers. 
But increasing brand awareness strategy has become extremely important for every company where social media and its components play a huge part.