How Brand Activism Can Help Your Business Grow
Brand activism is when a brand makes a statement about an important social issue or topic often neglected or overlooked by other brands. Brands use these issues to promote their products and encourage customers to adopt a cause.
The only way to keep your brand strong and your company growing is to stay relevant. The key is to stay relevant. In today's world, where we live in a culture of instant gratification and where social media has become a way for us to share what we want, we have become accustomed to expecting things to happen fast. But brands that don't adapt to the changing times can become obsolete. So, how can we ensure that our business stays relevant and that our brand is perceived positively? Today, I will share with you how to become a Brand Activist.
Brand activism is a strategic and creative approach to marketing that leverages social media to drive real action and positive change in our communities and society.
The power of brand activism lies in its ability to create a conversation about issues that matter. If sustained, this conversation will help raise awareness, encourage change, and give brands a unique opportunity to build consumer relationships and trust.
What is Brand Activism?
Brand activism describes a company or individual encouraging consumers to take a stand for something they believe in. People share their opinions and experiences online and encourage others to do the same. It can be a form of protest or an expression of support.
In a recent example of brand activism, American Apparel sparked controversy by publishing the #DressCode hashtag on its website. This hashtag was associated with several messages expressing discontent with the company's treatment of its workers. Although the company responded by taking down the hashtag and apologising, the incident did not go unnoticed by the public. It became a rallying point for the fashion community to express their feelings.
Brand activism allows consumers to share their opinions and experiences with companies through social media, online forums, and blogs. It allows consumers to voice their concerns or praise and is a way to let companies know they are being listened to. It's also a way for companies to show appreciation for consumer feedback and to learn more about what consumers want.
Do People Buy From Brands That Are Engaged in Brand Activism?
Brand activism is a controversial topic. Some companies have been criticised for using it as a marketing tactic. But research has shown that brands engaged in brand activism receive more positive responses from consumers.
A study by researchers at SproutSocial found that when people saw a brand's online posts, they were more likely to buy that brand's products than those whose posts were removed. Another study showed that a brand's response to consumer complaints and praise helped it earn higher rankings in search engine results, while a lack of response led to lower rankings.
When a company responds positively to consumer complaints or praise, it helps the company earn more "karma" (which is a measurement of the power of online links) on Google and other search engines. Karma is essential in search engine optimisation, so a company that engages in brand activism increases its visibility in organic search results.
Brands that respond negatively to complaints or praise are less likely to gain that same amount of karma, making them less likely to appear in search engine results. These negative responses also harm the company's reputation, making it less likely to win new business.
Bestseller No. 1
How Can Companies Improve Their Reputation?
In the above study, the researchers recommended that companies improve their online reputations by responding to social media consumers. We can do this by responding directly to consumers' posts on the company's Facebook and Twitter pages. When companies use social media to engage with customers, it increases the company's likelihood of gaining positive responses.
Brands that don't engage with social media users are less likely to receive positive responses, hurting their reputation. The researchers also recommend that companies create a community manager position to respond to negative comments and praise.
While this seems like a simple recommendation, it is still rare for businesses to hire someone to respond to customer complaints.
What Is Social Media Activism?
Social media activism uses social media sites such as Facebook and Twitter to promote or protest a cause. Social media activism was born out of the Occupy Wall Street movement, but it also has roots in the Arab Spring.
Social media activists use social media sites to spread awareness about an issue and rally people around it. In fact, in one study, over half of the students interviewed had participated in a social media-based protest.
Why Is Social Media Activism More Common In The Middle East?
Many political analysts attribute the rise of social media activism in the Middle East to a combination of two factors. First, social media sites in the Middle East are more popular than in North America, allowing activists to reach a wider audience. Second, the Middle East is a highly politicised region, so many people in the region feel that their voices need to be heard.
One study found that of the participants who had used social media to express their opinions, 73% were from the Middle East. The study showed that the percentage of social media users in the Middle East who used the site to express opinions about politics, religion, or culture is significantly higher than that of the general population.
The study also revealed that most participants used social media to express their views about their government and to discuss national and international events. This finding is similar to other studies that have found that most people use social media for daily news and to get information about world events.
The Internet, now available almost anywhere in the world, provides more and more people with access to global events and the ability to spread their views and messages. The Internet has also provided more opportunities for people to connect with others and share their experiences.
Why Brands Engage in Brand Activism
In today's world, brands are constantly seeking ways to make a connection with consumers through engaging in social and environmental causes. Brand activism is an effective way for brands to connect with consumers and share their values.
The best brand activism is not one that causes controversy but rather one that is meaningful and authentic to the brand. For example, Patagonia's recent "Remothering the Land" campaign aimed to promote a message of environmental stewardship and not gain notoriety. This campaign encouraged consumers to buy locally produced products to promote their sustainable agenda.
While Patagonia's campaign is well-received, many other brand activists have gone too far in their efforts to gain attention. Take a look at these examples:
Starbucks recently decided to stop participating in Israel's Boycott, Divestment, and Sanctions (BDS) movement. They made this decision because the company's CEO said the movement was "divisive." This statement has been criticised for its hypocrisy, as the Starbucks CEO's father is a billionaire philanthropist and owns over 50% of Starbucks.
Taco Bell recently released its new taco, the Doritos Loco Taco, and quickly became the target of criticism because Doritos is a registered trademark of PepsiCo. The fast food chain responded to the criticism that the Doritos Loco Taco was a limited-time promotion.
Apple recently introduced a new iPad that was designed to encourage recycling. The new iPad uses recycled aluminium instead of standard, non-recycled materials. The only problem with this design is that it is difficult to recycle the iPad.
Best Brand Activism: It's Important to Make a Difference
Ultimately, you should do brand activism in a way that is consistent with the brand's purpose and values. A well-known brand promoting a message of sustainability and responsible business practices should be active in making a difference and sharing these values. Good brand activism is transparent and authentic to the brand.
How Can Brands Engage More Effectively?
There are many ways for brands to get involved in brand activism:
Create a cause and promote it on your social media channels.
Join a cause and support it financially or work together to achieve a common goal.
Provide environmentally friendly consumer products.
Promote corporate responsibility initiatives and educate your employees on the impact of their actions.
Invest in charitable organisations that promote social and environmental causes.
Support a charity in your community.
Knowing the types of brand activism appropriate for your brand is essential as a marketer. If you have a message that you want to promote, think about how it can be leveraged to drive sales and engage customers in meaningful ways. Brands that focus on positive change and environmental sustainability are usually more effective and authentic than those that are controversial or appear to be just trying to gain attention.
Sale
Questions to Ask Yourself When Engaging in Brand Activism
What Is the Purpose of My Activism?
This question is critical to helping you decide whether or not you should engage in brand activism. What are the goals of your activism? Are they to bring awareness to a social or environmental issue? Or are they to promote your brand or products?
Does the Cause Fit with Your Brand?
Do you feel your brand supports a cause? If it doesn't, why not? Are you engaging in the cause because it will be more beneficial to your company or because you're afraid of being attacked for the sake of being attacked? Do you have the ability to leverage your brand to promote a cause?
What Is the Impact of Engaging in Activism?
Will your brand activism be positive or negative? For example, is there something else you can do to accomplish the same results that will be more effective and less controversial? Also, how will your brand activism change your reputation?
What is your plan to address if your brand activism causes problems or backlash? Will you apologise, remove the message, or otherwise change your behaviour?
How can Brand Activists help Brands?
Brand Activists are the future influencers who engage, educate, and inspire individuals to become brand advocates. If we were to ask someone in this day and age whom they trust more when purchasing products, they would answer, "my friends". This is a fundamental truth of today's consumer. Brands are relying more than ever on social influence to promote their brands.
With this in mind, what are some of the most critical actions you can take to help your brand grow?
1 – Get Educated
The first step you can take is to make sure that you know the tactics the influencer uses to know what is working and what isn't. You can find out everything about an influencer and their strategy, including the type of posts they post, the engagement rate, how much money they are making, and the number of followers they have.
Many sites can help you identify influencers in your industry, so get started. When looking at influencers, please take note of the way they engage with their audience and what their engagement rate is. This will help you determine whether or not that influencer has what it takes to promote your brand successfully.
2 – Stay Updated
You want to know what's going on in your industry. For example, what is the current trend in your industry? What is your competitor doing? How are other influencers in your industry reacting? These are just a few examples of the questions you should ask yourself.
It's also a good idea to read the comments section of posts that your influencer makes. This will give you an idea of what your influencer's fans say about the content.
3 – Identify Your Influencer's Target Audience
You need to understand the target market of the influencer you are considering. Are they targeting millennials, Generation Z, Generation X, etc.? Knowing your audience will help you decide whether or not your influencer is a good fit for your brand.
4 – Think About What Type of Content Your Influencer Posts
Once you have identified your target audience, you must consider the types of posts your influencer posts. Finding someone whose sole purpose is to promote your brand is scarce.
For example, if you sell a pair of shoes, an influencer who focuses on sharing fitness tips might be a great fit. However, an influencer focusing on music or ASMR might be a better fit if you sell a pair of headphones.
5 – Know the Rules
It's essential to know the game's rules when promoting your brand. Make sure you understand the influencer's compensation structure, whether commission-based or non-commission based, and the types of posts that the influencer is allowed to make.
Sale
6 – Be Patient
Remember that it takes time to build your brand. It's not going to happen overnight. You may have to wait until the influencer becomes popular before you can hire them.
7 – Hire the Right Influencer
Make sure that you are hiring the right influencer. This can be difficult as many influencers are available on the market.
One tip to remember is to look for an active influencer in your industry. This means you are looking for influencers in the same space as your business.
Remember that you must hire a person that fits your brand's needs. Hiring an influencer for their makeup tutorials may not make sense if you try to promote your coffee shop.
8 – Communicate with Your Influencer
The most effective way to ensure your influencer successfully promotes your brand is to communicate with them regularly.
This is a great way to monitor the influencer's performance, determine whether or not they are promoting your brand appropriately, and see if there is anything that you can do to improve the influencer's results.
9 – Measure the Results
Measuring the results of your influencer's promotion efforts is also essential.
In most cases, the influencer will provide some analytics that will tell you how effective their work has been.
For example, an influencer with a low engagement or high drop-off rate may not be the best choice.
10 – Look For Other People's Opinions
When hiring influencers, it's essential to look at the opinions of others. You can do this by reading what your target audience says on reviews such as Yelp, Google, and Facebook.
In addition, you can also reach out to others in the industry and ask for their opinion. After all, it's only fair that if someone is telling their friends about something, it must be good.
The pros and cons of brand activism
Brand activism can mean a lot of different things to different people. For some, it may mean supporting a brand's efforts to improve its image, while others may criticise it for using unethical practices.
Brand activism is usually viewed positively because it can benefit consumers. In addition to being an opportunity to promote social issues and better the world, it may help businesses gain the public's trust and respect, build brand loyalty, and create a positive association between a brand and a cause.
Although brand activism does offer benefits, it can also cause problems. Consumers may associate a brand with a negative cause or issue, leading to increased distrust or anger. Even if consumers don't immediately connect the brand with the cause, they may make negative associations based on a company's previous actions or statements.
If you're considering participating in a brand's brand activism campaign, ask yourself how the issue aligns with your values and relates to your life. If your answer is yes, then you should be able to support the cause.
Brand Activism for Good
While some brands may engage in brand activism to improve their image, others use it to gain a competitive advantage. For instance, some companies have used brand activism to advocate for stronger environmental regulations or better wages for workers.
In 2017, the Environmental Defense Fund (EDF) awarded six brands $1 million each to fund their brand activism campaigns. One of the winners was P&G, which received $300,000 to donate to the American Sustainable Business Council.
There are more than 1,000 brand-driven nonprofits, and the EDF reported that brand activism is becoming more popular. According to the 2022 Brand Activism Report from the EDF, "more than 50 per cent of consumers who purchased sustainable products in 2021 supported brands that actively engaged in environmental sustainability."
When Should You Engage in Brand Activism?
Understanding brand activism's benefits are vital before committing to any particular campaign. Before participating in a brand's activism program, ensure it aligns with your values.
Once you've decided whether to support a brand's activism program, you must consider whether it's right. Some consumers are afraid of being associated with a brand, even if it's only in a positive way.
If you're concerned that your involvement in a brand's brand activism campaign could negatively affect your reputation, you may want to wait. If the company does something that affects your reputation, you may be unable to distance yourself from the issue.
Brands can also make mistakes. If a company misrepresents itself or commits fraud, it may lose your trust and loyalty.
Doing the Right Thing
Once you've decided to support a brand's brand activism program, you have the opportunity to make an impact. A company is trying to do the right thing by supporting an organisation.
You may notice that some brands take a long time to engage in brand activism, while others take action immediately. You may see results within a year or a few months, depending on the company.
Some brands choose to use brand activism as an opportunity to promote social causes or encourage people to make a difference in their communities. Others use it to increase their social impact or communicate their values.
What Can You Do?
If you decide to engage in a brand's brand activism, the first step is to think about what matters most to you.
Ask yourself whether this particular brand is a good fit for you. Consider your relationship with the brand. Would it matter if you associated a brand with something you found offensive? Is it necessary to you that the company supports your values?
If you decide that a brand's activism is a good fit, consider how you can support it. For instance, you may want to encourage your friends and family to do the same. You can also share your experience on social media, such as Facebook and Twitter.
Your participation in brand activism may have a positive impact on your reputation. When your friends and followers learn about your company's engagement, it may encourage them to support the cause.
Brand Activism & Corporate Responsibility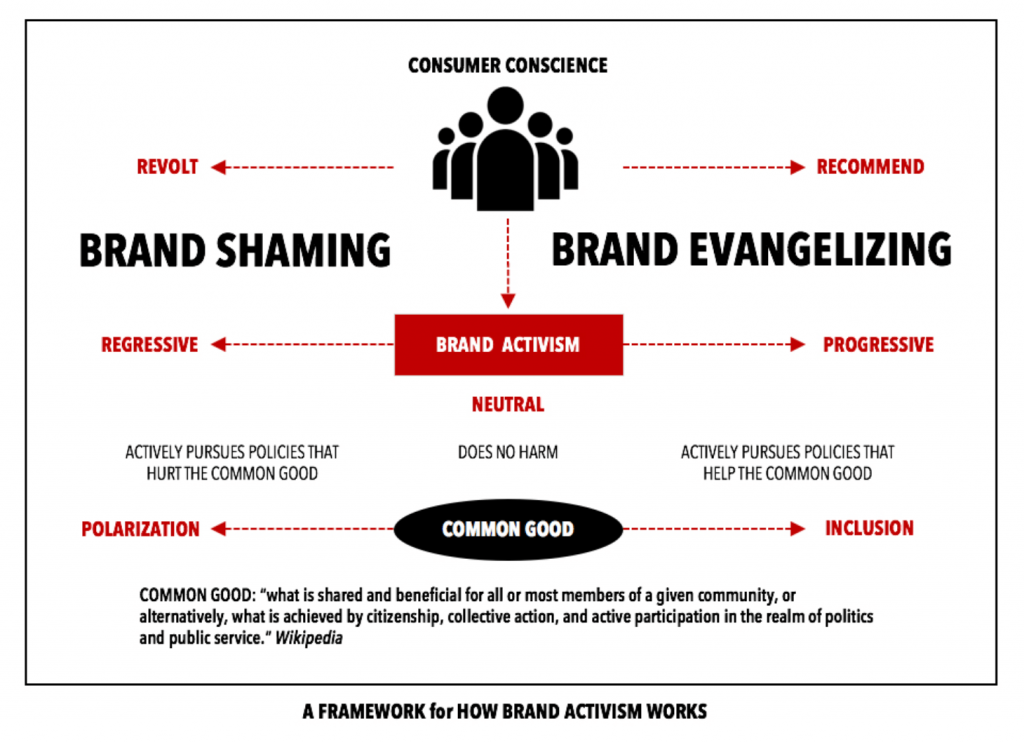 Brand activism is a type of corporate responsibility that requires companies to consider the impact of their products on the environment, people, and other communities. A well-known brand that has made significant strides in this area is Patagonia, founded in 1973 by Yvon Chouinard. The outdoor clothing company's tagline is "Committed to the Core," also the name of its signature campaign. Patagonia produces environmentally friendly clothing and encourages others to do the same.
In addition to Patagonia, many other brands have also developed a reputation for being socially conscious. For example, Seventh Generation, an American household cleaning product, started as a nonprofit organisation and became a billion-dollar corporation.
Apple's co-founder, Steve Jobs, helped develop the company's environmental practices. His philosophy was to produce only products that would last and be recyclable.
Companies that practice brand activism often have one of three missions: to provide a positive impact, to create a business that is profitable and sustainable, or to create products and services that are environmentally friendly. These goals can be mutually exclusive, and the company must balance its mission with its profit.
Why Is Corporate Responsibility Important?
Corporate responsibility is becoming more and more critical to the success of a company. Companies are required to be socially responsible in many different areas. Consumers are increasingly aware of their purchases' environmental, social, and economic impacts. In addition, the government is now providing more regulations on corporations to ensure they are environmentally and socially responsible.
For instance, the European Union requires companies to disclose how they manage their social and environmental risks, which you can find in the company's annual report.
In the United States, corporations must follow the Dodd-Frank Act to avoid fraud or bribery. The Dodd-Frank Act created the Consumer Financial Protection Bureau and the Office of the Comptroller of Currency.
The European Union also requires companies to publish their gender pay gap reports. According to a 2021 UN study, the gender pay gap in Europe was 14%. Women in Europe earn 14% less than men in the same positions.
The European Union requires companies to disclose their carbon emissions and use of renewable energy, and the US government requires them to disclose their use of hazardous materials and the recycling rates of their products.
Companies must also be socially responsible for operating in developing countries. Many governments require that companies have a social license to operate in a country, which means the government allows them to operate. If a company is accused of human rights violations, the government can deny them a license to operate.
Another issue related to corporate responsibility is a conflict of interest. In the past, companies with a strong financial incentive to maximise profits could engage in unethical practices, including bribery and fraud.
For example, in the 1980s, Nike's headquarters in Oregon was the source of a major scandal. In 1984, Nike paid $1 million to secure contracts with the Blackwater mercenary company, which was implicated in killing four Blackwater employees.
Other examples include the Enron scandal and the WorldCom bankruptcy.
Why Is Social Entrepreneurship Important?
Social entrepreneurship is another form of social responsibility. It is a new movement that combines business and philanthropy to address society's problems. According to the World Bank, social entrepreneurship is the third most popular choice for starting a business, after small and large businesses.
This is because social entrepreneurship allows companies to impact society while increasing profits positively.
There are various types of social entrepreneurs, including business incubators, social venture funds, and for-profit social enterprises. Some companies in this area are Patagonia, Ben & Jerry's, and REI.
Business incubators are organisations that connect entrepreneurs with resources and support. They also help entrepreneurs with the process of starting a business. For example, the incubator at the University of Michigan is called the Accelerator for Growth, which helps students launch startups.
Social venture funds are similar to business incubators in that they support social ventures. The difference is that they are not focused on helping entrepreneurs start a new business but on supporting social ventures already in operation. For example, the Social Venture Network (SVN) offers financial and technical support for social ventures.
Conclusion
In conclusion, brand activism is a relatively new form of marketing. The concept was created only within the last decade.
However, brand activism has proven to be highly effective for businesses. I believe it can be one of the most effective marketing forms.
Why? Because brand activism encourages consumers to share their thoughts about a particular company or product. This can lead to increased exposure for the business.
While brand activism isn't for everyone, I think it's worth considering for those with a solid social media presence. It can also be used by smaller businesses looking to get noticed.
Want to learn more about brand activism? Sign up for my free newsletter below!
Last update on 2023-12-09 / Affiliate links / Images from Amazon Product Advertising API