How to Prepare Your Booklet for Printing the Easy Way
Creating a catalogue or magazine gives you a chance to get creative, but to make sure you get the result you're expecting, you need to be able to set up a print file.
This straightforward guide to booklet printing will show you how.
When you're working on a project such as a wholesale catalogue, a scrappy zine or a luxury magazine, it's always a good idea to think about the details of how to get it printed.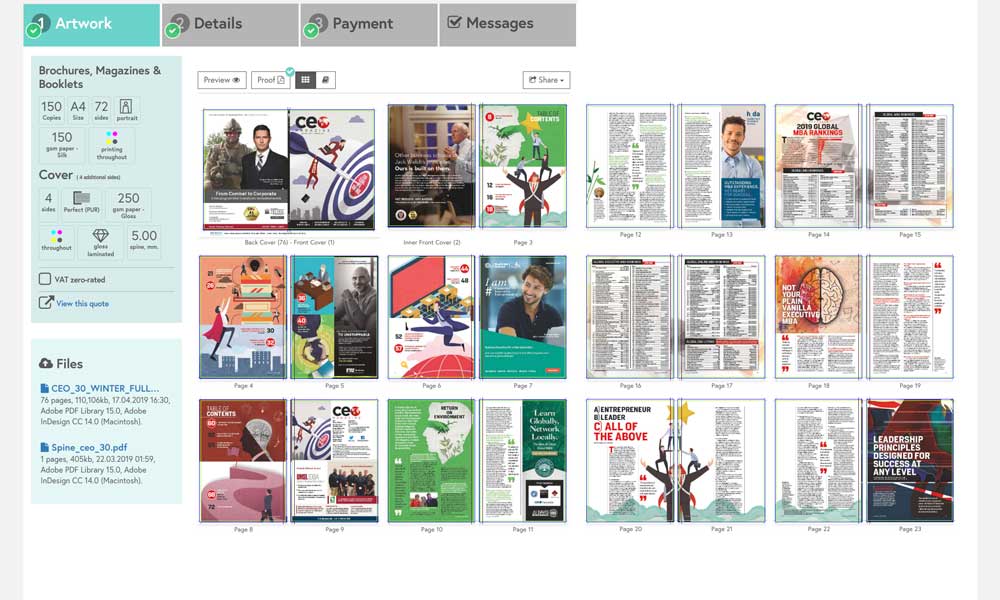 It's easy to forget that technology has given us the means to manipulate images and designs and makes it easy to edit things digitally to make them reflect our ideas.
We can tweak images to within a pixel-width and move things around easily to test out different designs.
Print is not quite the same, and the process of putting ink on paper is somewhat shrouded in mystery, mostly because of the way printers have guarded the secret language that they use to make the whole process sound even more complicated than it is.
If you haven't prepared a design for printing before, then it's essential to understand some of the terms used and design principles at play.
Once you've read this guide, you will be able to create print files yourself and open up your printing options to make your budget stretch further.
Everything you need to know is in this guide, complete with diagrams and explanations.
First things first: a booklet is several sheets of paper that have been bound together.
This means that a catalogue, magazine or even a comic book is a booklet in printing terms, no matter what the content or intended purpose.
If you want to be the master of your own print file, then read on!
Paper
You may have an idea about what you want in terms of paper, but do you know how to describe what you're after in print terms?
Because there are a few options and you want to consider which will be best for your project carefully.
Satin paper is smooth and is probably the most common type of paper used in a variety of booklets.
Gloss paper is shiny and makes everything printed on it feel luxurious, which is why it's often used for high-end magazines, although it costs the same as satin.
Uncoated paper is more often seen in specialist booklets as it has a rough texture which dulls colours slightly and gives them a vintage feel.
Satin paper is the go-to option for any booklet, so if you aren't sure what you want, then you should probably go for satin.
If you're printing something with lots of images and bright colours as these will be enhanced by the shiny finish.
Uncoated paper is ideal for more creative booklets such as vintage comic books and zines, where the slightly muted colours and rough texture combine to create an unconventional effect.
Consider the thickness of your paper too.
Measurements are made in bs (pounds), and most printers recommend using something between 70 and 80 lbs for the inner text pages of your booklet with cover sheets between 80 and 110 lbs
Please note that the lbs count for interior text pages is half the thickness of the lbs count for cover papers.
This means that an 80 lbs cover paper will be twice the thickness of an 80 lbs interior page.
The thicker the paper, the stiffer it becomes, which is why you need to consider how flexible your booklet will be.
Because if the page count is too low and the paper is too thick, readers won't be able to open and read it easily.
Covers
Using thicker paper for the cover of your booklet will make it look polished and professional as well as offering some protection for the inner pages.
You will need to choose between satin, gloss and uncoated for your cover pages as well and you would usually go for something between 80 and 100 lbs thick.
You can choose not to have a cover and use the front page of your booklet as a cover which is known in the industry as a 'floppy' or 'self-cover' for obvious reasons.
Lamination
You will always want to laminate your cover where possible as it will make your booklet look much sleeker, whether it's a comic, catalogue or magazine.
A laminated cover will protect your inner pages and keep them looking smart.
Matte lamination is a smooth protective coating which will give your pages a faint sheen.
Gloss lamination is a shiny protective coating which will give your pages a polished finish.
The difference between matte and gloss lamination is similar to the difference between satin and gloss paper.
If you're using satin paper for your cover, then you will probably want to stick with matte lamination, but if you have a glossy cover then adding gloss lamination will make it super shiny.
You cannot laminate uncoated paper as the finish doesn't stick to the rough surface, but the effects of lamination would counteract the finish that you get with uncoated paper anyway.
Binding
There are three types of binding to choose from for your booklet:
Staple-bound – also known as 'saddle stitch', this is a simple pair of staples through the middle of the pages.
Perfect bound – your pages will be attached to a square spine in the manner of a paperback book.
Wiro bound – this is a more specialised option using loops of wire threaded through holes in the margins of the pages.
Most booklets are staple bound because it's a cost-effective and straightforward way to get the job done.
For luxury brands or high-end magazines, perfect binding gives a clean, crisp look, but it does require a minimum thickness of pages to work so isn't always suitable.
Typically, you will need at least 40 sides for your booklet to be thick enough to create the necessary square spine for perfect binding.
Wiro binding isn't as common as either staple of perfect binding.
It's used mostly for things like notepads and thick wholesale catalogues, so most people don't even need to consider it for their booklet.
Print File Setup
So, you've chosen your paper, your cover, which lamination you want and how you are going to have your booklet bound, so now all you need to master is how to set up your booklet printing file.
You will need to take your binding into account in this process, so do bear that in mind.
The reason your print file is different from your basic design is to accommodate the slight inconsistencies of the printing process and ensure that they don't have an impact on how your finished design looks.
The print file setup diagram will help you to visualise the elements described below.
Size
5.5″ x 8.5″ and 8.5″ x 11″ are the standard US printing sizes.
You can choose portrait or landscape orientation to change the look of your booklet, or even choose a custom size if you would prefer.
It is important to remember that the proliferation of US standard sizes means that most display units, shelves and other stationery holders are designed to fit then, so it can benefit you to stick with those.
This is also important when it comes to packing, shipping and storage because cardboard boxes are also typically made to accommodate these sizes.
Trim Line
Nothing is surprising about this – the trim lines are where the cutting blades should cut your paper to size during the printing process.
For 8.5″ x 11″ booklet printing, the trim lines will be the dimensions of a sheet of 8.5″ x 11″.
However, with hundreds or thousands of sheets of paper going under the blade at once, there is always a chance that the stack will shift a minute amount and the edges will fall slightly inside or outside the trim line.
For those occasions, we have two solutions.
The Bleed Area
This is a border of 0.125″ around each side of the trim lines, and your design needs to cover the entire bleed area.
The bleed area is 0.125″ no matter what size paper you choose, so for 8.5″ x 11″ printing, the total size of your design will need to be the dimensions of 8.5″ x 11″ plus 0.125″ on each side.
So, if the cutting blades fall slightly outside the trim lines, you won't end up with a white border around your design.
Quiet Area
The quiet area is similar to the bleed area, but it is 0.25″ wide and lies inside the trim lines.
The quiet area is aptly named as you should avoid including any critical elements of design in this area, particularly any writing or vital details.
Again, this is the same no matter what size paper you have chosen, but you might need to adjust it to suit the binding you have chosen.
There are two reasons for including the quiet zone.
The first is similar to the bleed: to avoid slight discrepancies in the process, cutting off anything important to your design.
The second is more of an aesthetic guide as having essential elements to your design going right to the corner of the page makes it look cluttered and can make it hard for readers to focus whereas a clear space around the edge draws the eye to the most critical elements of the design.
Your binding will affect the size of your quiet area, so if you have chosen perfect binding, you will need to allow a 0.5″ quiet area on the perfect edge to avoid anything important being obscured by the fold between the pages.
This applies to the cover too, so make sure you adjust your layout appropriately.
For wiro binding, you will need to leave a 0.8″ quiet area on the binding edge, including the cover, to ensure that the wires and holes don't eradicate anything important.
CMYK and DPI
This is the most technical part of the whole process, but you're nearly finished, so be brave!
You will need to use CMYK colours for your design and ensure that you are using good enough quality images.
Your computer screen shows colours from the RGB spectrum, made by combining three different colours of light to show you what you see in front of you.
However, printing works differently, so if you want your finished booklet to reflect what you see on the screen, you will need to adjust your colours to match those which are created with printing ink rather than light.
If you have already done your design work in RGB, you can convert the colours using your design software and then check whether you are happy with the results and manually adjust anything that doesn't look right.
If you are starting and want to use a colour spectrum that looks incredible, then you can set them in a design programme such as Photoshop, InDesign or Illustrator before you start.
Using CMYK Profile: Coated GRACoL 2006 (ISO 12647-2:2004) will give consistently good results, so we always recommend that to designers who don't already have a preference.
Booklet printing machines can process all kinds of images and documents, but that doesn't mean they will look good.
JPEGs, Word documents and other low-resolution images should be avoided at all costs and pictures should be at least 300dpi to avoid looking blocky and low-resolution when printed.
We also recommend using PDFs exported using the 'high-quality print' setting in your design programme to get the best results.
Booklet Printing Examples
Common Booklet
Size: 5.5″ x 8.5″
Binding: Staple Bound
Alignment: Portrait
Sides: 20
Text Paper: 70 lbs satin
Cover Paper: 80 lbs satin paper with a matte lamination
This is a spec for a classic booklet which will always look great, whether it's a simple zine, magazine or catalogue.
It is staple bound with satin paper for the interior, and the slightly thicker laminated cover paper conveys a high-quality feel.
It is also a cost-effective combination, which is why it is so widely used.
Glossy Magazine
Size: 8.5″ x 11″
Binding: Perfect Bound
Alignment: Portrait
Sides: 80
Text Paper: 80 lbs satin
Cover Paper: 100 lbs gloss paper with gloss lamination
If you imagined a high-end magazine for a luxury brand, then this is what you would be imagining.
The perfect binding makes it look slick, and the thicker papers and glossy cover conveys a sense of quality.
This setup is ideal for premium brand catalogues or for a company wishing to convey a sense of opulence when presenting a book of their services.
Perfect binding is an effortless way to make any booklet look fantastic.
That's it – you now know everything you need to about booklet printing.
This means that you can take control of your booklet printing orders and be able to shop around will allow you to make savings whatever your budget.