What's the Best Wacom Drawing Tablet for Designers in 2020?
If you've ever got a big image-retouching job, working with a mouse generally renders it not so accurate, and you have to put in more work. 
After years of practice using a mouse, I've perfected my ability to use a mouse to edit pictures. However, there are more advanced tools than mice in the market today to make image editing simpler, easier to work, notably better performance, and the result is overall better.
It can be annoying to work with your cursor because your wrist is flat, and you can work only with simple motions involving the whole hand. Usually, a mouse in your hand is not that precise and sluggish, and your hand may tend to clamp after extended usage. 
A mouse is perfect for browsing the internet, clicking, or doing basic research, but a Wacom drawing tablet can be used to complete a more thorough job, and the results will be visible. 
If you decide to get a Wacom drawing tablet, most of the brands today come with a pen-shaped stylus. There is no doubt that the pen is much more comfortable to handle than a mouse, plus working with a stylus, you will be more precise in your work. 
Sale
Bestseller No. 1
Wacom Intuos Small Graphics Drawing Tablet, includes Training & Software; 4 Customizable ExpressKeys Compatible With Chromebook Mac Android & Windows, drawing, photo/video editing, design & education
Certified Works with Chromebook: Wacom is the only drawing tablet that is certified to work with Chromebook for students, teachers and creators, Intuos is simple to use and set-up for any project
Customize Your Creative Process: The 4 ExpressKeys on the tablet are customizable to fit your style so you can program your favorite keyboard shortcuts and unlock your process and creativity
Natural Pen Experience: The included ergonomic EMR 4096 pressure sensitive battery-free pen is light, responsive and easy to control; it feels like you are writing on paper
Creative Software: Register your Intuos on your Mac/PC to receive Bluescape (3-Months), Skylum Luminar Neo (3-Months), Skillshare (3-Months), Clip Studio Paint Pro (2-years), Boris FX Optics (12 months) and try out Corel Painter Essentials 8 & Corel AfterShot Pro 3 for 90 days; Register with your Chromebook and receive Clip Studio Paint Pro (3-months)
Education Software: Register your Intuos on your Mac/PC to receive Kami App (6-Months), and 3 months of Collaboard, Explain Everything, Pear Deck, & Limnu as well as Foxit PDF Editor for Education.
The ordinary mouse has only two levels of pressure sensitivity, and we all know them, clicked and not clicked. On the other hand, let's say a Wacom stylus, this stylus has up to 2400 variant levels of pressure sensitivity. 
With that example, it is proven that styluses will do better when it comes to more detailed photo editing. 
Having that much range in pressure sensitivity can be so beneficial. If you are working in Photoshop, those pressure sensitivity levels apply when using a brush, so when you are trying to blend colours or add on some effects, it makes it much smoother and more natural when using the stylus.
You will get a more natural drawing position when using the stylus, and moving your hands and wrists won't be any problem. 
Control is everything, and you don't have that much power when you use a mouse. The stylus gives you extra control when you are doing your strokes. 
Time has come when you can draw on your device as you do on a piece of paper. Within Photoshop, you can digitally paint with your stylus, and your work would look more realistic, simply because you have a wide range of dexterity in your hands and fingers. 
If you want your pictures to come alive and look beautiful, realistic and competent, then a Wacom drawing tablet, which is the best standalone tablet that doesn't need a computer, is the perfect device for your craft.
Wacom drawing tablets have multiple models; you have to decide which one suits you the most. Different models have different features, and you have to go with the one that will satisfy all of your needs. 
Another thing to point out is what you are going to use your digital drawing tablet, either for work or just for recreational use. Either way, here are the models that Wacom offers:
Bamboo – The Best Wacom Drawing Tablet for Beginners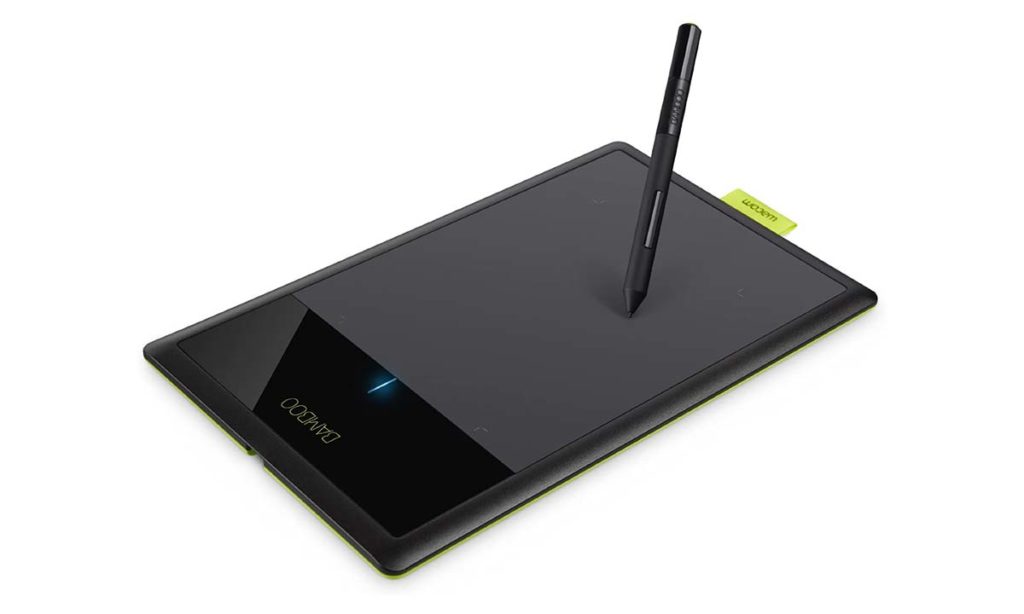 Wacom Bamboo One CTL471 Drawing Pen Small Tablet for Windows and Mac including Black Standard Nibs
Perfect for advanced or beginning digital artists - draw, paint, and edit with an easy to use pen tablet,Replaces your mouse and turns your computer into a digital drawing canvas.
Battery-free, pressure sensitive pen helps you to draw thicker and thinner lines depending on how hard you push on the pen
Small and portable: 152 x 95 mm (6.0 x 3.7 in), is perfect for limited desktop areas and can be setup for both left and right handed use
Product not compatible with the Wacom Wireless Accessory Kit for Bamboo Capture/Bamboo Create/Intuos5 Models (ACK40401)
Compatibility:Connects to Mac (OS X 10.10 and above) or PC (Windows 7 and above) via USB cable or wireless.
First in line is the Bamboo model that is typically considered a Wacom drawing tablet for beginners. 
On this tablet, you can draw, sketch, paint, and you can also edit photos. It is considered a beginner drawing tablet because it is not that expensive, and with this tablet, people can try out what it is like to draw on a tablet. 
The 1024 levels of pressure sensitivity give the users pretty good realistic and natural drawings and sketches, and it makes editing photos an interesting experience. 
The Bamboo line has three different models. All three vary in features and price, so it is down to the user to choose what they like in a tablet. 
The first two models, the Bamboo Connect, which is around 80 dollars and the Bamboo Capture, which is approximately 100 dollars, don't have the eraser feature on the tip of the stylus. 
This feature comes pretty handily to erase a mistake you have made. You only have to flip the stylus and wipe the error away. 
They are small in size, and the Connect lacks some of the more basic and essential features like a multi-touch input, Nik Color Efex Pro Filters, Corel Painter Essentials, or Adobe PS Elements. 
One the other hand, the final model, the Bamboo Create, which is around 200 dollars, is more significant in size, and that means a bigger workspace. 
It has all the features that we named above that the previous models didn't have. Again, it is all up to what the user prefers and what they are going to use the tablet for.
Wacom Inkling – Something Different
This model stands out of the rest because a real pen can be used to draw on it. If you can't get used to the stylus, you can draw traditionally with a real, normal pen. 
All you have to do is clip the receptor at the top, next the Inking will start to record everything you draw and automatically save it on the device. 
This saves you the time to scan your work, and that can give you more time to work. 
Also, all of your sketches and drawings can be exported as files with layers as Photoshop, Illustrator SketchBook Pro formats. 
Sketching out some ideas first and then kick off from a digital standpoint, because all of your ideas are ready to go from export. This drawing tablet can be found and bought at a price of around 200 dollars.
Wacom Intuos5 – A Professional Drawing Tablet
Sale
Wacom Intuos Pro Medium Bluetooth Graphics Drawing Tablet, 8 Customizable ExpressKeys, 8192 Pressure Sensitive Pro Pen 2 Included, Compatible with Mac OS and Windows
Precision Graphics Tablet: Our professional Wacom Intuos utilizes trusted Pro Pen technology to allow for hours of image editing, illustration or design work
Ultra-Responsive Wacom Pro Pen 2: The included ergonomic 8192 pressure sensitive battery-free pen is easy to control, giving you the familiar feel that you are used to with exceptional sensitivity
Compact Bluetooth Design: The compact design along with touch gestures and programmable buttons give you a broad range of ways to personalize the way you work and create
Productivity Boosters: Speed up and stay in creative flow with multi-touch gestures and get easy shortcuts with customizable 8 Express Keys Touch Ring and pen side switches
Creative Software: Register your Intuos Pro and receive 3-months of Shapr3D, and 3-months/250GB of MASV file transfer; offer available for customers located in the Americas
Here is a Wacom model that professionals would love to try out. The 2048 levels of pressure sensitivity will give you enormous control over the things you draw and sketch, and also, it will suit people that are editing photos. The Intuos5 comes in three different sizes-small, medium and large. 
Other than the size of the tablet, the only difference that these models have is that the small version has only 6 express keys, unlike the two bigger ones that have 8 express keys. 
The express keys are there to program them to perform different actions. The various keys can be programmed to do a different task. 
Pen tilt recognition is a feature that will recognise any tilting that you do with your stylus. In which way you tilt the pen, the brush or other software you are using will recognise that tilt.
On the side of the tablet, you can find a multi-function touch ring, which is similar to a scroll that old iPods had. 
You think you can use the multi-function ring to scroll through the sizes of brush, so if you want to have a bigger brush, you would have to navigate in a clockwise motion, and if you're going to have a smaller size brush, you scroll anti-clockwise. 
This model also has multi-touch functionality that gives you the option to work with more than one finger. 
With all those features, this model gives you massive control over your work and the express keys on the side will save you so much time. 
The three different sizes go for different prices, of course, the small is around 230 dollars, the medium is about 350 dollars, and the large is around 470 dollars.
Wacom Cintiq Tablet – One of the Best Digital Tablets for Designers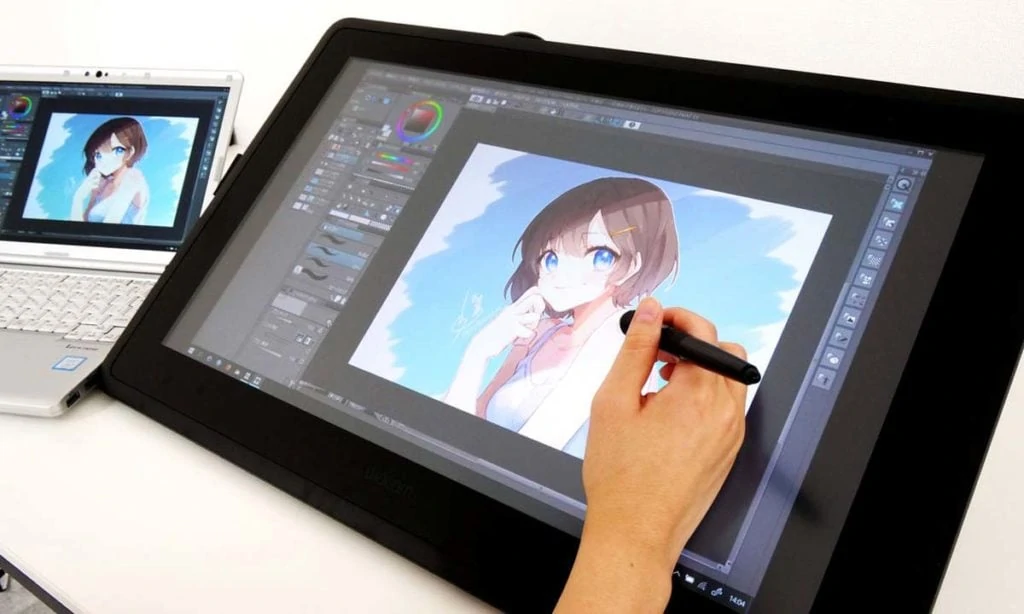 Wacom DTK2420K0 Cintiq Pro 24 Creative Pen Display – 4K Graphic Drawing Monitor with 8192 Pen Pressure and 99% Adobe RGB , Black
Wacom's most natural and advanced pen performance with 8,192 levels of pressure sensitivity, eraser and virtually lag free tracking
4K resolution (3840 x 2160 pixels) is packed into a 24 LCD display with superb color accuracy (99 percentage of Adobe RGB)
The Express Key Remote puts 17 programmable buttons within easy reach; The on screen keypad and the radial menus offer further 1 touch shortcuts
The etched glass screen reduces glare and reflections while providing a distinct, tactile experience as you draw, mimicking the feel of a pen on paper
Register your Cintiq Pro & receive a 90-day trial to Toonboom Harmony & Storyboard, 3-month trial to MASV, 3-Month trial to Bluescape, 3-month trial to Shapr3D, and a 6-month trial to CSP EX. Offer available for customers located in the Americas.
This model is considered one of Wacom's best tablets. 
The control you have over what you are drawing is fantastic, and everything you sketch or draw is exact. 
The Cintiq comes in three different models, the Cintiq 12WX, the Cintiq 21UX, and the Cintiq 24HD. The two main differences between these models are their size and price. 
The Cintiq 12WX is around 1000 dollars, the Cintiq 21UX is about 2000 dollars, and the Cintiq 24HD is around 2600 dollars.
What's the Best Software for your Wacom Tablet?
One app that is relatively popular among artists is Bamboo Paper. This is an iOS app that is great for your doodling and sketching idea, plus it can be used to create presentations and can be used for some photo editing.
Another app that may be the most popular now is the Sketchbook Pro. 
It is incredible for creating sketches and drawings, and it is also pretty fast not to have any lag while you are at work. It supports layers, so your work can be brought to Photoshop after you are done. 
This app has tools that are pretty similar to the ones that Photoshop has. This app can be purchased at around 60 dollars.
Like we said, in the beginning, it all comes down to the user's preference and experience, but arguably the best tablet for artists. 
If you are one of the people that are just beginning to draw and sketch, then some of the not so expensive drawing tablets are for you that has all the necessary features. 
If you are a professional that has been working for years and is searching for something that has fantastic control and precision, then these Wacom drawing tablets, which are more expensive and have top-notch features, are the way to go.
Top 10 Wacom Drawing Tablets in 2020
New
Wacom One HD Refurbished Creative Pen Display, Drawing Tablet with Screen, 13.3" Graphics Monitor
Wacom One Creative Pen Display: High definition creative pen display designed for creative hobbyists, visual thinkers, and anyone needing a second screen or bigger digital canvas for work or play
Natural Pen Experience: The included ergonomic 4096 pressure sensitive battery-free pen is responsive and easy to control, giving you the familiar pen-on-paper feel that you are used to with precision
Digital Freedom: See your imagination come to life in full color on a 13.3" HD screen. You can draw, edit photos and videos, or take notes just like you would with a pen and paper
Sale
New
Bundle of Wacom Mobile Studio Pro 16" Windows 10, Intel Core i7, 512GB SSD: Second Generation + Wacom ACK52701 Soft Tablet Case, Medium, for Intuos Pro, Cintiq Pro or MobileStudio Pro
Our most powerful device yet with enhanced computing power, fast data processing & quick data transfer, powered by Intel i7- 8559U processor, 16GB system memory, 512GB SSD, & Thunderbolt 3 connectivity
Padded and made from durable, water-resistant nylon
See your artwork in amazing detail and clarity with high-resolution 15.6" 4K/UHD (3840 x 2160) screen with up to 85% Adobe RGB coverage (CIE1931) and included 3-angle adjustable Wacom Stand
Enjoy fast-processing and high performance in 2D, 3D, video and CAD applications with graphics options including the powerful NVIDIA Quadro P1000 graphic card
Sale
New
Bundle of Wacom Intuos Small Graphics Drawing Tablet + Wacom Soft Case Small (ACK53501Z), Gray
Certified Works with Chromebook: Wacom is the only drawing tablet that is certified to work with Chromebook for students, teachers and creators, Intuos is simple to use and set-up for any project
Durable sleeve safely stores your Intuos tablet, the pen and the USB cable. Ash Grey woven textile and a cotton lining.
Customize Your Creative Process: The 4 ExpressKeys on the tablet are customizable to fit your style so you can program your favorite keyboard shortcuts and unlock your process and creativity
Natural Pen Experience: The included ergonomic EMR 4096 pressure sensitive battery-free pen is light, responsive and easy to control; it feels like you are writing on paper
Size Small: 9.61 X 8.27 x 0.71 in
Sale
New
New
Wacom Cintiq 16 Drawing Tablet & Cintiq Adjustable Stand & Express Key Remote for Cintiq & Intuos Pro (ACK411050)
Product 1: New Class of Creative Pen Display: Optimized feature set for creative starters provides HD clarity and ergonomic design that allows you to take your creative ideas and illustrations to the next level
Product 1: Super Responsive: Wacom Pro Pen 2 features 8192 levels of pressure sensitivity, tilt response and virtually lag-free tracking. Two customizable switches allow for easy access to shortcuts
Product 1: Industry-leading Color Displays: Our Cintiq displays have LCD display with HD resolution and showcase uniform brightness, high resolution and true to life color quality
Product 2: Variety of tilt angles from 19-68°
Product 2: Anti-slip base for stability in use
Sale
New
Wacom Intuos Pro Medium Bluetooth Graphics Drawing Tablet & Drawing Glove, Two-Finger Artist Glove (1 Pack) & Standard Nibs for Digital Pro Pen 2 (10 Pack) (ACK22211)
Product 1: Precision Graphics Tablet: Our professional Wacom Intuos utilizes trusted Pro Pen technology to allow for hours of image editing, illustration or design work
Product 1: Ultra-Responsive Wacom Pro Pen 2: The included ergonomic 8192 pressure sensitive battery-free pen is easy to control, giving you the familiar feel that you are used to with exceptional sensitivity
Product 1: Compact Bluetooth Design: The compact design along with touch gestures and programmable buttons give you a broad range of ways to personalize the way you work and create
Product 2: Exposed fingertip design allows user to access touchscreen capabilities and type with ease on a keyboard
Product 2: Glide over your screen or tablet surface with reduced friction for hours of comfort while creating; see your screen clearly with unnecessary smudges from oils or sweat on your hand
Sale
New
One by Wacom Medium Graphics Drawing Tablet & Drawing Glove, Two-Finger Artist Glove (1 Pack) & ACK20001 Standard Nibs,Black & Pistachio,Small & Medium
Product 1: Certified Works with Chromebook: The only drawing tablet that is certified to work with Chromebook for students, teachers and creators, One by Wacom is simple to use and set-up for any project
Product 1: Advanced Electro-Magnetic Pen Technology: Bring Your project and presentations to life with precision with pen technology matching your movement with precision for control and accuracy
Product 1: Natural Pen Experience: The included ergonomic 2048 pressure sensitive battery-free pen is responsive and easy to control, giving you the familiar pen-on-paper feel that you are used to
Product 2: Exposed fingertip design allows user to access touchscreen capabilities and type with ease on a keyboard
Product 2: Glide over your screen or tablet surface with reduced friction for hours of comfort while creating; see your screen clearly with unnecessary smudges from oils or sweat on your hand
Sale
New
Last update on 2023-05-31 / Affiliate links / Images from Amazon Product Advertising API