20+ Best Procreate Watercolour Brushes for Artists
Watercolour is a truly unique medium. You can use watercolour brushes for everything from detailed portraits to quick sketches, and the results are always beautiful.
If you haven't tried using Procreate, you're missing out on one of the best art apps in the App Store. Procreate is the market's most feature-rich, powerful, intuitive art app. You can easily create beautiful artwork and make your paintings look like professionals did them.
I've compiled a list of the best Procreate watercolour brushes available to get you started. They're perfect for beginners, but I've also included a few more advanced options. I've tried to cover as much ground as possible, so there's something here for anyone who wants to get started using Procreate to create beautiful images. If you'd rather have your favourite art supplies organised into a category, I've done that too! Check them out below:
1 – Realistic Procreate Watercolor Kit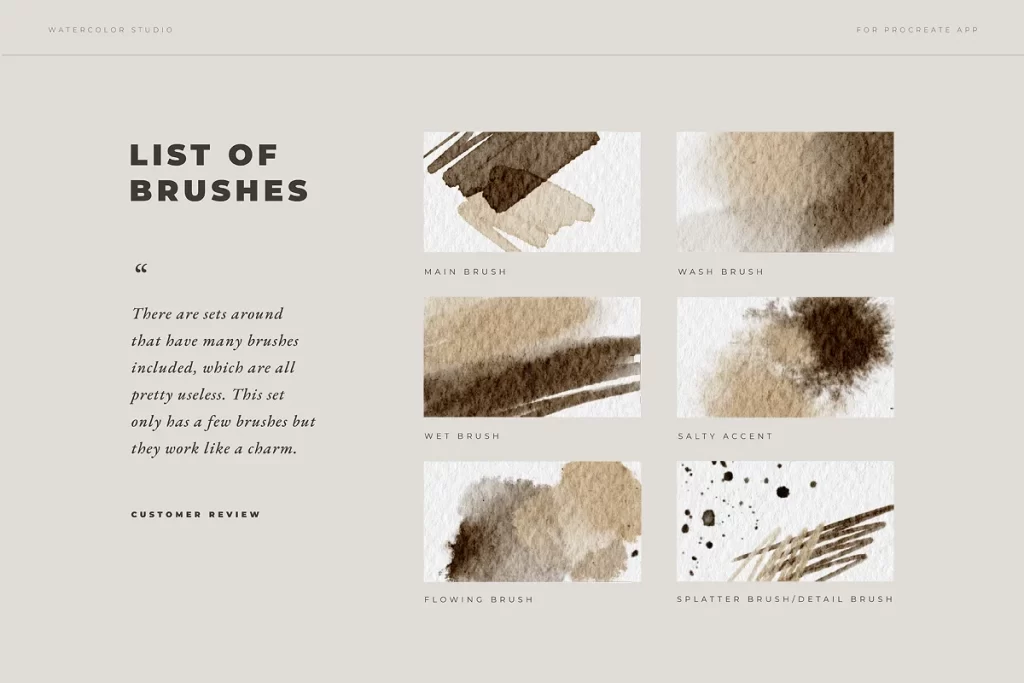 Nowadays, Procreate Watercolor illustration and painting has never been so easy and realistic! Watercolor Studio is a combo of brushes and canvases. They interact with each other so that your Procreate illustrations look like real watercolours.
As with the previous kit, you don't need to customise anything; everything is already done. You need to open one canvas in your Procreate app and start painting. Watercolor Studio includes seven brushes of different sizes.
Do you already have your favourite watercolour brushes? Try them on the canvases from the kit and see how they get additional watercolour texture.
Five layers of Procreate files, seven Procreate brushes, and six premade colour palettes are available for those who wish to create watercolours. They're bundled in a PDF guide with step-by-step instructions on how to do it.
Loading Preview…
Powered by Creative Market
2 – Procreate Watercolor Brush Box
With this set of 51 unique hand-painted watercolour brushes, you can easily create beautiful watercolour paintings. Each brush is made of real-life watercolour shapes and textures, carefully prepared for digital art with the great Procreate App.
If you've never used a watercolour brush before, these brushes will help you get the hang of it. Take a look at the screenshots/drawing examples to get an idea of what you can do with these Procreate watercolour brushes.
Once you use the watercolour paper, set the drawing layer to "Multiply" (Blending mode) to achieve a realistic watercolour look. Play around with different colours, modes, and the eraser and the smudge tools to create authentic watercolour effects. I'd recommend you to read the Procreate Artist's Handbook.
Loading Preview…
Powered by Creative Market
3 – Watercolor Procreate Lettering Brush
This is an artistic brush with a wide range of colours and looks beautiful. It is designed to mimic the look and feel of the original brushes. This stylus should work well on the iPhone, but it works best when you use it on a tablet with a pressure-sensitive screen.
The best part about this pen is that you can choose from many different colours and sizes. It comes in many colours, including black, white, light blue, dark green, orange, purple, red, brown, grey and blue. It also comes in small and large brushes.
You can also adjust the thickness and opacity of the ink.
Loading Preview…
Powered by Creative Market
4 – Wet & Dry Procreate Brush Set
A new set of wet & dry mixed media tools is here, including some of our favourite shapes to help you create stunning paintings!
If you love to do watercolour painting, then you need these wet brushes. We have tried them, and they're just great.
If you want to go the extra mile, try using these dry brushes. They'll give you a rough outline of your painting, so you can go back and fill in the rest later. And if you like to combine both media, mix them up and create an explosion of textures in your artwork.
There are many different types of brushes that you can use when painting. The most commonly used brushes are watercolour, dry paint, and splatter. You can also use blobs and stamps. Other than that, you will also find a canvas texture in the package.
Loading Preview…
Powered by Creative Market
5 – Procreate Big Brush Bundle
In this modern age, nothing beats natural paint, pencil, chalk, and paper textures for a realistic appearance. While using the most advanced Procreate 5x & Apple Pen features, the brushes behave like traditional media. Use the Apple Pencil usually to get sharp, pressure-sensitive strokes, or tilt your Apple Pencil to get broad, soft, textured strokes.
The pack is a special bundle of 55 brushes for Procreate that includes 300 dpi high-resolution textures. Each brush is named after a specific object, place, or concept and comes with ten colour variations.
Also included is a collection of 10 high-resolution palettes that help create a wide range of colours for the brushes. This package also includes lifetime updates when new brushes are added to this set.
Loading Preview…
Powered by Creative Market
6 – Watercolor & Pencil Procreate brushes
With so many different styles, colours, and techniques available, it can be challenging to decide which one you want to use. This set of 19 brushes will give you various options to draw whatever you want, creating a realistic photo illustration or a comic-style drawing.
The brushes in this bundle are simple to use and offer various tools to choose from.
You will receive 12 brushes, seven pencil brushes, four colour palettes (.swatches), and two smudge brushes, one layered with texture Procreate file and one layered with texture PSD file.
Loading Preview…
Powered by Creative Market
7 – AquaReal Procreate Watercolor Set
With the help of Procreate, you can easily create beautiful and realistic digital watercolour paintings that are indistinguishable from the real thing. That's right, Procreate comes with several watercolour brushes specially designed to create the perfect strokes and shapes you need for stunning, authentic results.
Procreate brushes are compatible with Apple's iPhone and iPad. You can even use them on the latest MacBooks and MacBook Pros.
With the eight well-designed essential painting and blending tools, you'll feel more comfortable selecting the perfect brush each time. And combined with the unique stamps included, you'll get accurate results that don't require a degree in fine art painting! You can use authentic stamps to apply realistic colours to your artwork. Apply a lot of different stamps to create unexpected results. Use blending modes and clipping masks to imitate the unpredictability of real watercolour!
Loading Preview…
Powered by Creative Market
8 – Procreate Watercolor Mops & Brushes
A set of 140 watercolour brushes is a welcome addition to any artist's collection. This set includes traditional and digital brushes, and the brushstrokes and colours will surely please art lovers!
You can use the brushes for both still life and landscape painting. The brushes are all handmade, and the quality is outstanding. With 140 brushes, this set is a great value!
The 30 High-Resolution Mop and Dry Brush Watercolour Brushes are perfect for adding details to your paintings. Professional watercolourists have tested and reviewed the brushes, performing incredibly well on screen.
The 20 Color Palettes are the perfect way to colour in your paintings. They come in three sizes, so you can easily mix and match colours.
The 10 Unique Accent Brushes are perfect for adding texture and interest to your work.
Loading Preview…
Powered by Creative Market
9 – The Ultimate Watercolour Brush Set
When creating artwork using these brushes, you can do it any way you want. You can use them to create your designs or try to imitate the designs found in the cards that come with the set. It is entirely up to you.
The brushes capture a particular art style, so I think they look great together. They have all been hand-cut and hand-painted by me, and I have even included a bonus set of four mini brushes. All the brush heads have been designed with a smooth transition between them.
There are 16 different overlay textures to work with. These include watercolour paper, canvasses, creased posters, and more. Also included is the updated Watercolour Boost Canvas, which adds a whole new dimension to your digital watercolour. The Boost canvas comes in size A4, landscape and portrait at 300dpi, and an Instagram post at 2048px x 2048px square.
Loading Preview…
Powered by Creative Market
10 – Everything Watercolour for Procreate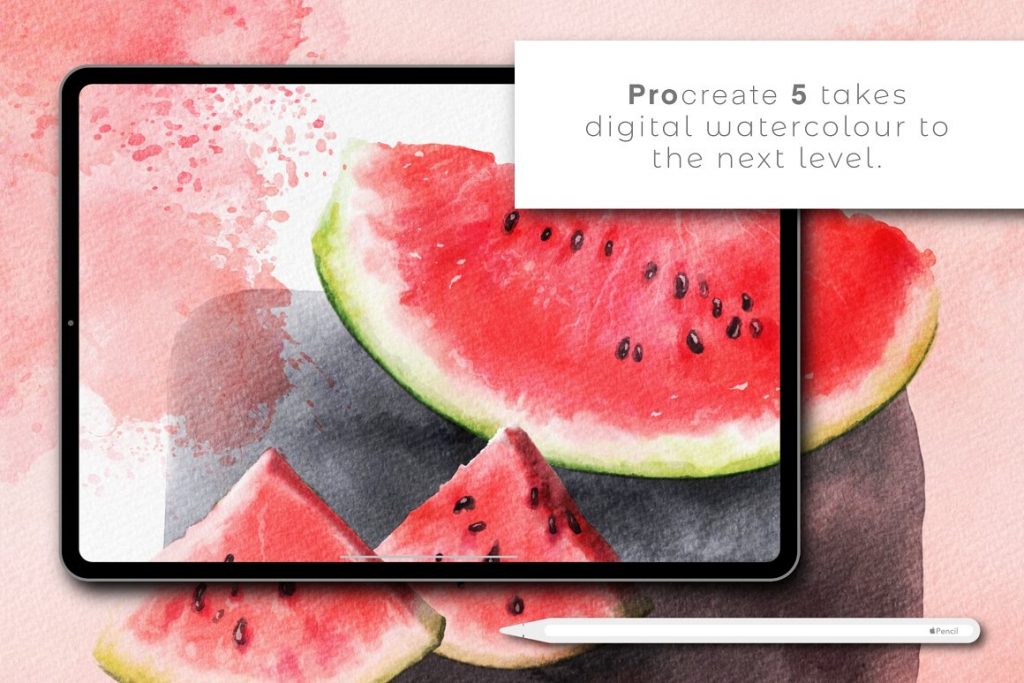 For the first time, the Procreate watercolour pack contains all the brushes you need to create stunning watercolours in the app. The new brush engine is incredibly powerful and versatile, and they've created a range of brushes to expand your creative potential.
Watercolours are an excellent medium for any artist who wants to experiment with a new technique. With watercolours, you can paint whatever you want. However you want, and add as much detail as you want. You can create unique patterns on your canvas with just a single stroke!
This kit comes with two sheets of paper textures to give you an idea of what the final piece might look like. You can use these textures to get started on your piece, or you can use them as a guide to add some extra texture to your canvas.
Loading Preview…
Powered by Creative Market
11 – Procreate 5 Watercolor Brush Bundle
The new Brush Studio in Procreate 5 is a significant update that gives artists powerful tools to create rich and realistic strokes on paper and canvas. It's made of natural watercolour textures and brush strokes. They've painstakingly scanned in, edited and digitally polished over 500 watercolour strokes by hand.
The new Brushes are made from the natural texture of watercolour paint and come with more than 500 brushes in the studio. Each brush comes with a different texture, like a pencil, a crayon, a brush, or a fine-tipped pen.
This bundle offers 100 genuine watercolour stamps for your Procreate app. These watercolours are made from high-quality materials and are easy to use. You can choose from various designs such as animals, landscapes, letters, symbols, etc.
Loading Preview…
Powered by Creative Market
12 – Watercolour for Procreate
The brush pack created for Procreate was designed to reflect watercolour's actual usability and aesthetic. The pack includes 27 stunning brushes, washes, and effects to help you create the most realistic digital watercolour paintings possible. Included in the download is a 'cheat sheet' containing examples of all the brushes and some examples of how to use them to their full capabilities!
As you might expect, the pack is essential that it was designed to work only with Procreate. It will not work in other software packages such as Illustrator or Photoshop.
Loading Preview…
Powered by Creative Market
13 – Procreate Watercolour Brushes
I like the idea of brushes that can help us draw flowers and look natural. So I bought these brushes and started using them. It took me a while to learn how to use them properly. But now that I know how to use them, I'm completely in love with them.
With this set, I found all the brushes I need to create any flower. The brushes are also handy for other things, such as sketching the figure's body outline.
Loading Preview…
Powered by Creative Market
14 – Watercolor Procreate Brushes
For beginners, there's no end to the number of ways to create a beautiful watercolour painting. Whether you're looking to draw an outline or fill in the area between objects with watercolour, this application is packed with several tools to help you get started.
The application provides five painting brushes to help you create smooth lines, with or without blending. It also includes four different splatter brushes to give you even more choices. And if you want to add some colour, you can choose from 12 watercolour stamps and a special brush to help you blend colours.
Loading Preview…
Powered by Creative Market
15 – Gouache Procreate Brushes for iPad
Have you been looking for the perfect palette of gouache paints for months? Well, how about this one from the Gouache Boutique Collection? With a wide array of paint textures ranging from "Creamy Smudge", "The Impressionist", "Gritty", and "Color Puller", this collection includes 20 digital brushes that will help you get that illustrative look down pat! Whether you're looking to create a realistic painting, a whimsical piece, or anything in between, these brushes are the perfect addition to your toolkit.
Loading Preview…
Powered by Creative Market
16 – Watercolor brushes for Procreate
Create incredible floral designs on paper or canvas with the 22 Watercolor Stamps with florals, leaves, and branches. The package includes accurate watercolour shapes and textures. The brushes included in the package will help you create beautiful bouquets.
The package also contains 9 Wet watercolour .brushset files, three watercolour background images and 3 Bonus Palettes.
Loading Preview…
Powered by Creative Market
17 – Soft Watercolor Procreate brushes
It's realistic Procreate brushes are created by a watercolour illustrator, so you'll love the results. These brushes are easy to use. They give you significant effects, allowing you to draw quickly and effortlessly.
They are also packed with special paper effects, making adding drops, shadows, textures, splashes, and salt stains to your watercolour illustrations even easier. You can also open Procreate and draw directly on the canvas, saving time.
To ensure a smooth and accurate drawing experience, the company included four videos with step-by-step instructions and explanations. This makes sure that you know everything there is to know about drawing, and you'll feel confident and happy when creating your masterpiece.
Loading Preview…
Powered by Creative Market
18 – Perfectly Imperfect for Procreate
An awesome Abstract Brush Collection for Procreate
This is an excellent collection of abstract brushes for Procreate. The brushes are perfect for creating watercolour, gouache, oil paintings and abstract art.
You can even add some texture and grunge to your work. The brushes include some fantastic patterns, textures, stamps and textures. You'll have lots of fun with them!
Loading Preview…
Powered by Creative Market
19 – Artist Brush Set
Suppose you're just starting with art or looking for more art supplies. In that case, this starter kit contains ten watercolour brushes, three gouache brushes, five artistic pen brushes, and two pencil/crayon brushes. This kit only works with the Procreate app and iPad Pro, so if you're looking for Photoshop compatibility, you may want to look elsewhere.
Loading Preview…
Powered by Creative Market
20 – Amazing Watercolor for ProCreate
Forty-three brushes, 12 blenders, and 25 textures are carefully designed to help you create stunningly beautiful watercolour art in Procreate.
The brushes in this package are designed to give you the most delicate textures for your digital watercolour paintings. They're designed to help you create the most amazing watercolours from the beginning of your career!
The Edge & Blend brushes are great for creating a blurred effect with any edge brushes. Using the edge brushes, you can use the Blur Brush to create a blurred effect.
Loading Preview…
Powered by Creative Market
Conclusion
Watercolour brushes come in a variety of shapes and sizes. The critical thing to remember when choosing which is best for you is to select the one you'll use the most. For example, if you often draw birds, choose a round brush, but if you're more likely to paint flowers, go with a large brush.
You can start with a few essential tools to grasp brush strokes well. First, have fun! Once you get the hang of it, the sky is the limit.
These Procreate watercolour brushes are the best tools for drawing and painting on your iPad. They are not only designed to produce unique watercolour artwork, but they will also make your life easier while you're using them.