The 5 Best External Monitors for MacBook Pro
Are you a proud owner of a MacBook Pro, looking to enhance your productivity, elevate your creative work, and expand your screen real estate? Well, you're in luck! This comprehensive guide will explore the exciting world of external monitors specifically curated for MacBook Pro users. Whether you're a designer, developer, content creator, or someone seeking a larger and more versatile display, we've got you covered.
External monitors are the perfect accessories for any MacBook Pro owner seeking to upgrade their workflow. Connecting an additional display to your laptop can significantly increase your available on-screen space. This allows you to multitask efficiently, view more content simultaneously, and organise your projects in a less cluttered manner.
With the right monitor, you can even achieve pixel-perfect colour accuracy for photo and video editing or bump up your resolution for exceptionally crisp and detailed visuals. Some professional monitors offer built-in calibration tools, Thunderbolt 3 connectivity for lightning-fast data transfer, and slim bezels for immersive viewing.
Over the following few sections, we'll explore the top considerations when choosing an external display for your needs. You'll discover pros and tips for monitor types like 4K, ultrawide, and portable displays. We'll also showcase some of the best MacBook Pro-specific monitor options at various price points on the market.
So whether you're a travelling creative looking for a portable second screen or a power user seeking maximum pixels, this guide will equip you with everything you need to enhance your MacBook Pro experience with the perfect external display. Let's dive in!
Top 5 External Monitors for MacBook Pro
1 – LG UltraFine 5K Display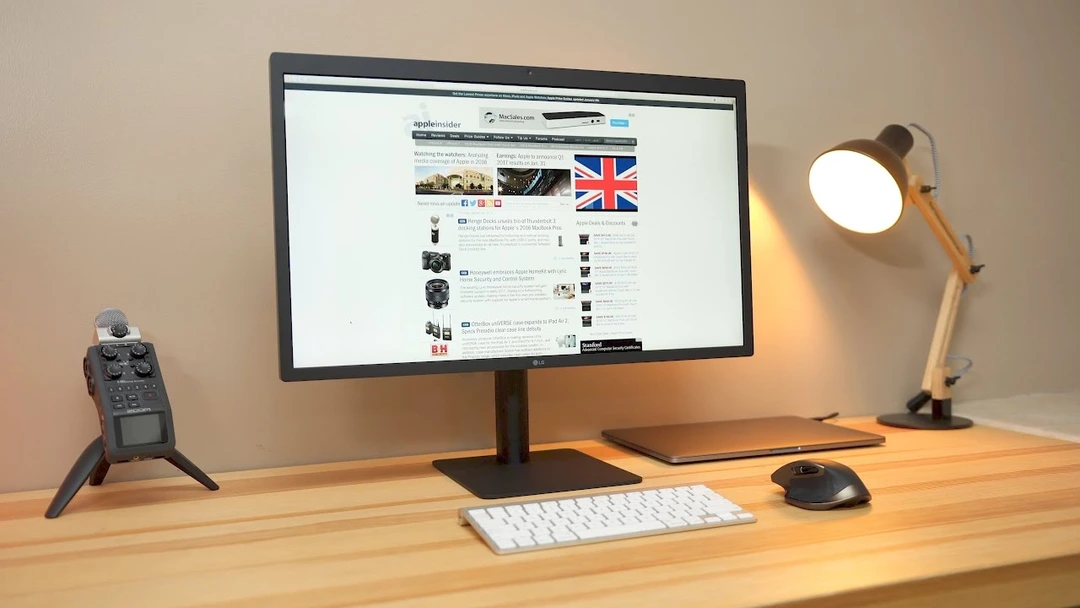 Sale
Bestseller No. 1
Experience your creative work like never before with the stunning LG UltraFine 5K Display. As the apex of Apple monitor collaboration, this 27-inch Retina screen offers an immersive 5120 x 2880 resolution with over 14 million pixels for unbelievable detail and clarity. Images appear vibrant and lifelike thanks to the P3 wide colour gamut, which produces a rich spectrum of over one billion colours. With a remarkable 500 nits of brightness, this display shines brilliantly in any lighting condition.
Optimised for productivity, the LG UltraFine 5K Display enables effortless multitasking and seamless connectivity. Dual Thunderbolt 3 ports deliver up to 40Gb/s lightning-fast data transfer for quick file sharing while charging your MacBook or iPad Pro at up to 94W. The built-in 1080p camera, microphone and stereo speakers integrate beautifully with Mac apps for crisp video conferencing and audio. Whether editing photos, creating digital art, coding or streaming content, this monitor provides an immersive Mac experience.
Designed for comfort, the adjustable stand lets you tilt and heighten the display. Minimise glare with the nano IPS screen coating that absorbs ambient light and reduces reflections. From its elegant profile to minimal cable clutter, the LG UltraFine 5K Display combines form and function for the ultimate Apple setup. When you demand the best image fidelity, connectivity and comfort, this exceptional 5K monitor stands out.
2 – Dell Ultrasharp U3219Q
Sale
For professionals who demand expansive screen real estate and pixel-perfect colour accuracy, the Dell Ultrasharp U3219Q 32-inch 4K monitor is ideal. With its generous 32-inch panel boasting a 3840 x 2160 Ultra HD resolution, this display provides a vast canvas for work that renders every detail with stunning clarity and precision.
Whether you're a graphic designer, photographer, video editor or any creative professional that requires a large workspace and flawless colour reproduction, the U3219Q delivers. Dell has factory-calibrated each monitor to provide 99.9% sRGB coverage right out of the box, ensuring colours are rich, vibrant and true-to-life. This makes the U3219Q perfect for colour-critical work like photo/video editing, print production, and digital art creation.
Connectivity is also flexible with the U3219Q's USB-C port. You can transfer video from your laptop while charging it with up to 90W of power delivery via a single cable. The monitor also includes DisplayPort, HDMI and USB 3.0 ports.
For optimal productivity, the U3219Q supports both Picture-in-Picture and Picture-by-Picture modes, allowing you to view content from two input sources simultaneously. Whether reviewing photos side-by-side or comparing documents, this streamlines workflows.
Adjustability is also excellent with the U3219Q, featuring height, tilt, swivel and pivot adjustment to tailor viewing comfort and accessibility. Finding your optimal ergonomic setup is easy.
In summary, if you require an expansive 4K canvas and pixel-perfect colour reproduction for your creative work, the Dell Ultrasharp U3219Q is an outstanding choice. Its 32-inch 4K display, sRGB colour accuracy, USB-C connectivity, multi-view modes and adjustable stand makes it ideal for professionals who refuse to compromise.
3 – BenQ PD3220U
Sale
For creative professionals and designers seeking both aesthetic appeal and high performance in a monitor, the BenQ PD3220U is an excellent choice. This 32-inch 4K monitor does more than display stunning visuals – it also provides versatility and convenience through well-thought-out features and design.
At the core of the PD3220U is its beautiful 32-inch IPS panel with 4K UHD 3840 x 2160 resolution. It produces precise and consistent colour reproduction covering 100% of the sRGB and Rec. 709 colour spaces, thanks to BenQ's advanced AQCOLOR technology. This ensures that colours are displayed accurately as intended for reliable design work. HDR10 support further enhances imagery by increasing contrast and depth.
But the PD3220U is more than just an excellent display. Its sleek and elegant thin bezel design with an edge-to-edge screen provides an immersive viewing experience ideal for creatives. The unique Hotkey Puck G2 makes it easy to switch between preset modes or adjust settings like brightness and contrast with intuitive dial controls.
The PD3220U also features USB-C connectivity with Thunderbolt 3 compatibility. The USB-C port allows data transfer, video transmission, and power delivery up to 60W, all through a single cable. This helps reduce cable clutter and makes it convenient to connect devices like laptops. For improved productivity, the innovative DualView function lets users simultaneously display two inputs.
In summary, the BenQ PD3220U beautifully fuses form and function. Its gorgeous 4K display and purposeful features like the Hotkey Puck G2 and DualView maximise utility for creatives. For those seeking a monitor that looks as good as it performs, the PD3220U delivers professional-grade visuals and thoughtful design.
4 – ASUS ProArt PA32UCX
Sale
ASUS ProArt Display PA32UCX-PK 32" 4K HDR PC Monitor, 99% DCI-P3 99.5% Adobe RGB, DeltaE<1, 10-bit, IPS, Thunderbolt 3 USB-C HDMI, 1200nits, w/X-rite Calibrator, Compatible with Laptop & Mac Monitor
32-inch 4K HDR display features 1,152-zone mini-LED backlight with 1,200 cd/m2 peak brightness and rich in connectivity ports, including Thunderbolt 3 USB-C x2 (In x1, Out x1), HDMI (v2.0b) x3, DisplayPort 1.2
The ASUS ProArt PA32UCX is a monitor built for creatives who demand uncompromising colour precision in their work. With its expansive 32-inch 4K display powered by advanced mini-LED backlighting, this monitor offers an exceptional high dynamic range (HDR) performance and extensive colour coverage ideal for video editing, photography, graphic design and other colour-critical applications.
At the core of the PA32UCX is a mini-LED backlight system with over 1,200 individual local dimming zones. This enables incredible lighting control for deeply immersive HDR visuals with highlights that pop and inky blacks. The monitor covers 99% of the cinema-grade DCI-P3 colour space and 89.5% of the even wider Rec.2020 gamut. It also supports multiple HDR formats, including HDR10 and Hybrid Log Gamma, for versatility across different media projects.
Ensuring accurate colour accuracy, the PA32UCX is factory pre-calibrated and Calman Verified to deliver a Delta E colour difference of less than two right out of the box. It also carries Pantone Validated certification for meeting stringent colour-matching standards favoured by graphic designers and photographers. Users can quickly recalibrate the monitor using the ProArt Palette software and an external calibrator.
Connectivity options include two Thunderbolt 3 ports for daisy chaining multiple high-resolution devices and charging laptops. The monitor also has a USB hub, HDMI input and adjustable stand with tilt, swivel and height adjustments to suit any work setup. ASUS Dial, a unique controller on the back of the monitor, provides intuitive OSD settings adjustment using a dial and click wheel mechanism.
The ASUS ProArt PA32UCX delivers exceptional accuracy and professional-level HDR visuals in an expansive 4K display with advanced calibration capabilities for creatives who demand the best colour performance. It's ideal for colour-critical editing and design work where every detail matters.
5 – Samsung Odyssey G9
Sale
Step into a new dimension of gaming and creativity with the Samsung Odyssey G9. This incredible 49-inch monitor is designed to immerse you in whatever digital world you desire fully.
The massive curved display stretches across your field of view, surrounding you with vibrant QLED imagery. With a sharp dual QHD resolution and HDR1000 support, every detail pops with a lifelike clarity. Scenes appear vivid and nuanced, from the dark shadows to the brightest highlights. Even fast-paced motion stays smooth and sharp, thanks to the blazing 240Hz refresh rate.
Gaming is genuinely redefined on the Odyssey G9. The high refresh rate and ultra-quick 1ms response time allow you to react instantly to on-screen threats. Adaptive sync via G-Sync or FreeSync Premium Pro matches the display's refresh rate to your graphics card's output, preventing lag, stuttering, and screen tearing. Sink into total gaming immersion surrounded by this 49-inch powerhouse.
Creativity can also flourish with the ample on-screen real estate and gorgeous QLED imaging. The unique 32:9 aspect ratio lets you view files, apps, and media side-by-side. Edit photos and videos with enhanced precision thanks to the pin-sharp details. Bring your digital artwork to life on the vibrant canvas. Work or play more comfortably with customisable ambient lighting from the monitor's Infinity Core design.
In both gaming and creator scenarios, the Samsung Odyssey G9 exceeds expectations. Its best-in-class combination of display size, visual performance, and silky-smooth motion takes immersion to new heights. There's no going back once you experience its enveloping 49-inch curved view.
Frequently Asked Questions (FAQs)
Can I connect these monitors to older MacBook Pro models?
Yes, most of these monitors offer various connectivity options, including USB-C and Thunderbolt 3, which are compatible with newer and older MacBook Pro models.
Are these monitors suitable for graphic design work?
Absolutely! These monitors prioritise colour accuracy and offer features like wide colour gamuts and factory calibration, making them excellent graphic design and photo editing choices.
Can I use these monitors for gaming?
Certainly! Monitors like the Samsung Odyssey G9 and ASUS ProArt PA32UCX offer high refresh rates and advanced gaming features, making them suitable for gaming enthusiasts.
Do I need additional cables to connect these monitors to my MacBook Pro?
A compatible USB-C or Thunderbolt 3 cable is usually included with the monitor. However, it's a good idea to double-check and ensure you have the necessary cables for optimal performance.
Do I need additional cables to connect these monitors to my MacBook Pro?
A compatible USB-C or Thunderbolt 3 cable is usually included with the monitor. However, it's a good idea to double-check and ensure you have the necessary cables for optimal performance.
Can I daisy-chain multiple monitors together?
Some monitors, such as the LG UltraFine 5K Display, support daisy-chaining via Thunderbolt 3, allowing you to connect multiple monitors in a series.
Conclusion
Investing in an external monitor can better transform your MacBook Pro experience. Whether you are a creative professional, gamer, or simply looking to increase productivity, the correct external display opens up new possibilities. The monitors on this list cater to diverse needs, ensuring you find the perfect model to complement your MacBook Pro and enhance your workflow.
Colour accuracy and wide colour gamuts are critical for creative professionals like graphic designers, photographers, and video editors. Monitors like the LG UltraFine 5K and BenQ SW271 provide stellar colour reproduction that brings projects to life. Their high resolutions and large-screen real estate enable you to view media in incredible detail. For gamers, high refresh rates and adaptive sync technology on monitors like the ASUS ROG Swift PG279QZ allow you to experience gameplay with fluid motion clarity.
Professionals across all fields will appreciate the productivity gains from extra screen space. The ability to extend your desktop over multiple displays enables more efficient multitasking. Large displays like the Samsung Odyssey Neo G9, with its immersive 49-inch diagonal, allow you to view multiple windows simultaneously. Portable monitors like the Lepow 15.6-inch are convenient secondary displays you can take anywhere.
With the right external monitor that complements your needs, you can elevate your MacBook Pro experience. Their advanced feature sets help you work and play better. If you want to get more out of your MacBook Pro, investing in one of these monitors is highly recommended to expand your capabilities. They are the perfect accessories to help you enhance your computing and unlock new productivity levels.
Last update on 2023-09-22 / Affiliate links / Images from Amazon Product Advertising API