11 Best Donation Plugin For Accepting Charity Funds
Are you searching for the best donation plugin so that you can leverage funds for your WordPress site?
Collecting online donations effectively and intuitively leverage nonprofits, charities, relief funds, and special causes. 
Whether you want to simplify the PayPal donation button or seek a more advanced fundraising solution that can assist you in executing full-fledged campaigns and managing donors, you can find some excellent WordPress plugins to assist you in getting ahead.
Hence, this article will discuss some of the best WordPress plugins for accepting charities and funds via sage and secure payment methods, i.e., Stripe, Square, PayPal, or other credit card processing models, and vice versa.
1 – Donation for WooCommerce
Donation for WooCommerce is a seamless WooCommerce plugin that helps you collect donations in your store quickly and efficiently. You can even build recurring donation campaigns via this WooCommerce plugin.
The plugin enables you to add multiple track levels of donations and helps you adjust the minimum and maximum levels for payment methods.
Using this plugin, you can restrict a fixed amount of donations or enable the customers to specify a significant amount of their belongings.
Likewise, you can place the option on a particular product, cart, or checkout page or use a specific amount of widgets.
Features
The following are some of the essential features of Donation for WooCommerce:
Accept the donation on your site.
Specify a fixed amount or multiple layers of contribution or let customers decide.
Adjust the minimum and maximum limits.
Highlight the option anywhere on your site.
Highlights a progress bar to communicate the collected amount in a simple order.
Compatible with Currency Switcher for WooCommerce.
2 – WooCommerce Donation Plugin
WooCommerce Donation Plugin enables you to develop a donation product or show an option to add a donation to the cart page.
It allows you to specify a substantial amount for donation or enables customers to choose from their desired list.
The plugin has minimal configuration options; the donation option will be available in the shopping cart. It also provides detailed reports on your donation campaigns. 
Features
The following are some of the features of the plugin above:
Assists you in incorporating a donation form into your cart page.
Relates donation options to particular products.
Customise the appearance of the donation button, and the text gets displayed.
Highlights the fixed amounts that customers can choose.
Highlights the total donations and a donation summary consisting of widgets.
3 – GiveWP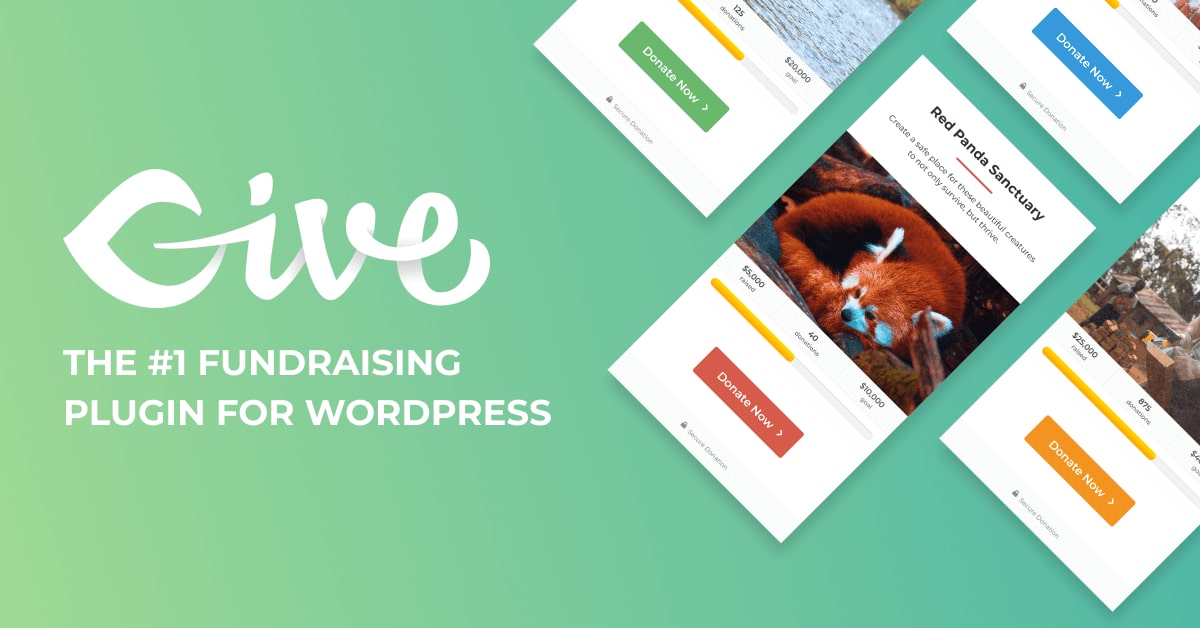 GiveWP is the preferred choice to handle donations in a WordPress store. It offers an intuitive range of options for developing multi-layered donation forms with the assistance of templates. 
Also, the user can easily add fundraising goals, donation suggestions, and significant amounts quickly and efficiently. Specifically, the plugin has various reporting features and seamless donor management options.
Features
Following are some of the features of the plugin as mentioned above:
Provides simple and effective options for the acceptance of donations.
Provides templates to help you create donation forms.
Compatible with an enormous amount of WordPress themes.
Offer multiple payment options.
Provides detailed reporting and simple donor management aspects.
4 – Charitable
Charitable is a full-fledged WordPress donation plugin that enables you to develop unlimited fundraising campaigns and set goals for your noble cause.
You can select a fixed total amount, add a custom account, or vice versa. You can embed the donation form on your pages, posts, sidebars, and modal popups.
However, the base plugin is free; you must upgrade to their plus plan to unlock payment gateways such as Stripe, Authorize.net, and newsletter sign-up forms. 
Hence, you should consider the premium plan if you're looking for recurring donations, crowdfunding, peer-to-peer fundraising, donor fee relief, and relevant features. 
Features
Following are some of the features of the plugin as mentioned earlier:
Comprehensive & full-fledged donation plugin.
Adjust goals for campaigns and make them time-sensitive.
Customises the donation form templates.
Easily integrates PayPal and relevant offline payment options.
Customised email notification and simpler management of donors.
5 – Seamless Donations

Seamless Donation is a free and open-source donation plugin for the WordPress platform. It gives you complete control over collecting and managing donations within the WordPress dashboard.
It works with PayPal to make donations via credit card accounts. Also, users can accept one-time donations or recurring donation payments, enabling users to select which campaign they want their funds to be allocated to. 
Seamless Donation has a few add-ons, like Thank You Enhanced, which lets you set up custom thank-you pages, and Giving Level Manager, which lets you set up custom donation levels that can be linked to.
Features
Some of the features of Seamless Donations are as follows:
It provides the simple option to accept donations on the WordPress platform.
Easily handles instant recurring payments via Stripe or PayPal.
Automatic and Instant Notifications.
Flexible and easy to set up.
6 – Donorbox – Recurring Donation Form
Donorbox is a robust and secure donation and fundraising WordPress plugin that offers a quick feature-filled solution that helps every individual to raise funds. 
It has all the relevant features and options that allow you to set up a donation form on your WordPress website. 
Installing the plugin on your WordPress site allows the user to add donation functionality to your website in minutes easily. Likewise, various options help you manage how you can receive donations. 
Features
Some of the features of the donor box plugin are as follows:
It allows the branding of the donation page with colour schematics, logo designs, and styling options.
Ability to add several custom input fields into the donation form as per the user's requirements.
Compatible with multiple payment methods such as Stripe, PayPal, and vice versa.
Provides the option of recurring donation functionality.
7 – WP Crowdfunding

WP Crowdfunding is a WordPress fundraising plugin that helps users easily create and manage fundraising or backend sites.
It includes the native wallet system that easily tracks the collected funds for a fundraising event. It has a native wallet system that makes it easy to follow the managed funds for a fundraising event. 
The event owner can quickly request the admin to withdraw funds after the collected amount has reached a certain threshold.
The user doesn't need to know the methodology for calculating the withdrawable funds from website commissions. The plugin can do it for you after generating the statistics and vice versa.
Crowdfunding websites can easily use the Stripe connect payment solution to facilitate streamlined fund distribution for the project owner, and the admin can easily configure it. 
There isn't any requirement for the backend accessibility as the WP Crowdfunding functions on the frontend screen. Also, they can easily add and update the projects intuitively and easily.
Notably, you don't need to worry about the cash management system while using the WP Crowdfunding plugin. It provides seamless payment methods, including PayPal, Skrill, Stripe, and vice versa. It also enables you to raise funds and distribute and manage cash quickly and intuitively.
Features
Following are some of the features of the WP Crowdfunding plugin:
Specific user registration feature.
Frontend project submission form.
Project initiation and end date options.
Set up a featured image and video.
Supports overriding options for the developers.
Standardised the WordPress dashboard access for WP Crowdfunding.
Provides analytical reports via technical tools.
Supports social share extensions
Connects the stripe payment method
Provides WooCommerce and other configurations.
Adding and controlling the payment methods.
Free rewards and assumed delivery date.
Supports Native Wallet System.
Supports Google reCAPTCHA.
Offers 1-year plugin updates and support
8 – Formidable Forms
Formidable Form is the most straightforward, powerful form builder for the WordPress platform consisting of the options that help you build a nonprofit donation form. 
The nonprofit website usually relies on the 'PayPal donation button' for donation aspects. Although their functionality is a basic version, it seems pretty limited.
It consists of many templates that formidable forms offer to easily incorporate a built-in donation form on your WordPress website.
It consists of graphs that make visualising your website's donation stats easier. The WordPress-enabled donation plugin lets you export form data from outside WordPress and imports the donation information from the relevant 3rd party services. 
Because it is compatible with WPML, you can easily translate your WordPress donation into any language. You can easily configure the item name, donation amount, currency, and more via Formidable Forms.
Features
Following are some of the features of the formidable forms:
Supports formidable views
Specifies the file upload forms
Supports conditional logic
Supports cascading dropdown menus
Provides form scheduling
Selectable repeater fields
Supports calculator forms
Provides custom post submission
Supports multi-page forms with a progress bar
Adapts Surveys and Polls
9 – WP Full Stripe
WP Full Stripe is a full-fledged WordPress plugin powered by the top-notch Stripe payments gateway to help you create a subscription or donation form on your site.
You can easily use it to embed payment forms on your social media posts or site pages and draw payments directly to your site. In this case, users don't have to leave your site to opt for third-party services.
Features
Some of the features of the WP Full Stripe plugin are as followers:
Builds payment forms to take payments via the Stripe payment method.
Integrates payment forms on any site page or post with a simple shortcode.
Enables users to choose between the fixed price and donation style payment forms.
Highlights the list or receives payment information with the WordPress platform.
Chooses multiple ways to send email receipts on successful payments using Stripe.
Chooses various redirections to site pages or posts that follow successful payment.
Customises the forms with an additional column field, billing address, and email address.
Supports Ajax-style forms with no page redirects to draw payments.
Develops multiple versions of payment forms that meet your business needs.
Develops subscription plans that execute or terminate after a certain number of charges.
Manages subscribers list and subscription plans within the WordPress platform.
10 – PayPal Donation
Suppose you want to set up a safe and secure WordPress donation plugin on your site via PayPal as an identical payment method. In that case, this WordPress PayPal donation plugin seems to be the best possible option.
WordPress PayPal Donation provides a simple and intuitive UI/UX with in-depth technical documentation on setting up your plugin for execution purposes.
It lets you quickly receive information on managing and setting up your PayPal account and the option to customise the PayPal donation page. 
Features
Following are some of the features of the PayPal donation plugin:
Supports up to 18 languages and 25 currencies for international donation campaigns
It provides options to change the images for a specific button. 
Includes options to allow donors to sign up for recurring monthly PayPal donations.
Ability to highlight how PayPal donates button functions.
Adds a dropdown menu for users to choose the specific amount they want to donate.
11 – WooCommerce Name Your Price
WooCommerce Name Your Price plugin is a seamless extension of the WooCommerce donation plugin. As a charity-based plugin for WordPress, users can choose how much they wish to donate for the products they want to purchase. 
The user can set a minimal amount against each specified price for the product; it seems pretty helpful in creating donation campaigns. Still, users can easily use it to donate handmade gifts and vice versa. 
Features
Following are some of the features of the WooCommerce Name Your Price plugin:
Gather information on the prices that customers are willing to pay.
Enables users to develop product combinations and offer them to donors.
Creates printable gift certificates via PDF product vouchers.
Simple and more accessible configuration options.
Final Verdict
Hence, the discussion above highlights the overall concept and features of the donation plugins based on your desired needs and preferences. 
So, you can easily choose a plugin that will help you take your business to manage how you want to receive donations instantly.