15 Best Divi Plugins You Should Use For Your Website
Regardless of the countless features in Divi theme & builder, Divi users often need to use third-party plugins to make the best use of WordPress. And it is valid for any themes and page builders out there.
There are many plugins in the Elegant Themes marketplace. These plugins help your Divi building experience for two main reasons:
First, plugins expand your design possibilities on your Divi websites through powerful modules.
Second, essential plugin extensions ensure convenience by allowing you to use different file types and providing other beneficial solutions. 
Here, we have come out with the 15 best Divi plugins for your website. You will find them immensely helpful for creating unique designs and fulfilling additional needs for Divi websites. 
Let's discuss these plugins one by one.
The 15 Best Divi Plugins (Reviewed)
DiviFlash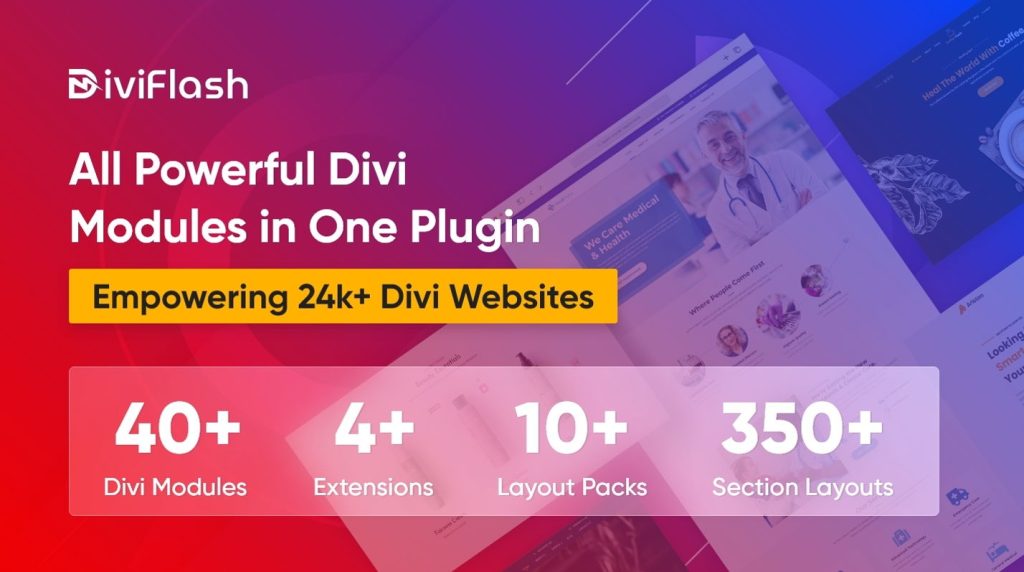 DiviFlash is a collection of practical 40+ modules & 4+ extensions that extend your Divi website-building experience with great functionalities. This multipurpose third-party plugin has a vast emphasis on quality over quantity. 
For example, it is impossible if you use Divi Supreme and want to create a stylish heading with a divider, masking, or dual text effects. Since it has individual modules for each effect, you can not use all those features simultaneously in a single heading. However, the DiviFlash brings an all-in-one Advanced Heading module with multiple text areas, a divider, dual text, and masking effects to build an attractive title. 
With DiviFlash, one can access limitless design possibilities for embellishing Divi websites. It comes with eight different carousels for making fantastic sliders. Their CPT modules satisfy customers through impressive showcasing of portfolio recipes, products, and projects. 
Further, Product Grid and Product Carousel modules help to show helpful and attractive WooCommerce pages. This plugin facilitates catchy animation effects and custom spacing features for a splendid look.
Don't just show your images with a standard gallery layout on the Divi website. Instead, use DiviFlash gallery modules to show images fashionably and stunningly. You can organise photos in a grid and masonry layouts by implementing a lightbox, load-more button, hover effects, and filtering options. Let's conclude the module part with two special modules: Divi Table Module & Divi Data Table Module. 
You will become a fan of its vast collection of premade section layouts. It also supplies free professional website templates. Other third-party integrated modules like Instagram Carousel and Contact Form 7 Styler are additional advantages of this plugin.
Pros
A complete solution to create any carousel and slider.
The only module pack with CPT support for Divi.
350+ section layouts and 10+ complete website layout packs.
Clean code guarantees speedy performance.
Offers multipurpose modules ensuring quality over quantity.
Provides useful WooCommerce features.
Let you upload SVG and JSON files.
Dedicated team for customer support.
Cons
It comes with a lower number of modules and extensions.
Need the support of a popup builder. (Coming Soon)
Cost is higher compared to others.
Price: 
$39 Personal Pack – All modules & layouts, 1 Website, 1-year Update & support.
$89 Business Pack – All modules & layouts, Unlimited Website, 1-year Update & support.
$299 Agency Pack – All modules & layouts, Unlimited Websites, Never ending Updates & support.
Divi Supreme Pro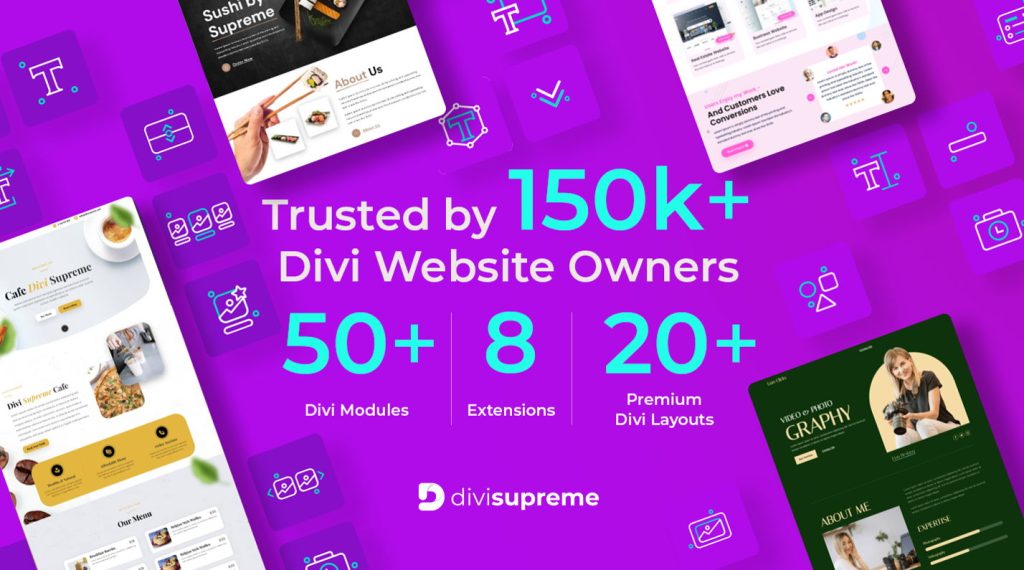 Divi Supreme Pro is another third-party plugin to take your Divi building experience to the next level. They have everything in their pack to support your Divi journey. With 50+ modules, there are close to 8 beneficial extensions.
They create modules focusing on beautifying your Divi websites. For example, Flip Box, Image Carousel, Card Carousel, Floating Images, and Typing Effect modules are worth mentioning. You will also find many intuitive options to make your Divi site easily accessible and user-friendly.
Then come useful extensions where Popups extension fulfils a notable gap of the Divi builder. You can make Divi sites responsive effortlessly with the help of the Responsive Viewer extension.
Pros
Creative modules bring stunning and animated visualisation.
Popup builder with four trigger types.
Effective Scheduled Element extension for running campaigns and promotional banners.
Premium support and regular updates.
Enjoy a renewal discount.
Cons
Doesn't offer any CPT modules like the DiviFlash plugin.
No dedicated WooCommerce modules.
Introducing New Modules as an Independent Product. (Not Free to Existing Users) 
Features are limited in each module.
Price
$49 Personal Pack – All premium modules & landing pages, 1 Website, 1-year Update & premium support.
$79 Professional Pack – All premium modules & landing pages, Unlimited Websites, 1-year Update & excellent support.
$219 Agency Pack – All premium modules & landing pages, Unlimited Websites, Lifetime Updates & premium support. (Limited-time offer)
Divi Plus
Divi Plus is in our best Divi plugin list, with over 50+ modules and four premium extensions. It enhances your Divi theme and builder functionalities without breaking your comfort zone. This Divi third-party plugin has essential WooCommerce modules like WooCommerce Carousel, WooCommerce Products, and Woo Product categories to make your product page more exclusive. 
Showcase your website images more attractively with hotspot, Lottie, and Image magnifier modules. Moreover, you can exhibit client reviews, experience, team, awards, etc., with different carousel styles. Divi Plus also has styler modules and versatile animation effects to make your content engaging. 
Schema and social media integrated modules are additional benefits of Divi Plus. Particles Background extension glues the visitors with an excellent moving background. And the Visibility Manager extension lets you show certain web pages to only subscribed visitors.
Pros
60+ Starter Templates & 250+ Prebuilt Sections.
Unique modules like Timeline, Ajax Search, FAQPage Schema, etc. 
Facilitates useful extensions like Library Shortcode & Element Scheduler.
Hover effect & 4 shapes for interactive particles background movement.
Multiple social media integrated modules.
Cons
Doesn't offer any CPT modules.
Have some complaints about missing parts and non-functional features in the module.
Price doesn't justify comparison to others in the market.
Price
$59 – Single site license for one year. 
$79- Unlimited site license for one year. 
$149- Unlimited site license for a lifetime.
Divi Pixel
Because of the extensive custom setting options, you can differentiate Divi Pixel from others in the best Divi plugin list. This third-party plugin for Divi offers over 200 custom options for configuring all the settings of headers, footers, back-to-top buttons, login pages, uploading SVG files & custom map markers, and many more.
Further, you have vast setting options for customising outstanding mobile menus. And, if you see their 38+ module list, it has many to power up your Divi building experience.
Pros
Close to 20 World-class designed layouts.
Has a layout injector. 
Facilitates customiser settings for mobile menu.
Friendly and experienced support team.
Cons
You will see customer disputes with prices.
Limited Number of Modules.
No Lifetime deal.
Price
€49 Single Pack – Single site, One year of support & updates 
€99 Plus Pack – 3 websites, One year of support & updates. 
€149 Ultimate Pack – Unlimited sites, One year of support & updates.
Divi Essential
Speaking of trendy design, Divi Essential has some modules for that. For example, if you want compelling typography styles, it has modules like Text Color Motion, Text Mask, Glitch Text, Text Stroke Motion, Gradient Text, etc. Even more, you can add various tilt effects to your design. 
Divi Essential also provides multiple dedicated review modules, like Rating & Review. This plugin's before and After module is popular among users with websites like Photography and comparisons. Another significant feature that we find very useful is image masking. Along with 15 stunning shapes, you can also upload custom shapes.
Pros
63+ modules for exploring limitless designs.
600+ fully customisable and responsive premade layouts.
Cons
Most of their modules are similar to other third parties.
The new module was introduced almost a year ago.
Selling multiple products for Divi at different pricing.
Price
$49 Single Pack – Single website, All modules & layouts, Regular updates & Basic Customer Support. 
$99 Unlimited Pack – Unlimited websites for one year, All modules & layouts, Regular updates & Priority Customer Support. 
$199 Lifetime Pack – Unlimited websites for a lifetime, All modules & layouts, Regular updates & Priority Customer Support. 
Divi Carousel Module 2.0
Carousels are a fascinating way to show a series of images or content in a concise area. And Divi Carousel Module 2.0 is the best plugin for carousels in the Divi industry. You will get versatile kinds of carousels in this plugin, such as Content Carousel, Image Carousel, Team Carousel, Testimonial Carousel, etc. 
Moreover, you can use as many Carousel sliders as you want. Divi Carousel Module 2.0 provides impressive features to control intuitive sliders fully. For example, select a responsive item, custom transition select, Loop On/Off, Arrow Repositioning, Item Background, Custom Spacing, Hover Effect, and many more.
Pros
Compatible with Divi theme, Extra theme, and Divi builder.
50+ modern & easily customisable layouts.
Multiple variations of a particular carousel.
Add social media & Links.
Choose an individual carousel.
Top Selling product in the Marketplace.
Reasonable pricing (let you choose your needed one).
Cons
A partial module plugin pack.
Price
$15 Pack – Single Website, With lifetime updates.
$29 Pack – Unlimited Websites, With lifetime updates.
Divi Events Calendar
Divi Events Calendar is the most popular calendar plugin for Divi. This plugin will be beneficial if you run an event management website with Divi or need to show a particular event. Further, to showcase an intuitive event, this plugin includes features like selecting the category, time & date format. You can also show more information with different tooltips.
You have immense design options to customise the event and add other advanced features like upcoming events and more info buttons. More practical features like Show Virtual Events and Show Hybrid Events are also coming soon.
Pros
Dedicated plugin for the calendar. 
Four view options.
79+ custom settings and features.
Custom events selection.
Cons
Find it expensive for just a single feature.
Price
$45 Annual Unlimited Pack – Unlimited websites for one year, Download & support 
$99 Lifetime Single Pack – Single Website, With lifetime updates & downloads.
$179 Lifetime Unlimited Pack – Unlimited websites for lifetime updates & downloads.
Table Maker
Table Maker lets you make eye-catchy and responsive tables on your Divi site. It has excellent features like Multiple headers & footers, Column & row spanning, Accordion for mobile, Scrolling with sticky headers, etc. 
Along with applying table stripes, you can use different colours for column headers & footers, row headers & footers, individual cells, and other areas to highlight specific content or data. 
Pros
Add limitless columns and rows. 
Can control column widths and row heights
Even add icons, buttons, and images.
Multiple table frame options.
Style and customise table cells.
Cons
Needs some help with the support system.
Not using HTML table tags.
Higher pricing considering one functionality.
Price
$39 Divi Marketplace Pack – Unlimited Websites with 1 Year Support & Upgrades.
$45 Lifetime Single Pack – Single Website, With lifetime updates & support.
$89 Lifetime Unlimited Pack – Unlimited websites, lifetime updates & support.
Divi Menus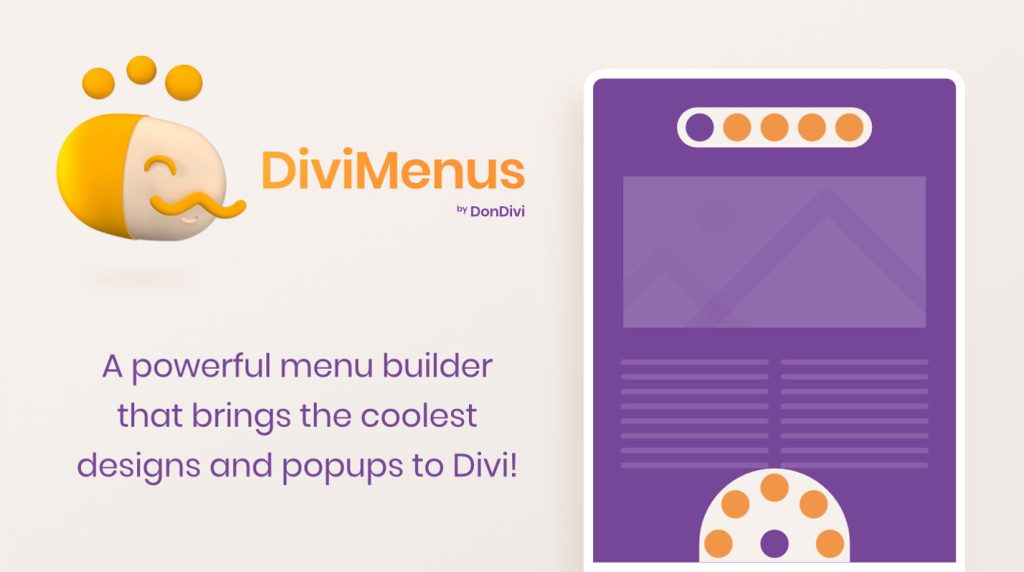 Make fantastic menus that will guide your visitors with intuitive buttons, items, popups, etc. DiviMenus does a beautiful job of building instructive visual menus. For example, use three shapes – circular, horizontal, and vertical. This third-party Divi plugin has three essential items: the menu button, menu items, and titles.
You can show, hide or disable any item as you want. Further, adding text, icons, and images to menu buttons & items facilitates linking menu items with URLs, popups, show, sub, etc., to drive visitors. 
Pros
Add custom border radius like circle, round, and square.
Individually select the link type for menu items.
Two premium modules and various designs.
Add layout directly from your Divi library for popups.
Extensive premade layouts for header, body, and footer menus.
Cons
You can't use icons, texts & images simultaneously.
The popup is applied only to menu items.
Price
$49 Pack – Unlimited Website usage with 1 Year Support & Upgrades.
Divi Den Pro – Layout Library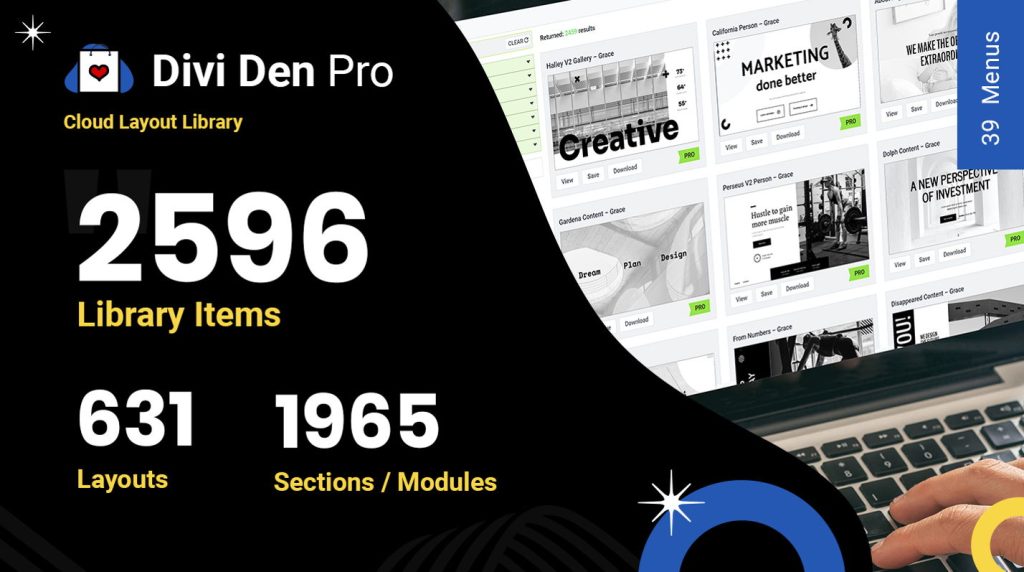 Find thousands of premade page templates. Divi Den Pro is an extensive collection of Divi layouts, including pages, sections, and modules. You will get 631+ page layouts, 1970+ section & module layouts, 670+ icons, versatile social media cards, and other fully mobile and tablet-responsive pre-made templates for making a beautiful website. And most importantly, these professional designers made WordPress templates available under a single plugin.
With 17 unique layout bundles, you can build a website that looks better than what's out there. This premade library also includes homepages, navigation menus, header, footer, WooCommerce, product pages, archive pages, blog posts, 404 pages, and helpful theme builder templates for Divi. 
Pros
You can easily filter the suitable layout.
Regular updates and new designs.
Templates for multipurpose websites.
White label branding.
Friendly support & informative tutorials.
Cons
Not compatible with WPML.
No lifetime supports.
The price is high, considering the availability of layouts with most plugins.
Price
One site Pack – For Individuals – $14 (monthly) & $57 (yearly) 
Five Sites Pack – For Entrepreneurs & Businesses – $18 (monthly) & $81 (yearly) 
Ten sites Pack – For Freelancers – $20 (monthly) & $103 (yearly) 
Unlimited Sites – For Agencies & Web Designers – $25 (monthly) & $189 (yearly)
Get Divi Den Pro Layout Library
Divi Toolbox
Get fascinating effects for your Divi website without custom codes. As the name refers, Divi Toolbox has powerful tools to make versatile advanced effects like moving particles background, typing effects, or 3d tilt effects for your Divi website. Within a few clicks, you can design fantastic effects and control them easily from the Theme Customizer.
You can make an interactive header with a custom dropdown menu, CTA menu item, and hover effects. Further, with vast footer customisation features, there are features to modify your logo and Divi default blog layout. For example, this toolbox comes with nine custom layouts for blog pages.
Pros
Have a custom dropdown menu & hover effects for interactive headers. 
Switch the logo to a fixed header.
Nine custom blog layouts.
Customise footer widgets & menu. 
Extensive functionality for mobile menus.
Cons
Features are available with other Divi third-party plugins.
Needs some technical knowledge.
Price
$89 Pack – Unlimited Websites usage with 1 Year Support & Upgrades.
Divi Responsive Helper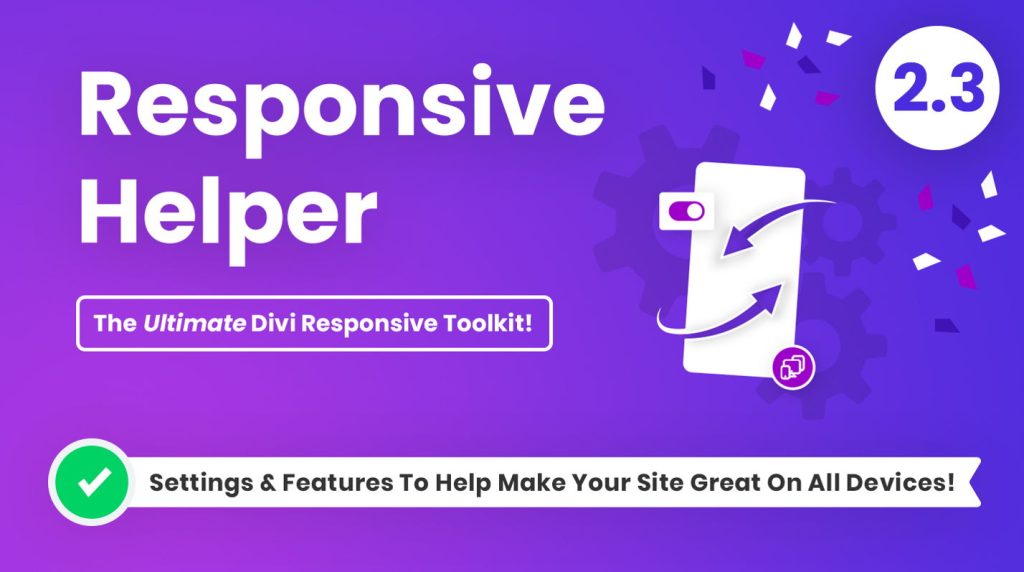 While managing your Divi website, you may face issues with making your site responsive to all kinds of devices. In this case, Divi Responsive Helper has intensive features and settings to assist you. There are more than 44 features in this responsive toolkit.
There are comprehensive functionalities to define the number of rows & columns. More advanced settings, like automatic solving of widow words on the last line of the text and global settings of sitewide text size & line height, are available with this plugin. And after doing all these customisations, you can preview the design for all devices.
Pros
New custom CSS input boxes for adjusting Divi breakpoints.
Preview the responsiveness directly in the builder.
It can display the hamburger menu icon on the desktop.
Display menu items according to devices.
Colour the mobile address bar.
Cons
Other plugins include responsive features in a complete pack.
Price
$25 Annual Unlimited Pack – Unlimited Websites usage with 1 Year Support & Upgrades.
$25 Lifetime Single Pack – Single Websites usage with Lifetime Support & Upgrades.
$99 Lifetime Unlimited Pack – Unlimited Websites usage with Lifetime Support & Upgrades.
Divi WooCommerce Extended
Divi WooCommerce Extend has features for designing every part of your WooCommerce store. For instance, you can add product count, product name, product thumbnail, cart subtotal, checkout button, and many more to make a fully functional online store.
Using this plugin, you can attract customers by showing products with custom product thumbnails, masonry and grid layouts, product carousel, etc. There is also a Mini Cart option to view the product on click quickly. 
Pros
Nine elements to display in Mini Cart.
Quick view of products on the carousel.
Multiple sliding effects include slide, cube, cover flow, and flip.
Categorise products by name, slug, term ID, etc.
Provide many fields for checkout pages.
Cons
Doesn't have a visual builder interface like Divi.
Price
$59 Single Product Pack – Unlimited Websites usage with 1 Year Support & Upgrades.
$149 Pack – Unlimited Websites usage with Lifetime Support & upgrades.
Divi Gravity Forms
Want to make unique forms? Divi Gravity forms let you design interactive forms from the Divi builder area. This plugin includes a module containing all the Gravity form's visual styling tools. And every part of this form is fully customisable.
Pros
Have shortcode parameters set up.
Can style title, description, button, field Wrapper, footer, etc.
Advanced styling options like section break field & progress bar.
Also, customise Field Validation Errors & submission confirmation messages. 
Complete control of every customisation & styling.
Cons
It needs to be more user-friendly due to the unavailability of a visual builder.
Don't have a lifetime deal.
Price
$69 Pack – Unlimited Websites usage with 1 Year Support & Upgrades.
Divi Schema Plugin
Schema markup helps search engines to know the actual intention of content. As a result, more organic searchers come to your website. To serve this purpose to your Divi website, the Divi Schema plugin has some beneficial features. Providing standard schemas like articles, local businesses, and FAQs, this plugin also has unique schemas, like a special announcement. For example, you can add Covid-19 special announcement schema data to your WordPress website. It also has UI integrations for the Gutenberg Block & Shortcode. 
Pros
Insert your business information with logo, contact, and social profile schemas.
Ensure a lower bounce rate with the Breadcrumb list schema.
Helps blog, sports, and news articles rank higher.
Let you include a visual announcement bar.
Add a map and opening hours, and call through the local business schema.
Cons
Other plugins facilitate schema with other different modules & extensions.
No lifetime supports.
Charging extra for a single functionality.
Price
$99 Pack – Unlimited Websites usage with 1 Year Support & Upgrades.
Conclusion
When looking for the best Divi plugins for your website, the first question you must clarify is, "What exactly are you looking for?" In our list, we have tried our best to outline plugins for every purpose while building your Divi website. 
For instance, DiviFlash has come out with an all-in-one plugin for Divi. On the other hand, Table Maker & Divi Menus serve a specific need for your website. But if you have found something useful beyond our recommended list, please put the name in the comment box below.