Top 10 Best Cameras for Vlogging
When it comes to shooting vlogs, tons of recording options are available. It can be challenging to determine the best cameras for vlogging with so many choices.
The world of Vlogging has never been more popular. With so many excellent platforms for anyone to use, it can be tricky to decide which ones fit your style best. There's no one-size-fits-all for camera equipment—but there are some things to look out for to ensure that you choose the right gear for your Vlogging career.
To help you decide, here are our top 10 best cameras for vlogging:
Top 10 Best Cameras for Vlogging
1 – Sony ZV-1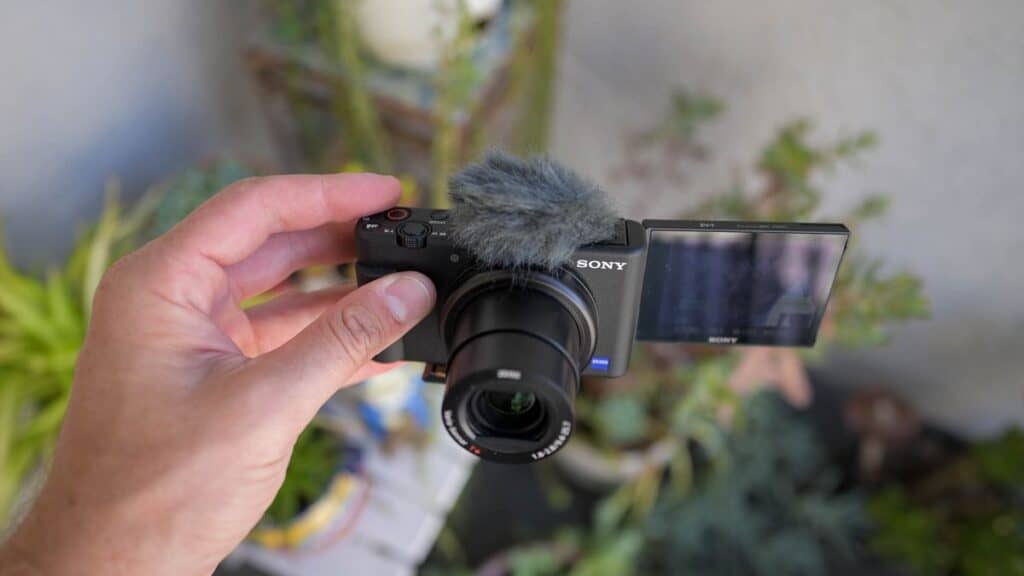 The Sony ZV-1 is a compact mirrorless camera featuring a bright 20.1 megapixel Exmor RS stacked sensor and a large f/1.8-2.8 Zeiss® Vario-Sonnar T lens. With a wide range of focal lengths and a fantastic 4K mode, the ZV-1 is an excellent choice for various vlogging styles. 
It has a hybrid autofocus system that uses a combination of phase detection and contrast detection to achieve near-instantaneous speed while still maintaining accurate focus. This camera is an excellent addition to your photography equipment.
Benefits
1-Flexible and Easy to Use
The ZV-1 is a versatile camera that can be used as a professional vlogging camera or as a standard camera for stills, thanks to its ability to switch modes quickly and easily.
2-High Quality Recording
The recording quality is excellent and allows for high-quality images and video.
3-Very Compact and Lightweight
The camera weighs just 1.0 kg which makes it very portable. You can use it to capture a large variety of shots and videos.
4-Built-In Microphone
The built-in mic allows you to record a clear and crisp audio track when vlogging.
Features
1-Product Showcase Mode
In 'Product Showcase Mode,' the camera automatically refocuses from a person to a product and vice versa, making it easier to capture various product shots.
2-Face Tracking Autofocus
Face detection AF makes it much easier to capture beautiful images of your loved ones or any subject in front of the camera.
3-Superb Still Photography
The camera is designed to be used as a professional still camera. High-quality photos and videos are recorded at the same time.
4-Built-In Wi-Fi, USB, and MicroSD Card Slots
These allow you to record or take photos from a distance.
5-High Resolution Display
You can use the high resolution 2.7 inch LCD monitor to view the photos and videos taken with the camera.
2 – Canon EOS M6 Mark II
The Canon EOS M6 Mark II Mirrorless Digital Camera is a compact, professional-grade mirrorless camera ideal for everyday vlogging scenarios. Featuring a compact, stylish design with enhanced optics, a sophisticated 16.2MP APS-C CMOS sensor, a DIGIC 8 image processor, a wide ISO range of 100 to 25600 (expandable to 51200) and a high maximum shutter speed of 1/4000 sec, the EOS M6 Mark II is capable of capturing crisp images and high-quality videos with ease. 
Be ready instantly with its high-speed shooting of up to 14 fps, plus AF technology that works with an electronic viewfinder, eye detection and Dual Pixel CMOS AF — All designed to help you quickly lock focus on fast-moving subjects. 
For the video enthusiast, the EOS M6 Mark II doesn't disappoint, offering beautifully-rendered 4K results that look great. Operation is also more streamlined and advanced, with an electronic shutter helping you capture images — perfect for quiet settings, such as offices, performances or presentations. 
The EOS M6 Mark II is a versatile option, ideal for vlogging, with an interchangeable lens system and compact size.
Benefits
1-32.5MP APS-C Sensor
A Sony-made sensor is the heart of the EOS M6 Mark II, giving you more detail than its competitors.
2-Excellent Autofocus
The EOS M6 Mark II has an exceptional autofocus system, which helps you get the shot you want.
3-High Dynamic Range
The EOS M6 Mark II has a high dynamic range, getting more details from the shadows and highlights.
4-30 fps RAW Shooting
The EOS M6 Mark II shoots video at 30 frames per second (fps). This lets you capture fast-moving action with fewer frame drops.
5-Great Features
The EOS M6 Mark II can record in 4K and 24 fps, and you can connect the camera to a smartphone for remote shooting.
6-Compact Size
The EOS M6 Mark II is a small-bodied mirrorless camera that's easy to hold and use.
7-Good Picture Quality
The EOS M6 Mark II delivers high-quality photos and video, perfect for vlogging.
Features
1-Dual Pixel AF
This camera has a Dual Pixel AF system, which is very accurate when focusing. It can even track your subject through moving objects.
2-Face/Eye Detection
Face/Eye detection is easy to use. It recognises whom you're shooting and lets you shoot more naturally and easily.
3-Live View
The Live View function allows you to see your photos immediately.
4-Smooth Operation
The operation of this camera is intuitive and straightforward.
5-Good Build Quality
This camera feels solid and has a good build quality.
6-Small Size
It's small and easy to hold.
3 – Canon PowerShot G7X
The PowerShot G7 X Mark III camera is packed with unique features that make it one of the best point and shoot cameras for those looking to upgrade from a smartphone to a professional level.
Its 20.1 Megapixel CMOS Sensor and powerful DIGIC 8 processor makes it easy to capture high-quality images. 4K video shooting lets you record in stunning 4K resolution. 
The versatile and powerful camera offers 4.2x optical zoom and a 2.5-inch LCD to make it easy to view and adjust your settings. The camera's advanced features include a 3-inch Clear View II touch screen that makes it easier to shoot and capture your subjects. 
It also has a variety of custom settings, such as focus, white balance, exposure, ISO sensitivity and others, to ensure you get the best shot every time. In addition, the camera has a USB Type-C port that makes it compatible with any USB Type-C device. This new USB-C port makes it possible to charge your devices while you go. 
You can also easily connect your smartphone or tablet to the camera using the MicroUSB cable to transfer files and photos. This compact, easy to use camera is designed to be the perfect solution for those looking to upgrade from a smartphone to a professional level camera for their vlogging needs.
Features
1-20MP Crop Sensor
The new 20MP crop sensor is ideal for capturing beautiful portrait shots.
2-3D Sweep Panorama Mode
The G7 X Mark III's new 3D sweep panorama mode allows you to capture sweeping landscape images.
3-Improved AF System
The AF system optimises sharper images with faster and more accurate autofocus in low light.
4-Fast Hybrid AF
The G7 X Mark III has a new hybrid autofocus system that combines phase detection and contrast detection technologies to provide more accurate autofocus.
5-Improved Battery Life
The G7 X Mark III is now powered by a lithium-ion battery, which provides about 4 hours of continuous shooting and 25 hours of continuous video.
6-Improved Auto Lighting Optimiser
The G7 X Mark III automatically adjusts the exposure settings based on the lighting conditions and scene content to produce sharper images and more vivid colours.
7-Faster Start-up Time
The G7 X Mark III starts up in seconds, allowing you to take pictures faster.
8-Improved Live View Features
When taking portraits, the Live View screen has been updated to see more of the image, including your subject's expression and gestures.
9-More Control
The G7 X Mark III provides greater control over your shooting experience. You can assign up to seven different focus areas, choose between nine autofocus modes, and control the shutter speed and aperture.
10-Improved Video Features
You can capture video at a maximum resolution of 4K at 60fps with a maximum frame size of 1920×1080. The camera also records HD 1080p at up to 120fps with a maximum frame size of 1280×720. You can record RAW footage as well as HD and UHD.
4 – Olympus OM-D E-M10
The OM-D E-M10 marks a new milestone for the world of interchangeable lens cameras. It is the first in the series to offer full HD recording in addition to stills and a range of innovative and powerful new features that transform the way the world takes pictures and shoots video.
It is a small and lightweight system with superb image quality, creative options and professional speed and agility. It is the ultimate choice for bloggers with a keen eye for detail and a love of shooting in all types of light.
The OM-D E-M10 is the smallest and lightest of all Olympus DSLRs. It is a true mirrorless camera that allows you to change lenses while retaining a compact and stylish body instantly.
The small and slim E-M10 offers a range of creative options, including a redesigned shutter button that provides intuitive operation. The system also offers outstanding operability and an intelligent, ergonomic design that makes it incredibly easy to shoot. The E-M10 is suitable for all vloggers, from enthusiasts to professionals.
The Olympus OM-D E-M10 is the ultimate in image quality. It delivers stunning shots, whether you're capturing a candid shot or in the studio. It is equipped with an advanced 20.1 MP Exmor R CMOS sensor with a high resolution of 24.3 effective megapixels. This makes it an excellent option for bloggers who want the ultimate image quality. 
Images taken on the Olympus OM-D E-M10 have the sharpness of a professional SLR, yet it is smaller and lighter than most of its competitors. The new sensor also ensures low noise and high levels of colour accuracy.
The E-M10 features several advanced creative options. It can shoot high-quality movies in Full HD 1080p and AVCHD in a range of other resolutions. It can shoot up to 12 raw files at once and capture 4K at 60p. This allows you to combine still images and video for various creative effects.
Features
1-Fast and Easy Connection
It connects instantly when you open the camera and stays connected even when the battery runs low—no fumbling with cables or batteries.
2-Instant Communication
Share photos to your smartphone, tablet or PC at lightning speed. Press and hold the OI Share button on the camera, and the app will immediately detect the camera.
3-Superior Picture Quality
The OM-D E-M10 delivers impressive resolution and stunning images even in low light situations. The 20 megapixel Live MOS sensor, OI-IS, and in-body stabilisation will ensure crisp and detailed images, no matter your subject or environment.
4-Selfie Mode
Selfie mode automatically turns on when the monitor is flipped. Turn on the monitor and click to snap your own image.
5-Advanced Features
For a total photo experience, the OM-D E-M10 offers many other features, including face detection and a 16-megapixel high-resolution Live MOS sensor.
6-Built-in Wireless Speaker
The built-in stereo speaker delivers crystal clear sound with high volume. Perfect for vlogging.
7-Art Filters
Beautify your photos with a wide range of artistic effects. The 31 Art Filters are designed for enhancing your creativity and taking your photography to the next level.
5 – Panasonic LUMIX G100
Panasonic Lumix DMC-GH1The Lumix DMC-GH1 is a superbly crafted mirrorless interchangeable lens camera. It is one of the lightest cameras in its class. 
It has a large, bright, 3" LCD screen that lets you compose, view images and record video. Its sophisticated electronic viewfinder offers a 100% field of view with an eye-level frame. 
The GH1 is equipped with a top-notch, 12.1MP Live MOS sensor and powerful Venus Engine, making it the best choice for vlogging in low-light conditions. The DMC-GH1 is also an ideal choice for video shooting. The camera can capture smooth Full HD video at up to 120 fps for slow-motion effects. 
The versatile and responsive DMC-GH1 can also record Full HD video in MOV and MP4 formats. It supports the following video formats: MPEG-4 AVC/H.264 (up to 1920 x 1080) @ 30/25/24fps, JPEG 2000, MPEG-4 AVC/H.264 (1920 x 1080) @ 60fps, and JPEG. 
In addition, the camera's Intelligent Auto mode helps you achieve superior vlogging results, while the Creative Control mode offers a great range of creative options. The Intelligent Auto mode allows you to select an AF point and let the camera decide which autofocus method to use. In contrast, the Creative Control mode allows you to choose the best focus method and subject area. 
The DMC-GH1 also comes with built-in Wi-Fi capabilities. You can remotely operate the camera from a smartphone or tablet running the Olympus Image Share application with its remote control feature.
Benefits
1-Great Quality Photos and Videos
The G100 uses the same Micro Four Thirds lens mount as its full-size siblings, so you can use whatever lenses you already own. You can even buy additional lenses through third-party retailers. The camera supports the popular SLAME format, making it easy to share videos via YouTube and Facebook.
2-Smartphone Compatible
The camera is compatible with devices running the open-source version of Google's operating system, KitKat. The G100 is the first Micro Four Thirds camera to provide 1080p vlogging recording on smartphones, and it's an impressive feat.
3-High Quality Video Recording
The G100 has a 10-minute time limit for recording videos. However, that is for the 4K mode, which has a crop factor of 2.5x. You can record at 60fps in full HD mode at the same settings.
Features
1-Great Features for Micro Four Thirds
The camera uses the Micro Four Thirds standard. It has a wide-angle of 24mm to 105mm, and a super-wide angle of 135mm. Aperture ranges from f/2.0 to f/4.0. The G100 is designed for taking still photos as well. 
There is a mode for macro photography, and the camera can automatically set the exposure to get the best result. It can also set focus automatically. There is a built-in flash, and the lens supports optical image stabilisation.
The camera can use Panasonic's Wi-Fi technology. You can also use a remote to change settings, but the camera is not designed to be controlled directly.
2-Built-in Mic
The camera has a built-in stereo mic for capturing audio.
3-Log Recording
You can record in the Log format to get better exposure in dark conditions.
6 – Fujifilm X-S10
This Fujifilm X-S10 is a stylish, easy to use vlogging camera with versatile features and a wide range of shooting options. The Fujifilm X-S10 is a camera for people who want a compact yet powerful camera that allows creative freedom when vlogging.
The Fujifilm X-S10 has a 5-axis in-body image stabilisation, ensuring sharp, clear images even when using the large Fujinon 35mm f/2 lens. The Fujifilm X-S10 has a 180° vari-angle LCD touchscreen so that you can shoot from virtually any angle. 
Fujifilm's unique 18 film simulation modes and automatic scene selection make the Fujifilm X-S10 a perfect camera for capturing beautiful images and cinematic quality vlogs.
Benefits
1-Great Internal Image Stabilisation
This camera does a great job of reducing blur caused by hand-held shots, even at the highest frame rates.
2-4K and High Bitrate Recording
Record in 4K and 8-bit 4:2:0, and you can also record in 12-bit ProRes HQ and 10-bit ProRes LT (Long Term)
3-Compact and Portable
This is a small camera, weighing in at a mere .79 pounds (360 grams). It's light enough to fit in a coat pocket and easily throw in a small camera bag.
4-Built-In Wi-Fi
Connect to a wireless network to stream and share your footage
5-Long Battery Life
This is a small camera, and it can last for about an hour of continuous video recording.
Features
1-Flip Screen
An LCD screen flips down to reveal a second touchscreen. This is a great way to control functions without reaching around the camera.
2-Image Stabilisation
The camera has built-in image stabilisation that works very well and will help you to minimise camera shake and blur when shooting hand-held vlogs.
3-Superb Performance
It's fast, too. We could shoot up to 30 frames per second with no problem.
4-Low Light Capabilities
This is a small camera with a relatively large lens that produces a wide field of view. So you can shoot indoors without a flash, and there is less of a chance of getting unwanted shadows.
5-Easy to Use
The camera has a simple set of controls that makes it easy to access the features you want. It has various useful features, such as a built-in GPS and Wi-Fi, and is simple.
6-Records Video in Several Different Formats
It can record in several formats, including 4K and 8-bit 4:2:0 and 10-bit ProRes LT (Long Term), and it records in both MP4 and H.264 formats. You can record in up to 30 fps or 60 fps, and it has a high-speed capture mode for 1080p that lets you record at up to 240 fps. It also has a slow-motion recording mode.
7-Wi-Fi Connectivity
You can wirelessly upload your photos and video directly to your smartphone, tablet, and computer via the camera's built-in Wi-Fi.
7 – Canon EOS Rebel SL3
Canon is known for its photographic equipment, and the new EOS Rebel SL3 is no exception. This is a smaller version of the Canon EOS Rebel SL1, and it is designed to be the perfect companion for a beginner or an experienced vlogger. 
The Canon EOS Rebel SL3 is a compact, lightweight, and powerful EOS digital SLR camera with interchangeable lenses and features. This camera is built to work, and the body and lens are both made from high-quality materials. 
This EOS camera has a 24.1 megapixel APS-C CMOS sensor and a DIGIC 8 image processor. The Canon EOS Rebel SL3 lets you take pictures and videos in various formats. This camera has a large, bright, 2.7-inch rear touchscreen LCD for easy viewing and adjusting of settings.
Features
1-Superior Image Quality
4K and 1080p video recording allow you to capture images and videos with more clarity, detail, and depth than previous generations of DSLR cameras.
2-Easy to Use
The EOS Rebel SL3 is simple to operate and maintain. Its user-friendly menu system is a breeze to navigate, and its controls are straightforward to access and operate. It's also easy to share videos directly to social media sites using the Wi-Fi feature.
3-Flexible Features
The EOS Rebel SL3 has a wide range of features that make it versatile. It can shoot still images in 12-bit and 16-bit RAW formats and has dual SD card slots for extended shooting and longer battery life. You can also shoot in JPEG format, record video in 4K, or capture still images and video at resolutions up to 5 megapixels. In addition, the EOS Rebel SL3 includes a built-in image stabiliser that lets you shoot photos and videos even with a shaky hand.
4-Fast Performance
Its built-in image processor gives you sharp, clear images and video even when shooting in low light. You can also shoot bursts of four shots per second, which is plenty fast for capturing action and spontaneous moments.
5-Wi-Fi Features
With the EOS Rebel SL3, you can easily share your photos and videos to Facebook, Twitter, YouTube, Flickr, and more using a Wi-Fi connection. You can even share them with the Canon Print app, which will let you print photos and make photo books at home.
6-High-Performance Autofocus System
The Canon EOS Rebel SL3 has a high-performance autofocus system that works quickly and accurately to keep moving subjects in focus when shooting in 1080p.
7-Long Battery Life
The Canon EOS Rebel SL3 offers high-quality video recording for up to 60 minutes on a single charge of the included lithium-ion battery.
9-Image Stabilisation
The EOS Rebel SL3 has an internal image stabiliser that lets you shoot sharp photos and videos with a shaking hand. You can shoot up to five consecutive shots at a time or set the time limit on continuous shooting.
8 – Canon EOS M50
This Canon EOS M50 Mark II camera is a sleek, stylish, and feature-packed camera that brings you exceptional quality and versatility that will help you create professional-quality videos and photos.
With a 24.1 Megapixel CMOS sensor, you can capture incredible images, and the DIGIC 8 image processor and 4K UHD (3840×2160) recording lets you record your content in stunning detail. With a 4K UHD, you can shoot at the highest frame rates possible with a maximum frame rate of 120 fps, and the built-in Wi-Fi connectivity lets you share the moment and the story of your adventures with friends and family.
The new Eye and Face Detection feature give you a better way to capture moments and keep your subject(s) in focus. You can also use the Eye and Face Detection feature during videos.
For content creators, the EOS M50 Mark II can live stream to the web, and it includes an integrated Wi-Fi module that lets you stream live video from the camera to your smartphone or tablet.
For a convenient webcam alternative, the EOS M50 Mark II lets you capture vertically and horizontally in addition to the standard horizontal shooting. If you want to shoot vertical, the EOS M50 Mark II lets you use the camera's Clean HDMI output to connect to a monitor or TV.
Features
1-Versatile Camera for Vlogging
The Canon EOS M50 is a great value option for vloggers just starting. It has a flip screen, which means you can record your videos in either landscape or portrait orientation. You can use its 3-inch touch screen to browse images and adjust settings. It also has a flip-up screen to use as a viewfinder and monitor. You can hold it in your hand, and it has a nice finish that makes it easy to use.
2-Small and Lightweight
The camera weighs only 320g and is very portable. It's great for vloggers who want to travel and take their cameras along wherever they go.
3-Reliable Autofocus and Internal Recording
The Canon EOS M50 has a fast, accurate autofocus system. It's also compatible with the Canon EF-M 18-55mm f/3.5-5.6 IS STM kit lens. It has a generous 7.5-megapixel sensor, making it an excellent choice for vloggers who are just starting. It can shoot up to 60 fps with no crop, and it has an extensive ISO range of 100-3200. The video quality is excellent for its class. It's got a bright LCD monitor and a wide variety of creative filters—the M50 records to SDXC cards, which you can use in most computers.
4-Affordable Options for Entry-Level Shooters
The Canon EOS M50 is one of the better options available for vloggers who are just starting. It's easy to use, and it has a wide range of features for its price. You can grab a used one online or at a store like Best Buy.
9 – GoPro HERO9
The GoPro Hero9 is our favourite action camera for two main reasons: image quality and stabilisation. It is the best vlogging camera if your vlog includes an energetic outdoor activity.
Maxing out at 5.7K resolution, the Hero9 offers far more detail than other action cameras do. That resolution lets you crop down the footage to zoom in (the camera itself lacks optical zoom).
Its super-smooth stabilisation means you don't need a gimbal for steady shots, even when the camera bounces around during recording. It's waterproof down to 33 feet (10 meters). Audio performance is also good, thanks to a group of built-in microphones, though you should consider an external mic in most cases.
The image quality isn't what you'd get with a larger-sensor camera such as the Sony ZV-1 or especially the Canon EOS M6. However, the Hero9 creates a vibrant, detailed image in bright light and works pretty well in low light. No action camera can handle low-light situations, so if you're usually in dark caves, poorly lit abandoned buildings, and the like, consider a DSLR camera with a larger lens if carrying one isn't an issue.
Features
1-Record Your Life
HERO 9 can capture a complete lifetime of memories with its huge sensor. That means you can relive all the fantastic moments of your life.
2-Capture the Beauty in Every Shot
HERO 9 captures incredibly sharp images that will help you produce photo-worthy images every time. It has a wide-angle lens with a 2x zoom to let you capture more of the world around you in every shot.
3-Live Stream Your Life
Live streaming is about capturing life and sharing it with the world. With HERO 9, you can live stream your life and share it with the world.
4-HyperSmooth Stabilisation
HERO 9's HyperSmooth technology can quickly detect your movements and adjust the shutter speed and ISO sensitivity to compensate. So you can record the moments as they happen.
5-TimeWarp 3.0
Record time-lapses like a pro. HERO 9 will automatically pick the best moment of your life to slow down and record a mesmerising time-lapse.
6-HyperSmooth Stabilisation
With HyperSmooth 3.0, HERO 9 can detect your movement and adjust the shutter speed and ISO sensitivity to compensate. So you can record the moment as it happens.
7-Waterproof
HERO 9 has been designed with special waterproof housing. It can capture the world's beauty as you experience it and the action you shoot it.
8-3.5" Touch Screen
The intuitive rear touch screen lets you frame your shot, review the settings and navigate the menus easily. And the large 1.55" front display puts all your essential information at your fingertips.
9-20MP Photo
With a 20MP stills camera and the most powerful flash system on the market, you'll be able to take photos of any size. And thanks to the advanced HDR feature, you can create unique photo effects that bring out your creativity.
10 – Sony Alpha A6600
The Sony Alpha A6600 is a mirrorless camera that allows for a wide range of shooting situations. The Sony A6600 offers the best image quality, stabilisation, and price when you're ready to upgrade your production values.
It's only for vloggers who have gotten their process down, perhaps already have a monetised vlog, and know that better video quality is what will move them to the next level.
If that's you, the A6600 can shoot a 4K video. It also has a flip screen, and you can use it with various E-mount lenses from third-party suppliers.
The APS-C sensor is larger than the one found on the ZV-1 and significantly more significant than what you get in phones and action cameras. This means it should produce less noise in low-light situations, offer a higher dynamic range, and create a more professional-looking image overall.
Thanks to the A6600's mirrorless design, it's far smaller and lighter than a DSLR, making it easier to hold away from your face for extended walk-and-talk vlogging sessions. Unlike many DSLRs, the A6600 was made for video: Its resolution maxes out at 4K, or 3840×2160, at 30 frames per second. It also supports 1080p60 and slow motion up to 120 fps.
In addition, the A6600 has a far longer battery life than the ZV-1. Sony estimates over two hours of recording time per battery, and of course, you can always get another battery to swap in (and you should).
Benefits
1-Fast AF
Widespread AF coverage with up to 0.02 sec (0.078 fps) startup. High-speed AF operation means less time is spent focusing and more time recording your subjects.
2-Object Tracking
Object Tracking gives you up to five moving objects (people, animals, vehicles) detected and tracked automatically. Simply press the shutter release to capture a subject, and the camera will keep track of the subject until you tell it to stop.
3-Wide AF Area
The A6600 has a maximum AF area of 84%, enabling you to focus on the subject even if the subject is slightly off-centre.
4-High Image Quality
The A6600 has a maximum sensitivity of ISO 102,400 and a wide dynamic range of approximately 12 stops for outstanding image quality in any situation.
5-Faster Autofocus and Exposure
The A6600 has up to 425 phase-detection AF points over an area of 77.3mm across the frame and a minimum focus distance of 0.15m. The camera also offers exposure compensation of +/- 5EV in 1/3EV steps. This ensures excellent results in a wide variety of lighting conditions.
6-Image Stabilisation
The 5-axis in-body image stabilisation system focuses the subject while shooting in low-light conditions, up to 5 shutter speed steps. This is achieved by combining three sets of sensors and motors that detect and compensate for the effects of camera shake.
7-Touch Screen AF and Touch Tracking
Touch Screen AF allows you to select your focus point quickly by pressing the touch screen. The touch tracking system makes it easy to track a moving object. You can even do this without having to touch the LCD panel.
Features
1-Built-In LED Flash
The built-in flash is ideal for taking portraits and capturing high-contrast scenes. The flash is activated when the shutter button is pressed halfway, so there is no delay between taking a picture and getting the flash firing.
2-Superb Picture Quality
The new A6600 offers advanced picture control features, such as a contrast control function enhancing your images. In addition to this, the A6600 offers a minimum focus distance of 0.15m, allowing you to get close to the action. This helps you capture the subject's expression more in a candid setting. You can also use the camera's built-in HDR mode to create a single picture from a series of images that have been taken at various exposures.
3-Excellent Performance
The A6600 offers both stills and movies with an 8.9fps continuous shooting rate, making it easy to capture fast-moving scenes or follow an action sequence.
4-Advanced AF Tracking
The A6600 offers two types of AF tracking – Touch Tracking and Eye AF. Touch Tracking lets you activate the subject of your choice by simply touching the display screen, while Eye AF can recognise up to five different subjects within its area of coverage.
5-Audio Monitoring
With a separate mic port, it's easy to attach external audio devices, such as microphones, headphones or wireless speakers. A headphone jack lets you monitor your sound output through the built-in audio monitor.
How to Choose between the Best Cameras for Vlogging?
Don't spend too much money on a camera if you're just starting. It'll only end up being a pain to use and keep.
For now, it's OK to use a smartphone camera if you're just getting started. But make sure you're comfortable using the camera on your phone before investing in the best cameras for vlogging.
The camera's primary role is to record what you see. So you need to choose the best cameras for vlogging that will be able to produce a video that tells the story you want. 
For the best results, you'll need to pick something that has a wide lens, low noise levels, and a sensor size of at least 2/3.1 inches (or 6.4mm). There are three main sensor sizes—6.0mm, 5.5mm, and 4.5mm.
Conclusion
The best cameras for vlogging are the ones you have with you. Whether you're recording videos of yourself and friends or documenting the everyday activities of your life, always be prepared for your next shot by bringing a camera with you wherever you go.
Vlogging with a DSLR camera is much harder than it looks. If you're going to go this route, invest in a solid tripod, a good monitor, and a high-quality microphone. You'll need at least two cameras since having multiple cameras allows you to use different shots and angles for each shot.
Are you looking for the best vlogging camera? Check out our Top 10 Best Cameras for Vlogging for your options!
Last update on 2023-05-14 / Affiliate links / Images from Amazon Product Advertising API