Top 5 Skills You Need to Become a Web Designer
The title of web designer appeared relatively recently. That is a consequence of information technology's development. Web designers do know how to create the most attractive design of websites and other Internet resources.
In this article, we will discuss how to become a web designer from scratch. No matter how interesting this profession may look, many people give up studying before they understand the basics. 
You will find out what is included in the web designer's starter pack. Also, we will compile the list of skills you need to become a web designer.
Who can become a web designer?
Anyone can become a web designer! Many people mistakenly believe that only those with an art education can do this.
Of course, it is easier for creative people to study web design. However, the ability to find non-standard solutions to problems is of high importance. If you have it, your learning path will be much more effective.
Those who can balance between the humanities and technical sciences become fantastic specialists. Web design implies the ability to analyse large amounts of information and knowledge of user psychology.
What do you need to become a web designer?
Becoming a web designer is easy! All you need is a computer, special software, and the head on your shoulders.
Everything else develops in the process of studying and practising web design. And now a little more detail:
Computer.
A web designer needs a high-quality device that they can use for studies and work. The more sophisticated your device is, the faster and more pleasant it will be for you to work. What to pay attention to when choosing a computer:
Bestseller No. 1
Dell Optiplex 7050 SFF Desktop PC Intel i7-7700 4-Cores 3.60GHz 32GB DDR4 1TB SSD WiFi BT HDMI Duel Monitor Support Windows 10 Pro Excellent Condition(Renewed)
This Certified Refurbished product is tested and certified to look and work like new. The refurbishing process includes functionality testing, basic cleaning, inspection, and repackaging. The product ships with all relevant accessories, a minimum 91-day warranty, and may arrive in a generic box. Only select sellers who maintain a high-performance bar may offer Certified Refurbished products on Amazon.com.
Dell Optiplex 7050 SFF Desktop PC, Intel Quad Core i7-7700 up to 4.2 GHz, 32GB DDR4, 1TB SSD
Includes: USB Keyboard & Mouse, USB WiFi adapter, USB Bluetooth adapter, Microsoft office 30 days free trail.
USB3.0, Type-C, DisplayPort, HDMI, Headphone output, Microphone input, LAN
Support 4K (3840x2160) Dual display, makes it easy to connect two monitors at the same time, and you can expand working Windows, mirror content, or expand a single window across multiple monitors.
Monitor
For comfortable work, you need a device with high resolution and realistic colour reproduction.
Bestseller No. 1
Sceptre 4K IPS 27" 3840 x 2160 UHD Monitor up to 70Hz DisplayPort HDMI 99% sRGB Build-in Speakers, Black 2021 (U275W-UPT)
Superior 4K Picture: Delivering 4x the pixels (8 million) of FHD, 4K (3840 x 2160) resolution offers an extraordinary landscape of color variation, contrast, and clarity that mirrors the real world.Mounting Type: Wall Mount
Viewing Angle is 178° (H) / 178° (V); Aspect Ratio is 16:9
IPS Panel: The IPS (In-Plane Switching) panel cannot be beat when it comes to consistently delivering top color performance & sharp visibility from multiple viewing angles.
up to 70Hz Refresh Rate: With 75Hz refresh rate, images change faster and smoother than the standard, reducing screen tearing
350 Brightness: Detect impressively subtle & robust color variations with 350 cd/m² brightness.
Fast processor
The more cores a computer has, the better.
Sale
Bestseller No. 1
AMD Ryzen 7 5800X 8-core, 16-Thread Unlocked Desktop Processor
AMD's fastest 8 core processor for mainstream desktop, with 16 procesing threads. OS Support-Windows 10 64-Bit Edition
Can deliver elite 100-plus FPS performance in the world's most popular games
Cooler not included, high-performance cooler recommended
4.7 GHz Max Boost, unlocked for overclocking, 36 MB of cache, DDR-3200 support
For the advanced Socket AM4 platform, can support PCIe 4.0 on X570 and B550 motherboards
Built-in video card
For novice web designers, a built-in video card would be enough. For experts, we recommend purchasing a discrete one.
Sale
Bestseller No. 1
SSD drive
Again, for beginners, it is optional. If you plan to work in web designing, sooner or later, you will have to think about purchasing it.
Bestseller No. 1
SAMSUNG 870 EVO SATA III SSD 1TB 2.5" Internal Solid State Drive, Upgrade PC or Laptop Memory and Storage for IT Pros, Creators, Everyday Users, MZ-77E1T0B/AM
THE SSD ALL-STAR: The latest 870 EVO has indisputable performance, reliability and compatibility built upon Samsung's pioneering technology. S.M.A.R.T. Support: Yes
EXCELLENCE IN PERFORMANCE: Enjoy professional level SSD performance which maximizes the SATA interface limit to 560 530 MB/s sequential speeds,* accelerates write speeds and maintains long term high performance with a larger variable buffer, Designed for gamers and professionals to handle heavy workloads of high-end PCs, workstations and NAS
INDUSTRY-DEFINING RELIABILITY: Meet the demands of every task — from everyday computing to 8K video processing, with up to 600 TBW** under a 5-year limited warranty***
MORE COMPATIBLE THAN EVER: The 870 EVO has been compatibility tested**** for major host systems and applications, including chipsets, motherboards, NAS, and video recording devices
UPGRADE WITH EASE: Using the 870 EVO SSD is as simple as plugging it into the standard 2.5 inch SATA form factor on your desktop PC or laptop; The renewed migration software takes care of the rest
Software
The web designer's starter kit includes two editors:
The head on your shoulders.
Well, it is either there or not!
Is it possible to become a web designer without an education?
Yes! To become a web designer, you do not need to enrol in the faculty of information technology. Online education is gaining popularity, so you can easily find suitable courses or teach-yourself books.
What's more, you can learn web design for free! All you need to have is a great desire to be a creative person.
Independent study of any discipline requires perseverance and self-organisation.
What skills do you need to become a web designer?
Communication
Web designers should hold a dialogue, discuss the employer's requirements, and prove the validity of their decisions.
Communication skills are helpful not only in web design but also in daily routine. Clients will often criticise your work, so you need to have the ability to carry on conversations with employers.
If you cannot make a first-class product for the client, then you won't be able to become a hard-liner on web design.
If you think you are the only one who cannot communicate, this is not the case. Many people have difficulties with offline and online conversations. Don't give up! That is an easy thing to fix.
Step out of your comfort zone and start chatting on social networks. Come up with conflict situations and think through their solutions.
Communicate with colleagues and deal with complex cases. Also, we recommend you read the literature on the topic. Unfortunately, shy and timid people rarely succeed.
Stress resistance
In everyday life, it is impossible to avoid stress. If you choose to be a web designer, be ready to encounter it more often. That is especially true for rookies.
Unfortunately, your intelligence and charm won't help you avoid stressful situations. Often, web designers have to make urgent improvements or calm down dissatisfied employers.
There are lots of causes of stressful situations. However, there are only two solutions. You either learn to cope with them and continue to give a high-quality result or back down.
Your career as a web designer depends on your character. You can be a great specialist, but if you can't handle the stress, then you won't succeed.
For those who fail to work under pressure, it is better to choose another speciality.
Hard work and concentration
Laziness is the mother of progress. For a web designer, it is the key enemy.
If you are not ready to constantly improve and hone your skills, then you will fail. If you want to succeed and stand out from competitors, be ready to spend much time on self-development.
You cannot study the web design basics for a year and then put your textbooks aside. It would be best if you always strived to optimise your work.
The goal of a web designer is to spend a minimum of effort while getting the maximum result. The competition in the web design market is so high that the only guarantee of success is productivity.
Self-management
Web designers have to put up with the constant feeling of an approaching deadline. Control points will fit on top of each other, and employers will always hurry you up.
To succeed, you need to get into the habit of writing down all the important dates, contacts, and tasks.
The most complex thing in effective time management is not to fill all your time with web design. Working from dawn to dusk in an attempt to earn all the money in the world, you risk getting lost in mechanical work.
It usually affects the quality of your design and, as a result, the interest in your personality and activities. That, in turn, will affect the salary.
Free thinking
No matter how many books you read or how many intelligent people you listen to, your employer is the only person who needs the work you do.
That is why they have the right to criticise your project as much as they want.
You can disagree with them, but nothing good will come of it. A web designer needs to know how to create a great product based on their requirements.
To learn how to look at your work objectively, we recommend that you broaden your visual experience. Notice brand-new solutions, try to create something unusual yourself and search for inspiration.
Web design for beginners: starter pack
Basic knowledge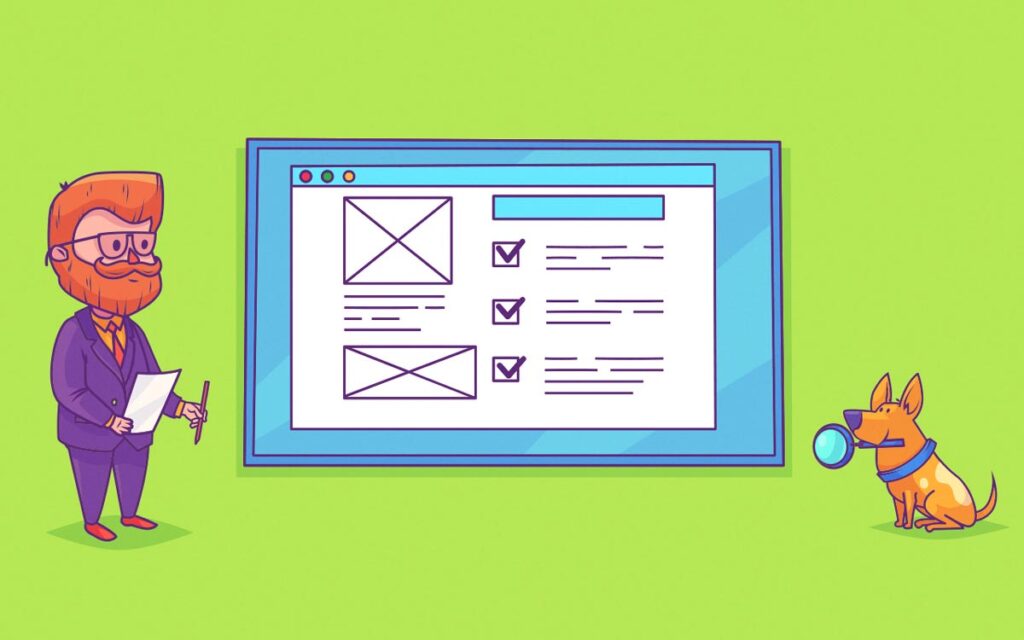 Education is a must. Many people learn the web design basics through teach-yourself books.
Nowadays, you can find the one that will suit your level – from beginner to real professional. However, we recommend that you choose a course in web designing.
If you like to communicate with the teacher in person, you can attend offline classes. However, people tend to sign up for online courses. Thanks to the high demand, you can choose the one for your budget.
Most often, a certificate of course completion is optional for the employer. However, he will require the knowledge that you got there.
Remember that after completing the course, you need to consolidate the material you have completed.
Practice, practice, and practice again! If you want to get the team lead position, then you will have to show certificates.
Portfolio
Every novice web designer faces problems when applying for a job. It is hard to find an exciting and well-paid position, especially with increasing competition.
You can send out your resume, but it won't tell much about your personality.
A potential employer doesn't care what school you graduated from and in what year you completed an internship. To stand out from other applicants, you need to prepare a portfolio.
A portfolio is a business card of a web designer. Choose the projects that you are proud of and show them to your employer. You may be 15 years old, but if you do outstanding projects, they will choose you.
One of the most critical questions for a novice designer is how to fill your portfolio? Where can I get my first customers? How do I get my first projects?
If you have not had customers yet, come up with orders yourself! The employer pays attention to how you implemented the idea, not for whom.
CMS (Content Management System)
Web designers need to have an understanding of the CMS. The CMS allows the employer to edit the information on the site independently. Hence, they can perform all the main actions without involving specialists, for example, add a new page, insert text or tables.
These include Joomla, WordPress, and Drupal. Even though the CMS is the responsibility of web developers, web designers need to understand its basics.
UX (User Experience)
UX is responsible for the experience/impressions the user will get while using your website. To ensure a good UX, you need to study your audience and apply sitemaps to create pages and content.
It will help you understand the user's steps while visiting the site. Thanks to retesting, it is possible to improve its web design and increase conversions.
Again, you broaden your visual experience. For example, if you want to specialise in websites for writing services, you need to analyse the market first. Start with one of the best writing services, such as Cheap Paper Writing.
Think over the site architecture and the text blocks. Then compare its design with one of its competitors.
As soon as you complete your research, try to create your site.
After you finish working on it, we recommend you ask friends or colleagues to give a review. They must be honest with you!
Let them make a list of questions and comments that they have encountered while navigating your site. A look from the outside may help you see minor flaws or mistakes.
Design tools
Every true master always has several tools. A web designer should be able to work with several specialised programs.
Now there are many opportunities to create websites on the Internet. However, Photoshop and Mockplus are some of the best tools for image processing, icon creation, and prototyping.
Your work will become more effective if you use the necessary software in your professional activities.
Below we will briefly review the main design tools:
Photoshop (PS)
It is an essential program for efficient image processing for graphic and web design.
Adobe Illustrator (AI)
It is a necessary program for processing vector graphics. It is mainly used for font design, graphic design, packaging design, book/magazine layout, and illustrations.
Adobe After Effects (AE)
It is software developed for graphic video processing by Adobe. Simply put, it is a functional version of PS.
Mockplus
It is an effective interactive program for creating layouts/templates.
HTML, CSS, JavaScript
HTML defines the basic structure of a web page, CSS defines how this structure should look in a web browser.
JavaScript, in turn, provides users with an interactive experience.
Even if you don't know these major languages in detail, you need to understand how they work separately and together.
Adaptive design
With the proliferation of mobile devices, more and more people use small screens to explore web pages.
As a web designer, you need to understand responsive web design principles when visitors can view the site pages on smartphones.
Animation
The animation will enliven your dull web page and make it more catchy to the user. That is especially valid for websites of branded clothing, cars, movies, and TV programs, where animation is an integral part.
The visual effect will help to create a brand style and make it more recognisable.
Social networks
Want to become a real pro? Surf the Internet! And that is not a joke.
Subscribe to web designer forums, join groups, and read threads on Reddit.
Follow the experts on Twitter, communicate with colleagues on Facebook, and discuss the latest trends in the field.
Sense of style
A sense of style is an essential skill for web designers. Web design is more than just creating a beautiful website.
You need to know the elements such as layout, image, as well as basic design concepts.
SEO (Search Engine Optimisation)
SEO is a set of measures aimed at the development and promotion of the site in search results. It helps attract the maximum amount of traffic and convert it into customers.
Quite often, you can find articles devoted to the rivalry between SEO and web design. However, they walk hand in hand. Without good web design, SEO won't work.
Clients won't stay on a page that has inconvenient navigation and annoying pop-ups. The better the design, the higher the site traffic.
Conclusion
Want to become a web designer but don't know where to start? This article reviewed the rookie's starter pack and the essential skills that they should have.
Thanks to the ubiquitous use of the Internet, today, you can study web design online. The key to success is your desire.
We hope this article was helpful for you. Good luck with your studies!
Last update on 2023-09-25 / Affiliate links / Images from Amazon Product Advertising API